In Conversation with 2023 National Teacher of the Year, Rebecka Peterson
Meet the high school math teacher from Tulsa, Oklahoma, who believes in the exponential impact of seemingly small, but consistent, acts of intentionality, gratitude, and listening
---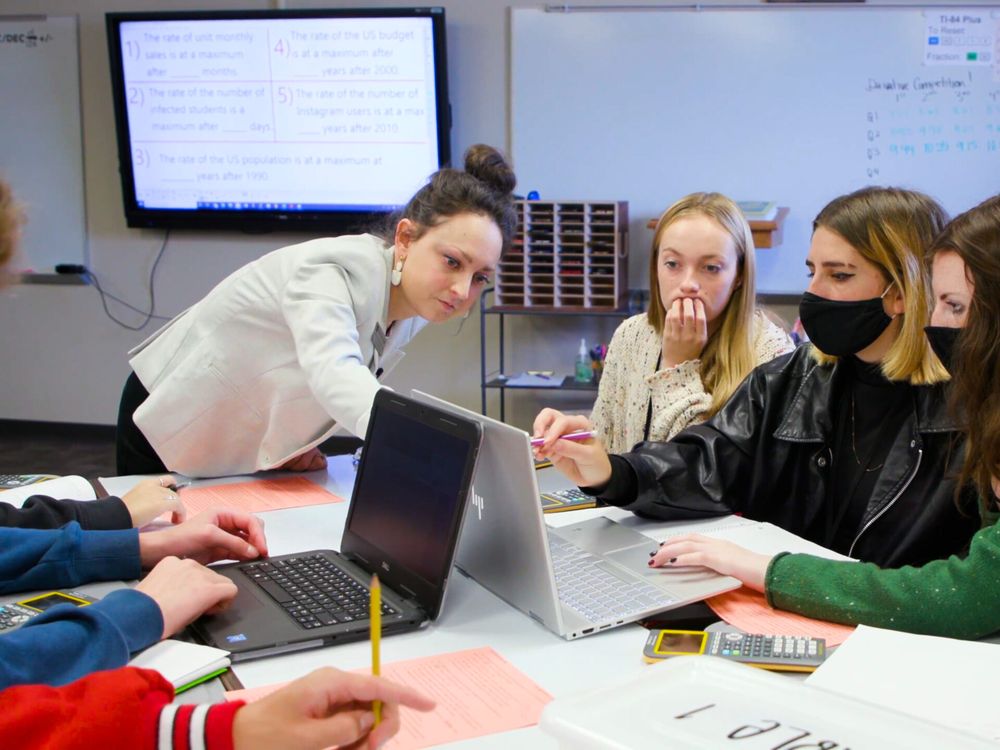 As the daughter of medical missionaries, Rebecka Peterson had lived in four countries by the time she was 16 years old. She recalls that moving so regularly from place to place, country to country, and continent to continent, often made her feel like an outsider and unrelatable to others.  
Fast forward to her teaching career with high schoolers, many of her students in Tulsa, Oklahoma are immigrants or first-generation Americans too. With over 62 languages represented, Peterson gleams with pride as she talks about the place she now calls her teaching home. She affectionately talks about her school district as being "relentless in the pursuit of student well-being through the connection of community." Sharing her own childhood story and struggles as a new immigrant now serves as the basis for how she connects with her students.
In an interview with Dr. Monique M. Chism, Under Secretary for Education at the Smithsonian, Peterson shares her commitment to making time and space to listen to each of her students and getting to know them on a 1:1 basis. In a unit she references as "Unit Zero," before her class jumps into any content, she shares her own personal learning journey and she creates sign-up sheets for the students to meet with her before or after school, or during their lunchtime. It takes about ten weeks to meet with 100 teens, but it's a simple way to make sure she gets to know her students and hear
their
stories.  
The Power of One 
Research tells us that if a student can connect with just one caring teacher that they feel has truly invested in them, it greatly increases their chances of long-term success. Students are more likely to be engaged at school and more motivated to succeed academically.  
Peterson notes that these seemingly small acts offer great returns on the time and energy she's invested as she watched students form a community in her classroom. She acknowledges though that it's not always easy and especially in her first few years of teaching, there were days she wasn't sure if she'd make it to the next school year.  
Enter the "One Good Thing" community blog. At the end of an especially tiring school day, Peterson came across this online community of math teachers, who share their classroom stories online. The "About" section of the blog asserts that "Every day may not be good, but there is one good thing in every day." Over the past ten years, Peterson transitioned from a reader finding inspiration to a writer and community manager. She finds the writing process to be one of intentional gratitude and reflection and she's now caught herself in a routine of actively noticing as good things are happening each day in her classroom. Having written 1,400 posts, it's fair to say she's hooked.
The Language of the Universe 
There are often questions that bubble up in high school mathematics about the usefulness of the subject and "when will we ever use this?" In Peterson's classroom though, she's often supporting students in seeing the connections that math is really everywhere and can help us answer questions ranging from population growth in a region to how long it might take to fall asleep after your bonus cup of coffee. As a lifelong lover of math, she aspires to help her students see Calculus and other advanced math courses as conquerable subjects and with that, she watches as her students' confidence soars. She describes the rhythmic and meditative quality of math that provides opportunities for creativity, problem-solving, and process-based thinking.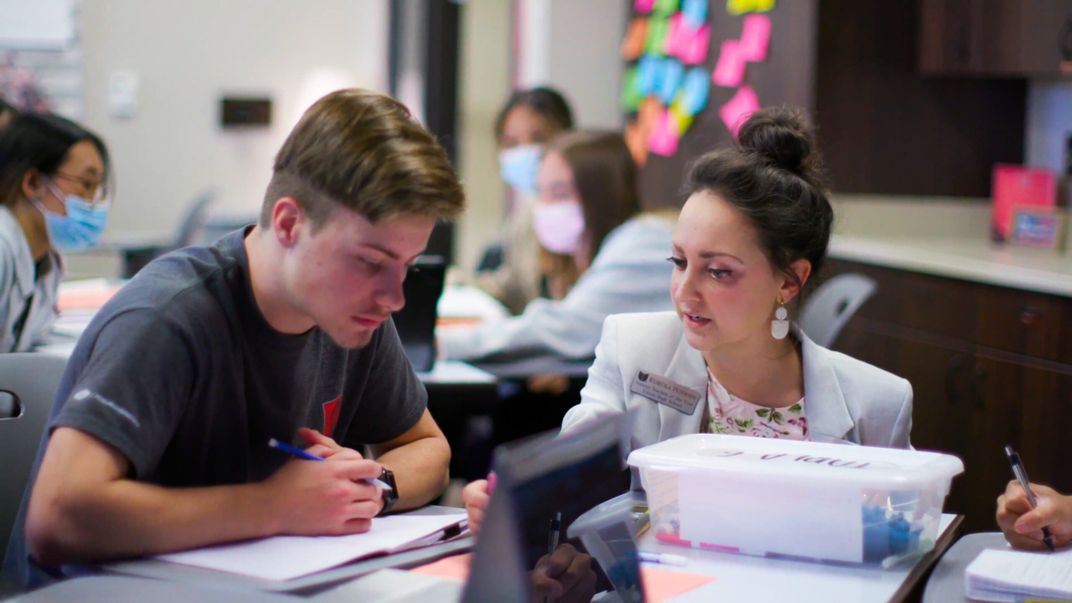 While there are no formal programs in her area for high school students looking to become teachers, it seems that Peterson's love for math is also inspiring the next generation of mathematicians and educators too. She's been especially intentional to point out to students when it's clear they love math, or their face lights up as they explain challenging concepts. Of her former students, eleven have now become secondary STEM teachers and two are pursuing PhD's to teach at the college level.
Aside from those students that have followed her own career path in mathematics and education, she's also inspired countless other students to uncover the usefulness of understanding what she refers to as the "language of the universe" and finding the intersections between math and their own interests.  
Calculus and the Study of Change 
There is something so unique about someone who lights up as they talk about formulas and equations, with just as much joy as they do when they talk about their students and fellow teachers. Having been a teacher for over a decade, Peterson acknowledges the unprecedented toll that the COVID-19 pandemic took on classrooms across the country. She often references a study from Stanford University that found that pandemic stress physically aged teens' brains. Reports of anxiety and depression have been at an all-time high in adults too. While she does not claim to have all of the answers, she asks teachers to think about how our student populations have changed and how we're educating new and different brains.  
For her, one of the shifts in her classroom was moving to a "flipped" model, where the math instruction happened in online assignments and the time spent in the classroom is an opportunity to ask questions and talk about the process in community with each other. It's a lasting vestige of the pandemic that reinforced the power of community in her classroom that she plans to keep. She's honest about the challenges that she faced moving to this instructional model, but sees the benefits of how time together in the classroom is now spent.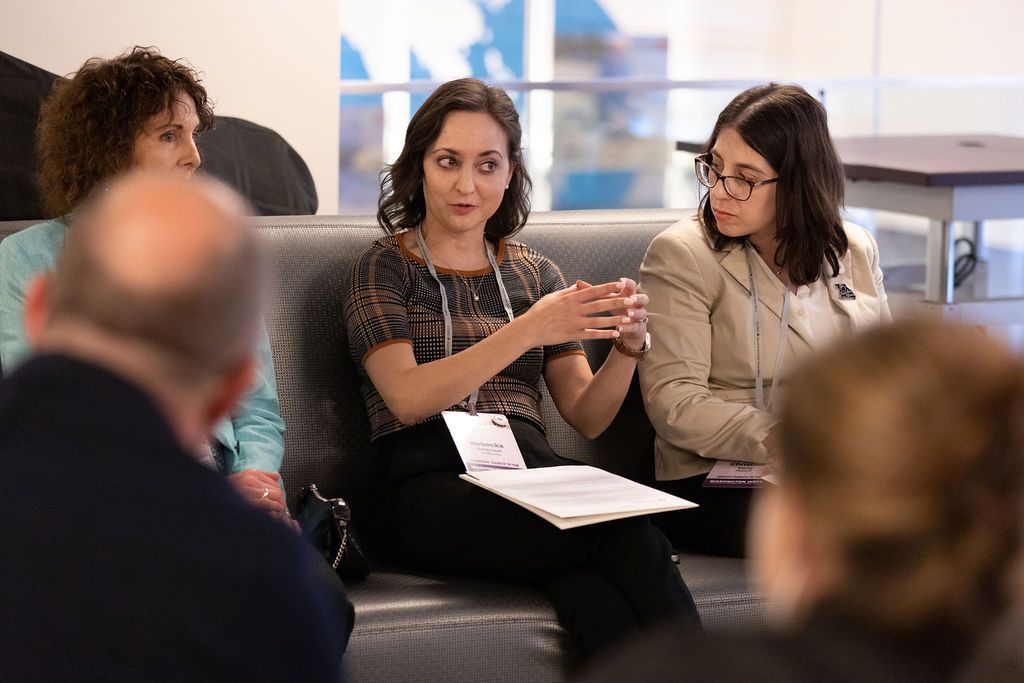 A Mirror for Educators Nationwide 
As Peterson embarks on her next role as 2023 National Teacher of the Year, she hopes to be a mirror for educators across the country. Over the past year, she's spent time across Oklahoma visiting schools, including time spent at an alternative education center, where she witnessed the power of social-emotional learning and trauma-informed education. She's connected with 55 state teachers of the year through convenings supported by the Council of Chief State School Officers, including a visit to the Smithsonian and an anticipated visit to Huntsville, Alabama for Space Camp this summer. This upcoming school year, she'll travel across the country to classrooms, conferences, and collaboration opportunities to share her message and amplify all the good that is happening in education right now. It's not an overly saccharine level of positivity, but rather a routine reminder to set intentions to celebrate the good.  
In her words, she'd like to be a mirror for teachers. "Science tells us that mirrors reflect light. I'd like to reflect the light that's happening all across our country. I want to reflect that good." 
Editor's Note: Join 2023 National Teacher of the Year, Rebecka Peterson, at the Smithsonian's National Education Summit on July 18-20, 2023, where she will deliver the keynote address on Wednesday, July 19 at the Hirshhorn Museum and Sculpture Garden. The keynote will be livestreamed, recorded, and archived. More information about the session is available here: https://s.si.edu/EducationSummit2023