Transforming K-12 STEM Education by Diversifying the STEM Teacher Workforce
Research points to the importance of a diverse teacher workforce and its impact on students. Learn how educators at the Smithsonian Science Education Center are committed to increasing the number of STEM teachers with diverse backgrounds in education networks nationwide.
---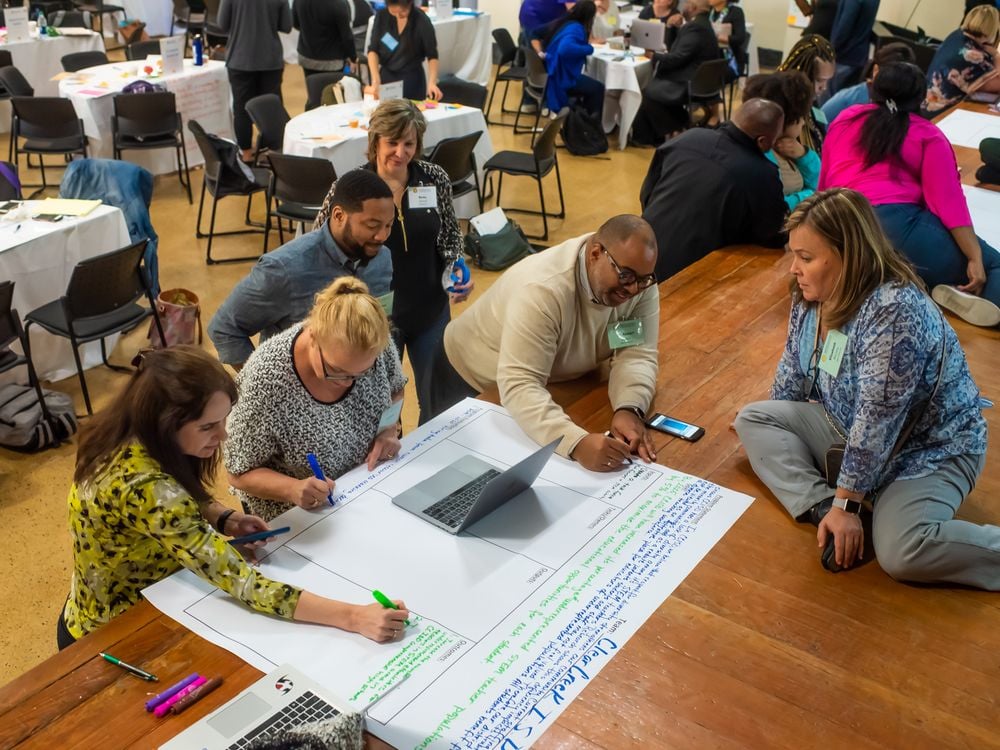 The Current State of Educator Diversity
Education is oftentimes the determining factor in a student's future decisions. What happens in a classroom has a lasting impact on student attitudes toward school and their level of interest in their academic journey. According to a study conducted by researchers at Johns Hopkins University and American University, "Black students who'd had just one Black teacher by third grade were 13 percent more likely to enroll in college—and those who'd had two were 32 percent more likely."
Research shows that there is a positive impact on student attitude, motivation, and achievement when their teacher shares the same race/ethnicity. In a 2019 comprehensive research review, Christopher Redding of the University of Florida found that teachers who identify with the Black, Indigenous, or People of Color community also tend to advocate more for students that represent the same community. When students can learn from someone who reflects their values and beliefs, and who shares similar life experiences, they tend to have a more positive outlook on their education. Additionally, in 2019, the National Center for Education Statistics shared that teachers who share similar histories with their students may have more positive expectations of them.
Unfortunately, the current state of the U.S. educator workforce does not reflect the diversity of its student body. Nearly 50% of public school students identify as Black, Indigenous, or a person of color. Yet that diversity is not reflected in the teacher workforce, with 79.3 percent of public school teachers identifying as White. Research clearly indicates that addressing this disparity in student-teacher racial/ethnic matching would have exponential benefits for all students, but particularly students of color.
Why a Lack of Representation in STEM Education is a Problem
The problem of representation is not an isolated issue that only affects the school system. Rather, what happens in classrooms today is a preview of the types of challenges that will affect the labor force tomorrow.
As the U.S. population increasingly becomes more diverse, products and services will have to evolve to better serve all communities. Increasing representation allows businesses to fully understand every community's unique needs and develop their capacity to adequately meet those needs. A recent Forbes article provides one real-life example of the consequence of undervaluing diversity in the STEM industry as it describes medical equipment that produces inaccurate readings for patients with darker skin pigmentation. However, the article also presents a solution, stating that, "There is a clear path to eliminating racial inequities throughout medicine and science: getting more students of color into the jobs and careers that design and evaluate health devices, practices, and standards." Without diversity in the labor force, we end up with industries that operate akin to echo-chambers, where institutional practices and the barriers that present challenges for underrepresented communities often go unaddressed.
Today, society relies on the developments within the STEM industry to assist in activities of daily living. With such an immense footprint in today's social fabric, the STEM industry would be remiss if it did not include the perspectives of people from the entire spectrum of human ability and experience.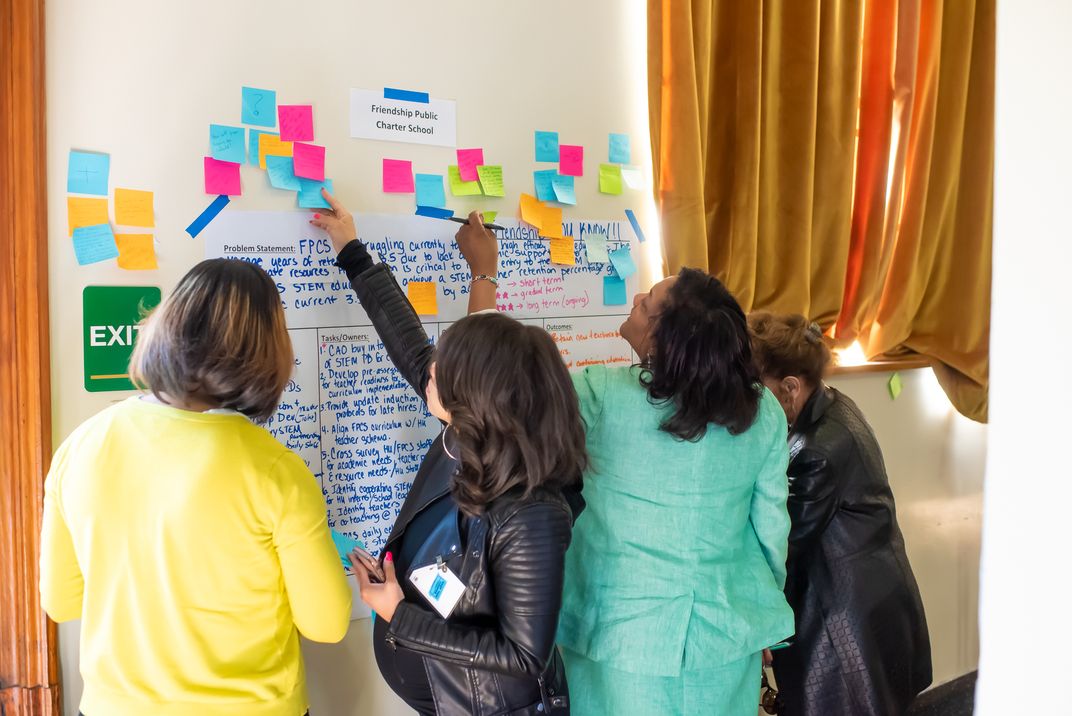 Why is the Smithsonian Science Education Center Interested in STEM Teacher Diversity?
As a respected entity within the Smithsonian Institution with a unique focus on formal STEM education and a mission of Transforming K–12 Education Through Science™ in collaboration with communities across the globe, the Smithsonian Science Education Center (SSEC) sought to address the lack of diversity in PreK–12 STEM classrooms. Our goal: to "give schools and districts the tools to attract and retain STEM teachers from underrepresented groups resulting in 30,000 new and existing teachers by 2030". SSEC prioritizes the integration of diversity, equity, accessibility, and inclusion (DEAI) in PreK – 12 STEM classrooms because it aligns with a pan-institutional Smithsonian goal to, "understand how the Smithsonian can best serve communities often overlooked in the national conversation…".
In 2015, a steering committee was formed, and with the generous support of Shell USA, Inc. this committee leveraged the Teach to Lead model to create the Diversity in STEM Education Summit: Building a Coalition for Attracting and Retaining a Diverse STEM Teaching Workforce—a convening of teams from schools, school districts, and state education agencies that are supported in developing a logic model to increase the number of STEM teachers in their network with diverse backgrounds. These educational leadership teams consist of teachers, school, district, or state administrators, human resources staff, and community partners, to ensure the different perspectives of key stakeholders are represented in their plan. With the support of a mentor, teams work on identifying their problem of practice and creating a goal related to attracting or retaining teachers with diverse backgrounds. Then, for 18 months following the summit, teams continue to receive mentor support to implement and improve upon their plans. The inaugural summit was hosted at Howard University in Washington, D.C., in 2017, and again in 2018, with subsequent summits held at Xavier University of Louisiana (in New Orleans) in 2019, 2020, and virtually in 2021 and 2022 in response to the coronavirus pandemic. 
To continue to confront the underrepresentation in STEM teaching and leadership, SSEC is hosting the 2023 Diversity in STEM Education Summit between March 3 – March 5, 2023, in-person at Dillard University in New Orleans, Louisiana. Like previous cohorts, selected teams will have access to a mentor and experts in industry and education, to develop a plan of action that will drive change toward increased diversity among educators in their STEM ecosystem. | Learn more about the upcoming Summit here.
After six summits, there is a substantial amount of evidence pointing to the necessity of these educator convenings. Many teams have returned home from the Summit and have cited their Summit experience as the differentiator that led to vast improvements in recruitment and retention of educators with diverse backgrounds in their schools or districts. For instance, in 2018, a team representing an urban school district in Texas, serving 12 schools, attended the Summit with intentions to increase diversity among their STEM teacher talent pool through enhanced recruitment strategies. At the time they attended the Summit, they were focused primarily on shifting racial/ethnic diversity on their middle school campuses. As of 2022, they have been able to expand their STEM programming, and thus their STEM-educator workforce to elementary and high school grade spans, while retaining 95% of the STEM teachers they recruited in the 2018 – 2019 school year. They attribute their success to the dedicated planning time, and support offered at the Summit and throughout the subsequent implementation period. To date, SSEC has supported 104 leadership teams, impacting the lives of over 16.5 million students and over 100,000 STEM teachers across the U.S.
Going Beyond the Summit
With a commitment to support educators to provide high-quality science education to all learners, SSEC continues to expand its understanding of the successful approaches that educators are using to increase DEAI in their education systems. To successfully accomplish this, SSEC often hosts events throughout the year to continue conversations, beyond the Summit, about increasing diversity, creating equitable opportunities, and ensuring for accessibility and inclusion in STEM. The Diversity Summit has also given SSEC the chance to develop programming to understand other persistent challenges that contribute to the underrepresentation of diverse communities in STEM and create resources to assist educators in integrating DEAI in their classrooms and teaching practice.
For example, the lack of accessible and inclusive STEM programming available for students with disabilities and misconceptions about their abilities to perform in STEM courses led SSEC to develop the Zero Barriers in STEM Education Program. The program, funded through support from General Motors, seeks to assist educators in creating logic models to address a problem of practice related to accessible and inclusive STEM programming. Like the Diversity initiative, participants of Zero Barriers convene for a Summit to develop their logic model with the support of a mentor. They are also provided ready-to-use resources like the Accessibility and Inclusion Workbook as well as professional learning opportunities to support educators in using Universal Design for Learning (UDL) within their classroom environment, instructional method, and curriculum design.
The Diversity Summit also paved the way for SSEC to offer culturally based pedagogies educator workshops in the fall to discuss the importance of using asset-based pedagogy (culturally relevant, responsive, and sustaining teaching practices) in STEM classrooms and spotlight STEM educators who already use these approaches. The objective of this workshop is to ensure participants have access to equity-centered instructional strategies and useful resources they can refer to throughout the school year.
Addressing the challenges in STEM regarding lack of diversity among teachers is complex but together with communities across the globe SSEC can help move the needle.
Learn more about Smithsonian Science Education Center's Diversity in STEM Education Summit: Building a Coalition for Attracting and Retaining a Diverse Teacher Workforce here.