When the Chesapeake Bay Serves as Your Research Laboratory and Inspiration for the Classroom
Teachers and environmental researchers alike learned something new about their fields of expertise in this unique professional development opportunity.
---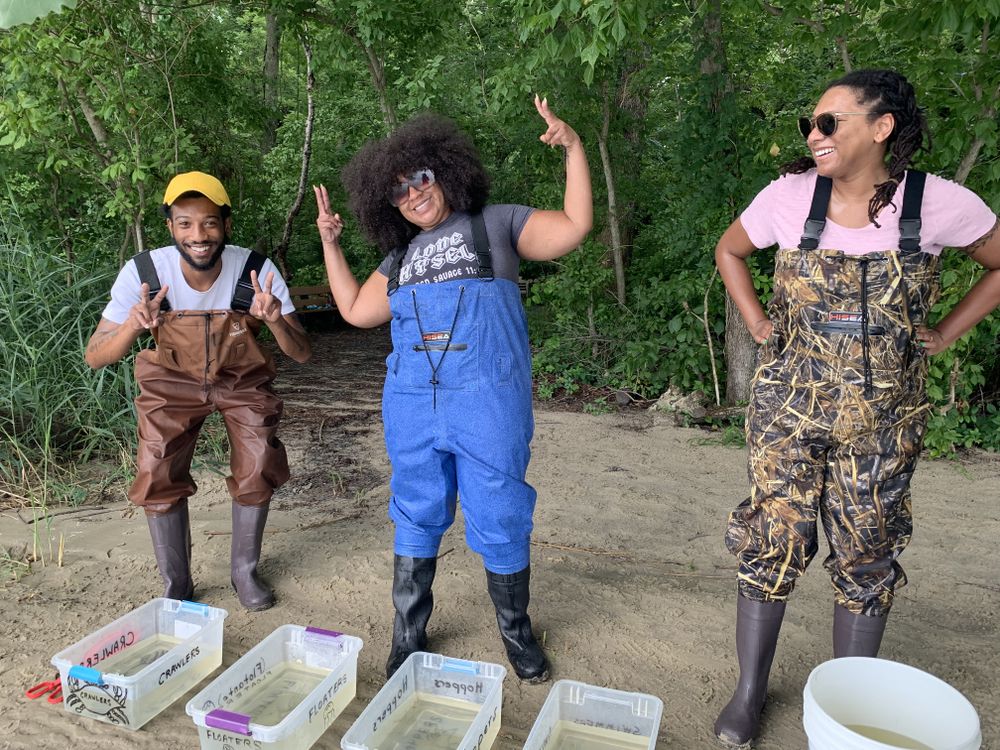 Every summer, the labs, forests, boats, and dorms of the Smithsonian Environmental Research Center (SERC) buzz with activity as more than 40 interns come to campus to participate in environmental science research projects. Traditionally, the vast majority of these interns have been undergraduate science majors, looking to gain hands-on experiences that will help them find jobs and graduate school positions later in their careers. However, this summer, those undergraduate interns were joined by a less familiar group – middle school science teachers. SERC was one of 8 sites around the country awarded grants from the National Science Foundation to establish Research Experience for Teachers programs (RETs) in biology and environmental science. The RET funding is intended to provide opportunities for science teachers from public schools to engage in hands-on research and work alongside research staff. This provides the teachers with increased knowledge of current research methods and topics that they can take back to their classrooms and their students. It also provides opportunities to build and strengthen relationships between research organizations and local teachers and school districts.
We welcomed eight middle school science teachers from Maryland's Anne Arundel County Public Schools and Prince George's County Public Schools and the District of Columbia Public Schools as our first RET cohort. The teachers were involved in a wide range of projects, including investigating the biodiversity of restored oyster reefs, studying the role that increased environmental temperatures have on wetland plants, and developing methods to research the potential for marine debris to serve as a vector for invasive species. Each teacher spent six weeks embedded in a host lab, where they participated in the full range of research activities. These included some really exciting days going on boats out in Chesapeake Bay to collect water quality data, interesting (but kind of icky) days dissecting the stomachs of fish, and some more boring days doing things like data entry. The teachers got a sense of all the different activities and people who are part of research projects, and the ways that everything comes together to produce new scientific findings. The teachers also spent one day per week with SERC educators in professional development activities related to outdoor teaching, inquiry-based education, and data literacy.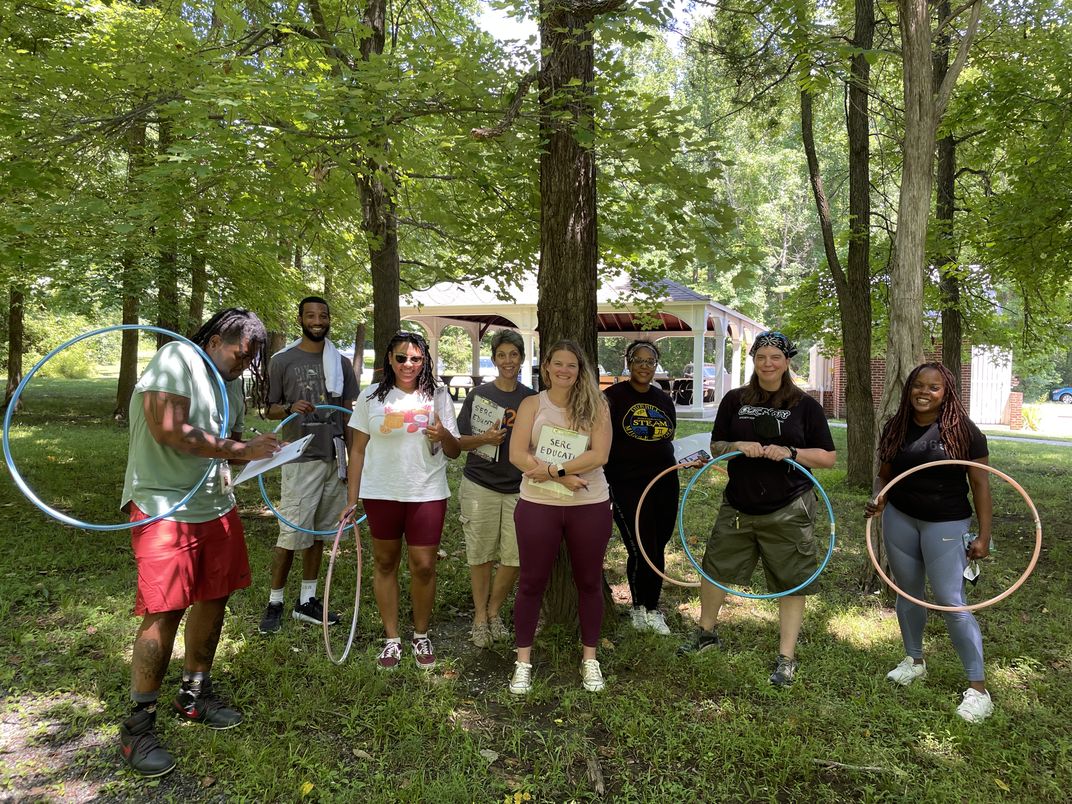 None of the RET teachers had any prior environmental science research experience. While they all teach STEM content in middle school, even those who were had majored in STEM fields as undergraduates had never been involved in research outside of a classroom setting. Conversely, none of the research staff in the labs had any K-12 education experience. The RET internships proved to be valuable learning experiences for both groups. There were concepts that the research staff completely take for granted that were impactful for the teachers, such as the amount of data that scientists use that comes from big databases or the amount of math that is involved in environmental science. The researchers gained a much better understanding of the needs teachers have and the constraints that they work under, including the fact that not all of the teachers in the cohort were sure what grade or courses they would be teaching in the upcoming school year.
At the end of the summer, each teacher had a week to start developing classroom content based on their research experience. Draft activities spanned a huge range of styles and topics, including plans to collaborate with art teachers for an activity to build paper models of orchids and discuss orchid anatomy, developing a class research project to investigate the impacts of urban air pollution on wetlands, and lab activities to look at the behaviors of grass shrimp. The teachers also created content to directly share their summer experiences with their students, including a TikTok-style video of what a lab really looks like and interviews with researchers.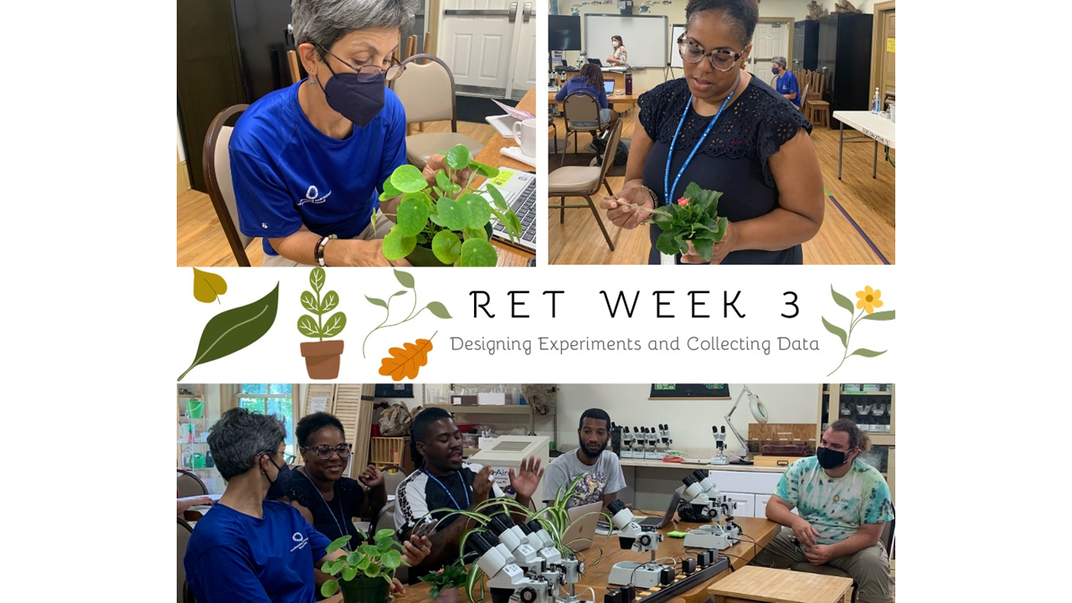 As the teachers move back into their classrooms this fall, they will continue engaging with SERC educators and researchers. Unlike undergraduate internships, which typically stop at the end of the summer, the RET teachers will continue their appointments through the school year. This allows them to develop, implement, and refine classroom activities based on their summer experiences. They also have the opportunity to bring their students for a field trip to SERC and to attend a conference alongside their lab mentor. In the spring, all the teachers will come back to SERC to share their experiences implementing their lesson with their students and other ways that they incorporated their research experiences into their classrooms. We plan to share all the final lesson plans, activities, and associated content as a Smithsonian Learning Lab collection so that other educators can benefit from the experiences of the RET teachers.
All of the researchers and teachers involved in the first year of the program reported positive experiences and better understandings of each other's fields. We think that the RET program provides an invaluable opportunity for both SERC staff and local teachers to better understand each other and the ways that they can work together. This will not only benefit the individual teachers, but also the hundreds of students that they engage each year. With the pressing environmental challenges facing the world today, having educators and students who are better informed about and more connected to the work that is being done to understand and mitigate those challenges is vital for all of us. We are so excited to continue to engage with this cohort of teachers, and all those to come in future years.