Awards Ceremony Highlights the Reach and Impact of Smithsonian Education for Teachers and Students
From participatory programming to innovative uses of media, the Smithsonian Education Award recipients demonstrate a wide range of initiatives that bridge museums, research centers, and the Zoo with learners of all ages.
---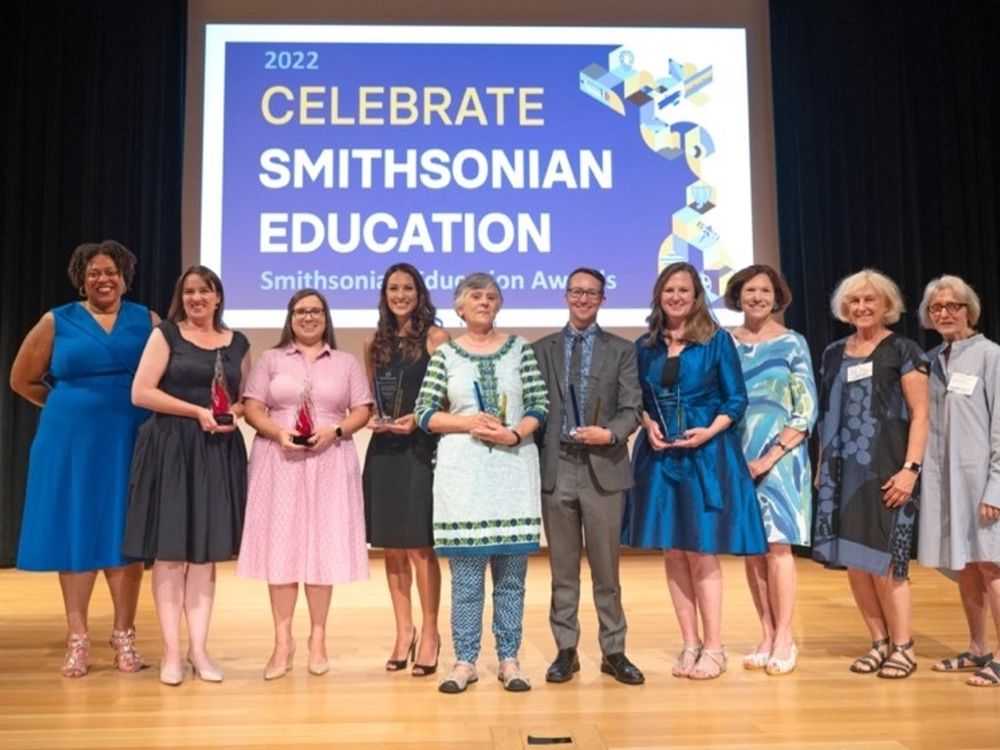 During the Smithsonian Education Awards Ceremony held on July 28, 2022, educators from across the Smithsonian came together to celebrate the over 300 staff educators who implement the Smithsonian's mission for the increase and diffusion of knowledge. The annual Smithsonian Education Awards Ceremony—on hiatus since 2020 due to the pandemic—honors outstanding staff achievements by Smithsonian educators, who open the doors to invite lifelong learners, students, families, communities, fellows, interns, and educators everywhere to discover our extraordinary programming,
resources
, collections, and research. The awards recognize creativity, excellence, and commitment to serving the nation through distance learning, educational programming, digital media, publications, and exhibitions. The program is generously supported by the Smithsonian Women's Committee and was endowed in honor of its 40th anniversary of service to the Smithsonian. The Smithsonian Office of the Under Secretary for Education (OUSE) manages the program, and an external committee of museum and education leaders makes the award selections.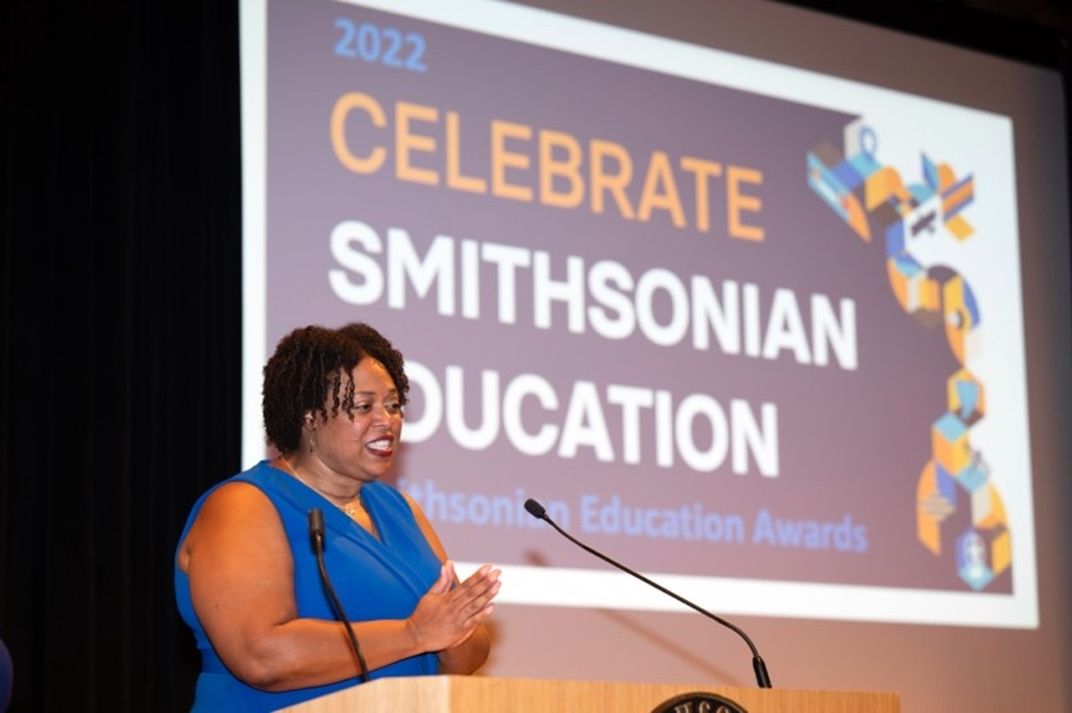 It was inspiring to come back together as a community of practice after years apart. While the pandemic may have challenged our ability to provide in-person experiences, it did not dampen the resolve of Smithsonian educators to empower teachers to transform the educational lives of children everywhere. The night began reverentially, with the Smithsonian Honor Guard posting flags and playing the National Anthem. Then, Dr. Monique M. Chism, Smithsonian Under Secretary for Education and host of the awards, offered remarks of thanks to the awardees, families, colleagues, and supporters in the virtual audience and within the Nan Tucker McEvoy Auditorium. Local performers Taratibu Youth Association, whose mission is to cultivate socially responsible change and healing, provided a transformative experience with their stunning performance. Smithsonian Deputy Secretary Meroë Park gave a poignant keynote that traced her education journey as a daughter of a science professor to developing her profound sense of curiosity today as a senior leader at the Smithsonian Institution. Dr. Monique M. Chism was then joined on stage by Stephanie Stebich, Director of the Smithsonian American Art Museum, to present the awards honoring six top staff achievers from the past three years. Each of the awardees embodies the Smithsonian Education community's ethos of greater reach, greater relevance, and profound impact—embracing the role Smithsonian educators play in our shared future. Best of all, the resources and opportunities—honored that night and highlighted below—are all free to the public and available online for easy access by teachers, parents, and students: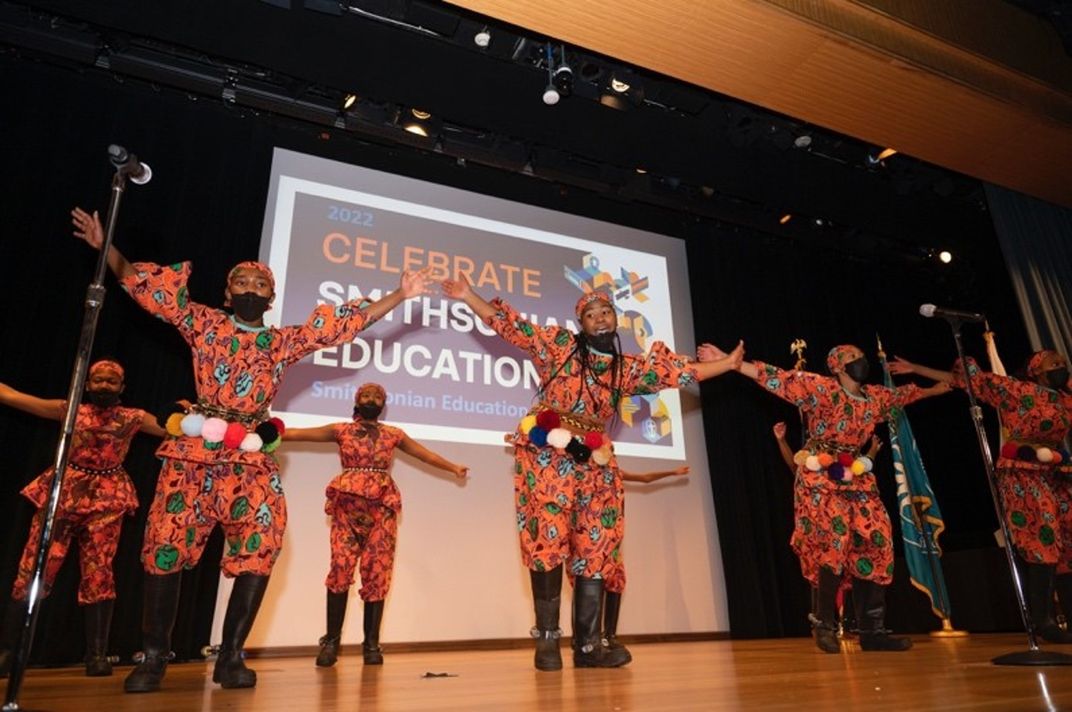 Education Achievement Awards
Nicole Webster, Manager of School and Youth Programs, National Museum of Natural History, received the 2019 Education Achievement Award for creating equitable, accessible, and inclusive opportunities for diverse youth audiences to explore interests, develop skills, and engage with science. Her creative and innovative work on programs including Q? Crew Teen Volunteers and Reefs Unleashed has a profound impact on developing a new generation of confident, scientifically literate citizens.
Dr. Betty Belanus, Curator and Education Specialist at the Center for Folklife and Cultural Heritage, received the 2022 Education Achievement Award for her extensive contributions not only to the Smithsonian Institution, but also to diverse educational organizations, educational specialists, teachers, students, community scholars, and the public during her more than 35 years of service. Betty brings to her work a combination of scholarly knowledge, enthusiastic engagement, and familiarity with best practices in the fields of folklore and education, as she relentlessly furthers her commitment to expanding multicultural understanding of living cultural traditions at all levels.
One Smithsonian Education Award
Stamp Stories from the National Postal Museum (NPM) receives the 2022 One Smithsonian Education Award for exemplary pan-institutional collaboration. Stamp Stories is a series of videos created by the NPM's Education Department. Each month, NPM collaborates with an educator from another Smithsonian museum or office on a topic that links their two collections. Together educators read a children's book, explain collection objects, and encourage exploration throughout the Smithsonian. Families and teachers of young students enjoy multi-sensory learning opportunities ranging from space to the T-Rex—all inspired by the ubiquitous postage stamp. Maureen Leary, Youth and Family Programs Manager, who led the team of sixteen collaborators from across the Smithsonian, accepted the award. A highlights reel of this programming is available below.
Innovation & Access Awards
Citizen Science Program Team, Smithsonian Environmental Research Center (SERC) in Edgewater, Maryland received the 2019 Innovation Award for empowering audiences of all ages and backgrounds to make a difference in scientific research. Citizen Science empowers people of all ages to contribute to scientific research using the highest professional standards and techniques. Through programs that support learning standards for middle- and high school students such as Environmental Archaeology and Chesapeake Water Watch, Citizen Science at SERC inspires volunteers and interns to take an active role as sustainable stewards of the Earth—crucial for helping SERC address the environmental challenges of the twenty-first century. Dr. Alison Cawood, Director of Public Engagement, and team leader accepted the award.
The National Museum of Natural History's Office of Education's "School Programs Transmedia Bundle Model" received a 2022 Education Innovation and Access Award for developing a new and responsive approach to teachers' expressed needs for age-appropriate, accessible science content in response to the national education crisis brought on by the Covid-19 pandemic. The nine "Transmedia Bundles" are extremely rich collections of engaging and accurate digital experiences and content resources, each thematically aligned to core science concepts and skills. A blend of standards-aligned live interactive virtual programs and asynchronous resources, they create a new model for meeting the needs of K-12 teachers and students throughout the country and around the world. Nicole Webster, Manager of School and Youth Programs, accepted the award with Maggy Benson, Distance Learning Manager.
Smithsonian's National Zoo and Conservation Biology Institute (NZP-SCBI) received a 2022 Education Innovation and Access Award for launching an inventive video series, Explore Beyond Your Door that introduces PreK-5 students to wildlife and encourages children to get outside and explore nature. Comprised of seven videos, a nature journal, digital badges, and a Smithsonian Learning Lab collection, Explore Beyond Your Door makes nature an accessible and exciting world that sparks inquiry and a conservation ethic in young learners. Through innovative and accessible programs, NZP-SCBI Center for Learning Innovation leads education efforts in the Smithsonian's global effort to save species, better understand ecosystems, and train future generations of conservationists. Kaden Borseth, Education Specialist, and featured presenter accepted the award on behalf of the team.