Student Artists Build an 'Enchanted City' at the Hirshhorn Museum
Local elementary students tapped into their innate skills of building and imagining to design their own playful city at the Hirshhorn Museum and Sculpture Garden
---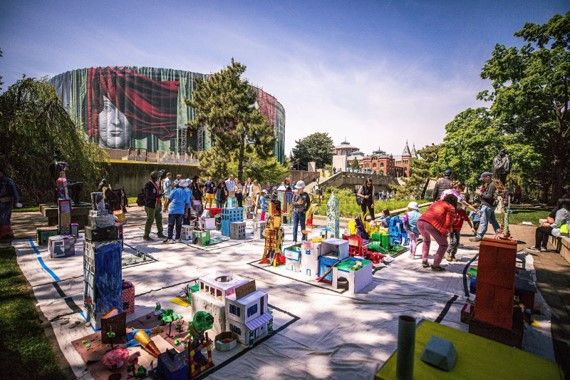 On a sunny Saturday morning in April, elementary students arrive with their families at the Hirshhorn Sculpture Garden. "You're exhibiting your artwork today," one caregiver says excitedly to a child. "Not many kids get to do that at an art museum!" 
It's Build Day, the culminating event of the District of Columbia Public Schools (DCPS) Arts Enchanted City Cornerstone unit. Elementary students from across the city have designed and constructed large structures—some up to 6 feet tall and equally as wide—with the goal of building a miniature city to display within the Hirshhorn Sculpture Garden. The students' creations are made from materials including wood; cardboard; assorted recyclables, such as bottle caps, corks, and milk cartons; wire; and paint. One building is an enormous wholesale club, complete with miniature people waiting in line. Another structure reminiscent of the Washington Monument is covered in broken and highly reflective CD pieces; the student artists say it doubles as a rocket ship, with flags at its base representing alien planets it has visited. Many of the models are complete with working lights, thanks to a partnership with Boolean Girl, who provided circuitry kits and training to DCPS arts teachers.
Engaging Young Students in City Design
Let's rewind: how did these young students get to this exciting culminating moment of displaying their projects at a National Museum? Throughout the school-year, elementary students citywide engaged in a multi-week project entitled "Enchanted City."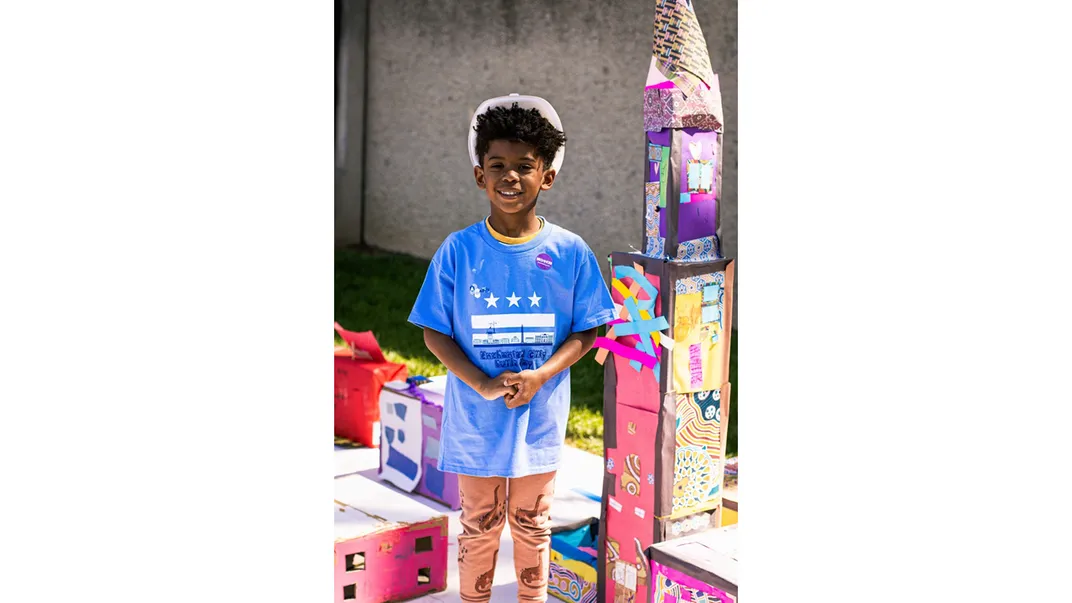 "Enchanted City" engages elementary school students in topics typically taught only to older students: architectural design and urban planning. Young children are natural builders and imaginers. They play by building with their hands and acting out real-world scenarios: tendencies that lend themselves to these sophisticated topics. Recognizing these connections, DCPS-Arts wanted to give elementary students an opportunity for meaningful work: a city design project.
Enchanted City begins by encouraging students to actively explore and make observations about their surroundings: their classrooms, their neighborhoods, and other physical environments in their daily lives. They learn about creating livable cities by thinking about the shared beliefs and values of those who will live there. The students use their observations to think visually about the kind of built environments they'd like to create. They imagine the buildings as beings that are in conversation with each other. After creating a first draft idea as a paper bag puppet, students use their imaginations to experiment with creating their own structures and architectural works to populate an undeveloped land, in this case, a giant map. Working together, they think about relationships between different types of structures: residential areas with homes, commercial areas with different businesses, schools, parks, and monuments. Students build large scale three-dimensional structures, and light them up with circuitry.
As a part of the classroom unit, both Boolean Girl and the Hirshhorn provided support for classroom teachers. Boolean provided virtual training sessions, circuitry kits, and troubleshooting on lighting up students' 3D structures. The Hirshhorn provided online lessons via the Smithsonian Learning Lab including one on architecture featuring the Hirshhorn Building and another on sculptures as 3D structures, and teacher training focused on the Build Day culminating event.
Beyond the fun of building and imagining, the act of designing a city is an act of civic engagement. City design is often a reflection of society's values. Students are tasked with becoming collaborators to "increase the common good," along the way learning teamwork and collective responsibility: a direct connection to social-emotional learning. DCPS calls this framework SEAD (Social Emotional Academic Development), which intends to help students connect the academic content they're learning to their own social-emotional growth. In addition, young children have clear ideas about fairness and right and wrong. Allowing their brains to delve into city design empowers them to make civic decisions at a level young children are rarely encouraged to take on.
Take, for example, the First Grade students of art teacher Marla McLean at School Within School at Goding who created four monuments celebrating Black queens. As they began the Enchanted City unit, multiple points of inspiration intersected. Students were finishing a unit on Black Joy called "New Visions of Kings and Queens." The Smithsonian had just exhibited IF/THEN on the National Mall, a series of 120 statues celebrating women in STEM—the largest collection of women statues ever assembled. The students began critically investigating monuments around Washington, D.C., choosing to focus on four ancient African queens for their newly imagined city. Just as projects began, Judge Ketanji Brown Jackson was confirmed as the first Black woman to serve as a Supreme Court Justice. Although students had selected ancient African Queens for their monuments, they unanimously decided that Judge Jackson would become one of their envisioned monuments as a representation of the students themselves living through history.
The students shared, "We want people to see a powerful, brilliant, just, and beautiful African American woman in a public space. Enslaved African ancestors built the U.S. Capitol and shaped much of Washington, D.C., and the USA with no recognition.​ We celebrate the continued contributions of African Americans​."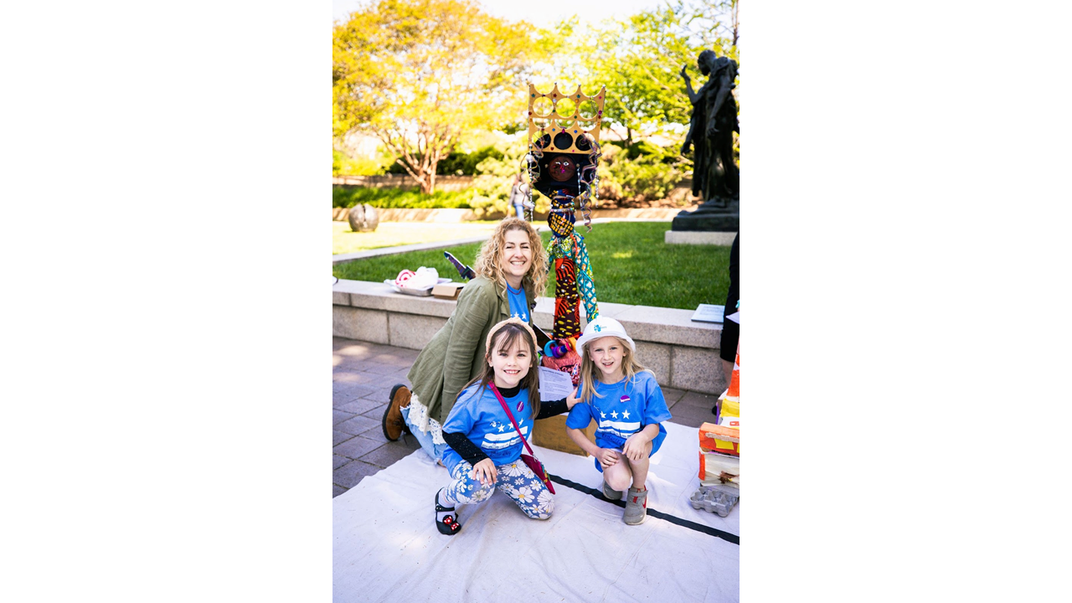 A Meaningful Museum-School Partnership
While the Enchanted City work that takes place within the walls of the classroom is meaningful and authentic to students' lives, the opportunity to make students work visible in a public place empowers and elevates students' ideas significantly.
DCPS Art teacher Julia D'Ambrosi commented, "It was wonderful for my young artists to get the chance to share a 3D artwork in such a prestigious and beautiful setting. My kids adore working in 3D and chances to display 3D work are so rare. My artists loved making a bakery, and are already envisioning what type of building we should make next year."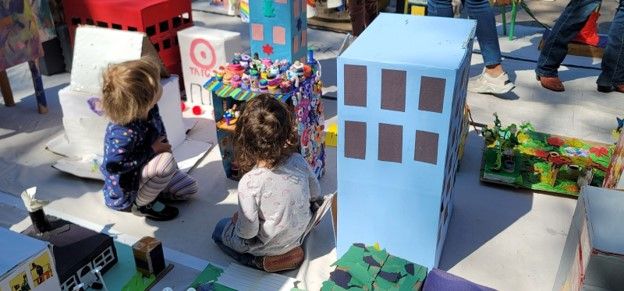 As is the case at many museums, gallery space at the Hirshhorn is limited and precious, reserved for exhibiting artists a bit more established than these elementary school children. As a modern and contemporary art museum highlighting the "art and ideas of our times," the Hirshhorn's ethos includes the art and ideas of youth and emerging artists. Pathways to participation in museums and the arts begin at a young age. While museum field trips and tours are important for allowing students to observe art, museum experiences like Build Day allow them to actually be a part of it. Seeking ways for our public spaces to uplift and empower students' ideas is crucial to developing– at a minimum– future museum-goers, and more importantly– artists and creative thinkers. Giving students an opportunity to be celebrated and have their work exhibited empowers them and places their voices and ideas front and center of their education. Prioritizing a student exhibition at the Hirshhorn simply required something us art educators are already good at– a  little creativity.
First, the student exhibition required a large enough space to showcase dozens of three-dimensional, people-sized projects. The exhibition only needed to be temporary—and in this case, in the first year of this partnership, one day was enough. The Hirshhorn Sculpture Garden—a large, outdoor open space in a public location adjacent to the National Mall—seemed like the perfect location. 
On Build Day, DCPS-Arts, Boolean Girl, and the Hirshhorn all worked together to create a showcase and celebration for the students, their families, and the public. Organizers placed a 15-foot-×-15-foot canvas lined with roads and lots (fashioned from tape) on the ground of the Hirshhorn Sculpture Garden to create a miniature city for students' buildings. Other areas of the Garden were filled with hands-on building stations.

Partners played key roles: Boolean Girl facilitated a circuitry station where students could create a drawing and light it up. Hirshhorn architectural expert Deane Madsen led an architecture tour of the Hirshhorn and Sculpture Garden. DCPS Arts Director Mary Lambert led multiple readings of Andrea Beaty's Iggy Peck Architect. Other activity stations encouraged building with LEGOⓇ bricks (and all students took home a grab bag from the Hirshhorn!), and using blocks to recreate their own versions of sculptures on view. For several hours, the Garden was filled to the brim with proud and joyful young artists.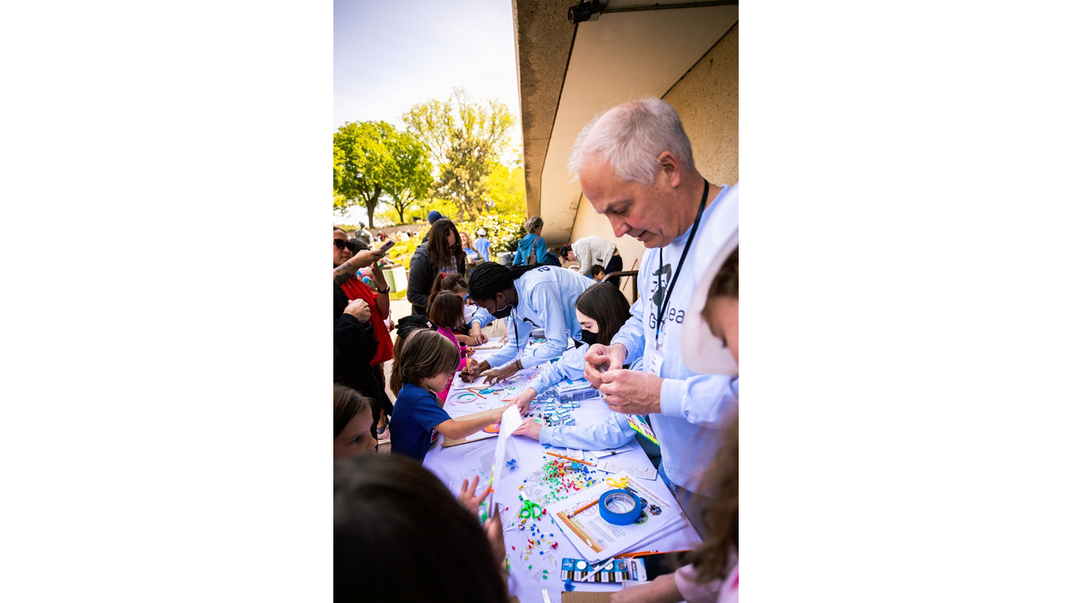 DCPS, Boolean Girl, and the Hirshhorn have many ideas for future expansion. These ideas include working with Boolean Girl to build upon teacher and student knowledge of circuitry to include coding; expanding Build Day to higher grade levels, so students can see pathways from beginner to more sophisticated architectural models; and working with the Hirshhorn to integrate cultural buildings—such as museums—as a curriculum option. 
Wherever future years lead, one thing is clear: Celebrating and empowering student artists' work is central to this partnership.