Diverse and Inclusive Educational Resources for the Music Classroom and Beyond
While music has often been relegated to the edges of the curriculum in the U.S., there are many inspiring examples of how learning about, appreciating, playing, and creating music enhances children's lives, and helps them navigate the complex world around them.
---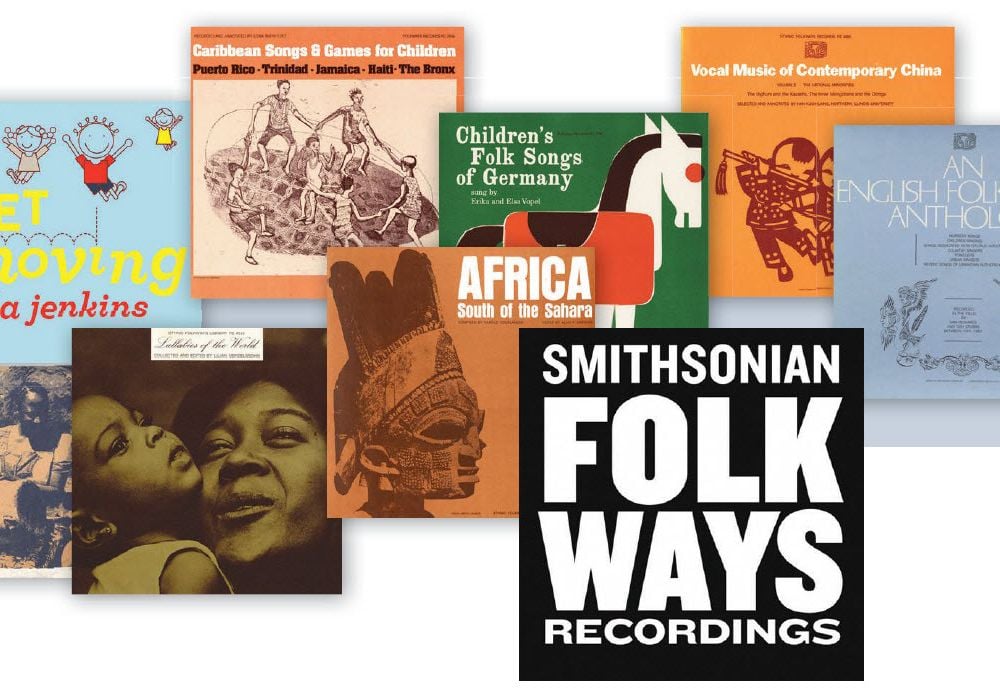 While music has often been relegated to the edges of the curriculum in the U.S., there are many inspiring examples of how learn­ing about, appreciating, playing, and creating music enhances children's lives, and helps them navigate the complex world around them. As a practicing K–8th grade music educator, I have personally witnessed the ways in which participatory experiences with music from a wide variety of cultural settings can break down barriers of otherness, build bonds of humanity, and cultivate cultural sensitivity and empathy. These outcomes are so important, yet often overlooked in formal education systems. Smithsonian Folkways Learning Pathways (SFLP) is a new educational resource initiative that seeks to capitalize on the transformative power of music, moving it from the periphery of our education system to the center.
What are Smithsonian Folkways Learning Pathways?
Building on Smithsonian Folkways Recordings' 70-year history of educational resources and recordings for children, Smithsonian Folkways Learning Pathways are in-depth, curated journeys of discovery that place music at the heart of the educational experience. Engaging, attractively designed, authoritative, and free, these new resources provide a solid basis for K–12 teachers to explore a broad range of cultural, historical, social, and musical themes with their students.
It is helpful to think of a Smithsonian Folkways Learning Pathways as a set of Matryoshka Dolls (wooden dolls of decreasing sizes placed one inside another)—each SFLP is made up of three layers. At the outermost layer, the pathway has a broad, overarching theme (e.g., social movement, musical genre, large geographic region, cultural group). The next layer is held within 10–12 individual lessons that are based upon specific sub-themes (e.g., historical event/period/leader, social issue, musical ensemble/instrument, musician, smaller geographic region). At the final layer, within each lesson, there are three options for the learning approach, known as components. Each component focuses on a different type of learning (music listening, performing, creating, or cultural and historical contextualization) with the goal of allowing the lesson to be taught across various subject areas (i.e., Music, Social Studies, Language Arts, etc.). This multidisciplinary approach maximizes instructional time and helps teachers recognize the ways in which connections between subject areas can deepen students' understanding of complex topics.
SFLPs are designed with flexibility in mind. They can be used "as is" (all lessons in a pathway, in order) or customized to align with the specific needs of teachers and students (e.g., teaching only one or two lessons in a pathway, choosing lessons/activities from multiple pathways, etc.). Each individual lesson comes with a detailed teacher's guide in pdf form, which includes a wealth of contextual information and a detailed teaching plan. Piloting teachers have described the teacher's guides as "well written", "easy to follow", "logically sequenced," and "very informative." The accompanying "ready-to-use" slideshow promotes high levels of engagement on multiple levels of the traditional-to-online classroom continuum. The slideshows utilize tracks from Smithsonian Folkways Recordings' fully digitalized catalog, and incorporate artifacts, images, videos, artwork, documents, and educational resources from a variety of other Smithsonian museums and centers. Because these primary sources are embedded directly into the slideshows, they are easy to facilitate in a wide variety of learning environments, ranging from in-person, hybrid, and online models.
Why Does Our Education System Need Smithsonian Folkways Learning Pathways?
This project was initiated in response to several current needs in education. First, despite various attempts to reform educational policies in the United States at federal, state, and local levels, systemic inequities continue to persist. Achievement and opportunity gaps that exist along racial and poverty lines have not decreased, and funding models continue to favor white, affluent students. SFLPs will address this issue by providing targeted, high-quality educational materials at no cost to the majority of 80 million learners enrolled across all levels of formal education in the U.S., specifically focusing on the 25 million students enrolled in Title I schools.
SFLPs also seek to counter long-standing Eurocentric curricular tendencies that exist in formal learning environments across the United States and beyond. In music education specifically, curriculum development is often driven by the Western Art Music canon (W.A.M.) and related pedagogical approaches and performance norms. Musical perspectives, both local and global, that fall outside of this norm are often included in superficial ways or not included at all. While W.A.M. is relevant and meaningful for some students, the predominant approach to music education in the United States leaves behind large numbers of students who do not have access to private instruction or personal instruments and alienates other students for whom the musical content feels irrelevant and exclusive. When W.A.M. is used in combination with other music traditions, however, we can create a more ethical and meaningful space of inquiry and, sometimes, belonging for marginalized and under-represented populations in classrooms. The Smithsonian Folkways Learning Pathways project accomplishes this by exploring music from around the world (e.g., Music of the Asian Royal Courts, Music and Dance in Puerto Rico) as well as music from home (e.g., Music of the Chicano Movement, Women in the Blues, Sounds of the Civil Rights Movement, Cajun & Zydeco: Flavors of Southwest Louisiana, Asian Pacific Americans and their Music).
From a pedagogical perspective, Smithsonian Folkways Learning Pathways are grounded by the tenets of World Music Pedagogy (WMP), an emerging instructional approach that emphasizes the ways in which attentive, engaged, and participatory listening and music-making experiences can help forge a deeper understanding of music and the people who make and enjoy it. WMP promotes collaboration between culture bearers, ethnomusicologists, musicians, and educators. Before release, each SFLP is written by a team of content and pedagogical experts and reviewed by members of the Society of Ethnomusicology (SEM) and the National Association for Music Education (NAfME) to ensure adequate contextualization, accuracy, and pedagogical rigor and appropriateness. Piloting teachers have expressed their appreciation for this thorough vetting process, describing the content as "reliable," "rich," and "well-researched." After piloting the Cajun and Zydeco pathway, a music educator based in Louisiana recently remarked, "I was a little leery of finding false information about regional culture and identity in Louisiana, but I found the content of this pathway to be accurate and respectful."
Smithsonian Folkways Recordings, with its fully digitalized (and well-contextualized) archive of over 60,000 recordings of music, sound, and spoken word, is in a unique position to produce high-quality educational resources that celebrate the cultural and ethnic diversity of the United States and beyond. While the music is great, SFLPs do not shy away from tough topics. Instead, they encourage students to directly confront issues like race, class, gender, oppression, discrimination, exploitation, and intersectionality. Perhaps most importantly, SFLPs are based on the premise that all students deserve access to a meaningful musical education that recognizes their culture as an integral part of the American story.
We invite you to take a "sneak peek" at our first SFLP, Estoy Aquí: Music of the Chicano Movement (currently in beta mode). Look for the official launch of this exciting new educational resource and the release of several more SFLPs, funded in part by the Smithsonian Youth Access Planning Grant, the Smithsonian Latino Center, and the Smithsonian Asian Pacific American Center Initiative Pools (Cajun & Zydeco Music: Flavors of Southwest Louisiana, Music of the Asian Royal Courts, Women and the Blues, Sounds of Civil Rights, Music and Dance in Puerto Rico, and Asian Pacific Americans and their Music), by the end of 2022.
If you are a teacher who would like to pilot SFLP lessons before they are publicly launched on our website, please email us at [email protected].