Imaginations Run Wild with a Virtual Visit to the National Zoo
This spring, reading about the rainforest was reinforced by virtual field trips to the National Zoo, as D.C. Kindergarteners connected with a Zoo educator and a cast of Amazonian animals
---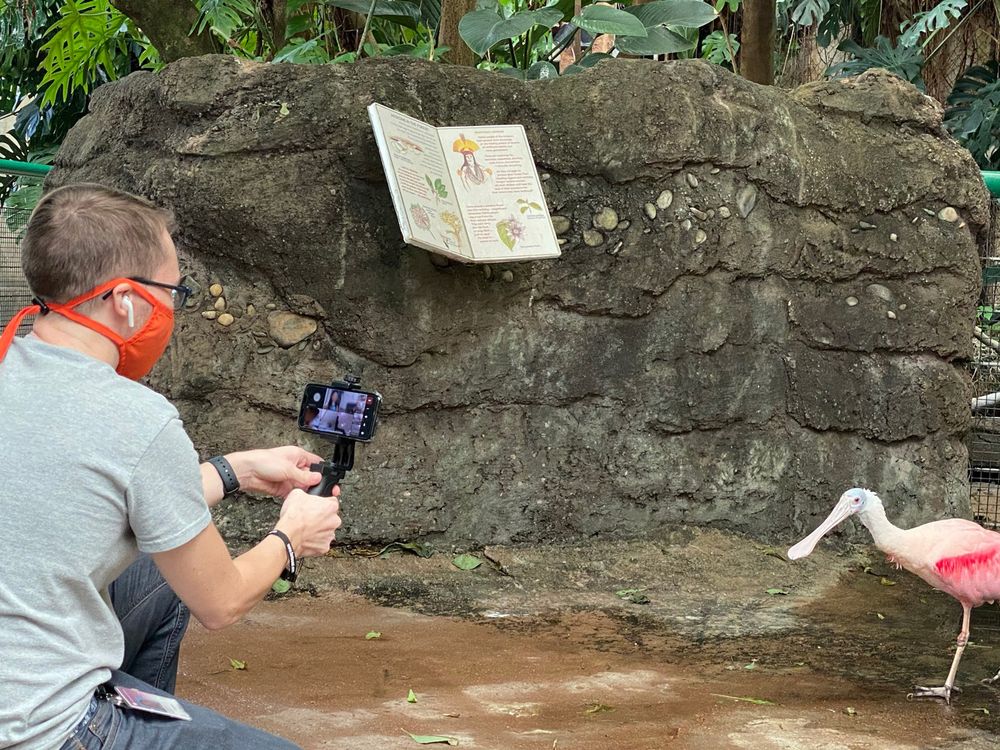 "Good morning, kindergarteners! I am joining you from the Smithsonian's National Zoo. Today we're going on a virtual walk through the Amazon rainforest. What do you think we will find?" Think about a five-year-old's answer to this question, posed by Zoo Educator, Kaden Borseth. What do you think they would say?
Kindergarteners unmute to shout, "Monkeys!" "Giraffe!" "Lions!" "Animal merry-go-round!"
Whether in person or virtual, kids' responses to educators' questions are always a program highlight. But particularly for a virtual kindergarten program during a pandemic, imaginations seemed to run wild.
Since the start of the pandemic, the Smithsonian's National Zoo and Conservation Biology Institute has offered virtual school programs for K-5 students around the nation. Each program transports classes to the Zoo on a virtual field trip where students learn more about animals and conservation. Themes include lifecycles, ectotherms, adaptations, habitats, nature walks, and zoo walks. The newest program, Rainforest Walk, was specially designed for Washington, D.C. public school (DCPS) kindergarteners as part of the spring English Language Arts unit on conservation. In the program, students read "The Great Kapok Tree" by Lynne Cherry with their teacher and then attended a virtual field trip to explore the rainforest with a Zoo educator.
Kaden, who leads digital school programs, shares their perspective:
The Rainforest Walk program was a highlight for me in a year of teaching virtually during the COVID-19 pandemic, especially considering that many DCPS kindergarteners have never visited their local Zoo. Seeing students' faces light up, still behind screens in this digital world, and being able to bring them a new experience of exploring a rainforest together, brought me joy every day. While I welcomed students into the Zoo's Amazonia rainforest exhibit, they welcomed me into their classrooms and homes. We connected through the sights and sounds of the rainforest and explored this new world together. One of my favorite moments was when I arrived at the guinea pig habitat in Amazonia and a student ran off-camera and returned with her pet guinea pig, "Cookie," and she proudly held Cookie's adorable whiskered face right up to the camera.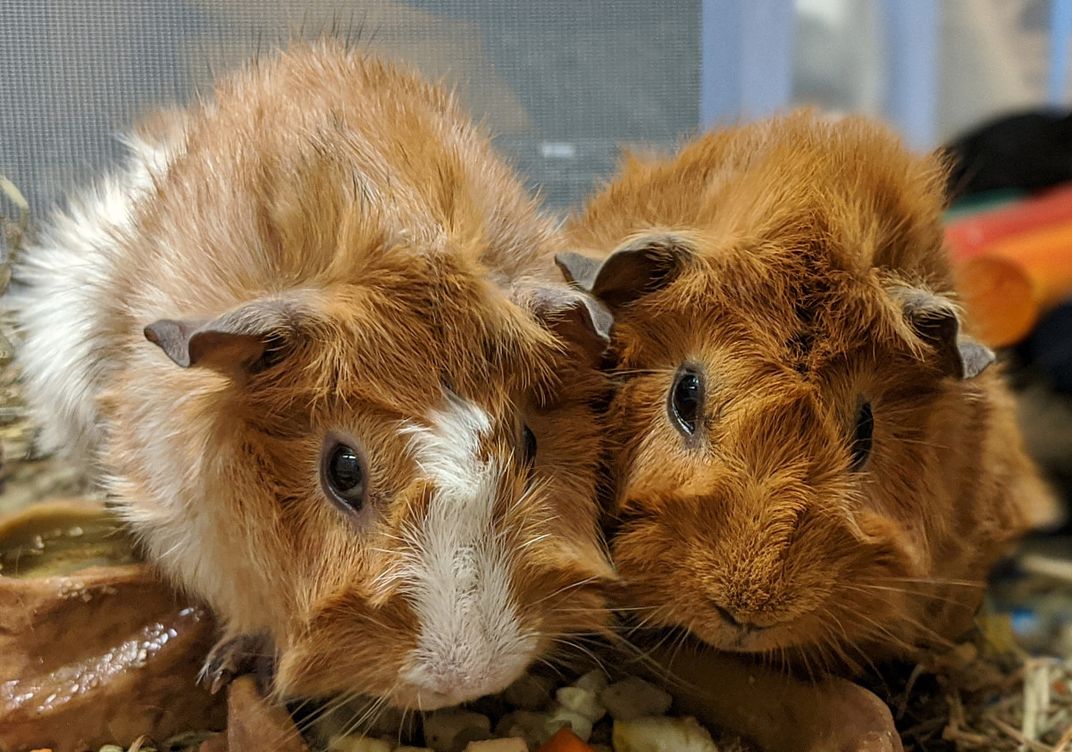 Throughout the last year, Zoo educators have honed their skills in teaching, adapting, engaging, and connecting students to wildlife in an online platform. One lesson many educators learned is to keep it active with movement activities. For the Rainforest Walk program, students swam like piranhas, climbed like monkeys, flew like birds, splashed in puddles, and chewed imaginary rainforest treats like chocolate and avocados.
And Kaden swam, climbed, flew, splashed, and imagined right alongside students. As the only one physically in the rainforest habitat, except the plants and animals of course, Kaden reflects:
While I may have looked a bit ridiculous at times, we were all smiling and having fun while learning, and that's what it's all about. It is so important to bring enthusiasm and creativity to every program. And students always kept me on my feet. Like one student who was convinced there was a jaguar cleverly following me around in the rainforest, as he connected characters in "The Great Kapok Tree" to our rainforest adventure.
Another key lesson for adapting digital wildlife programs for kindergarteners was to engage their senses, even when remote. When walking through the rainforest, Kaden would feel tree bark and leaves to highlight different textures of plants and ask what they imagine it feels like. Students also closed their eyes and listened to bird calls and the rushing waterfall, they looked closely at fish and millipedes, and they even received the most exciting "homework assignment" of all - smelling and tasting some of the rainforest treats they learned about, like chocolate, after the program ended. Students hit that unmute button again to exclaim, "I didn't know chocolate is from a forest!" and "best homework assignment ever!". When engaging their sense of smell, students were prompted with a thought exercise, "what do you think a rainforest smells like?" With questions like this, educators know to be prepared for any answer. "The rainforest smells like gorillas and monkeys!" "The rainforest smells like berries!" "In the rainforest, you'll smell walrus and fish."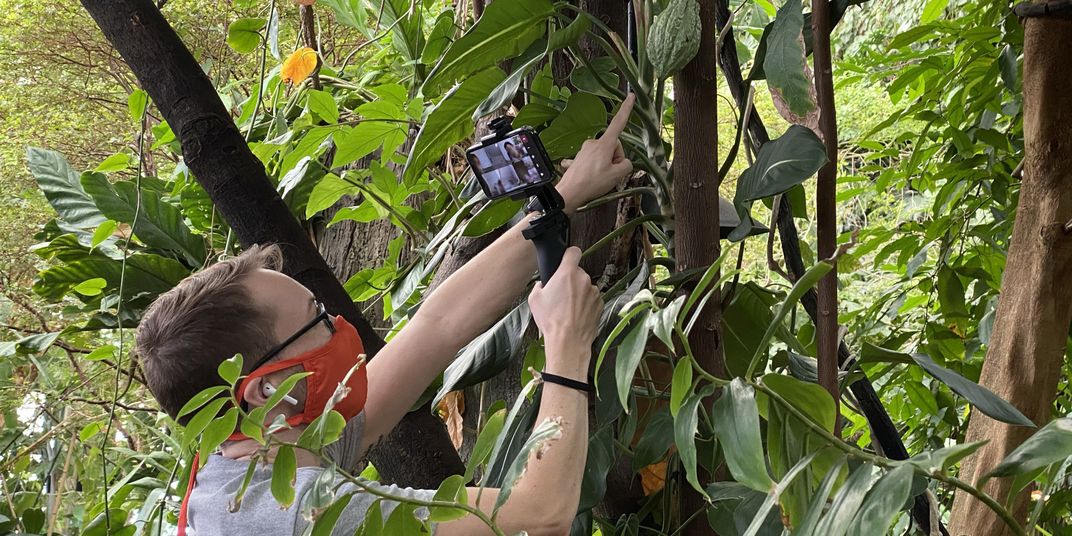 Kaden remembers these spontaneous answers and anecdotes most fondly, noting,
There were many silly moments during these programs, like the sheer joy from kids every time an animal pooped on camera or hearing "Holy smoley! That's the biggest fish I've ever seen!" But these silly moments are what they, and I, will remember. Silly moments that helped to transport them out of their home and out from behind their screens. For a moment they were just exploring a rainforest. They were learning about habitats, animals that call the rainforest home, that everybody poops, and conservation messages on how they can help support the biodiversity of this amazing rainforest ecosystem.
Digital or not, by the end of the Rainforest Walk program, "The Great Kapok Tree" came alive through this experience. These silly moments helped students create real connections with their classmates, the Zoo, and places far away like the Amazon Rainforest.
The Zoo's goal with these programs was to bring literature alive and transport students to a new "world" but to also encourage them to connect with these local habitats and animals. Every program ended with a call to action for students to explore wildlife close to home – a tree in their local park or birds flying outside their window. While their imaginations can place a merry-go-round in a rainforest, the reality is that nature is all around them, and we hope they have a fun, educational, and silly time exploring it.