The Unexpected Connections that Fuel Remarkable Innovations
Learn how to train the brain to be ready to generate new ideas everyday and find great ideas that strike a meaningful balance between inevitable and unexpected.
---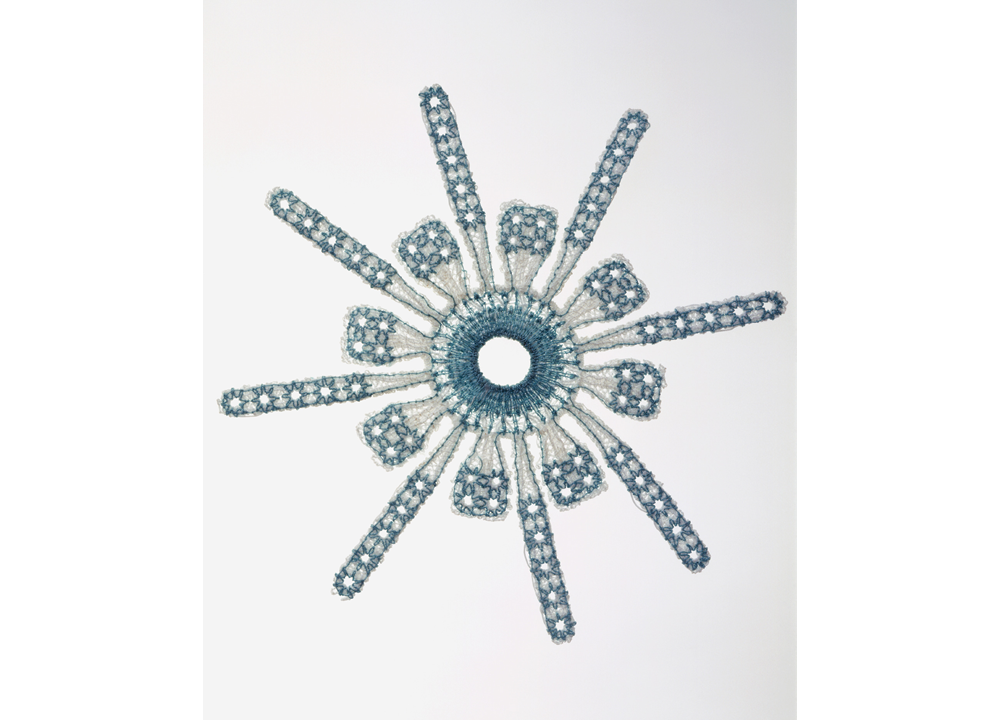 What does this object remind you of? "It may look like a doily, but it is a serious piece of biomedical engineering. Manufactured by Pearsall's Ltd. in conjunction with Ellis Developments, the device was a collaboration between physicians and embroidery designers, combining textile engineering with the life sciences," says Susan Brown, Associate curator of Textiles at Cooper Hewitt, Smithsonian Design Museum. Across the Smithsonian, the expansive collections capture these stories of evolution in innovation. The Smithsonian's educators share these stories to spark creativity and inspire audiences to make unexpected connections.
Todd Waterbury, Chief Creative Officer of Target and Trustee at Cooper Hewitt has often said, "a great idea most often consists of equal parts inevitability and surprise." Victor Green's The Negro Motorist Green Book strikes that balance between inevitable and unexpected. His idea addressed the paradox of the American automobile age, opening access through the open-road, and the brutal oppression of the Jim Crow era. This truly life-saving book helped Black Americans travel safely starting in the 1940s and join the inevitable car culture. But the positive outcomes were not just for the user. Unexpectedly, it promoted the rise of Black American women entrepreneurs, at a time when female business owners were almost unheard of. Madam C. J. Walker's business revolutionized the black hair care industry and thrived as a listing for decades in the Green Book.
The Innovation Resources Consulting Group conducted research for Forbes in 2017 that included thousands of managers and individual contributors throughout North America and in 48 countries. They concluded that, "we need three to four times as many ideas every day to perform at peak levels in our work. Anything less than a constant flow of ideas won't be sufficient as we enter a future of constant change." So, how do we train our brains to be ready to generate new ideas everyday? How do we find great ideas that strike a meaningful balance between inevitable and unexpected?
According to numerous studies on learning, the brain processes information in two ways— focused and diffuse modes of thinking. When our bodies engage in repetitive actions like taking a shower or running, our minds wander and link ideas in unexpected ways. Beyond this, to facilitate the unexpected involves looking at concepts through different lenses and from different points of view. In 2011, when engineer Seiji Aoyagi and his team researched the mosquito, he already understood it's not the piercing of the skin that causes discomfort, but rather the body's reaction to the saliva of the mosquito. What he was after was how the mosquito's probiscis punctures our skin without it hurting. His team is taking this idea to redesign the hypodermic needle, that hasn't seen much innovation since 1844, to make a less painful injection experience. Design solutions like this one that borrow from the living world can be found across disciplines from architecture, to science, to fashion. The genius behind these ideas lies not just in the unique connection of concepts but also in the recognition that ideas are layered and multi-pronged. The Smithsonian Institution's 155.5 million objects and resources are the perfect place to make discoveries, pique your curiosity, and encourage creativity.
Creativity is the spark that ignites innovation. The Smithsonian Libraries and Archives champion that spark by helping users to identify, find, evaluate, and use information effectively. These research skills are major brain-trainers to unlock inspiration and innovation. If you can harness that, you are well on your way to making unexpected connections. First, you need a solid base of knowledge with everything sorted into categories in your brain. Then, you need to get a little flexible; diffuse your thinking. As we grow, we can start to see topics are not only filed away into single categories but have intersections across disciplines too. It takes research skills and a well-resourced mind to find similarities and create something new. But museums and libraries can facilitate research beyond adjacent topics. At the Smithsonian Institution, we have collections that cover every topic. It's a great place to let your mind wander and test your ability to make interesting and unexpected connections.
To see these ideas in action, here are two resources that might inspire you to build your own unexpected connections:
'Yesterday/Today,' a publication produced in partnership with USA TODAY that visualized three unexpected interdisciplinary connections — from the space race to the smart phone, from pop art to social media and from the oil shock to the electric car.

Smithsonian Libraries and Archives' project From This to That highlights unexpected connections throughout history. Each story starts with images from their two million library volumes and forty-four thousand cubic feet of archival records. These are connected to resources from across the Smithsonian, sharing interdisciplinary discoveries, such as how a volcanic eruption inspired the invention of the bicycle.