How Museums Can Be Spaces for Reflection and Connection (Even with Their Doors Closed)
The pandemic has shown that museums have an important role to play as integral members of their communities.
---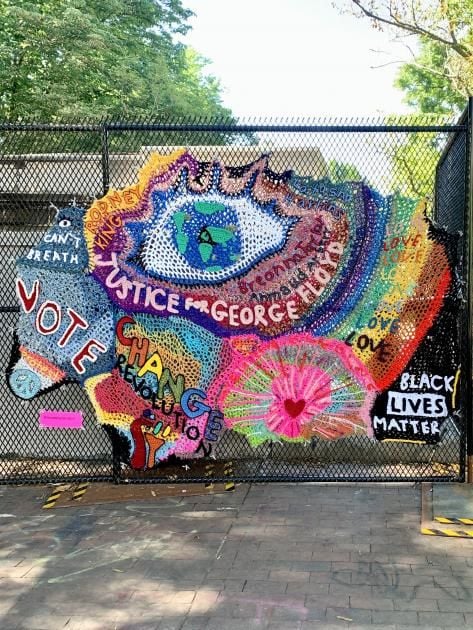 "THANK YOU for your programming this year. The staff, guests and program content helped me through very difficult and challenging times this year. I can't wait to visit your museum in person some day soon."
The pandemic has shown that museums have an important role to play as integral members of their communities. Whether focused on history, science, or art, museums can put the past and the present into context and allow people to make connections to their lived experiences. As museums strive to become more relevant, it is important to share the stories of everyday people because these stories make up the American narrative of our shared diversity and humanity.
In March 2020, the Smithsonian's network of museums, libraries and research centers, including the Anacostia Community Museum (ACM) shut their doors as a public health precaution due to COVID-19. As we grappled with the meaning of this new health crisis, we quickly began thinking of what would help the community both survive and thrive in this new world of uncertainty and physical isolation. In less than a month, ACM's education team developed and implemented a series of programs called Take Time Thursdays. These programs have been focused on providing people a brief respite from the news of the day and focus on self-care through music, art, food, and relaxation activities.
In addition to providing programs, ACM also created an online initiative to collect stories from everyday individuals about how they were being resilient during the pandemic. Moments of Resilience reflected ACM's mission to use community stories to elevate their collective power. Stories came in from all over the country and showed people reimagining important milestones such as weddings and graduations, creating art, and appreciating essential workers. At the beginning of the summer, George Floyd was killed by Minneapolis police officers, sparking protests around the country on the continued police violence against communities of color. Understanding the importance of the moment, ACM expanded Moments of Resilience to include stories of how people were being resilient in the face of continued racial unrest and injustice. These submissions told stories of protest participation and other ways of supporting the fight for justice.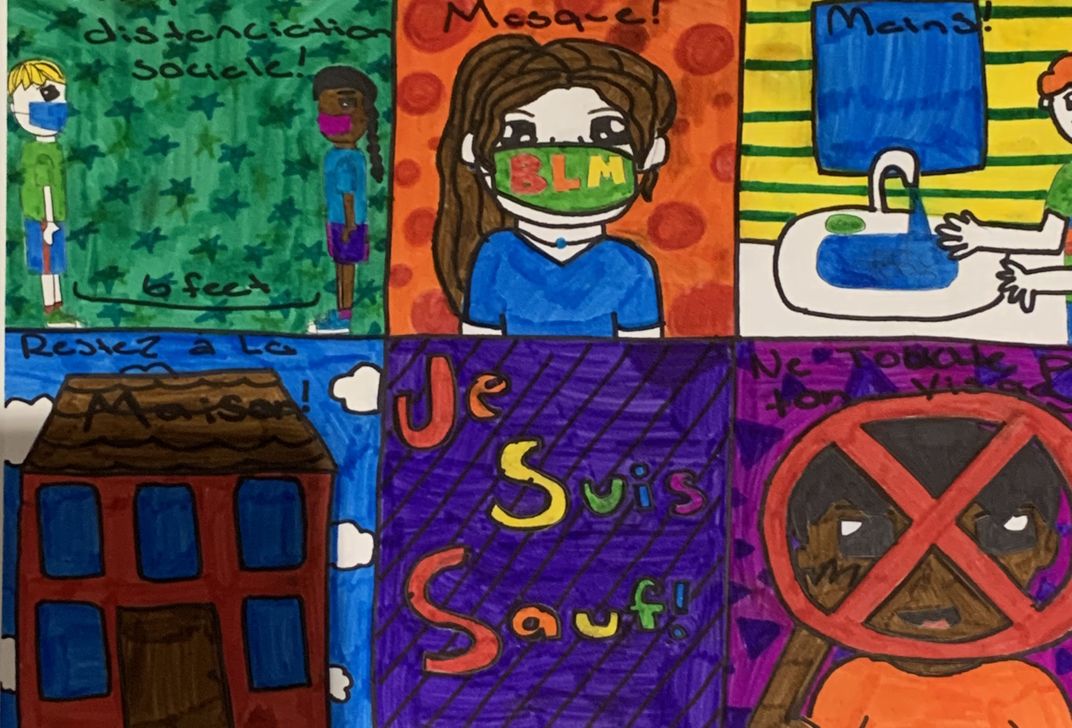 As teachers and students in District of Columbia Public Schools returned to school (virtually) for the fall 2020 semester, a key component of their curriculum during the first few weeks was building learning communities that documented, reflected, and coped with the events of the past year. Across grade levels and spanning all subject areas, elementary, middle and high school students considered the history they were living through, including a global pandemic, local protests in response to ongoing racial injustice, and the U.S. presidential election. Students collected, created and curated artifacts from their own experiences—ranging from public service announcements, oral history interviews, original songs, poems, illustrations and more. The Smithsonian served as a knowledge partner for the district and offered resources to support local teachers and students in their research. Over 100 resources from across the Smithsonian's museums were compiled including the Center for Folklife and Cultural Heritage's Oral History Interviewing Guide, writing prompts paired with photographs connecting past and present from the Smithsonian American Art Museum, the Smithsonian Science Education Center's step-by-step guide to understanding the science of the virus, and an inquiry-based collection of resources exploring mask design. A curated selection of student work is now available via the Smithsonian Learning Lab and a district-wide online event was held in October celebrating the students' documentation and reflection with their families.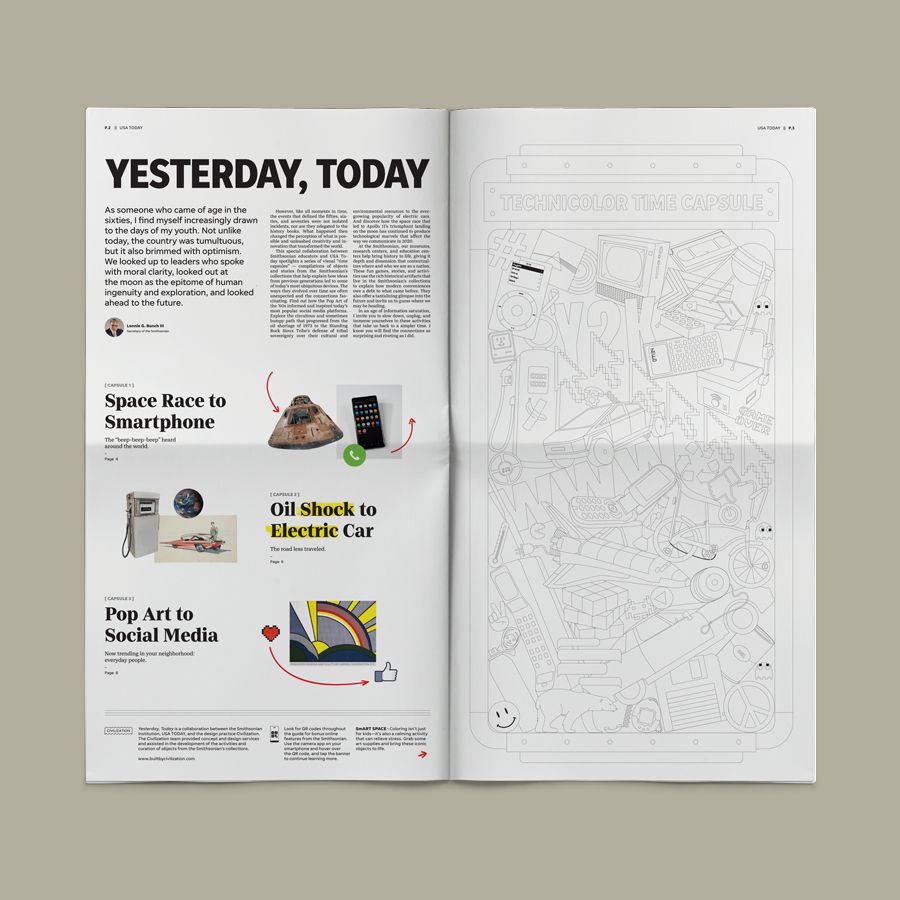 While many Kindergarten-12th grade teachers and students were reconnecting with their classrooms this fall, this period of ongoing quarantining and stay-at-home orders resulted in a time of isolation for many, including seniors. Knowing this, the Smithsonian collaborated with national newspaper, USA TODAY, and Cooper Hewitt, Smithsonian Design Museum National Design Award-winning studio, Civilization. Together, we created a nostalgic activity guide, centered around the idea of time capsules connecting the past to the present, to supplement weekly newspaper subscribers' reading and engagement, highlighting both iconic and lesser-known objects, unexpected milestones and connections, and profiles of individuals found within the Smithsonian's collections. As Smithsonian Secretary Lonnie G. Bunch III shares in his opening letter of the guide, "…like all moments in time, the events that defined the fifties, sixties, and seventies were not isolated incidents, nor are they relegated to the history books. What happened then changed the perception of what is possible and unleashed creativity and innovation that transformed the world."
As each of the examples above demonstrate in their own way, museums can serve their communities by providing a supportive space—even when physical spaces may be closed— for personal reflection and shared connections. The events of the past year have changed who we are as a people and directed the course of history with several new challenges and opportunities ahead. When each of us look back and recall this moment in history, we hope you can say that you prioritized time for self-care, you acknowledged small and large moments of resilience within your community, and you've reflected upon your own experiences in the context of a shared history.