What It Was Like to Be Behind the Scenes of Smithsonian Channel's 'The Exhibit'
The season finale airs on Smithsonian Channel on Tuesday, April 11, at 9 p.m. ET
---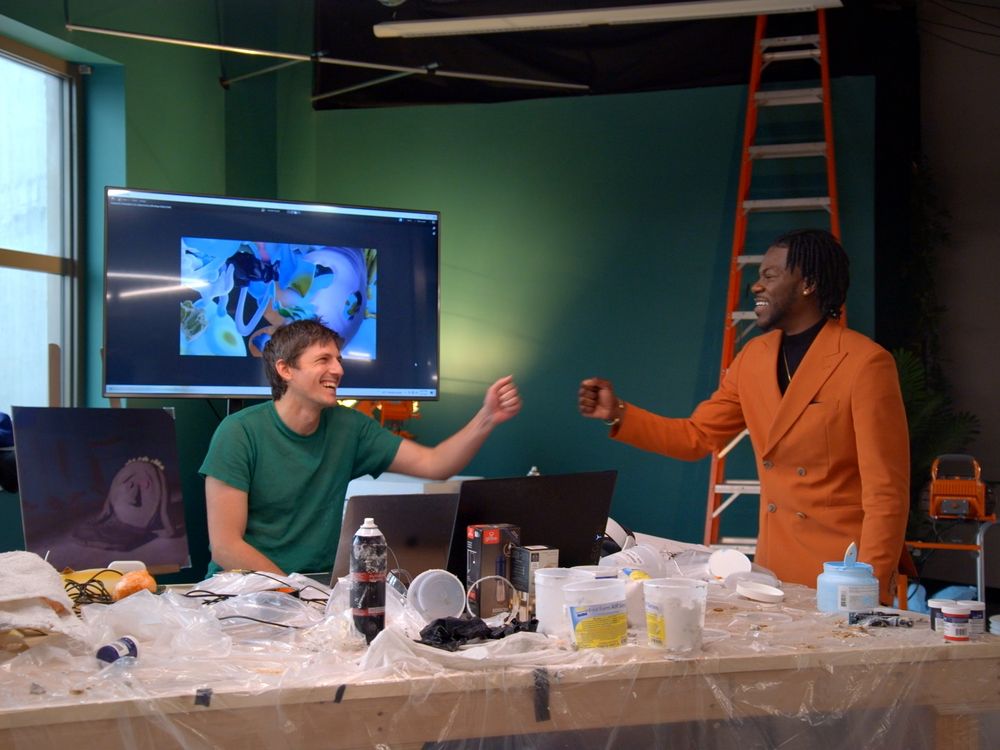 Serving as one of the executive producers on The Exhibit: Finding the Next Great Artist is one of my most memorable experiences working in television. It's not often you get to build a new series from the ground up and work alongside some of the brightest minds in the business.
Produced in partnership with MTV, Smithsonian Channel and the Smithsonian's Hirshhorn Museum and Sculpture Garden, the new docu-competition series is hosted by MTV News' Dometi Pongo and follows seven diverse artists as they compete for a $100,000 cash prize and a once-in-a-lifetime, career-defining exhibit at the Hirshhorn.
The competition portion of the series was filmed on location at the beautiful Maryland Institute of Art's (MICA) Baltimore Campus. When I walked into MICA for our first day of filming, I was filled with first day of school anxious energy. The production crew, dressed in black, hustled by me making sure all was in order before cameras started rolling. Dometi Pongo was entertaining guest judge JiaJia Fei as they finalized wardrobe and makeup. Melissa Chiu, lead judge and mentor for the series, was busy attending to her primary job as the director of the Hirshhorn while simultaneously being prepped for the day's shoot. Everyone was calmly preparing for the swirl of creativity that was about to infiltrate the space.
I found my seat in the control room as the seven artists filed onto the set. They took their positions at their worktables and waited for Dometi and Melissa to give them their "Commission," a prompt that would inspire a piece of art they would create over the next two days.
Their prompt for this episode was to create a piece inspired by social media. Using paint, paper and even pineapples, the artists got to work responding to the directive. Each artist was given the parameters of the commission weeks prior to filming, so they could plan, request supplies, and strategize how they would execute their vision. As each of them dug into the commission, I was mesmerized by their different approaches. Some gathered their supplies and methodically executed their plan, others calmly sketched with a cup of coffee in hand, and some truly seemed to be at play. It was like witnessing magic right before my eyes.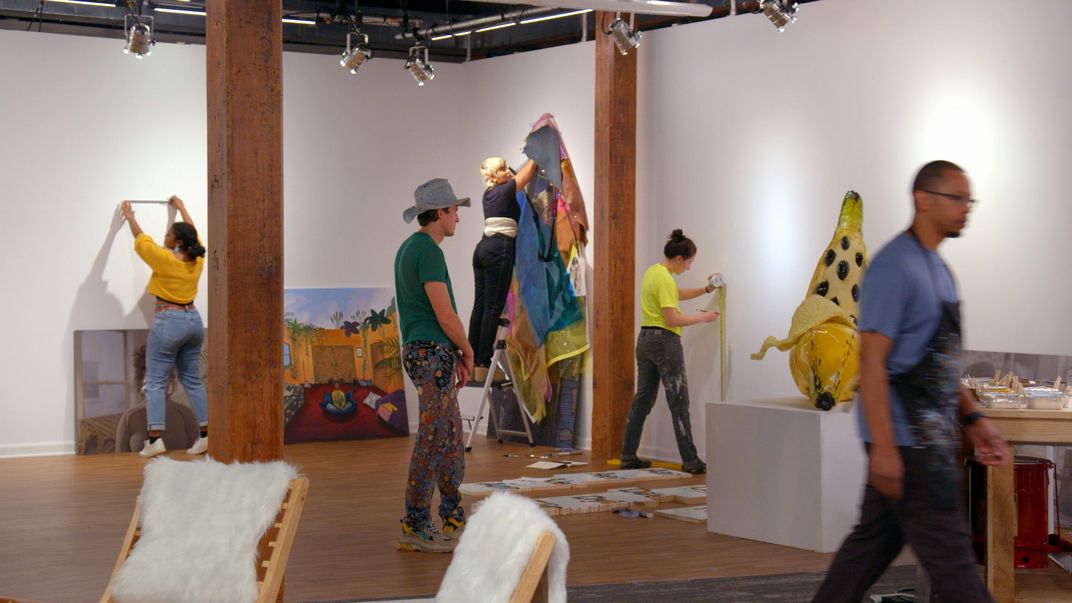 After two long days of filming and creating, the seven, exhausted artists headed back to their hotel rooms. As soon as the cameras stopped rolling, an anxious crew was allowed a closer look at each piece. This was my favorite part about working on this show. A crew of over 40 people from all different walks of life, who just happened to find themselves working on a series about contemporary art, all waiting anxiously for the moment when they could take a closer look. No matter their level of understanding or interest in art, every one of the crew members enjoyed observing, questioning, and musing over these incredible pieces sprung from the minds of seven wildly different people.
Watching the artists ideate, process, and create is something we so rarely get to see. We see finished works in museums or online and wonder how those pieces came to be. I love that this series peeks behind the curtain of what it is to create art. Given that these were all timed challenges, it was, of course, a mere glimpse into what these artists can really achieve. Regardless, I was completely blown away by what they were all able to do in such a short amount of time and under the gaze of a large crew, bright lights, and with cameras in their faces.
Jillian Mayer and Baseera Khan have interpreted this week's challenge very different ways. See how both of them explore the idea of injustice in their own unique way. @hirshhorn

Get ready for a new episode of #TheExhibit, tomorrow at 9/8c on Smithsonian Channel! pic.twitter.com/JF4Hc0lcdB

— Smithsonian Channel (@SmithsonianChan) March 27, 2023
The season finale of "The Exhibit: Finding The Next Great Artist" airs on MTV on Friday, April 7 at 10:00 PM/ET and on Smithsonian Channel on Tuesday, April 11 at 9:00 PM/ET.