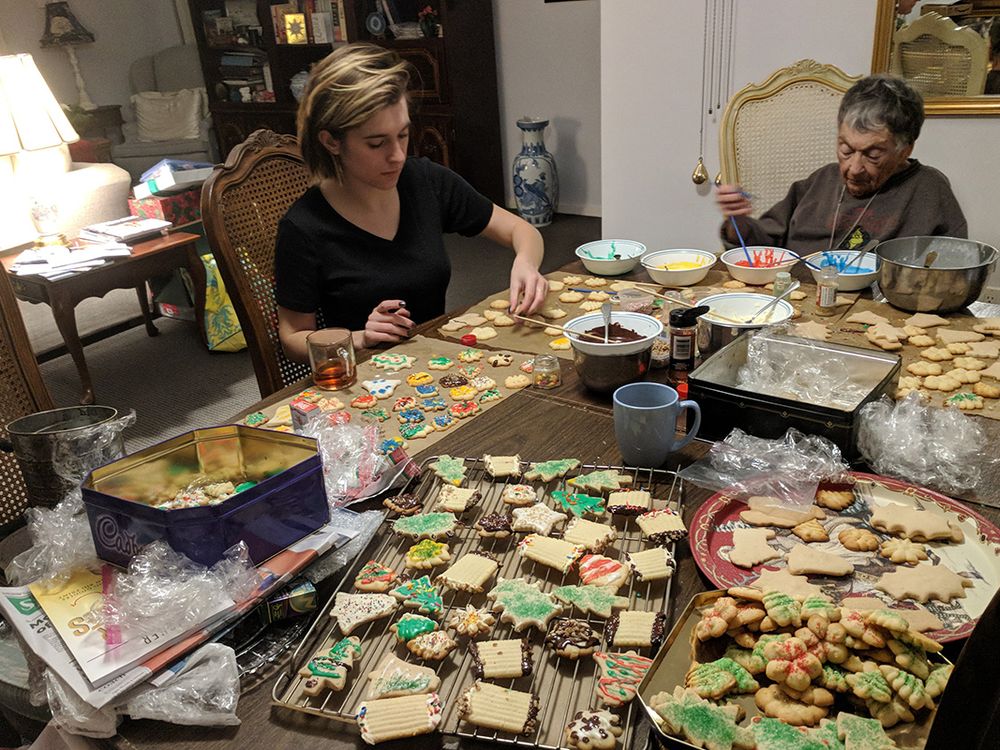 This article was originally published on December 20, 2019, in Folklife Magazine.
Every year, women's magazines invite us to "start a new family holiday tradition." "New tradition" may seem like an oxymoron, but traditions do need to start somewhere and often don't stretch back into time immemorial.
Case in point: our family's holiday cookie baking and decorating tradition. When my sister and I were children, my mother started making the same three holiday cookies, decorating two of them with bright frosting and sprinkles, and keeping a pretty plateful restocked through New Year's Day. I carried it on, and now my grown daughter, M.E., intends to as well. In our family, the holiday would not be complete without this ritual.
One of our three standard cookies, the Almond Crescent, doesn't get decorated, just rolled in confectioners' sugar. The second is a Spritz Cookie, which is traditionally shaped with a cookie press. The third has inspired the most creatively since it is the one rolled and cut with cookies cutters, the Scotch Shortbread.
This version of Scotch Shortbread bears no resemblance to the Walkers or other shortbread you may have picked up on your journey to Scotland or in the cookie section of a gourmet store. The base is not butter, but vegetable shortening, and the recipe came out of a 1949 edition of the classic Good Housekeeping Cook Book. When I asked my 93-year-old mother why she continued to make this cookie year after year, she explained simply, "Because we liked it."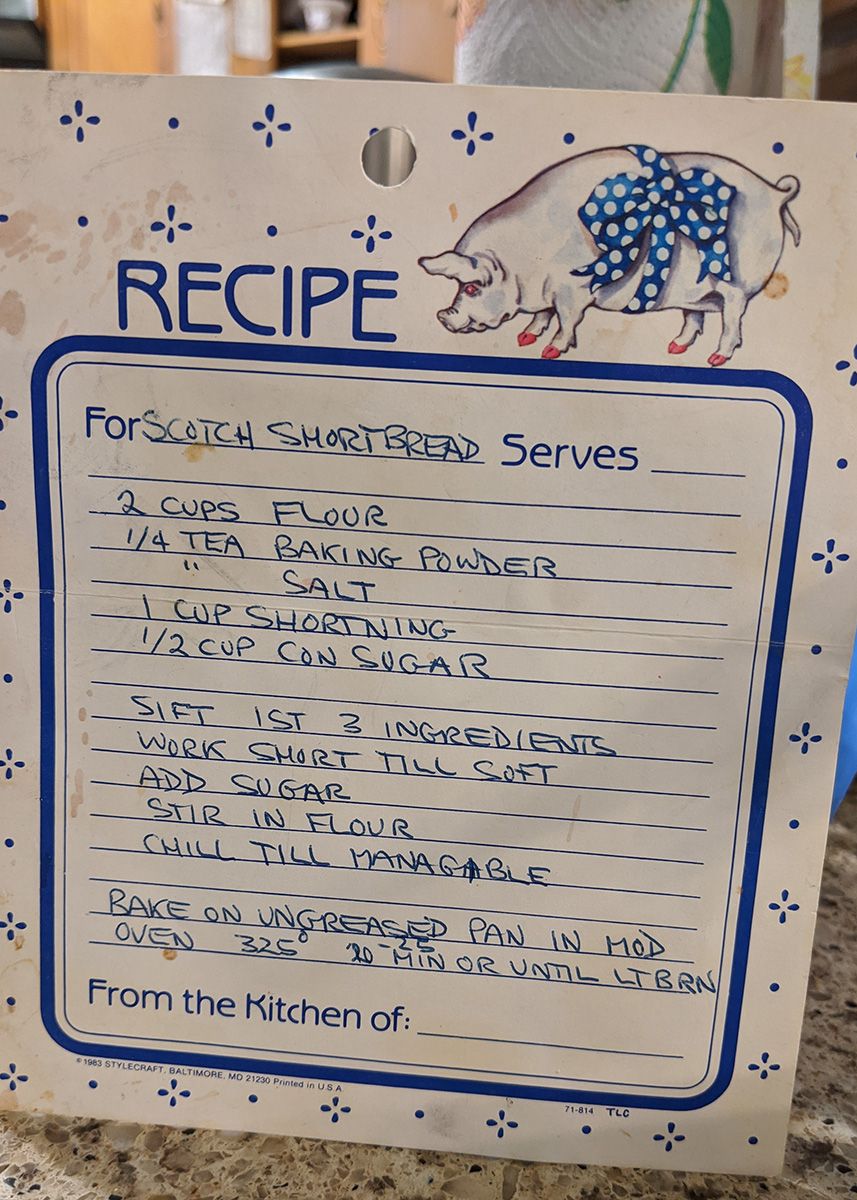 This cookie literally melts in your mouth. It is easy to roll out and cut but notoriously fragile. Breaking a few before they make it to the decorating table is inevitable and part of the fun—as in, "Whoops, I guess we'll have to eat it!" The cookie cutter shapes I recall using from my earliest memories are Christmas trees, stars, and bells, but in the second generation of production we have added a holly leaf and Santa Claus. (Sometimes we throw in a few sheep, butterflies, and maybe an angel for variety.) Learning to roll the cookies to the proper thickness is an art; too thin and they burn quickly, too thick and you use up the dough too fast. After baking, the cookies are packed carefully into tins awaiting their finery.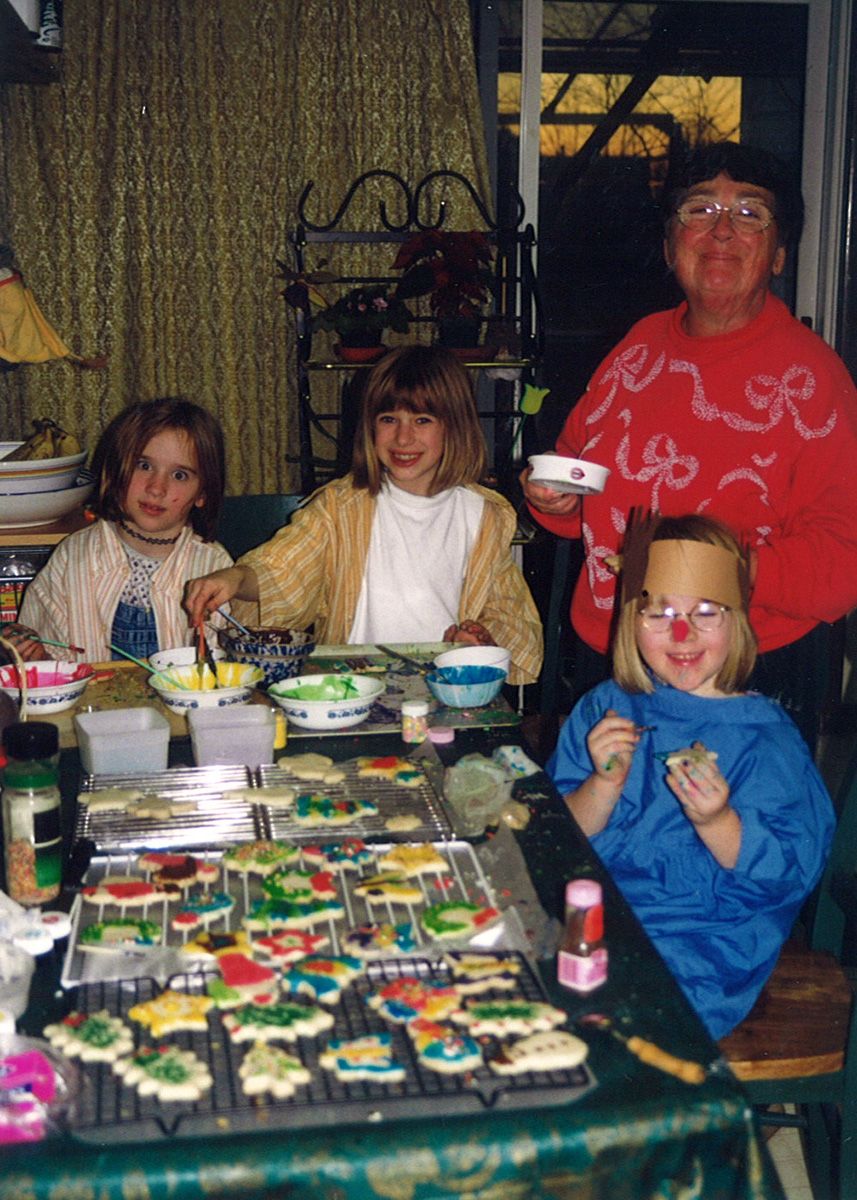 The decorating typically happens a few days before Christmas. First, the entire dining room table is protected against the messy pandemonium to come with waxed paper, a disposable paper tablecloth, or other catch-all. Next, the frosting is prepared and divided into bowls for the colors: red, green, blue, yellow, and white. Melted semi-sweet chocolate, ground walnuts, colored sugar, and various sprinkles are also assembled. Toothpicks, clean paint brushes, and spoons are the artists' tools.
This tradition tends to be the women's realm, presided over by my mother, myself, and my daughter, but we have allowed special guests over the years. When my daughter was growing up, this meant the inclusion of some of her friends, and we didn't judge on artistic merit. We were just happy when it was over and no one was covered in red frosting and/or crying.
My husband Steve joined in the fun several years ago. His artistry takes cookie decorating to a whole new level. Suddenly, what were clearly meant to be holly leaves (which should have been green with red berries) started showing up as fish, smiley faced suns, and other strange creatures. Santa Claus shapes took on an array of skin tones and strange outfits, forming a multicultural and sometimes otherworldly army. As M.E. says, "Dad has fun with it and does whatever he wants." My mother and I are less tolerant of his artistic license, exclaiming mock horror over the strange interpretations.
"It's a really nice tradition, not only because it has a special place in my heart, but it has that interactive, artistic element," M.E. continues. "I think everybody makes cookies, but the decorating aspect feels pretty unique to our family. It's a way to express what the holiday means to you." Even if it's fish and smiley faces.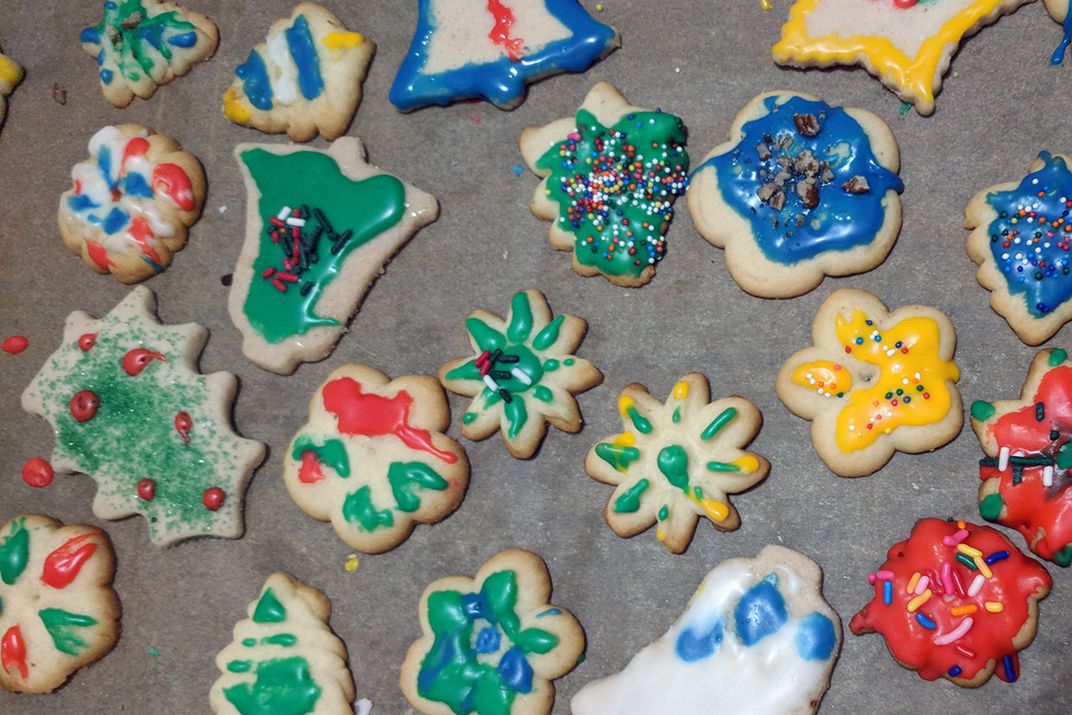 Scotch Shortbread Cookies
(Adapted from the Good Housekeeping Cook Book, Dorothy B. Marsh, editor, 1949 edition)
Ingredients
2 cups flour
1/4 teaspoon baking powder
1/4 teaspoon salt
1 cup shortening
1/2 cup confectioners' sugar
Decorations:
2 cups confectioners' sugar
Milk
Food coloring
Semi-sweet chocolate morsels
Walnuts or other nuts
Colored sugars and sprinkles
Preparation
In one bowl, sift first three ingredients together.
In another bowl, work shortening until soft. Add sugar and mix. Stir in flour mixture, working with your hands if necessary. Form into balls and chill before rolling. Cut into shapes.
Bake on ungreased baking sheets at 325 degrees for 20 minutes or until light brown.
For the frosting, sift two cups of confectioner's sugar in a large bowl. Add enough milk to make a spreadable consistency. Divide frosting into several small bowls and tint as desired with food coloring. 
Melt semi-sweet chocolate morsels in the microwave for 30 seconds, remove and stir. Continue in 15-second intervals, stirring in between, until well melted. Finely chop nuts. Use the frosting, chocolate, nuts, and colored sugars and sprinkles to decorate the cookies in creative ways. 
Author's note: My mom always dusted them lightly with cinnamon sugar before baking. So of course I do too.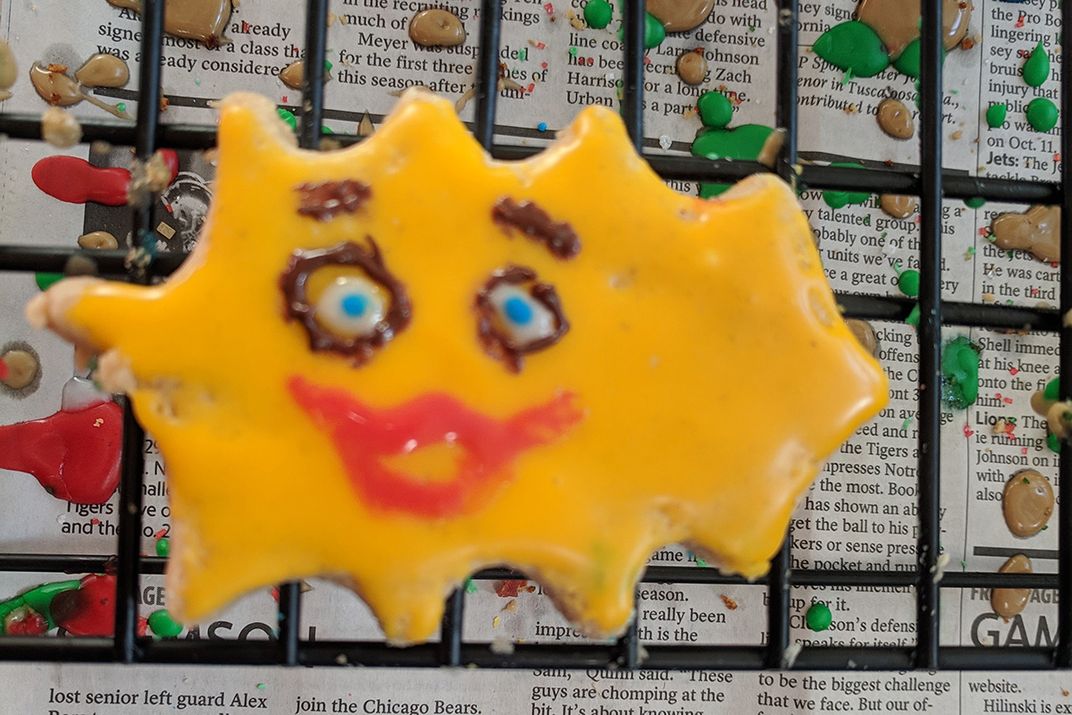 Betty Belanus is a curator and education specialist at the Center for Folklife and Cultural Heritage. Now that her husband is retired, he is considering a second career as a professional cookie decorator.