NATIONAL MUSEUM OF THE AMERICAN INDIAN
"To Reach More, Serve More, Inspire More, and Just Live More"—Hip Hop Artist Supaman
Christian Parrish Takes The Gun (Apsáalooke Nation), who performs as Supaman, has won a Nammy (Native American Music Award), an Aboriginal Peoples Music Choice Award, and the 2017 MTV Video Music Award for "Best Fight Against the System"—the last as part of the group of Native and non-Native musicians who recorded "Stand Up/Stand N Rock." What motivates him, however, isn't recognition but spirituality, Native culture and values, the people he meets on the road, and the chance to make a difference in the world.
---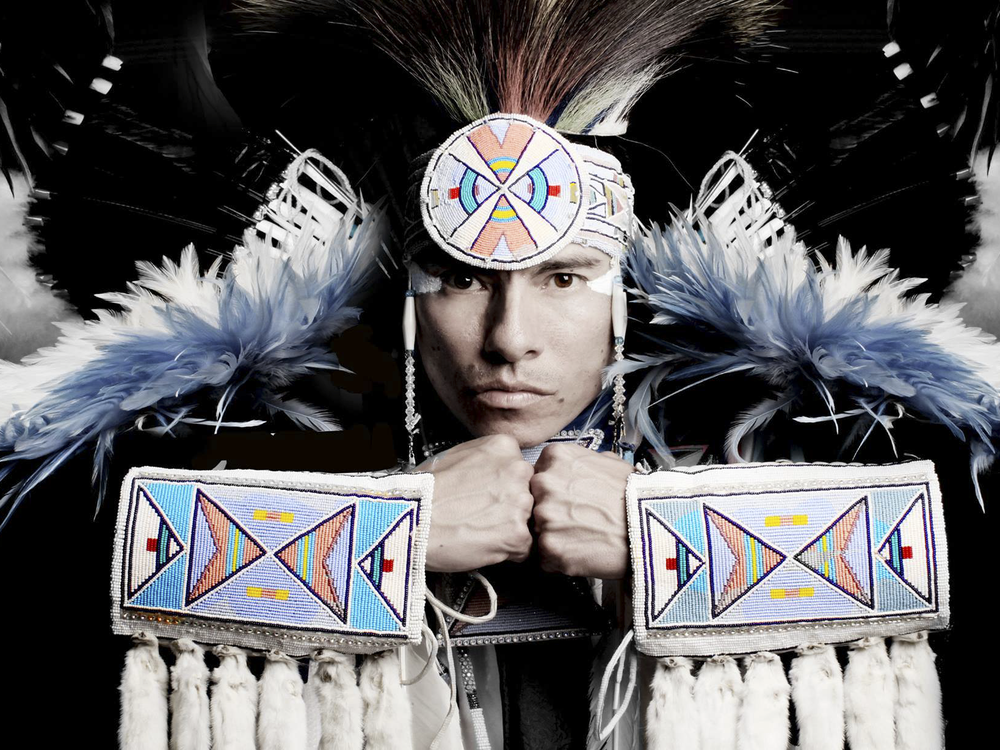 Please introduce yourself and tell us what tribe, nation, or community you affiliate with.
My name is Christian Parrish Takes The Gun, aka Supaman. I'm from the Apsáalooke Nation; the Crow Nation is the mistranslation of our people.
Can you tells us your Native name and its translation?
My Apsáalooke name is pronounced "Agemachile." That's just an attempt at the spelling, but it means Good Fortune on Mother Earth.
Where did you grow up and where do you call home now?
I grew up in Crow Agency Montana, but me and my family now reside in Billings Montana.
How old were you when you became interested in making words rhyme?
Well, in fourth grade we had a speaker come in to the classes to teach us about poetry, and I think that's where I started to become interested in the concept of rhyming words. So around 9 years old.
What makes your poetry, music, and videos unique from works by other artists?
I would say what sets me apart from other artists is the way I incorporate Native culture into hip hop culture. It's not only an intrumental fusion, but also a visual balance of cultures. Also the fact that I'm contributing to my art in a way you might not see a lot of artists do. I'm a fancy dancer, dj, producer, MC, flute player, motivational speaker, and comedian all in one artist.
How do you describe your art form?
I would say it's hip hop, but at the same time it's more than what can be categorized. Maybe abstract, experimental, inspirational hip hop—lol.
Where do you get your inspiration?
I get a lot of inspiration from my prayer life. Having a foundation of spirituality always keeps me motivated to create music that will have a positive impact on the listener. Traveling around I get to see a lot of different people, a lot of hurting people. They inspire me to want to make a difference in this world with the capacity I have as an artist.
Where have you competed and won awards for your works?
I've won a few awards, such as the North American Indigenous Image Award for best hip hop, a Native American Music Award for best gospel, the Aboriginal Peoples Music Choice Awards for best video, and recently an MTV Video Music Award for Best Fight Against the System.
Do you consider your art form Indigenous pop culture?
Good question. I myself wouldn't say it's pop culture. As a hip hop artist, you want to stay true to the art form and foundations of that culture. But the question is, What makes music pop culture? Is it the sound? The popularity of the genre? I always try to stay away from sub genres and titles, because they are always changing. But maybe Indigenous hip hop culture sounds better than Indigenous pop culture. Haha.
How does your work coincide or incorporate Indigenous art forms?
I like to incorporate different Indigenous instruments and samples into the production of the music. I also have been fancy dancing since before I was a hip hop artist. So I like to incorporate and share this side of Indigenous culture with the listener as well. The uniqueness of our Native American culture and the values that come with it, I feel, are important teaching tools that not only inspire Native American people, but other Indigenous cultures as well.
On average, how long does it take you to put new lyrics together?
If I'm in the zone, I could finish a song in a day. I'm a perfectionist when it comes to lyrical content though, so sometimes it could take me months to put one verse together. The craft of writing is something I really take time in putting together. People who are into hip hop culture and lyricism can tell who is an average emcee and one who is above average.
What's one of the biggest obstacles you've faced in what you do?
I'd say it's being a family man and an artist at the same time. If you're single with no kids, you can get up and go wherever and do whatever. But as a husband and father, my heart is always with my family first, so it's hard for me to travel and be away from them. Finding that balance is difficult at times.
What inspires your message and music?

The impact I've seen on people is what inspires the message. I've heard so many stories of people who were even on the brink of suicide say that my music stopped them from killing themselves. Or I've heard parents tell me that their kids are now dancing and taking part in their culture because of the influence of the music I make. It makes it all worth it when you hear things like that.
Are there any signature pieces that you're known for?
"The Prayer Loop Song" is probably the most popular video I might be known for. It's the first time I did looping in my fancy dance outfit. That along with a song called "Why," which features the looping of a jingle dress dancer—Acosia Red Elk—where we both dance to the song in our regalia. Both have millions of views online.
How do your earlier works differ from what you do today?
My earlier works are mostly just hip hop without the instrumental or Indigenous cultural fusion. The subject matter of the lyrics has also changed over the years. We are always growing and changing in our life perspectives, spiritual perspectives, etc., and these are different now from in my earlier works as an artist.
Where are some notable places you've performed?
I've performed at Yale University, as well as UMASS and colleges across the country. I've performed at some great festivals like the New Orleans Jazz Festival, Arise Festival, World Fest, and the Richmand Folk Festival. I've performed at powwows and even at the Google headquarters in California.
What are your future project or goals?
I've just released a new project titled Illuminatives, which I'm currently touring for. I've been working with Taboo (from the Black Eyed Peas) on a collective project with other Native artists called Mag7, which is our group name. We plan on putting that out on some big platforms. My goals are always to elevate what I'm doing and to reach more, serve more, inspire more, and just live more.
Where can we find more of your works?
You can find my albums and projects online on all platforms like iTunes, Google Play, Spotify, etc.
What advice can you give young people concerning their future?
The best advice I can give young people is to develop a prayer life. Our foundation as Native people has always been our spirituality. We will never get to where we want to be until we know where we come from and who we are. Prayer is that key to success, peace, love, and happiness. It is where you will find your purpose in life!
Thank you.
Thank you.