NATIONAL MUSEUM OF THE AMERICAN INDIAN
The exhibition Americans, opening in October, previews with a 1948 Indian Chief motorcycle
Indians are everywhere in American national and pop culture, and have been for centuries. Why is that? Americans, opening in the fall, explores Americans' and American Indians' entangled history, revealed by the events that have shaped our national consciousness and by the imagery of American Indians all around us in our everyday lives.
---
The National Museum of the American Indian in Washington, D.C., recently installed an iconic 1948 Indian Chief motorcycle in its majestic Potomac Atrium. On loan from the Barber Vintage Motorsports Museum, this classic American motorcycle, with its Indian head fender ornament, will be featured in the museum's exhibition Americans, opening in October. This exhibition explores Americans' and American Indians' deeply entangled history, made manifest by the imagery of American Indians all around us in our everyday lives.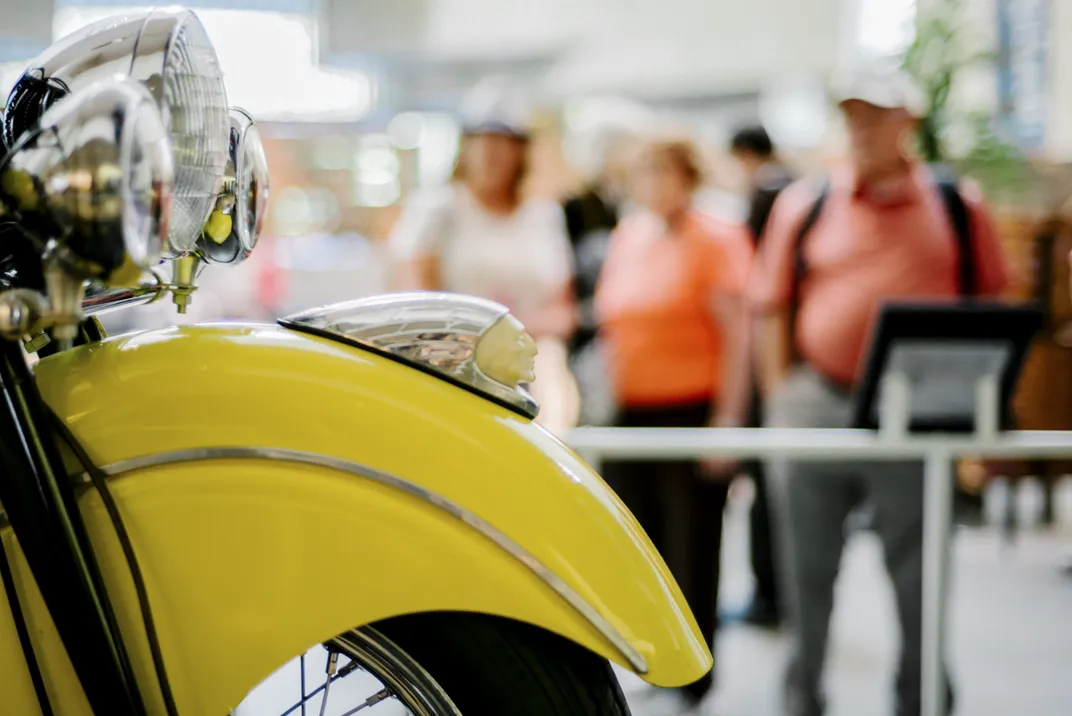 Produced from 1922 until 1953, the Indian Chief was built as a large and powerful motorcycle by the Indian Motorcycle Company, once the largest motorcycle maker in the world. Founded in 1901—the first motorcycle manufacturer in the United States—Indian produced motorcycles for the U.S. military during World War I, survived the Great Depression with the help of two Du Pont brothers, and went on to build motorcycles for the Allies during World War II.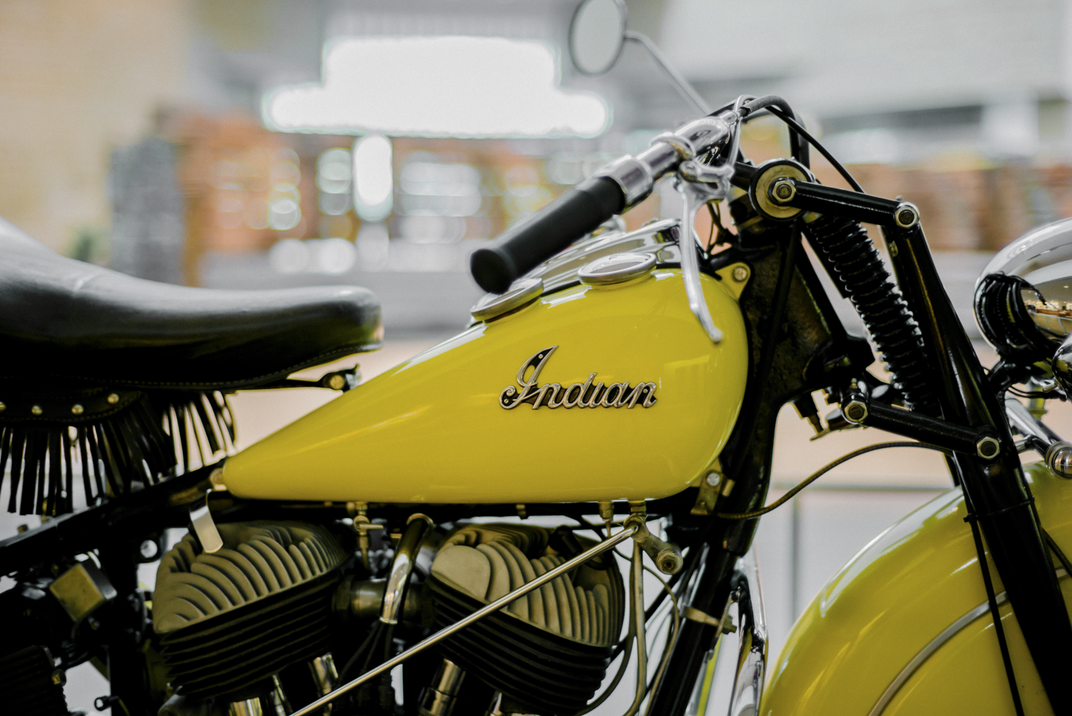 Manufactured in a range of radiant colors, vintage Indian motorcycles are highly coveted by collectors enthralled by their early technical advancements and styling enhancements. To give an example, in season 2, episode 6 of the TV series Billions, hedge-fund manager Bobby "Axe" Axelrod takes a private moment to sit upon his newly acquired vintage Indian Four as a new monarch sits upon his rightful throne.
The Du Pont yellow Indian Chief Motorcycle now on view at the museum is one of four specially highlighted objects that will function as anchors in the Indians Everywhere section of the Americans exhibition. As the exhibition's introductory gallery, Indians Everywhere will confront visitors with the ubiquity of American Indian imagery in American popular culture. This bold, immersive display of more than 300 photographs and other images is designed to arrest our attention. But much more than that, it is intended to focus our thoughts on what, unknowingly, Americans have created and accepted as the white noise of our lives. No other country in the world is as fixated on one segment of its society as the United States is on American Indians. Why is this? Why are images of American Indians—some real, most imaginary—everywhere we look in American life, from boardroom to stadium, farm to inner city, fashion runway to tattoo parlor, Hollywood studio to military base, factory to highway?
Moving beyond now-commonplace discussions reflecting the politicization of visual culture in the United States, Americans delves deeply into the historic reasons behind this phenomenon. Whether taken-in sweepingly or considered in detail, Indians Everywhere reveals not only the time span of this imagery—its use began with Paul Revere and the revolutionary generation and has continued unabated to the present day—but also the myriad unexpected, sometimes paradoxical contexts in which it appears. American Indian imagery has been used by the federal government to distinguish the United States from other nations and to define the nation for its citizens, by U.S. armed forces to express military might, by American corporations to signify integrity, and by designers, such those who created the 1948 Indian Chief, to add luster and cachet to commercial products.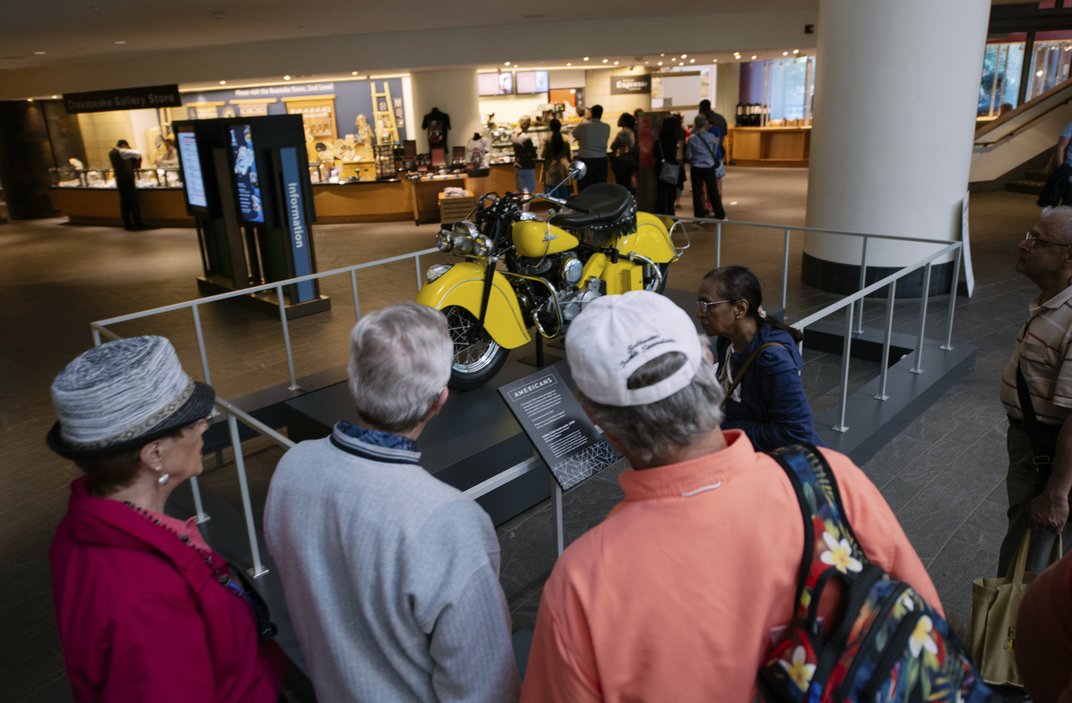 Within Americans, Indians Everywhere—the backdrop of American life—provides a starting point for exploring four foundational events in U.S. history: Pocahontas, Thanksgiving, the Trail of Tears, and the Battle of Little Bighorn. The heart of Americans lies in thinking about how each of these events has affected and shaped America's national consciousness and Americans' lives. In Americans these four events illuminate political realities when and after they occurred and, ultimately, our changing understanding of what it means to be an American.
The title of the exhibition is a play on words. In the Oxford English Dictionary, the first historical definition provided for "American" is: "An indigenous inhabitant of (any part of) the Americas; an American Indian." This usage was common until the early 19th century. As visitors move through Americans, from the imagery of Indians Everywhere to the four events, the museum hopes to spark a greater awareness of the history American Indians and non-Indians share. We hope people will leave the museum newly attuned to the pervasive presence of American Indian imagery in everyday life. And when people begin see Indians everywhere, as they will—even on the front fender of a motorcycle widely believed to represent perfection in functionality and design—we hope they will see it for what it is: A phenomenon that exists in no other country of the world, one that ultimately speaks to the fact that the United States was carved out of the indigenous lands of American Indians, and that its history is inextricably and profoundly intertwined with American Indians.
Where do you see Indian imagery? Tell us, using #NDNsEverywhere.