How a US Classroom Reached Across an Ocean to Make Global Sustainable Goals a Part of Their Lesson Plan
A US-based class connected with peers in France and French Territories to learn how they can be part of the solution for our shared, sustainable future. Their teacher, Maria Isabel Alonso, answered a few questions with her class at Belen Jesuit Preparatory School in Miami, Florida, about how they used the Smithsonian in France program to incorporate global sustainable goals into their curriculum and daily lives.
---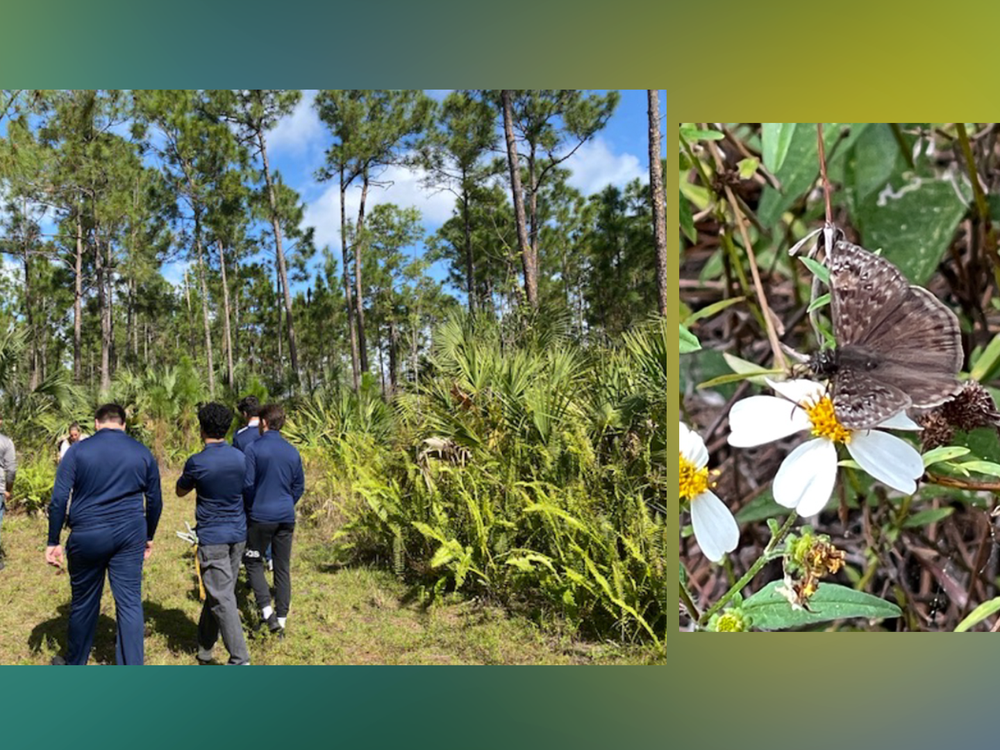 Can you describe your participation in the #SmithsonianInFrance program and tell us about a few highlights?
Our experience the the #SmithsonianInFrance program was a very interesting, inspiring, and thought provoking. As a class we learned more about sustainability and have been inspired to lead our generation in the path to a healthier planet and society. We definitely grew closer as a class through our extra time together regarding the zoom and planning meetings regarding our project. While this program did put some extra weight on our work load, we all did not mind because of its noble cause and the fun we had. Some highlights were the informative zoom meetings and the very funny Padlet in which we got to see the personalities of our French counterparts. Another highlight is when we went on a field trip to a pine Rockland reserve where we got to spend the day exploring together.
In what ways did this program encourage students to become more engaged with the important issues discussed, such as inclusivity and sustainability?
The program with the #SmithsonianInFrance program fostered the shift from ideas to physical, measurable results. Everyone has had a discussion about world issues, including regarding sustainability. This program, however, pushed the students to make something out of the brainstorming of ideas. In our case, we were able to make contact with various organizations in our community and bring native flora to our school to expand its beauty and sustainability. Had we not been involved with the program, it would have been much more difficult to bring the idea to life.
What activities are the students currently undertaking in their own communities or daily lives because of this program? And, what changes have they made in their behavior as a result of their participation?
Because of this program, it has made us more involved in our community. This program created awareness and made us realize deep down all the issues in our environment. We now participate more in helping out by serving the community in different ways. We want to maintain this foundation and share it with the younger generations of our school and future French classes. Our behavior also has changed heavily. We have been more environmentally passionate and generous. We appreciate nature more and want to really make a change in this world by giving it all we got.
How did your students most benefit from connecting with students across France and in the US?
Our students most benefited from connecting with students across France and the U.S. by learning about environmental issues that are universal. They learned different ways in which we can tackle these issues, as well as how important it is to care for our world. Another part that was beneficial was the language exchange through the padlet. Our students saw a lot of vernacular, everyday French, which can be beneficial to learning a language. I think that overall, the most beneficial aspect of the program was how the students connected with each other through language exchange to be more aware of environmental issues, which is important for the youth.
Finally, where do you see the lessons learned from the program guiding you for the future?
I believe that the lessons provided to us throughout this program helped inspire us to discover new ways to ensure we take care of our planet. Our intention is to continue expanding on the work we have begun. One thing that we learned is that we can't expect others to do the work. Everybody has to be involved in order to make a difference tackling the problems we have locally so we can make a difference globally.