New Collections: Robert Hughes Papers
The personal papers of art critic Robert Hughes offer insights into his seminal series "The Shock of the New"
---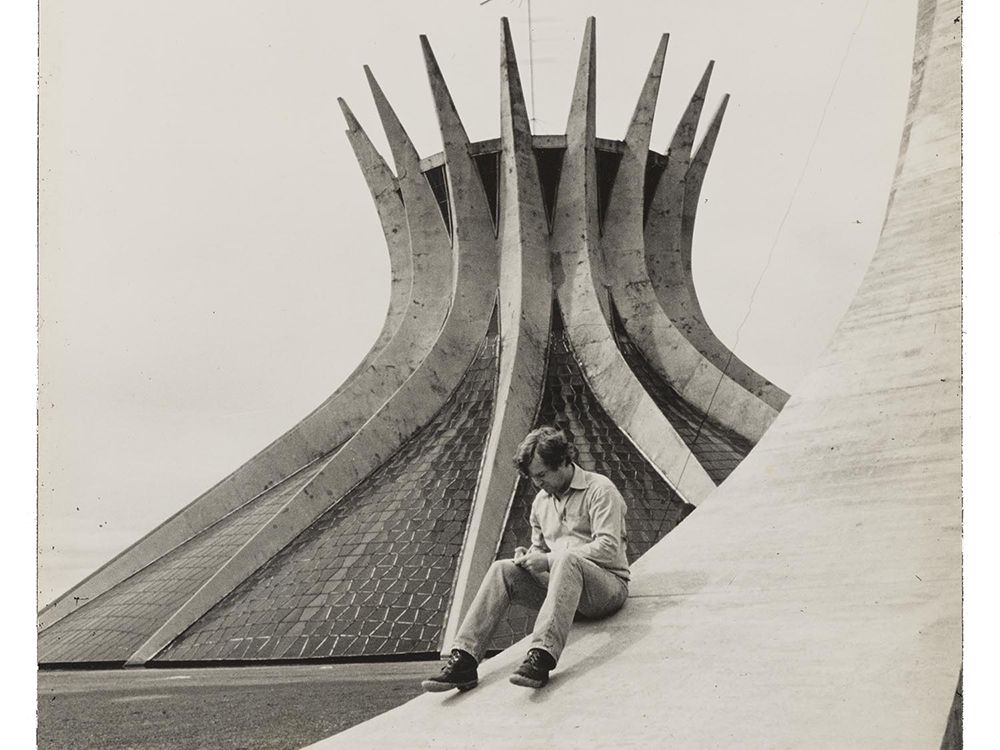 It is unusual for an art critic to achieve widespread recognition—celebrity, even—outside the art world. Over three decades as chief art critic for Time magazine, and as the author and narrator of several televised documentary series, Robert Hughes (1938–2012) was one such rarity. Donated by Hughes's widow, Doris Downes, the sizable collection of his papers documents Hughes's life and multifaceted career through extensive personal and professional correspondence; notebooks; drafts of articles, lectures, documentaries, and book projects; audio and video recordings; photographs; press clippings; and other personal records.
Born and educated in Australia, Hughes decamped for Europe in 1964, eventually landing in New York City in 1970 to take up his position at Time. His first documentary, The Shock of the New, was an eight-part series that sought to demystify the development of modern art by placing it in the context of the cultural and social history of its time. When it aired in 1980–81, it was seen by more than 25 million viewers, and an accompanying book quickly became his first of several bestsellers. Hughes's papers include research files, correspondence, shooting schedules, and production notes for all of his books and television projects. The original bound shooting scripts for each episode of The Shock of the New bear extensive handwritten annotations, edits, and rewrites, indicating a surprising degree of last-minute revision for such a complex undertaking.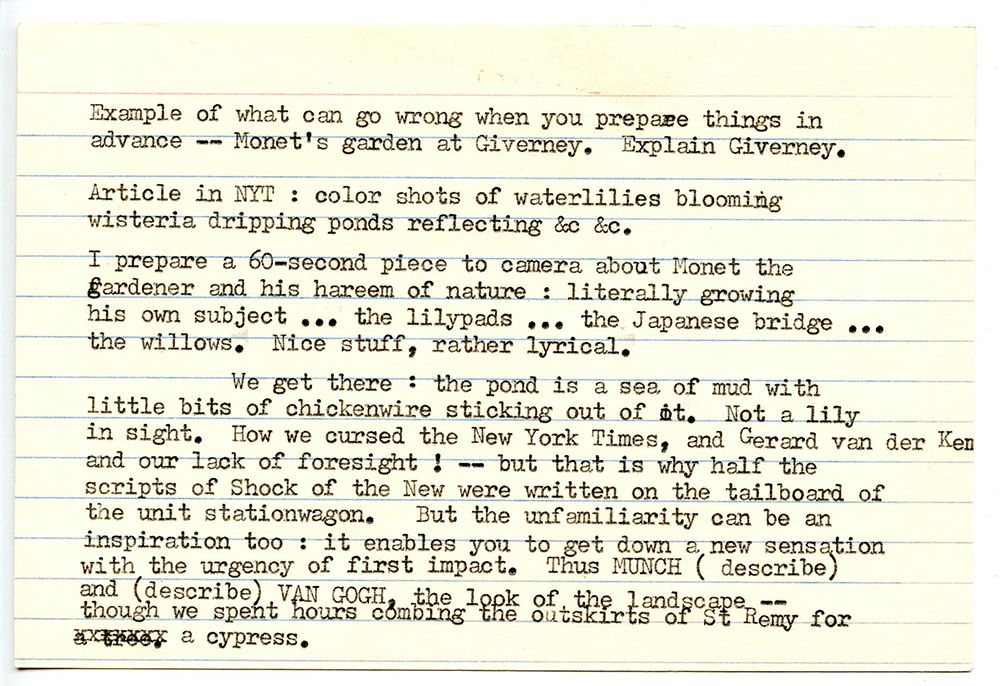 This improvisatory quality is further addressed in Hughes's post-facto observations on the process. On a series of notecards, he describes, among other mishaps, the experience of arriving to film Claude Monet's famous garden at Giverny, only to find that "the pond is a sea of mud with little bits of chickenwire sticking out of it. Not a lily in sight . . . that is why half the scripts of Shock of the New were written on the tailboard of the unit station wagon. But the unfamiliarity can be an inspiration too: it enables you to get down a new sensation with the urgency of first impact."
Although Hughes eschewed the art world's social rituals and often chose to play the role of the outsider in the culture he wrote about on a weekly basis, he did maintain close friendships with many artists. The papers include a set of fifteen Polaroids documenting the gradual completion, over several sittings, of Frank Auerbach's 1986 portrait of Hughes, for example, and almost two dozen often extremely detailed letters from Auerbach regarding Hughes's 1990 monograph on the artist, which is itself described in a contemporaneous letter from artist R. B. Kitaj as "the best book on a living painter I can remember."

Also noteworthy is a collection of fifty-six audio recordings of interviews, lectures, and travel journals dating from 1971 to 2006. Interviewees include artists Nancy Graves, Louise Nevelson, and Saul Steinberg; museum leaders Thomas Armstrong, Philippe de Montebello, and William Rubin; and writer Carlos Castaneda. Conducted for the purpose of research rather than publication per se, these tapes offer valuable context for Hughes's critical and historical writings.
This text originally appeared in the Fall 2022 issue (vol. 61, no. 2) of the Archives of American Art Journal.