What If Major League Baseball Fielded a Team and the Players Were Duchamp, Calder, Marisol, O'Keeffe and Pollock?
A collection of artist baseball cards, "Artball, from the artist Don Celender, arrive in the collections just in time for the World Series
---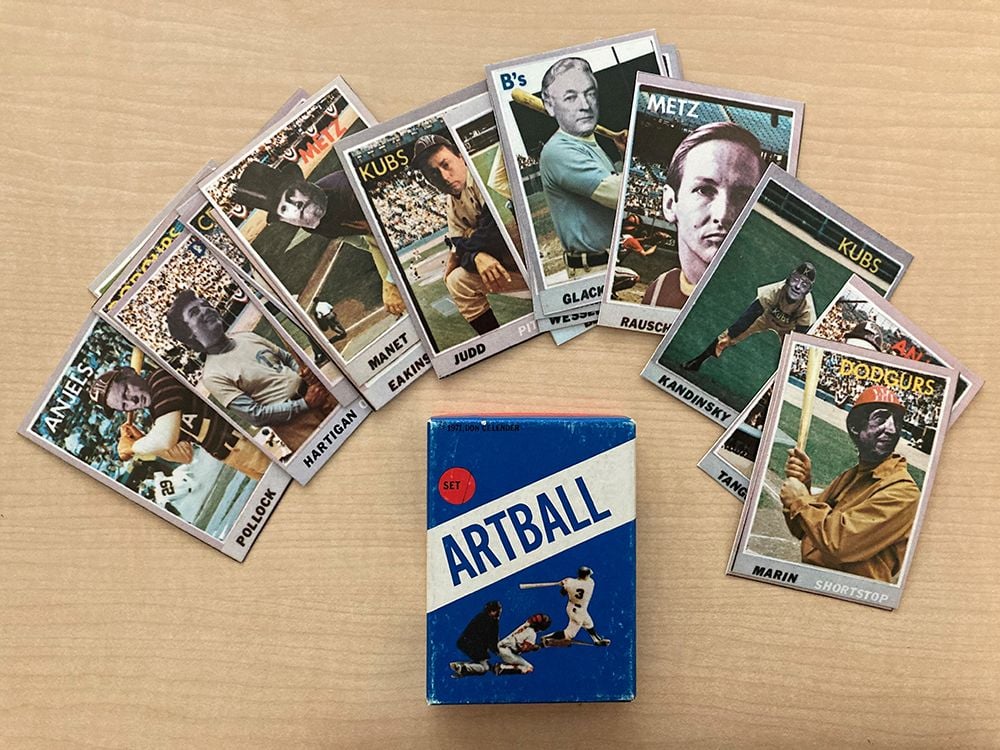 Major League Baseball is gearing up for the World Series, the best of seven-game series that determines which team will win the coveted Commissioner's Trophy and earn the title of World Series Champion. But what does this have to do with the Archives of American Art? Baseball transcends the playing field; evidence of this can be found in a variety of media and collections at the Archives.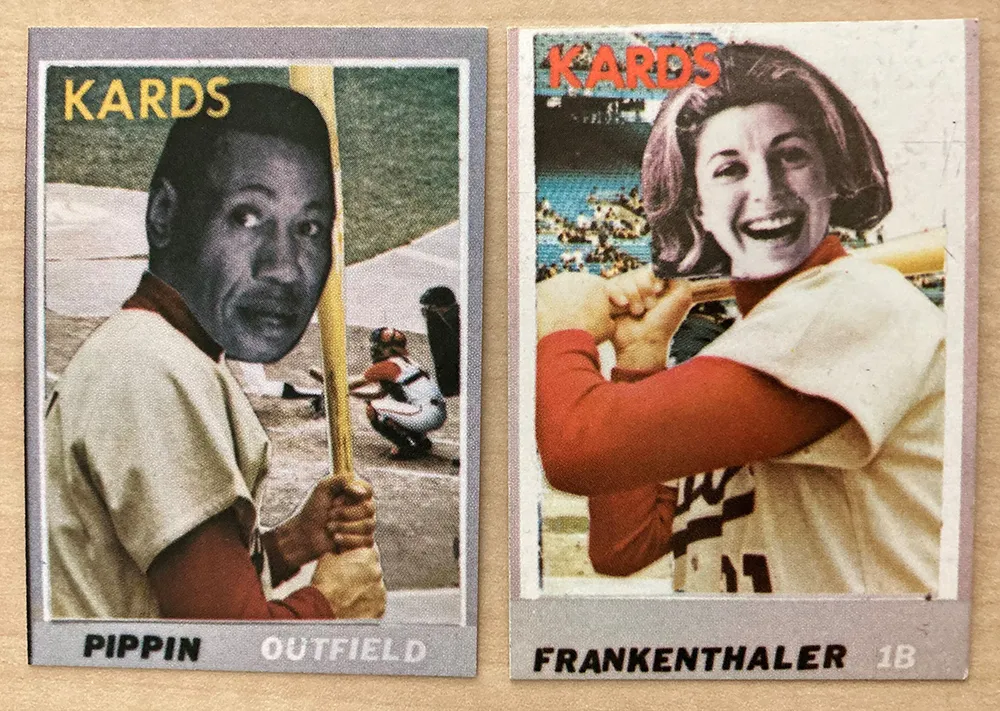 Just in time for baseball season, the Archives received a collection of artist baseball cards, created and designed by conceptual artist, Don Celender (1931–2005) in 1971. Celender combined his knowledge of art and baseball with a bit of humor to create five sets of cards featuring prominent art figures of the twentieth century. Affectionately named Artball, each set includes twenty cards, complete with a trading card box. Individual cards depict the face of an artist, curator, gallerist, or collector superimposed onto a baseball player's body and includes the player's name, position, and team name. Team names are fictitious but are plays on actual Major League Baseball team names and include the Yankz, the Metz, the Kards, the Cenators, and the Kubs, among others. The back of each card features a well-known image of the player's artwork, museum, or writing. Players include Alexander Calder, Marcel Duchamp, Marisol, Georgia O'Keeffe, and Jackson Pollock, to name only a handful. Helen Frankenthaler plays first base for the Kards and her teammate Horace Pippin plays outfield.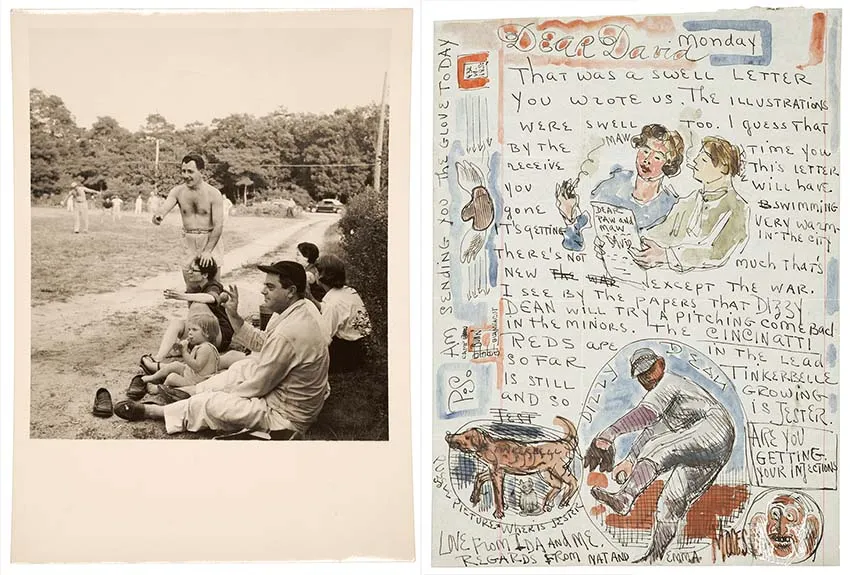 Artists' personal papers also reflect their camaraderie through team sports. In 1951, Ludwig Sander and other New York artists participated in the Ninth Street Show, a pivotal moment in American Art that formally introduced the world to abstract expressionism. In an early 1950s photograph from the Ludwig Sander papers, artists in Springs, East Hampton, New York, played a casual game of baseball. It is probable that the photograph was taken during one of the early pickup games, first played in 1948, that would evolve into the annual Artists & Writers game, still played today as a charity fundraiser. The relaxed atmosphere is evident as they take in the game and share a potluck with their community of artists, family, and friends. Franz Kline can be seen shirtless while Ludwig Sander sits on the side lines sporting a baseball cap. It is likely that other New York artists who participated in the Ninth Street Show, such as Jackson Pollock, Williem de Kooning, Ibram Lassaw, and Joan Mitchell joined Kline and Sander that day.
In a 1940 letter from painter Moses Soyer to his son David at summer camp, Moses illustrates the letter with a variety of drawings familiar and perhaps comforting to his son.One of Soyer's drawings is of minor league baseball player Jay Hanna "Dizzy" Dean throwing a pitch, and another is of a baseball glove with wings. Soyer certainly encouraged a love of baseball in his son writing, "P.S. Am sending you the glove today."
Printmaker Helen West Heller, who once studied with fellow artists Robert Henri and George Bellows, went on to create prints and murals for the Works Progress Administration. In her 1928 woodcut print simply titled Baseball, Heller depicts the motion of a baseball play by utilizing repetitive lines to create a sense of movement and energy. One player tags the base while his opponent catches the ball with his outstretched arm. Is the runner safe? Is he out? The viewer can decide while the crowd cheers the play.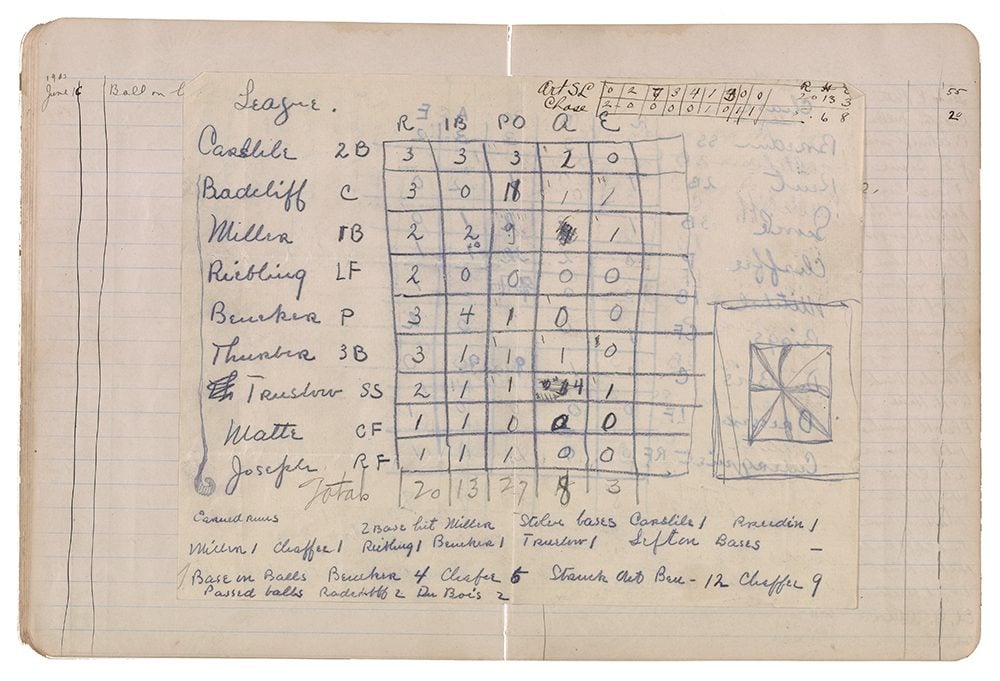 In 1896, William Merritt Chase founded the Chase School, which was renamed the New York School of Art by the time Robert Henri began teaching there in 1902. Henri encouraged his students to exercise and play sports with the understanding that the physical activity and competitiveness would make them stronger artists and men. His students formed their own baseball team and put together a small league with the National Academy of Design and the Art Students League. In one game Henri's students, including Guy Pène Du Bois, Walter Biggs, Rockwell Kent, and Oliver Chaffee, faced the Arts Students League. A detailed scoresheet with statistics including runs, hits, putouts, assists, and errors is found in Gerrit Beneker's papers, who pitched for the League in this game.
While both Rockwell Kent and Guy Pène du Bois both claim in their memoirs that the Chase School—as it was still colloquially known—never lost a game, according to the scoresheet the League only allowed five runs and were the winners on this day with a final score of twenty to five.
Since its invention, baseball has thrived in America and shows no sign of decline as we head into the 118th World Series. Whether the sport is viewed as a pastime or a passion, we can be sure that generations of artists to come will continue to express their appreciation for the game.
This essay originally appeared on the
Archives of American Art Blog
.