New Collections: Interviews with Native Artists
Recent interviews conducted with Native artists are now part Archives of American Art's Oral History Collection
---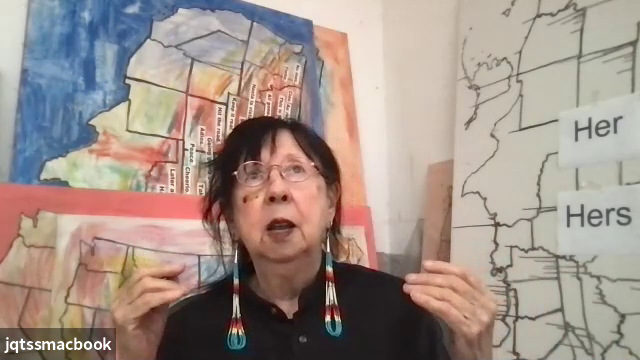 Supported by the Leon Polk Smith Foundation and in collaboration with the National Museum of the American Indian, five new oral histories with Native artists have joined the Archives. These interviews enrich resources for those who study landscape painting, textile art, printmaking, and contemporary Native art. Conducted in 2021, the oral histories represent both a substantial increase in the Archives' holdings related to Native art and a priority area of growth. While the stories told are as diverse as their speakers, they all attest to the rise in mainstream attention to Native art within the American art scene, as well as to the inseparability of art from communal life and humanity's inseparability from nature. Amid the current reckoning with colonial and racist legacies, the artists interviewed also consistently point to the significance of engaging with the past to create a just future.
Montana-born artist Jaune Quick-to-See Smith (b. 1940; Confederated Salish and Kootenai Tribes of the Flathead Indian Nation), who now calls New Mexico home, recounts the achievements of the Gallery of the American Indian Community House in New York, including the pivotal Women of Sweetgrass, Cedar and Sage exhibition in 1985, for which she penned a catalogue essay alongside Lucy R. Lippard and Harmony Hammond. Ambitious collaborative efforts also characterize Smith's interdisciplinary painting career. In her interview for the Archives, she delves into her fascination with maps, landscapes, and the power dynamics they obscure or reveal, topics that reverberate with her ongoing efforts to encourage institutional land acknowledgements.
Fourth-generation Navajo Nation weaver D. Y. Begay (b. 1953) relives her first joys with spinning fleece: "It has that luster, that sheen, that gives life to your tapestry." Begay elaborates on her textile processes, her improvisations with dyes, and the endless and ephemeral beauty of the Navajo Nation, which extends into Arizona, New Mexico, and Utah. When asked about how she sees her place in Native weaving heritage, she offers: "The tradition will continue, the tradition will evolve." 
Colville Confederated Tribes artist Joe Feddersen (b. 1953) speaks from his home in Omak, Washington. He reminisces on the multiplicity of influences during his life—those who taught him basket weaving, his ancestors' petroglyphs, and his experience of contemporary urban American life as both insider and outsider—aligning them with his radical experiments across media. 
Based in upstate New York, G. Peter Jemison (b. 1945; Seneca Nation, Heron Clan) sorts through the seeds of wisdom and encouragement he received in his youth that have come to harvest throughout his artistic career. He describes painting as his métier and envisions his work as part of a longer conversation between the land, people, and his own spirit. Public installations that inform and inspire are on his mind at the moment, and with the growing recognition of Native art, he foresees greater growth and potential for dialogue ahead.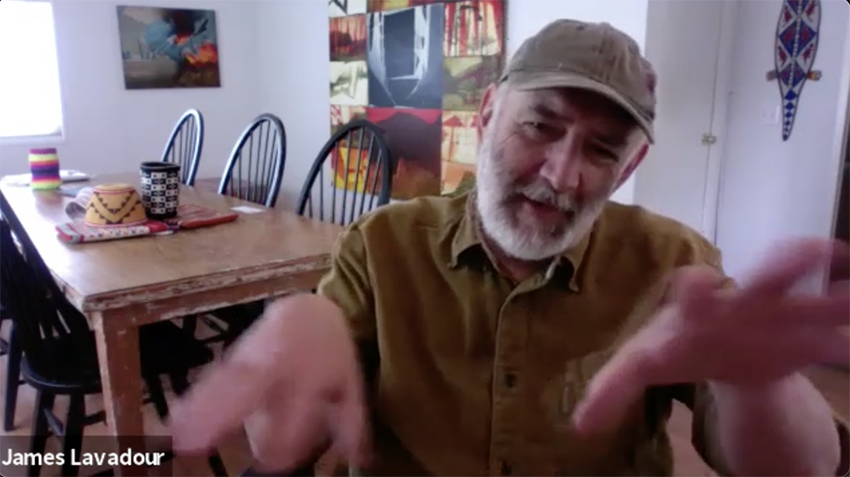 Known for landscapes charged with the geologic vitality of eastern Oregon, James Lavadour (b. 1951; Confederated Tribes of the Umatilla Indian Reservation) retreads his remarkable career path. He mulls his early morning routine, which includes taking time to observe local flora and fauna, ingesting the world so that he might become "a conduit for the life outside of me." Lavadour relishes the discoveries and connections still ahead: "I'm not done yet. . . .  I'm getting to where I'm beginning to understand paint, just beginning to understand it after all this time."
This text originally appeared in the Spring 2022 issue (vol. 61, no. 1) of the Archives of American Art Journal.