New Collections: Michèle C. Cone Papers
The papers of art historian, critic, and curator Michèle C. Cone are now at the Archives of American Art.
---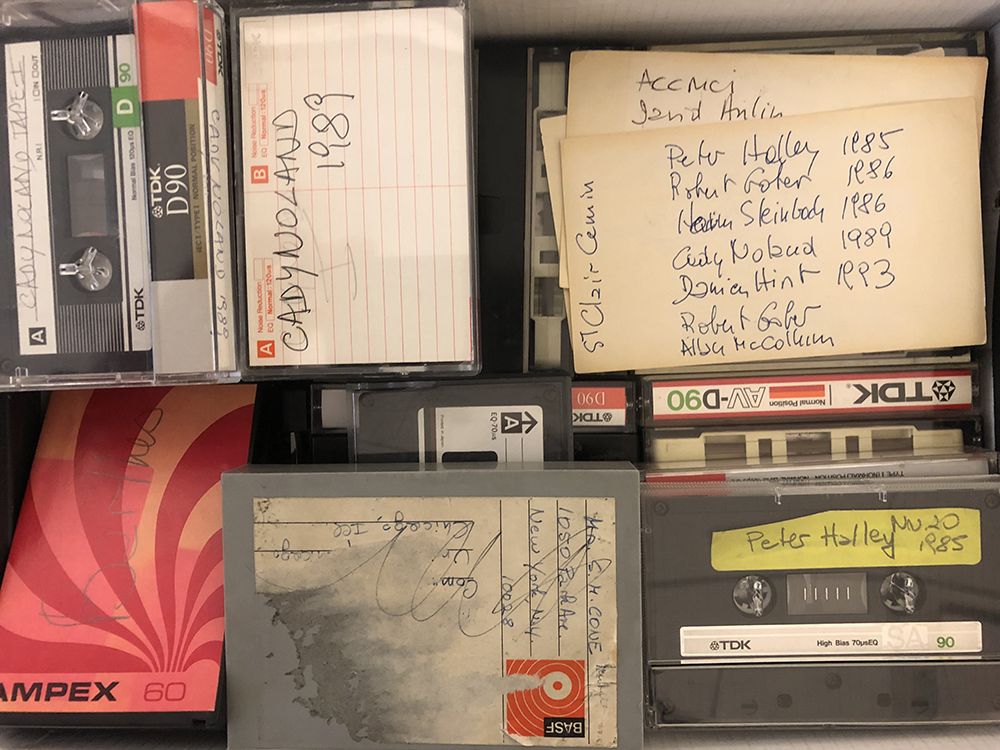 Michèle C. Cone (b. 1932) is perhaps best known today as a historian of French art during and after the Vichy regime and Nazi occupation, author of such books as Artists Under Vichy: A Case of Prejudice and Persecution (1992) and French Modernisms: Perspectives on Art Before, During, and After Vichy (2001). Her papers include extensive research files and drafts for these and other publications on Max Jacob, Francis Picabia, Gertrude Stein, and many other artists and writers. But researchers will also discover a surprising trove of material documenting Cone's previous, and intermittently parallel, life as a critic and occasional curator of contemporary art.
In one series of letters from 1969 and 1970, we can see the young writer's budding friendship with Harold Rosenberg, at the time one of the leading American critics of modern and contemporary art. Although we are privy to only half of the conversation, it becomes clear that they were exchanging drafts of texts—and in one instance the tape of a 1969 interview Cone conducted with Roy Lichtenstein—with Rosenberg thanking Cone for her comments and offering his own insights and words of encouragement in return. Their friendship continued until Rosenberg's death in 1978, and the collection includes photographs of him in the classroom, dated 1976–77, along with an undated audio recording of his reflections on modernism.
This spirit of intergenerational camaraderie is also evident in a series of letters from curator and museum director Lawrence Rinder, who had been Cone's student at New York's School of Visual Arts and was, at the time of the earliest dispatches, finishing his undergraduate studies at Reed College. In these early 1983 letters, which were accompanied by (and in one case written on the back of) his own homemade flyers, Rinder breathlessly recounts the details of the elaborate, happening-like performances he was doing at the time.
Particularly notable is a collection of forty-four audio recordings of interviews, lectures, and panel discussions featuring an impressive range of artists and prominent cultural figures. The earliest tapes, dating from 1969 through the mid-1970s, include interviews with Lichtenstein, painter and Mondrian heir Harry Holzman, art dealer Julien Levy, artist Olga Picabia, architect Richard Rogers (on the Centre Pompidou, then under construction), and Fluxus artists Daniel Spoerri and Ben Vautier, among others. During the mid-1980s, while working as the New York editorial coordinator for the Italian magazine Flash Art, Cone picked up her tape recorder again, conducting extended interviews with some of the most important young artists of the era, including Robert Gober, Peter Halley, Jeff Koons, Allan McCollum, Cady Noland, and Haim Steinbach, as well as art dealer Leo Castelli. While condensed versions of a few of these interviews were published in art magazines at the time, most remain unpublished, their contents patiently waiting to be discovered.
This text originally appeared in the Spring 2022 issue (vol. 61, no. 1) of the Archives of American Art Journal.