Through Flood and Fire: Why Archives Preserve
---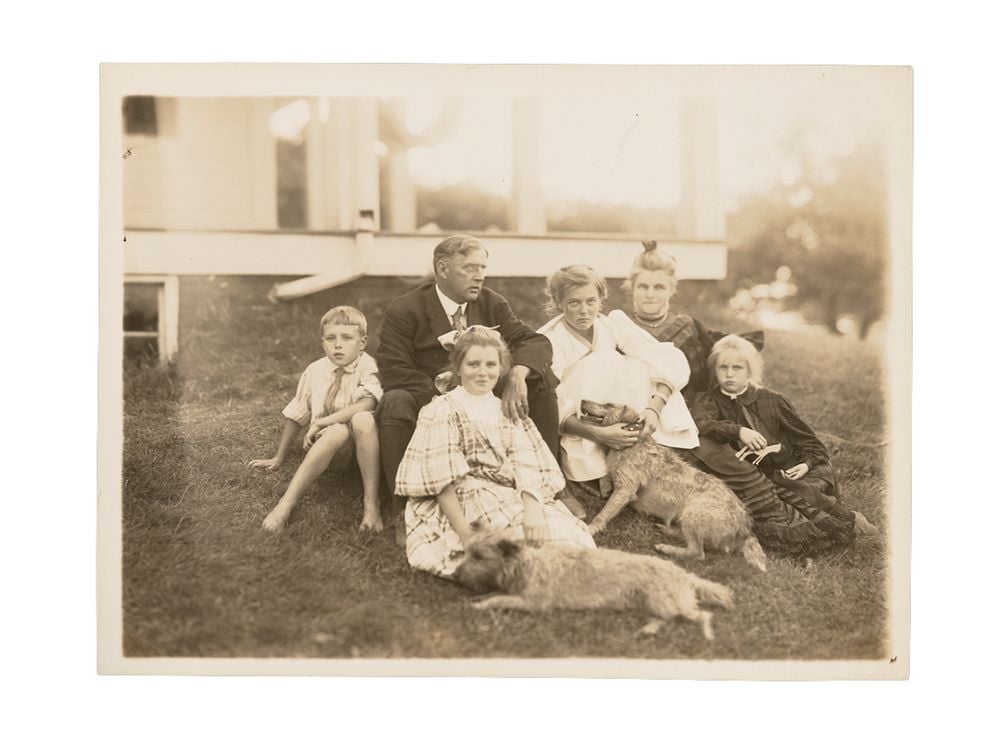 We're often asked at the Archives of American Art if we still collect papers from the nineteenth century, and the answer is, an emphatic, "Yes." Last year, we received a significant addition to the papers of Edmund C. Tarbell, a Paris trained American Impressionist who became John Singer Sargent's rival as a portraitist. Tarbell's great-grandson, William P. Tarbell, donated an extraordinary cache of letters, photographs, dairies, and sketches, including about forty letters that Tarbell wrote to his fiancée Emeline Souther, while he was a student at the Académie Julian in Paris and traveling abroad from 1884 to 1886.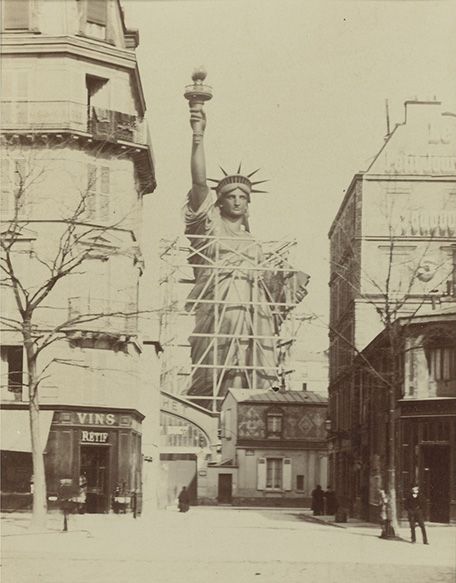 Tarbell was twenty-two when he arrived in Paris. The letters provide a vivid account of his long-distance courtship with Emeline as well as his raucous first day at the Académie Julian; his struggles with the language and living arrangements; visits to the Louvre and the Musée du Luxembourg; horseback riding in the Bois de Boulogne; a cholera outbreak; his travels to London, Munich, and Venice; and his desire to draw "in the French method," and to have just one work accepted at the Salon.
Imagine coming around the corner and seeing Bartholdi's Statue of Liberty Enlightening the World, in progress, which is what happened to Tarbell one day at dusk. He wrote, "It gives you a sort of fright when you first see it. It is so big and somber. I don't think anyone can have any idea of the size of it until you see it." Tarbell returned to the United States in 1886 the same year that the Statue of Liberty was dedicated in New York harbor, two years later he married Emeline.
By all accounts, Tarbell was enormously successful, indeed many letters from museums begin, "We are endeavoring to buy a picture for our permanent collection." Tarbell taught at the School of the Museum of Fine Arts from 1889 until 1912. He was included in international exhibitions, and was a founding member of The Ten, a group of artists with like sensibilities who banned together to exhibit their work. This collection includes letters from William Merritt Chase, Frank Benson, J. Alden Weir, and Thomas Dewing.
In his later years, Tarbell imparted his vision of a genteel past to generations of Bostonians. Some of his working methods are evident in the papers, and particularly his use of photographs as source material for his paintings. His wife, children, and grandchildren, their horses, ponies, and dogs were often his models. Their lives were integrally involved in his paintings.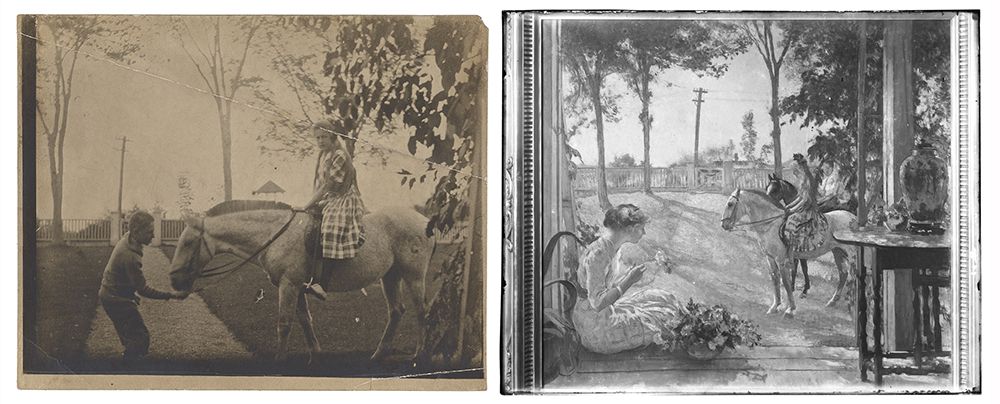 Family relationships are key to understanding the content of his paintings and also the provenance of Tarbell's papers. They had four children, Josephine, Mercie, Mary, and Edmund. In 1905, the Tarbells purchased a farmhouse in New Castle, New Hampshire, a beautiful waterfront property, and added on.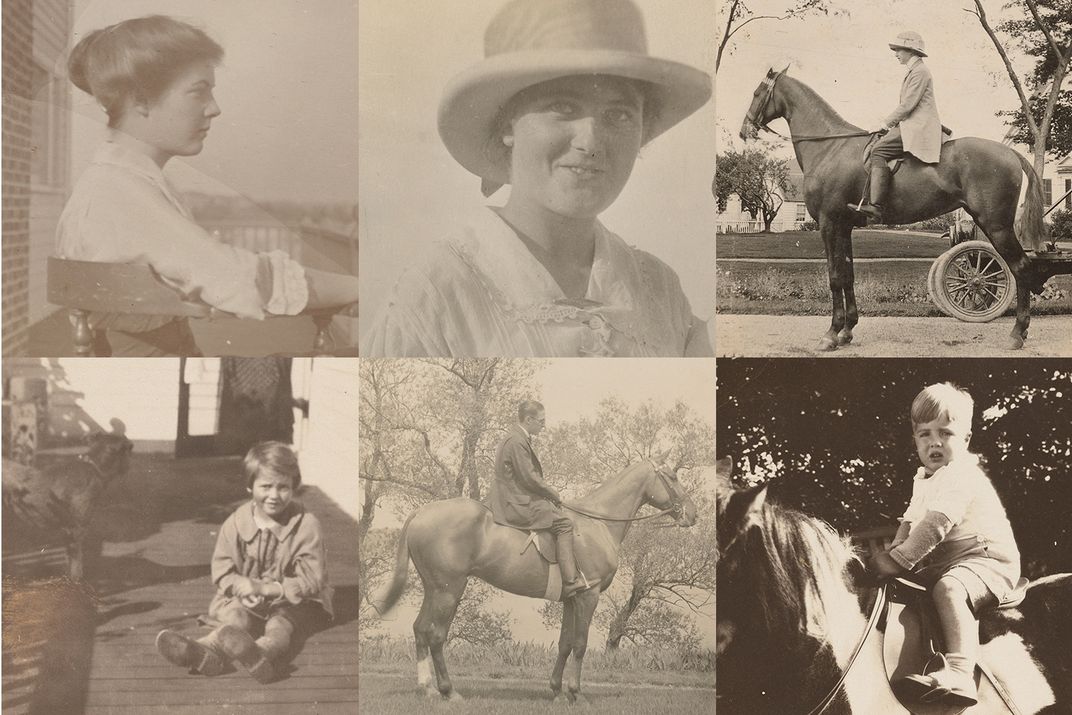 After Tarbell's death most of his papers were divided between two of his daughters, Josephine and Mary. When Josephine died her daughter, Mary Josephine Ferrell Cannon, who lived in Charleston, South Carolina, inherited that group. The papers from Josephine's side of the family have a special significance, because it was one of our most dramatic saves. In 1989, in the wake of Hurricane Hugo, I drove to Charleston, to collect the papers of Edmund C. Tarbell. The deadly storm, a category 4, had convinced Mary Cannon, to donate her grandfather's papers. She handed the boxes to me, over the standing floodwater in her living room.
Twenty-eight years after that rescue in Charleston, we received an email from William P. Tarbell, the artist's great-grandson. He had been the guardian of the remaining papers, removing them box after crate, from the Tarbell House attic following the 1991 death of his great-aunt, Mary Tarbell Schaffer and he wanted to donate them to the Archives of American Art.
It was perhaps another tragedy that prompted his gift. In 2016 the historic Tarbell House burned to the ground. And though William P. Tarbell had removed the papers years earlier, the fire gave him pause to wonder, what if they were still in the attic.
In 2017, archivist Rihoko Ueno combined the first gift from Mary Cannon with this major addition and the entire collection was digitized and is now available online. In an email William P. Tarbell wrote, "Reading by magnifying glass, I found back-and-forth correspondence between ECT and museum officials like eaves-dropping across the ages. Thus, I consign it to eternity."
The Archives of American Art provides the promise of eternity.