Why Abbott Thayer and His Family Slept Outside During a Polar Vortex
---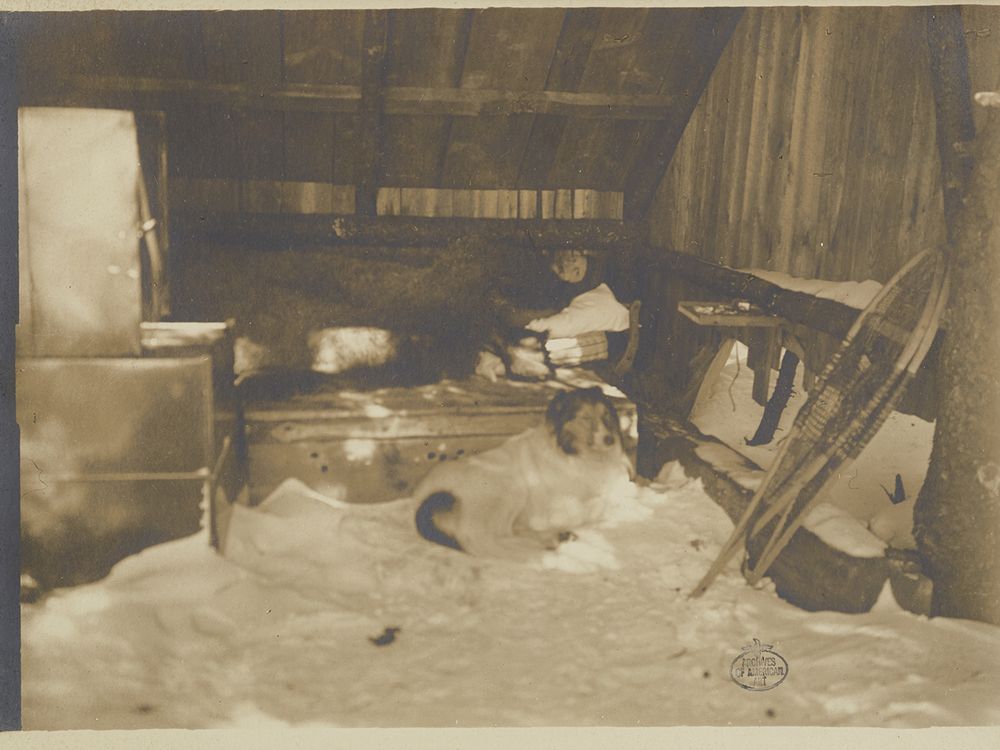 Did you know that Abbott Handerson Thayer and his family slept outdoors in individual sleeping huts? Even in the winter! Even during a Polar Vortex! It's true and we have the papers to prove it.
Artists George de Forest Brush and Abbott Handerson Thayer settled their families in the artist colony of Dublin, New Hampshire in the 1890s. Being year-round neighbors in a summer resort area, the Thayer and Brush children became friends and often wrote letters to each other while traveling away from home.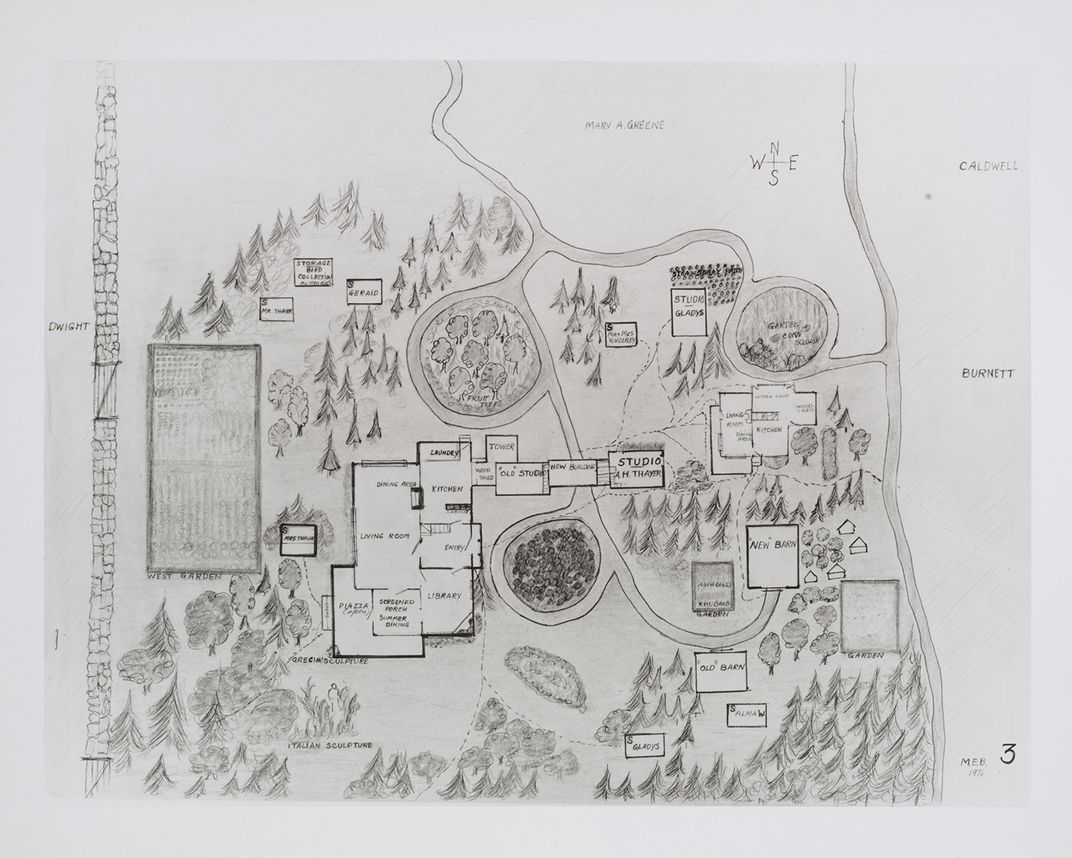 Thayer's practice of fresh-air-living was influenced by his father, William Henry Thayer, a doctor who specialized in epidemic diseases and worked for a period as a sanitary inspector for New York's Metropolitan Board of Health. In 1891, Thayer watched his beloved wife Kate die from tuberculosis, which she had contracted while hospitalized for melancholia. To prevent his young children from contracting the same disease he implemented a strict outdoor regimen for the family. In Dublin, they maintained a fresh-air routine, including home schooling, deep breathing during walks in the woods, keeping the house windows open, and sleeping outdoors year round.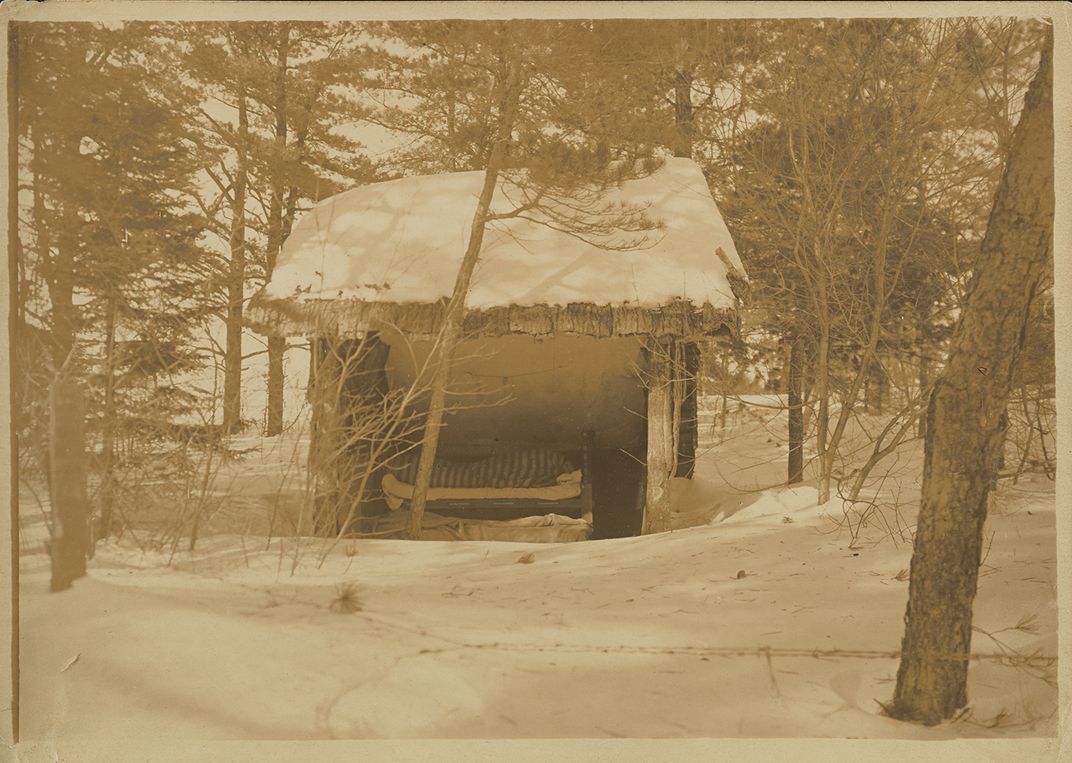 Thayer's youngest daughter Gladys shared her memories of the first Dublin winter in 1901 in her written "reminiscences," now found in the Nelson and Henry C. White research material on Thayer. "We would disperse from fireside reading and make our snow-shoe way out into the snowy woods, each to his respective lean-to shack which were now to be our bedrooms both summer and winter." She fondly remembers that "the sub-zero mornings all seemed flower-like and friendly, rather than formidable as we had imagined. The snow shoe walks, over cloud-like tracts of gleaming purity, obliterating landmarks of fences and stone walls as one strode, god-like, above them."
Barry Faulkner, Thayer's nephew and student, recalled in his essay "My Early Education"
[I]n the main house the windows were kept open all winter, and we sat at meals, heavily clothed, with a blazing fire on one side, and the breath of the arctic on the other… The entire family slept out of doors, in all weathers and seasons, sheltered beneath open-sided shacks, which were hidden from view in clumps of bushes. The family had warm sleeping bags on their beds and were as cozy as animals in their burrows. Not so the guest in the icy house, if he had forgotten to bring with him his woolen pajamas and other comforts.
The eldest daughter of George de Forest Brush, Nancy Douglas Bowditch wrote to art historian Thomas Brumbaugh in 1969 regarding the Thayer family's outdoor sleeping. Of Thayer's second wife Emma, Bowditch wrote: "Poor Little Addie! I think she was a victim of the Thayer's radical health ideas, and I am not sure it was good for her to sleep in the heat, in the snow—she was very small and fragile and was brought up in a comfortable home."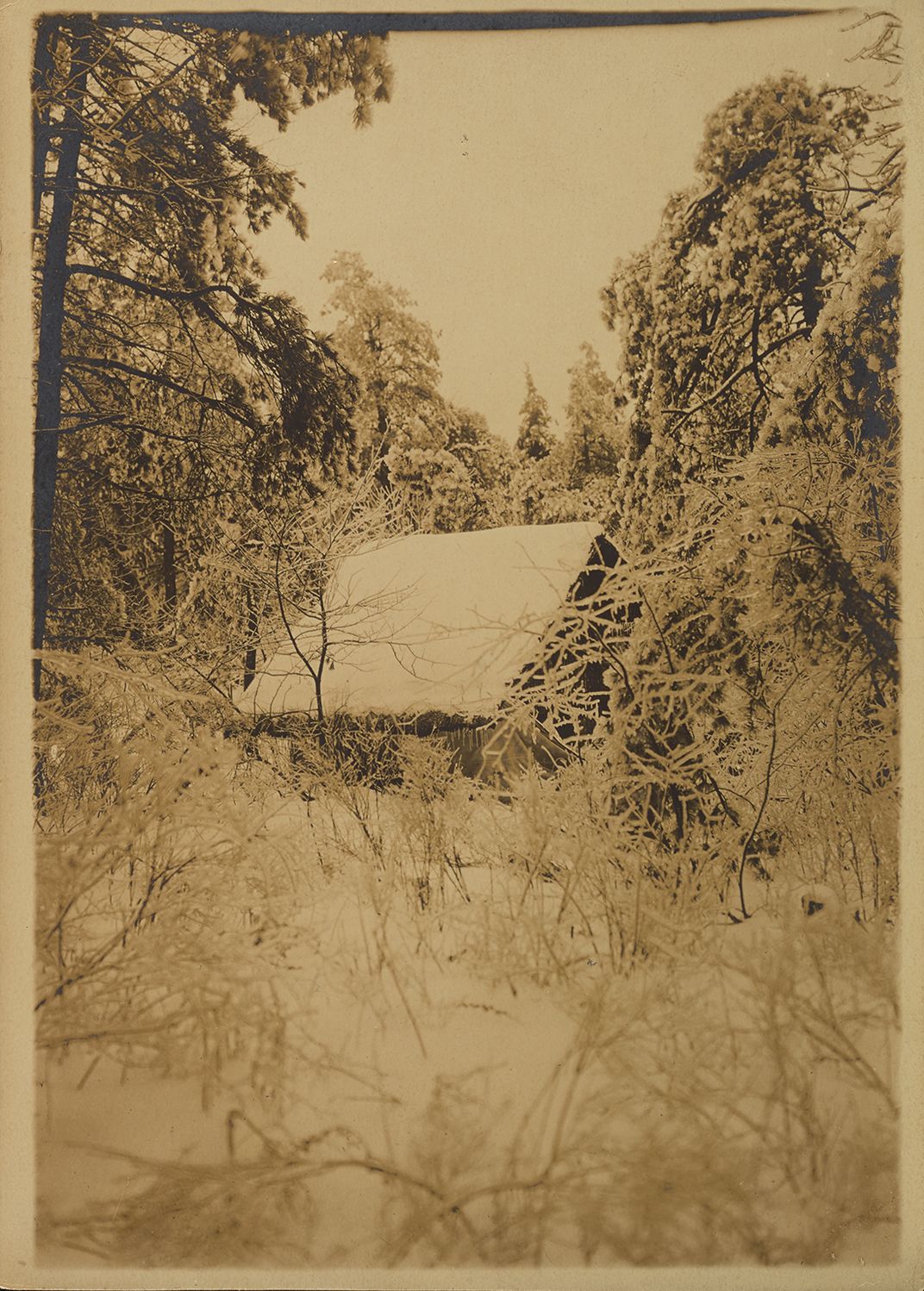 There is no doubt that Nancy Bowditch heard many stories from the Thayer children regarding their family's unusual habits. In a letter from Mary Thayer to Nancy on May 20th, 1904, Mary discusses a trip to Trinidad and their sleeping arrangements.
We slept—that is, the women of us—in three most charming little huts—all open on one side—that one of our hosts had built for us out of great fan-palm leaves, woven onto a light wooden frame-work…These huts stood out on an open, grassy place, a little higher than the house. We slept in hammocks, with mosquito nettings.
These letters, writings, and photographs are found in several collections at the Archives of American Art, many of which were lovingly processed by the authors of this blog! It is tough for an archivist to ignore the strange and wonderful documents that pass through our hands. Archivist Erin Kinhart came across a photograph of Gladys's sleeping hut while processing the Thayer family papers, which are rich with information regarding Thayer's work as a naturalist. Given his love for nature, she wasn't surprised that he'd find it perfectly sensible to want to sleep outside as much as possible, though others might have found it odd.
Archivist Jayna Josefson became aware of the Thayer sleeping huts when she spotted a photograph in the Nancy Douglas Bowditch and Brush family papers. Immediately, she went to Erin's office to ask about the photo and the tiny face tucked under the covers. As a person that prefers to be hot over being cold, she couldn't fathom ever being used to sleeping outside year round. Let's hope the Thayer children never invited the Brush kids over for a sleepover during the winter!

This post originally appeared on the Archives of American Art Blog.