Romare Bearden and His Traveling Cats
---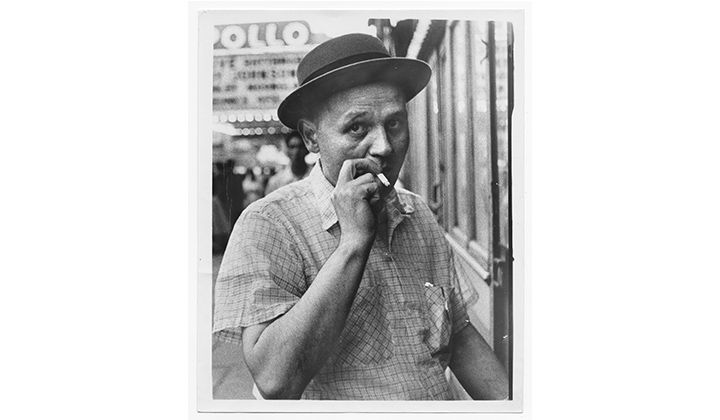 Romare Bearden was an artist, writer, arts advocate, social worker, humanist, composer, and cat lover. While Bearden is known first and foremost for his collages which frequently depicted scenes of the African American community, the people are often in the company of cats in many of his works such as The Dove (1964), Southern Recall (1965), Early Carolina Morning (1978), The Grey Cat (1979), and his cover for Fortune magazine (1968), to name a few.
While the cats in his artwork are sometimes unobtrusive (skirting around the margins) and sometimes dominant (sitting at the heart of the image), Bearden's love of felines took center stage in his life. Bearden had several cats and he bestowed them with illustrious names: Renaissance artist Michelangelo's namesake was Mikie; legendary Persian hero Rustum inspired the name Rusty; and King Tut, as the Egyptian pharaoh Tutankhamun is more commonly known, was the source for Tuttle. His beloved fourth cat named Gippo, or Gypo, was an exceptionally well-traveled tabby.
Around 1967, Gippo accompanied Romare Bearden and his wife Nanette Rohan on a cruise to the Caribbean. In his 1968 oral history interview, he shared how Gippo really took to life at sea:
HENRI GHENT: You mentioned that you were accompanied on this trip to the Caribbean by your wife and—was it Gippo?

ROMARE BEARDEN: Well, I have a cat—Gippo the cat. And we didn't know what to do with Gippo so we just took him.

HENRI GHENT: How old is Gippo?

ROMARE BEARDEN: Gippo will be six in August. When we got back Gippo was the official mascot of the ship. People loved Gippo and he loved the ship and he didn't want to leave because they fed him nearly a pound of calves liver every day. He just loved it.

HENRI GHENT: Describe him.

ROMARE BEARDEN: Well, Gippo is I think a very handsome cat. He's perfectly symmetrically striped with gray and tan markings. We found him in the woods and he has a little wildcat in him and it took a long time, about six or eight months, when he was a young kitten, to get him trained. But now he's happy. The studio he feels is his. It's hard to keep a cat like that for any length of time in a cage at a veterinarian's. So we took him and it worked out quite all right. We couldn't take him to some of the islands, like Barbados, for instance, because of . . . .

HENRI GHENT: The quarantine laws.

ROMARE BEARDEN: Yes, the quarantine laws.

HENRI GHENT: In researching some material on you I noticed that there was a cat in very many of the informal photographs. Was that Gippo?

ROMARE BEARDEN: That was Gippo, yes.

HENRI GHENT: He's quite a star in his own right then, isn't he?

ROMARE BEARDEN: Well, I keep telling my wife that she should have trained Gippo and used him for ads for cat food and those things because he's a natural ham. And he's such a handsome cat that he'd have been a perfect model.

HENRI GHENT: He loves to be photographed then?

ROMARE BEARDEN: Oh, he loves that attention.
Gippo might have been the first of Bearden's cats to go on a cruise and receive royal treatment, but he was not the last. Bearden and his wife frequently traveled to the Caribbean with their cats in tow. If the Bearden's devotion to their pets was ever in doubt, on one cruise two of the cats had their own room and attendant, according to Romare Bearden: The Caribbean Dimension. (Were the cats too diva-like to share close quarters with their human companions over the course of a long voyage? One can only speculate.) By around 1973, Bearden and his wife had a second home on St. Martin, a Caribbean island where they spent several months a year until the late 1980s. Their cats, of course, went with them.
This post originally appeared on the Archives of American Art Blog. The exhibition Before Internet Cats: Feline Finds from the Archives of American Art was on view at the Lawrence A. Fleischman Gallery from April 28–October 29, 2017.