New Technologies: John Vassos and Television Design
---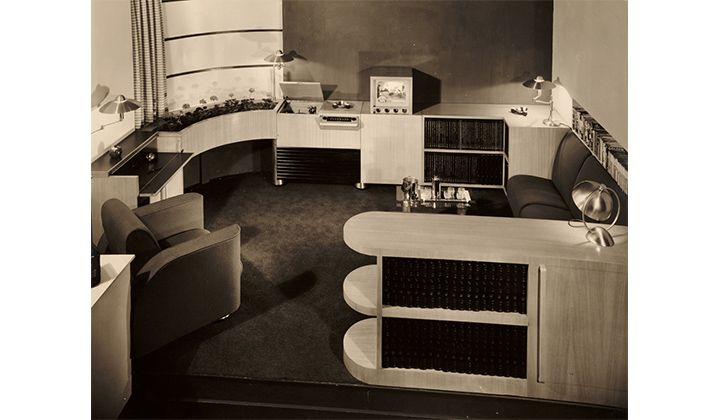 John Vassos (1898–1985), a Greek–American industrial designer and artist, thought deeply about the technologies of sight and sound, and what they should look and feel like. As the leading consultant designer for the Radio Corporation of America (RCA) between 1932–1975, Vassos excelled in designing radios, television, and computers—technologies with no prior form. His papers, donated to the Archives of American Art in 1986 by his nephew Paul Johannes, reveal in rich historical detail the evolution of the design of the television set and how his visionary designs contributed to the shape of a new technology.
Among the most startling discoveries that I made in the archive was evidence of Vassos's extensive work on television design from 1930s to the 1970s for RCA, a major television manufacturer and owner of NBC (National Broadcast Company). From the prewar introduction of television to a skeptical public at the 1939–1940 New York World's Fair, to the widespread embrace of TV in the postwar era with the advent of color television, Vassos was involved in all aspects of television design and research and contributed to shaping the television receiver and its place in the home over these years. Vassos was well suited to helping the public adjust to a new machine in the home, something that in the past had been met with suspicion and dread in the case of the radio. From his earliest days as an industrial designer, he considered how the frenzied urban environment with its rapid transit, towering buildings, and powerful machinery increased anxiety.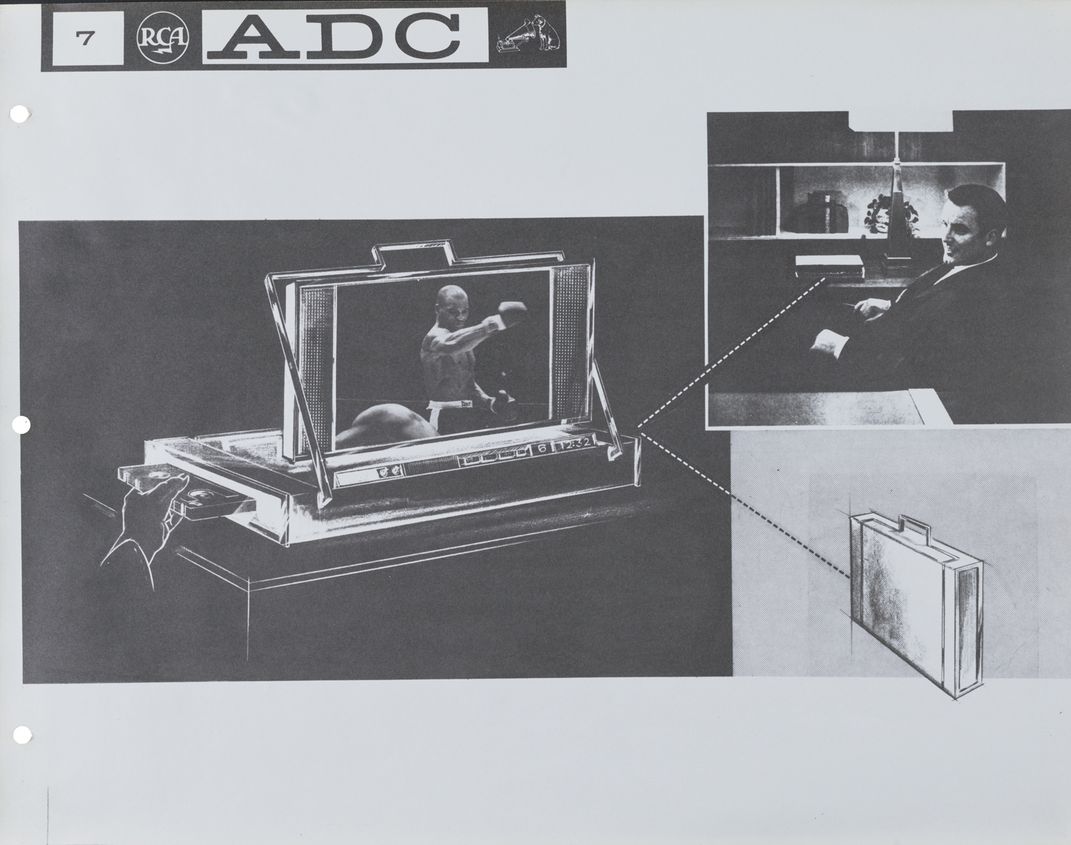 His 1931 book Phobia focused on how individuals suffered from these modern urban ills. He was among the first designers to note that user–centered design could soothe modern stress and alleviate fears about new technologies. Carefully applied modern design—such as simple geometric shapes, without distracting ornamentation, and an intuitive, tactile interface—would make complex technology less frightening.
His television designs, starting with the stunning polished wood art deco TRK-12 television, which marked the arrival of American broadcast television, reflected this philosophy. Vassos's sleek Living Room of the Future or Musicorner, which he designed for the America at Home Pavilion, opened in 1940 at the New York World's Fair. Vassos imagined the living room as a cozy media center—a shocking new concept that disrupted the sense of the parlor as an intensely private, domestic space. He chose modular cabinetry in which the phonograph and television could be easily concealed, calming concerns that the television would be looking back at the viewers.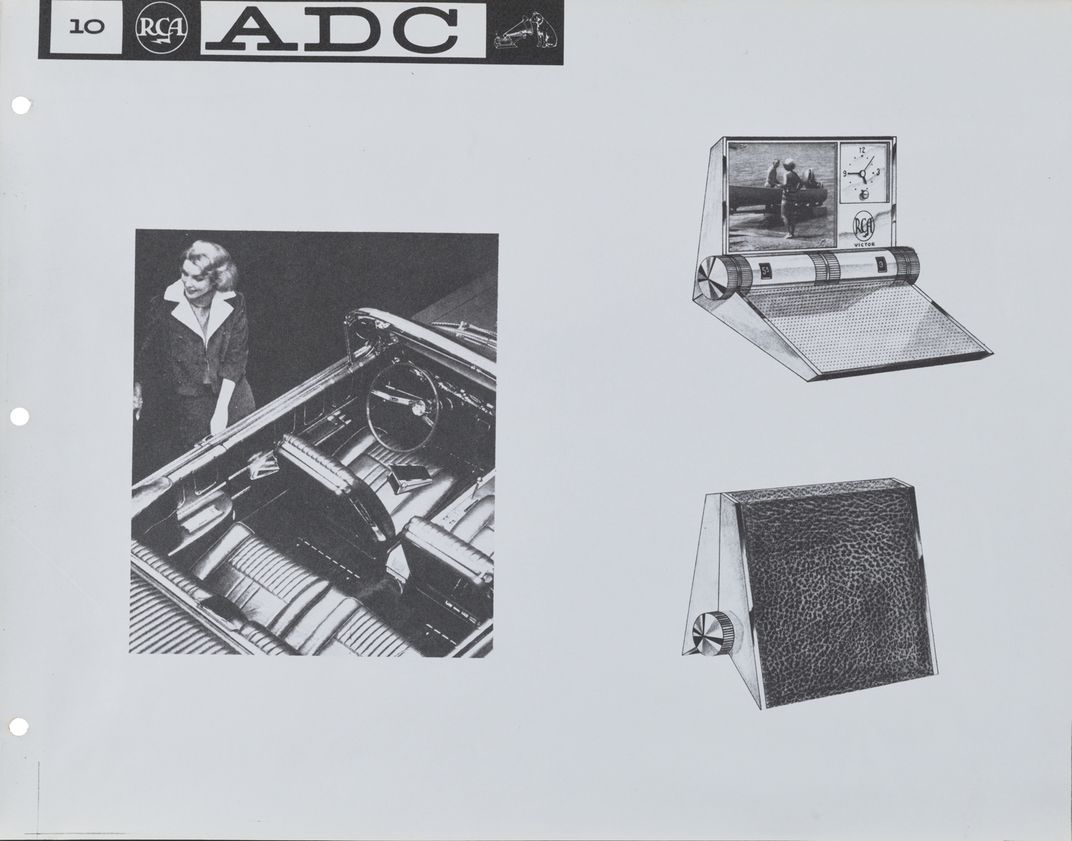 In a 1954 letter to W.W. Watts, a vice president at RCA, Vassos urged the company to expand its leadership in television design and create a top–secret design center to develop future styling ideas for RCA products. It was a conceptual breeding ground guided by Vassos and a "brain trust" he personally selected in a 1960 memo to Kenneth W. Bilby, a vice president at RCA. The group included interior designer Melanie Kahane, anthropologist Leonard Outhwaite, and Paul Rudolph, architect and Dean of the School of Architecture at Yale University. Concept sketches from the team's three ideation sessions culminated in eight futuristic "Sets of the Seventies" rolled out in May 1961. They included wafer-thin, large-screen televisions with crystal clarity and miniaturized portable color sets for use in the car, which when closed were as small as a lady's purse. A versatile television set for the "executive on the move," which folded into an innocuous attaché case, could be used for marketing presentations in the office as well as personal enjoyment at home.
Portable and sleek, these televisions were envisioned in macro and micro—for wall and pocket. They anticipated the mobile screens and Nano-thin, theater-size viewing walls of today, which fit easily into our palms and daily life. None of these televisions were produced, but they reflect the visionary thinking of John Vassos who created attractive and functional shapes for technologies that had no design precedent.
"This post originally appeared on the Archives of American Art Blog."