The Art of Alma W. Thomas: A Colorful Response
Carolyn Russo, curator of the Museum's art collection, reflects on the work of Alma W. Thomas.
---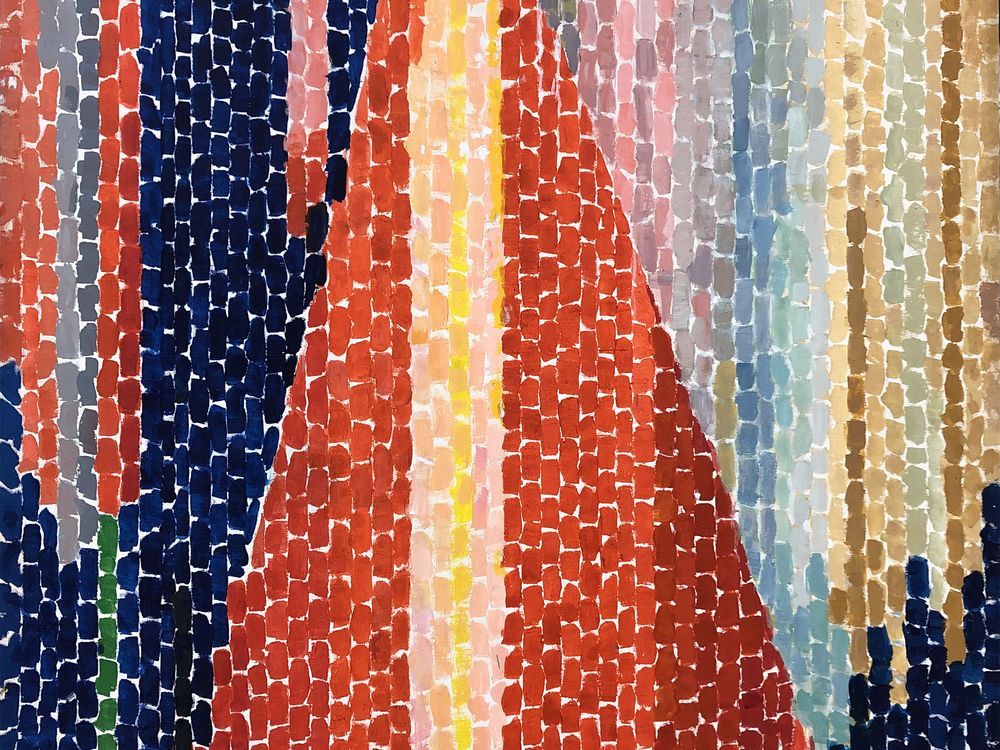 In the late 1960s and early 1970s, artist Alma Woodsey Thomas (1891–1978) painted abstractions inspired by moments—from nature viewed through her living room windows to the Apollo Moon landings witnessed on the television screen. In her home studio in Washington, DC, she reinterpreted the world around her through color patterns.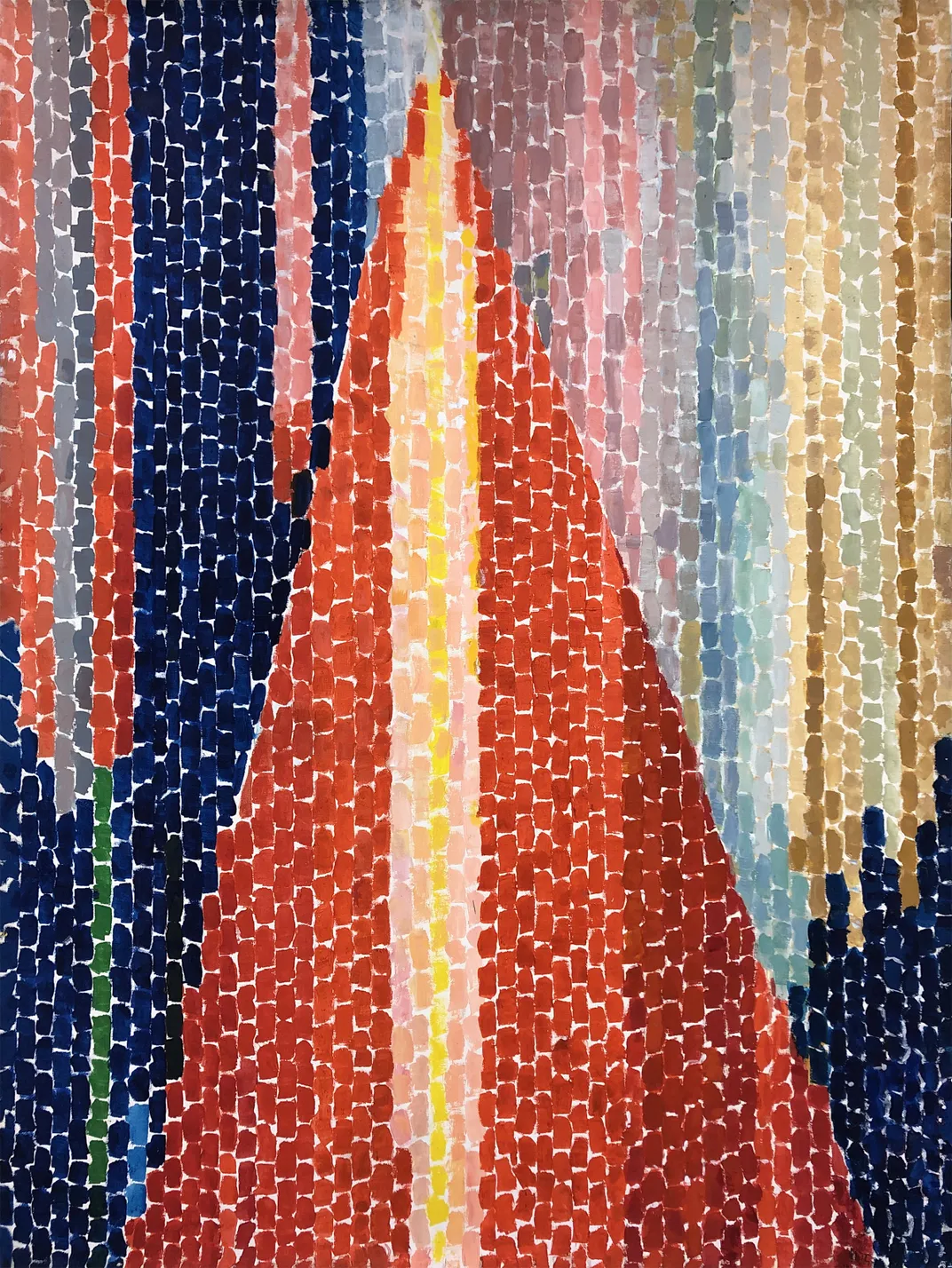 When the first astronauts traveled to the Moon, she responded with works like Blast Off, 1970, with color stripes in hot red, orange, and yellow that come to a point with a tiny dab of grey for the rocket at the top. Rendered in a triangular form, the color blocks are placed on top of each other like bricks or stones in a shape reminiscent of an Egyptian pyramid—another one of humanity's great accomplishments. The rocket blast is flanked by shades of blue, pink, and earth tones to represent the launch pad and natural environment. Viewing the painting from the perspective of an overview, it translates into an aerial view with the colors representing the ground, atmosphere, and ocean underneath the rocket as it flies over and away from the planet.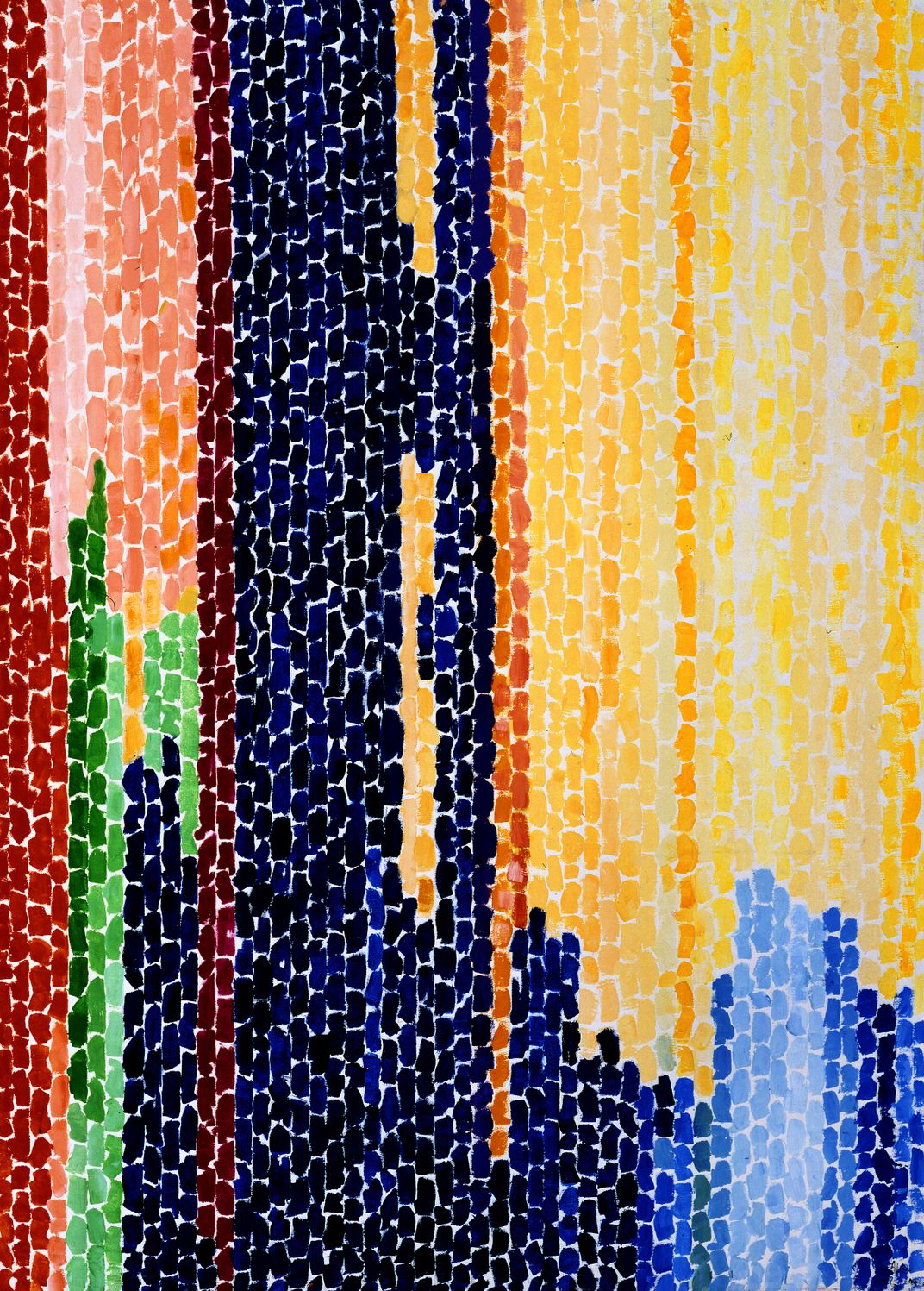 For Launch Pad, 1970, Thomas utilized a similar color scheme to represent the launch complex facility. On first glance, these paintings seem simplistic. But unbeknownst to many viewers, Thomas made several concept sketches in pencil and watercolor before applying paint to her final canvases.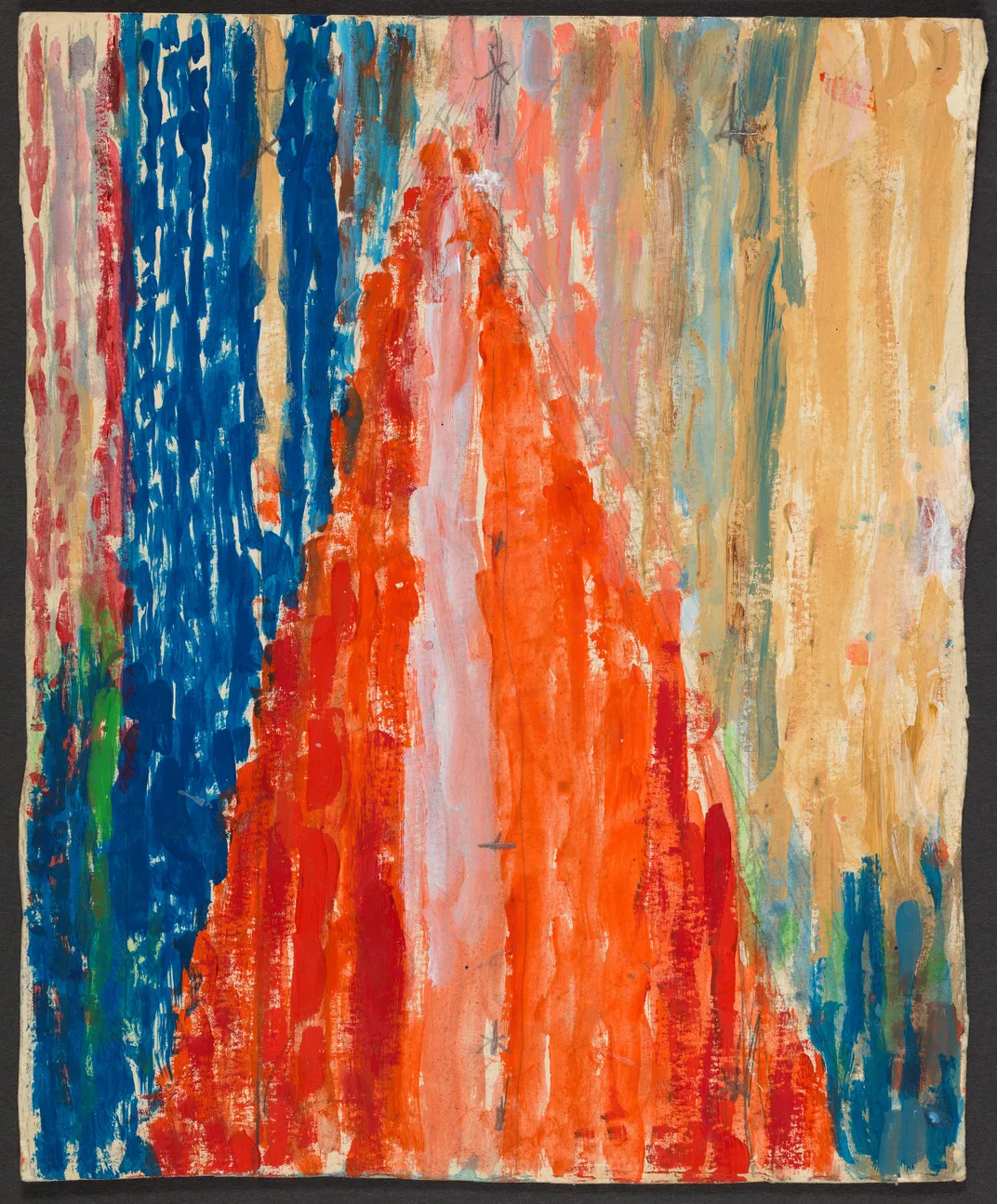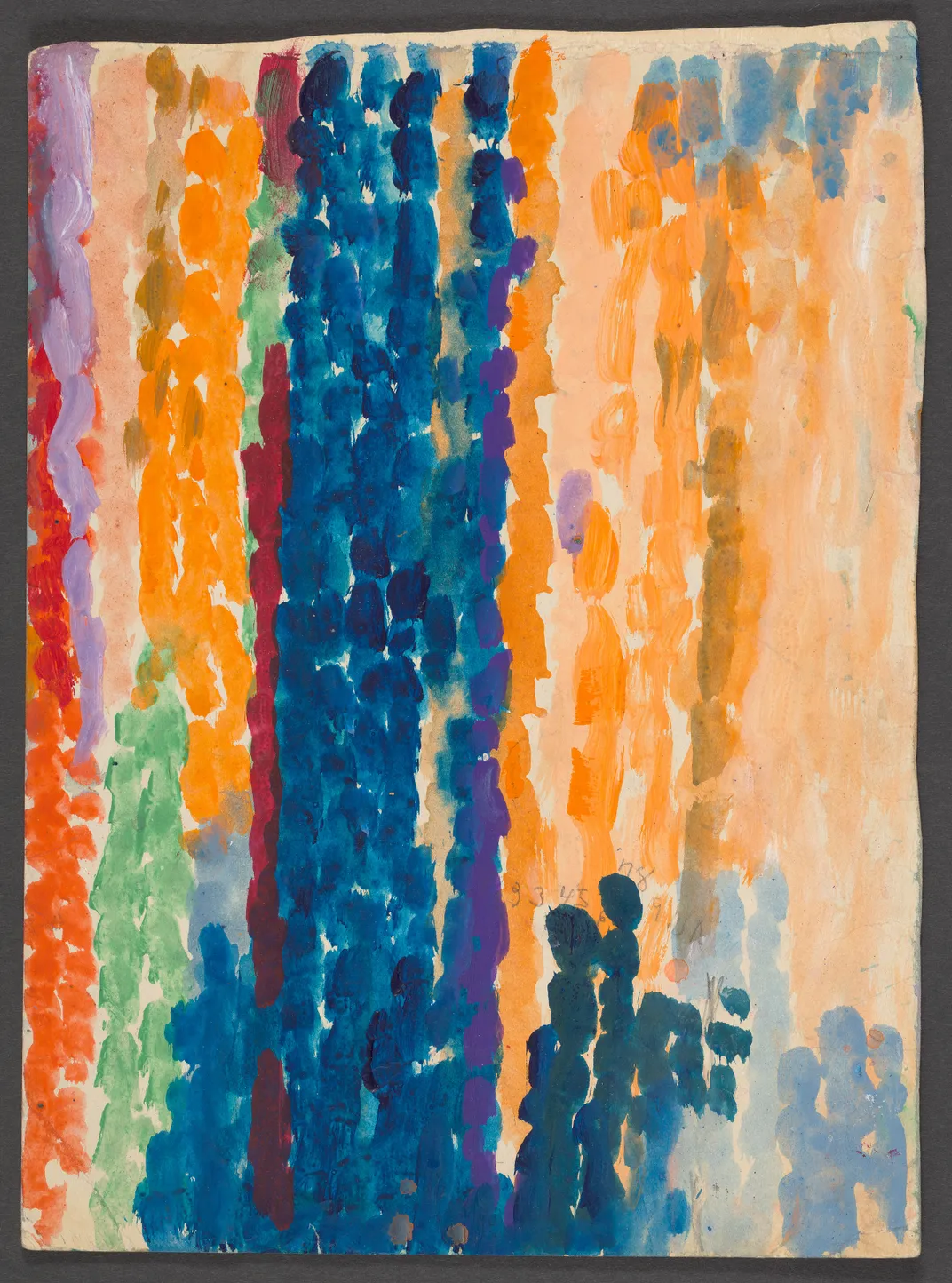 Originally from Columbus, Georgia, Thomas moved with her family as a teenager to escape the racial oppression and violence of the South and to seek better education opportunities. In high school, Thomas discovered a passion for art and felt as if she was in heaven.1 Thomas attended Howard University in Washington, DC, becoming the first graduate of their art program and then continued her studies, earning a Master of Arts degree at the Teachers College at Columbia University in New York. Further, Thomas attended classes at various other schools, including almost a decade of painting classes at American University in DC. After spending most of her life as an art teacher at Shaw Junior High School in DC, Thomas began a late career as an abstract painter. At 75 years old, she debuted her first exhibition at Howard University and six years later in 1972 was the first African American woman to receive a solo exhibition at the Whitney Museum of American Art. Thomas's art is now considered a tour de force in the Washington Color School movement of abstract painting.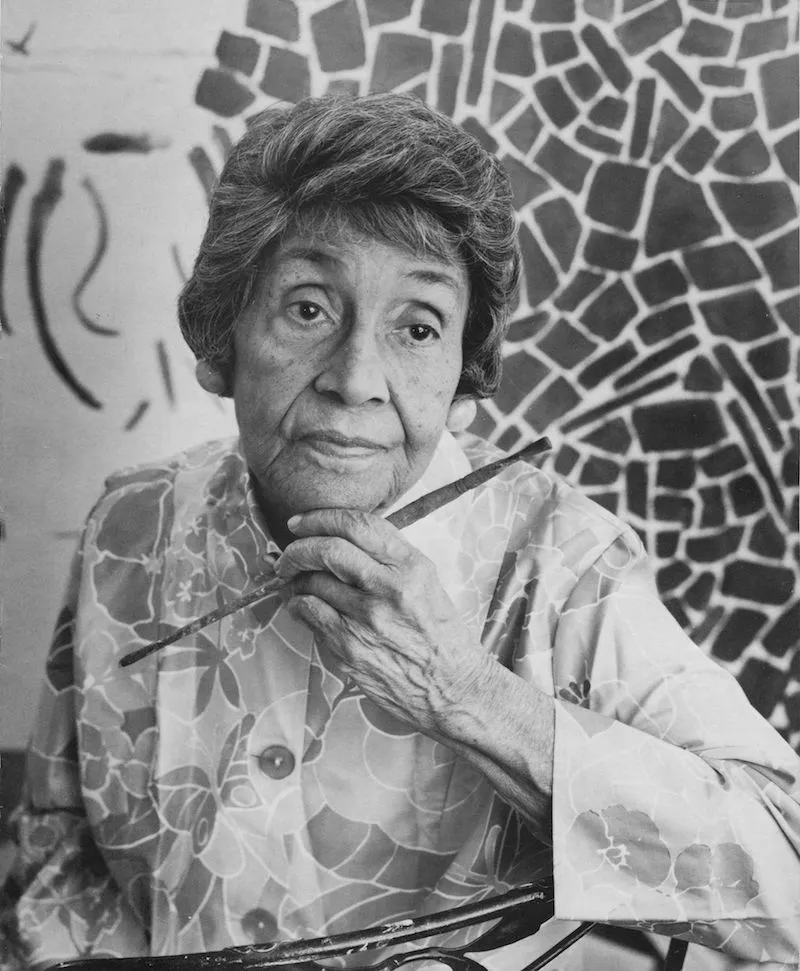 Alma Thomas's abstractions were made during the civil rights movement in the United States, with protests and riots in her city to end legalized racial discrimination. This time in history resonates with the recent protests in response to the tragic racialized deaths of African American men and women—and centuries of inequality for Americans of color. Further, the recent SpaceX/NASA crewed launch took place in the midst of the recent protests, reminiscent of the Apollo launches during the civil rights movement, a historical parallel explored by my colleague Margaret Weitekamp in a recent blog. While Thomas's abstractions may not be depictions of the civil rights movements, they do represent her response to the world around her as an African American woman during a turbulent time in our history.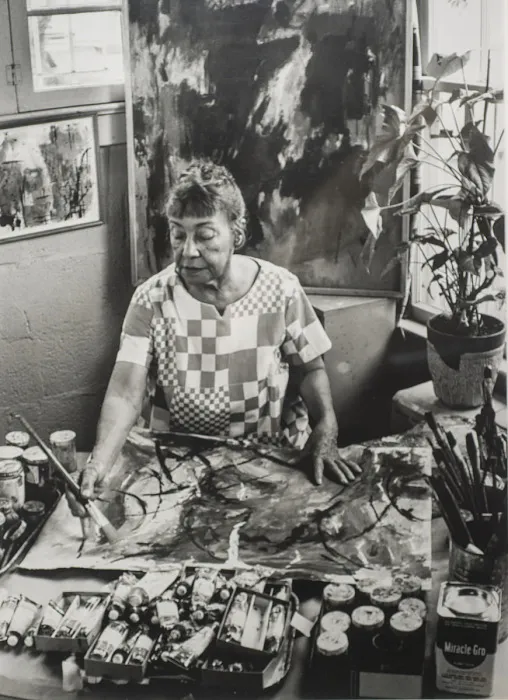 Early paintings by Thomas were in the style of realism, although admittedly, Thomas wasn't interested in reflecting the inhumanities of the world surrounding her through realistic art. In an interview with Washington Post journalist Eleanor Munro, the artist reflects, "I've never bothered painting the ugly things in life. People struggling, having difficulty. You meet that when you go out, and then you have to come back and see the same thing hanging on the wall. No. I wanted something beautiful that you could sit down and look at."2 Painting in an abstract style allowed the artist to respond to the racial injustices of her day and the polarized achievements of the Moon landings where African Americans and women were excluded, with an imagined world—both on Earth and outer space—where all colors are represented and equal. In The Politics of Space: Alma Thomas and Race Relations in the 1960s America, art historian Cynthia Thorne Hodges asserts that Thomas depicted new worlds with "limitless opportunities" in space through her abstractions.3 Indeed she did. In Astronauts' Glimpse of the Earth, 1974, Thomas imagines the sight of our spherical planet from space in hues of the color blue, with hints of various color in orange, pink, red, and green poking through the surface of the canvas to represent life and a multiracial society working together. Alma Thomas's art is political—and she responded with color. Her art inspires us to work and live in harmony and peace in a beautiful world of color.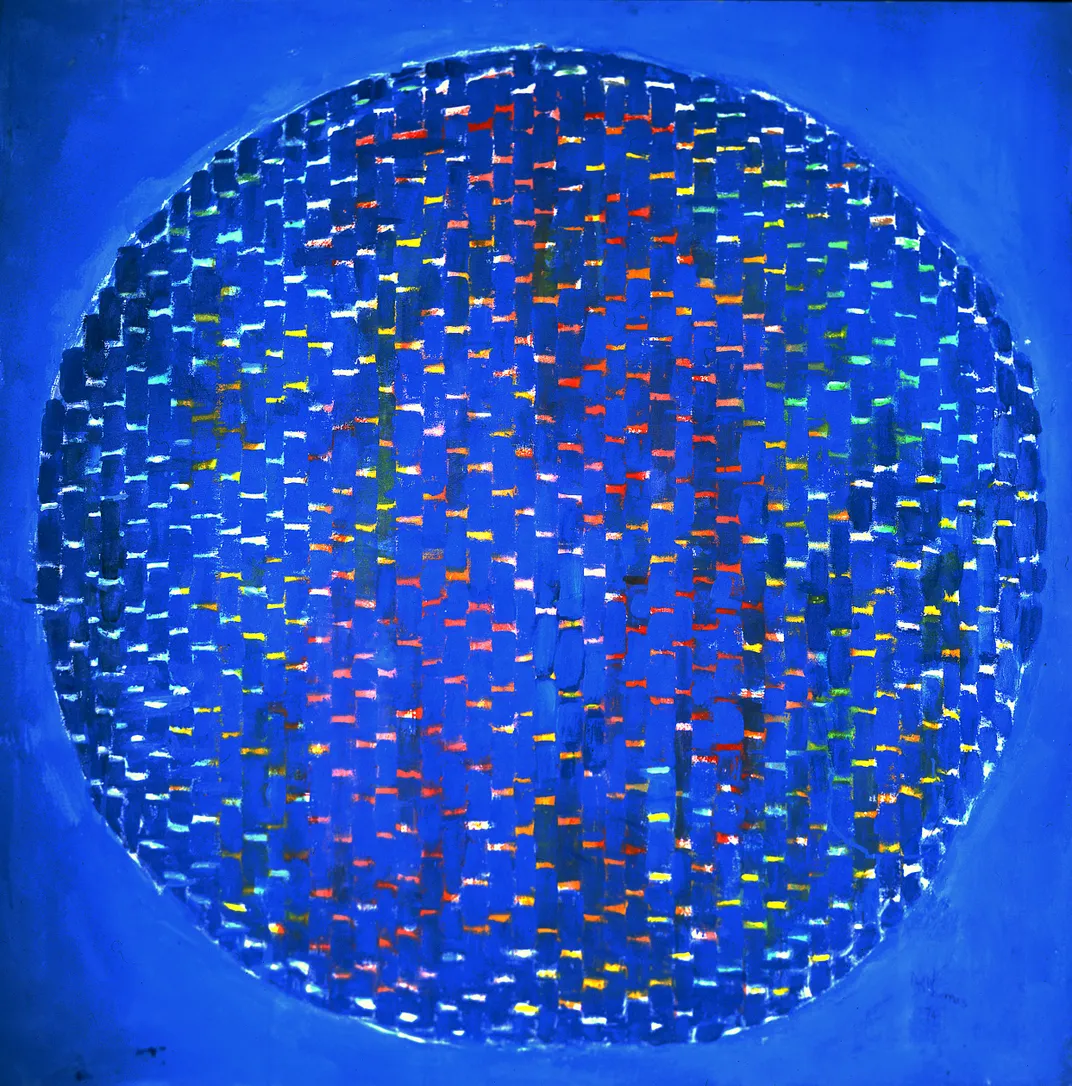 A forthcoming travelling retrospective on the creative life of Alma Thomas will open in 2021, jointly organized by the Columbus Museum in Columbus, Georgia and the Chrysler Museum of Art in Norfolk, Virginia. Thomas's paintings from the National Air and Space Museum's art collection Blast Off, 1970 and Snoopy Sees a Sunrise, 1970 will be on loan for the exhibition.
Carolyn Russo is a museum specialist in the Aeronautics Division and is the curator of the art collection.
---
1 Eleanor Munro, "The Late Springtime of Alma Thomas: Conversations with the Washington colorist, from an absorbing new book," Washington Post Magazine, April 15, 1979.
3 See Cynthia Hodge-Thorne, "The Politics of Space: Alma Thomas And Race Relations in 1960's America" (MA Thesis, American University, 2019), 23.