Women Action Stars: From Haywire to The Perils of Pauline
Crediting some stars who preceded Gina Carano on screen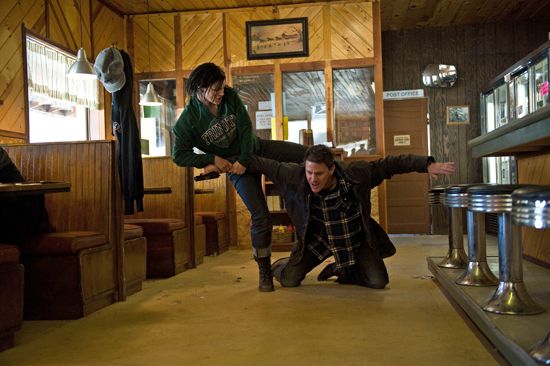 Watching Gina Carano work her way through the cast of Haywire is unexpectedly "satisfying," as director Steven Soderbergh put it. In the course of the film, which opens nationwide on January 20, mixed martial arts champ Carano punches, kicks, flips, twists, and otherwise disables opponents like Channing Tatum, Ewan McGregor and Michael Fassbender.
Haywire was a chance for Soderbergh to make his own version of a 1960s action and espionage film like From Russia With Love, "probably my favorite Bond film," as he told a audience after a preview screening last month. "I really felt there was a dearth of female action stars," he went on. "Or at least I guess my attitude is, 'Can't there be more than one?'"
Soderbergh may have been singling out Angelina Jolie, one of the most bankable stars in the world on the strength of films like Mr. and Mrs. Smith, but Haywire makes a more interesting point: in the best action films, actors tend to perform their own stunts. For Soderbergh, handheld cameras, fast cutting, and heavy scoring have been "crutches," ways of "disguising the fact that people can't really do what's required."
There are plenty of female protagonists in action films: Kate Beckinsale in the Underworld series, Uma Thurman in Kill Bill, Lucy Liu in Kill Bill, Charlie's Angels and other films. But there are very few contemporary actresses (or actors for that matter) who routinely perform their own stunts. And when they do, it's often with the protection of special effects and CGI. As Liu said in one interview, she knows "movie kung fu," not "real" martial arts. In her Resident Evil series, Mila Jovavich has made an effort to master the sword- and gunplay her zombie killer role requires, but still was prevented performing stunts deemed too dangerous by her producers.
Viewers can usually tell the difference between a star and a stunt double. That's really Carano in Haywire leaping from one Dublin rooftop to another or sprinting through the streets of Barcelona, and Soderbergh stages the scenes so that she's unmistakable. "Professional athletes carry themselves in a way that's very difficult to imitate," as he put it.
Another athlete broke into film in a similar manner. Five-time World Karate Champion Cynthia Rothrock signed a contract with the Hong Kong-based Golden Harvest in 1983. She made her screen debut in 1985′s Yes, Madam (also known as In the Line of Duty Part 2). Rothrock, who holds six black belts, including a sixth degree black belt in Tang Soo Moo Duk Kwan, was a star in Asia before appearing in several B-movies in the United States.
Rothrock's costar in Yes, Madam was Michelle Yeoh, better known to moviegoers here from Crouching Tiger, Hidden Dragon (which also featured the wonderful Pei-Pei Cheng) and the James Bond entry Tomorrow Never Dies. In the 1990s, Yeoh held her own against Hong Kong's biggest action stars, appearing with Jackie Chan, Jet Li, Donnie Yen, and others. For sheer thrills, catch the last half-hour of Supercop, in which she clings to the side of a speeding bus, falls onto the windshield of a moving car, flips over a gun-wielding villain, and then drives a motorcycle onto the top of a freight train boxcar.
Yeoh was performing in an industry that valued female action stars like Angela Mao, Pei-Pei Cheng, Kara Hui, Joyce Godenzi, and Yuen Qui. Like Jackie Chan, Yeoh took pride in performing her own stunts live, and the difference is apparent on screen. (I'll be writing more about Yeoh's latest film, The Lady, next month.) With the rise of wirework and computer generated imagery, however, it's easier to stage stunts that look dangerous but are actually fairly safe.
Filmmakers in the United States once placed a premium on female action stars. Generally acknowledged as the first serial, The Adventures of Kathlyn, released in December 1913, quickly led to The Perils of Pauline, starring Pearl White. Pauline presented a new kind of screen heroine, one who could drive cars, race horses, and put up a fight when attacked. White eventually starred in nine Pathé serials, consistently ranked in the top five in motion picture popularity polls, and wrote one of the first movie star autobiographies, Just Me. Ruth Roland and Helen Holmes also starred in serials; like Mary Pickford, they portrayed women who rebelled against conventions and took control of their lives.
World War I helped end the era of serials about women. In the 1920s, screen actresses could be spunky, even tomboyish, like Pickford in Sparrows, but it took many years before they would get the chance to be action stars again.
I know it's not fair to leave a 50- or 60-year gap in this posting, and I promise someday to write more about action in movies.