Why are Cheese and Seafood Supposedly a Bad Combo? It's Delicious!
Don't believe the stigma—fish and cheese can go together quite well.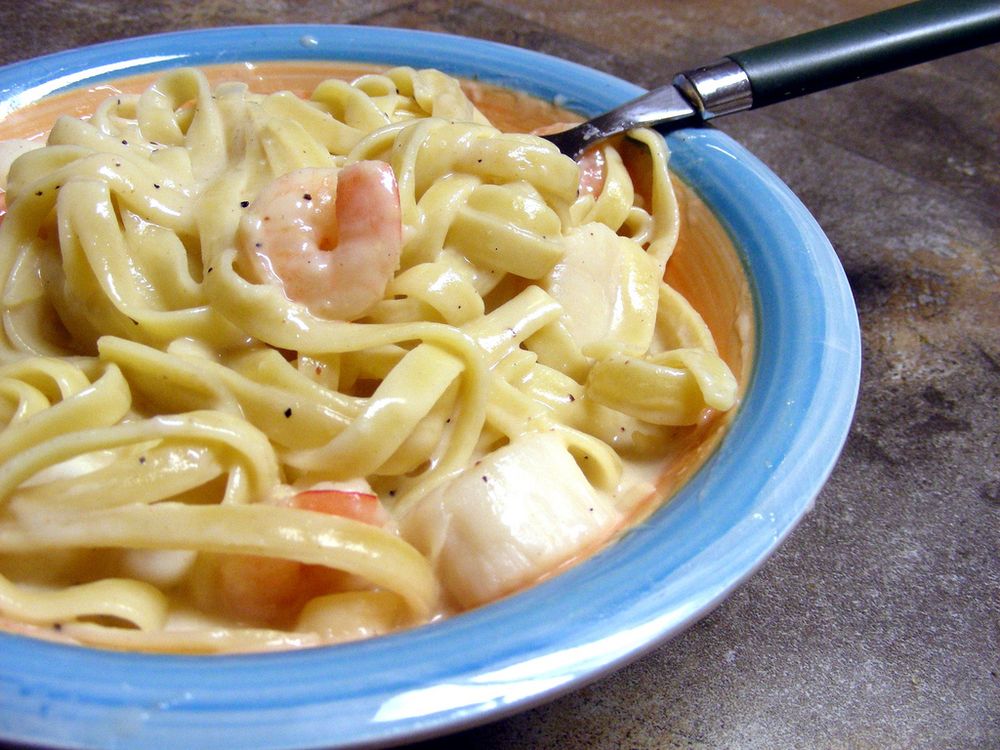 Italian culinary doctrine – a constitution held up by Italian home matriarchs where infractions can be punishable by no supper or death – is very clear on the subject.
Cheese and seafood shall not be mixed. Ever.
Yet, if you stumble around France long enough you're bound to find someone who prepares mussels in an earthy blue cheese broth spiked with white wine and garlic. In Chile, you'll find both millennials and retirees ordering plates of Machas à La Parmesana, clams baked in wine, butter, and a mild-tasting Chilean version of Parmesan. And who can forget social gatherings in the nineties where no party was without oyster dip packed with enough cream cheese to send a marathon runner into cardiac arrest?
If the idea of combining seafood and cheese is such a widely-accepted global phenomenon, why is the concept so distasteful to so many Italian home cooks? And, hey, let's not just point fingers at Italians here. A lot of people in the United States have adopted this notion, if for no other reason that they've heard it since birth.
So where did this commandment originate? One explanation may stem from gustatory common sense: seafood tends to have a more delicate constitution, and those subtle flavors can be drowned out by a heady, assertive cheese. Since cheese is produced by fermenting milk, microbial factors such as molds, enzymes, and friendly bacteria cause drastic changes to the milk's chemical components and their flavors often become more intense. Cheese also loses moisture as it ages, further concentrating its complex flavors and fatty texture. It's no wonder cheese can easily overpower seafood's understated qualities.
Some ocean dwellers are especially delicate -- such as flounder, haddock, clams, oysters, and Atlantic shad -- and they should be carefully seasoned when cooked. This is why many recipes involving these proteins rely on simplicity; a sprinkling of green peppercorns, a quick lashing of lemon juice, perhaps a pat of tarragon butter. The stronger personalities of some cheeses would stomp out those subtle sweet and salty notes, leaving no flavors behind except for, well, cheese.
Another explanation for this taboo may lie in Italy's geography. Major cheesemaking regions such as Piedmont, Trentino Alto Adige, Lombardy, and Veneto are all largely landlocked. Their regions have a terroir that makes for easy grazing for livestock and, thus, their cuisines are largely accustomed to the addition of cheeses such as Grana Padano, Bra, or Asiago as both a primary and supporting ingredient. Given their distance from the sea, few people in these regions had ready access to a steady supply of fresh seafood (rivers or lakes notwithstanding, and not necessarily always a source of abundance). So, recipes may likely developed over the centuries without giving seafood any consideration.
As always, though, rules are meant to be broken. We're not saying that you shouldn't pair fish and cheese. Rather, we're enthusiastic advocates for smartly coupling seafood and dairy, and in the hands of a skilled chef, recipes combining the two can raise the roof, elevating both ingredients to new heights. "When used correctly, cheese can enhance the flavors of many seafood dishes," says Dennis Littley, a chef and culinary instructor with decades of experience under his belt. "Those old customs are falling by the wayside as chefs have become more creative with the blending of flavors. One of my most popular specials was a seafood alfredo that included shrimp, scallops and lump crabmeat. It was amazing!"
You don't need to be a classically trained chef to pair cheese and seafood at home. Consider pizza, where cured fillets of oily, briny anchovies mingle their oils with those of melted mozzarella. Or look to classic dishes such as sea bass with fresh chevré and chopped herbs, bagels with cream cheese and lox, and our personal dinner party favorite, salmon fillets dredged in a Parmesan-bread crumb mixture before being seared in butter. Theses dishes work, and they work well.
And so it seems that seafood and cheese can indeed play nicely. "It's really about finding a balance," says Kirstin Jackson, trained chef and author of It's Not You, It's Brie: Unwrapping America's Unique Culture of Cheese. "Fish and cheese can be a touchy pairing, but when done right they can be as endearing as an eighty year-old couple walking down the street holding hands."
Stephanie Stiavetti and Garrett McCord are the authors of  MELT: The Art of Macaroni and Cheese, available now on Amazon and local retailers. 
Brigante with Tilapia, Shallots, Spring Herbs, and Fusilli
Tilapia's subtle sea-life sensibilities are easily drowned out by complicated flavors, though a traditionally seasoned Béarnaise sauce play up the fish's gentle nature. Here we've echoed that experience by pairing shallots, tarragon, and chervil - all classic herbal flavors - with Brigante, a smooth, buttery sheep's milk cheese that contributes a touch of tang to the dish. Shredded tilapia makes this creamy stovetop mac an incredibly decadent experience without extra weight; a perfect marriage of cheese and seafood.
4 tablespoons butter, divided
1⁄4 cup minced shallots
1 tablespoon chopped fresh tarragon
4 teaspoons chopped chervil
1⁄2 teaspoon coarsely ground black peppercorns
1⁄4 cup dry white wine, such as sauvignon Blanc
2 small tilapia fillets, about 1⁄2 pound total
8 ounces fusilli
2 cups milk
2 tablespoons flour
1⁄2 teaspoon sea salt
1⁄4 teaspoon freshly ground black pepper
7 ounces Brigante, rind removed, grated
Lemon wedges to garnish
1. In a sauté pan, melt 1 tablespoon of butter over medium heat. Add shallots and cook until soft, then add tarragon, chervil, and pepper. Cook for 1 minute, stirring constantly, then add white wine. Cook, still stirring constantly, until a good amount of the liquid has cooked off—about 2 minutes. Transfer shallots and herbs to a small bowl and return the pan to the stove.
2. In the same sauté pan—do not rinse it—add 1 tablespoon of butter and turn heat to medium. Sauté tilapia fillets for 3 minutes on each side, making sure to get a nice, crispy layer where the fish touches the pan. Transfer to a bowl and shred coarsely with two forks. Set aside.
3. Cook the pasta in a large pot of salted boiling water until al dente. Drain through a colander and set aside.
4. To prepare the mornay sauce, heat the milk in a small sauce pan over medium heat. As soon as the milk starts to steam and tiny bubbles form around the edges of the pan, turn off the heat. Place the remaining 2 tablespoons of butter in a medium saucepan and melt over medium flame. Add the flour and stir with a flat-edge wooden paddle just until the roux begins to take on a light brown color, scraping the bottom to prevent burning, about 3 minutes. Slowly add the milk and stir constantly until the sauce thickens enough to evenly coat the back of a spoon—a finger drawn along the back of the spoon should leave a clear swath. Lower heat to medium-low, add salt, pepper, and sautéed shallots and herbs. Remove from heat and add cheese to sauce, stirring until completely melted.
5. In a large bowl, add pasta to the mornay and toss to coat. Gently fold in the shredded fish; you don't want to smash it. Serve hot and garnish with lemon wedges.
Alternative cheeses: San Andreas, Berkswell, Shepherd's way Friesago, Young Mahón
Wine pairings: Musca- det from the Loire Valley (Melon de Bourgogne grape), French Chardonnay, Sauvignon Blanc, Grechetto or Vermentino from Italy
Additional pairings for the cheese: Lucques or picholine olives, roasted red peppers with olive oil, smoked paprika
Mussels in White Wine Broth with Fourme d'Ambert
Light, tender, and briny, mussels love the spotlight when they're onstage. In the supporting role, we recommend a flavorful broth that gently hugs each chunk of meat without acting like a prima donna. Here we buddy up our shellfish with Fourme d'Ambert, one of France's oldest cheeses, to provide licks of earthiness and sweet cream, both of which play up the mussels gently salty qualities. Whoever said blue cheese and seafood don't mix?
Serves 4
2 pounds Prince Edward Island mussels
8 ounces spiral pasta
2 tablespoons butter
1 yellow onion, chopped
2 cloves garlic, minced
1 1/2 cups dry white wine, such as Sauvignon Blanc
1/4 teaspoon black pepper
6 ounces Fourme d'Ambert, crumbled
Juice of 1 lemon
1/4 cup parsley, chopped
Dash of finishing salt such as Kosher, Maldon, Sel Gris (do not use iodized table salt)
A loaf of crusty bread for serving
1. Soak the mussels in a large pot of cold water for about 30 minutes to coax them to spit out any sand or grit they may have. Toss out the water and cover the mussels again with fresh cold water for another 30 minutes to encourage them to cleanse themselves a bit more.
2. De-beard the mussels by taking their byssal threads (their "beards") and giving them a good yank until they come off. Discard the beards and set the mussels aside. Toss any mussels that aren't closed, as these are already dead and not edible.
3. Cook the pasta in a large pot of salted boiling water until al dente. Drain the pasta through a colander and set aside.
4. While the pasta cooks, place a large pot over medium-high heat. Add the butter and allow to melt. Once the butter begins to bubble a bit add the onion and garlic. Cook over medium-high heat and stir occasionally until the onions have softened a bit.
5. Add the white wine and pepper. Bring to a boil and add the Fourme d'Ambert. Once the cheese melts into the wine, lower the heat to medium and add the mussels. Cover the pot with a tight fitting lid and cook for about 6 or 7 minutes, being sure to give the mussels a stir after about 4 minutes. Discard any mussels that are closed as these were dead before cooking. (Some may be only slightly open; if you have to debate about whether it's good to eat or not, toss it. Better safe than sorry.) Remove from heat.
6. Squeeze lemon juice over the mussels and toss together with the parsley and the finishing salt. Spoon the pasta into wide bowls, ladling mussels and broth over them and serve.
Alternative Cheeses: Gorgonzola Dolce, Cashel Blue, Roquefort, Cambozola
Wine pairings: dry Chenin Blanc, sparkling Chenin Blanc, dry Rosé
Additional pairings for the cheese, outside of this recipe: membrillo, quince jam, apple butter