When Uncle Sam Backs Your Film
How Act of Valor is only the latest in a long history of official military involvement in the film industry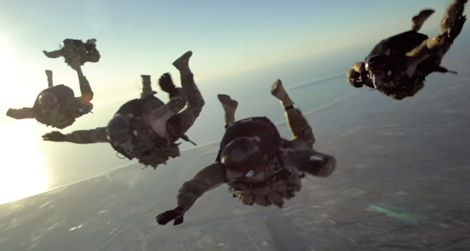 February 24 marks the release of Relativity Media's Act of Valor, "a film like no other in Hollywood's history," as its publicity materials trumpet. The reality is Act of Valor is only the latest in a long line of movies that received help from the military, stretching back to the very beginnings of cinema.
As John Jurgensen noted in his Wall Street Journal article "Hollywood Tries a New Battle Plan," the project started as a recruiting effort for the U.S. Navy, whose Navy Special Warfare division solicited proposals for a film that would "bolster recruiting efforts, honor fallen team members and offer a corrective to misleading fare such as Navy SEALs," a pretty silly action movie starring Charlie Sheen.
Bandito Brothers, a Los Angeles production company run by former stuntmen Mike "Mouse" McCoy and Scott Waugh, won the bid, which gained them access to active duty SEALs as well as to military assets. They filmed what amounted to a SEAL training exercise simulating an assault on a yacht. (According to Jurgensen, the Navy ends up with "blanket footage of the exercise for use in future training.") The Bandito Brothers team used this sequence to obtain funding for a feature which would feature active duty SEALs in seven of the lead roles. McCoy and Waugh hired screenwriter Kurt Johnstad (300) to come up with a story about a terrorist plot to smuggle suicide bombers into the U.S.
After filming ended in March, 2011, military officials screened the footage to remove potentially "sensitive tactics." Two months later, SEALs led the strike that resulted in the death of Osama bin Laden. About a month after that, Relativity Media purchased distribution rights for Act of Valor.
Act of Valor is being marketed on several keys points: the participation of real-life soldiers; the presence of military "assets" like helicopters and armored vehicles; and the depiction of approved operating procedures, like how to attack a terrorist compound in the jungle. In other words, the same key elements found in The Green Berets, a 1968 war movie directed by John Wayne. Most of The Green Berets was shot at Fort Benning, Georgia, where the Army provided helicopters, transports, and uniforms, as well as extras. (The Army would later use left-over sets for training exercises.)
An even better example is Top Gun, the Tom Cruise blockbuster that is scheduled for a 3-D upgrade sometime this year. The Navy gave filmmakers access to several F-14A Tomcats from the VF-51 Screaming Eagles fighter squadron, as well as to the aircraft carriers USS Enterprise and USS Ranger, and allowed filming during missile launch training exercises. According to this Duncan Campbell article, the Navy set up recruiting booths in the lobbies of theaters playing the movie. Paramount even offered to show an ad for the Navy before Top Gun screenings. David Robb, author of Operation Hollywood: How the Pentagon Shapes and Censors the Movies, quotes an internal Pentagon memo as saying, "to add a recruiting commercial onto the head of what is already a two-hour recruiting commercial is redundant."
To find the real roots of government cooperation with movies, we should go back to 1898, when the industry faced severe financial difficulties. After the USS Maine blew up in Havana that February, filmmakers rushed to capitalize on what soon became the Spanish-American War, faking battle footage and retitling old movies to draw in viewers.
Biograph sent cameramen to Cuba, where they were allowed to film divers working on the wreck of the Maine. They also shot in the navy yard at Newport News, Virginia, and filmed Assistant Secretary of the Navy Theodore Roosevelt outside the White House. These war films were extremely popular at theaters during a time when customers had seemed to lose patience with movies as a whole.
The cooperation between armed forces, and the government as a whole, and the film industry grew as movies matured. In 1903, Biograph made a series of 60 films for the Navy, according to film historian Charles Musser, "showing recruitment, training, the administration of first aid, and the auctioning of personal property left behind by deserters." They were shown at the 1904 St. Louis World's Fair, among other venues.
During World War I, Secretary of the Navy Josephus Daniels commissioned a feature-length documentary "to convince isolationists of the importance of building a strong American navy," according to the National Film Preservation Foundation. Produced by Lyman H. Howe Company, the complete film is lost, but you can still see an intriguing fragment of the U.S. Navy of 1915.
Hollywood's top directors—including John Ford, William Wyler, Frank Capra and John Huston—enlisted during World War II, turning out significant movies like Why We Fight and The Battle of San Pietro.
William Wellman, a veteran of the previous war, directed Story of G.I. Joe, which was adapted from articles by war correspondent Ernie Pyle. (Wellman actually joined the project months after filming started, because producer Lester Cowan had halted production to revise the script.) Burgess Meredith was cast as Pyle; at that point a Captain in the Army, he was placed on inactive duty. Also in the cast: some 150 real-life soldiers, most of them veterans of the Italian campaign. They stayed at Camp Baldwin in Los Angeles for the six weeks of shooting before being deployed to the South Pacific. As Wellman wrote in his autobiography, "None of them came home."
Of course films receive cooperation from the military all of the time, many of them not specifically related to the armed services.  Blockbusters like Armageddon and Transformers and also-rans like Battle: Los Angeles got help from the military with weapons, transportation, uniforms and extras.  But the military can choose not to help as well.  When Stanley Kubrick filmed an attack on an Army base in Dr. Strangelove, he had to rent weapons and armor for the scene.  And for Apocalypse Now, Francis Ford Coppola turned to the Filipino army for help with helicopters and weaponry.