When Humans Are the Prey: 5 Movies That Came Before The Hunger Games
The blockbuster book adaptation isn't the first story to feature televised death matches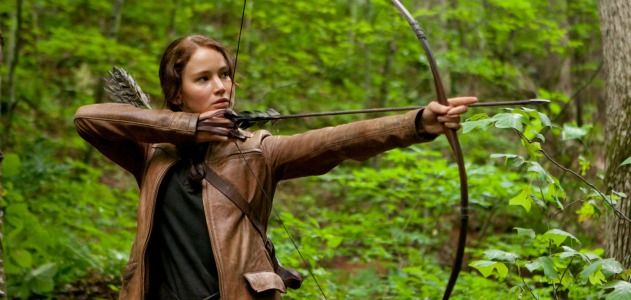 If you've somehow avoided the marketing juggernaut behind The Hunger Games, the film version of Suzanne Collins' novel is poised to become the first box-office blockbuster of 2012. Opening today, the movie has already broken the first-day sales record on Fandango, topping the previous leader, The Twilight Saga: Eclipse. Should it match that title's receipts, The Hunger Game could top $150 million within days.
Despite muted reviews from old-line media like Variety, The Hollywood Reporter, The New York Times, and Time, The Hunger Games has already helped to boost the stock price of distributor Lionsgate by over 80% in the past three months. So you can count on Hunger Games sequels in the near future. Three more episodes are currently planned (the last book will be split into two parts, like Harry Potter and the Deathly Hallows.)
With almost 25 millions copies in print, Collins' series of young adult novels are a phenomenon in their own right. Set in a dystopian future, the premise features televised Olympics-style battles to the death among 24 teenagers selected from the 12 colonies that had rebelled against the ruling class. Personally, I am uncomfortable with how children are used in The Hunger Games, and even more uncomfortable with one of its immediate predecessors, Battle Royale. A 1999 novel by Koushun Takami that was adapted into a 2000 film directed by Kinji Fukasaku, Battle Royale is far more violent and morally ambiguous than The Hunger Games. In it, high school students are sent to a remote island in a rigged fight to the death. Collins has stated that she was unaware of Battle Royale when working on The Hunger Games. The stories still share a surprising number of plot elements. Although Quentin Tarantino professed it a favorite, Battle Royale has never received a legitimate release in the U.S.
Call me a hypocrite, but I'm generally fine with other forms of screen mayhem. The upcoming Jason Statham vehicle Safe has a body count in the dozens, as well as a young protagonist who directly causes the deaths of several villains. But director Boaz Yakin never pretends that Safe is anything but escapist entertainment, and he doesn't dwell on how the movie's victims die.
Just as Stephenie Meyer's Twilight novels popularized vampire and werewolf themes for a young-adult audience—making a fortune for Warner Bros. and Little, Brown in the process—The Hunger Games takes a premise that has been around for decades and refashions it for a new audience. Here are five other films in which humans hunt each other to the death.
5. The Running Man. Based on a novel by Stephen King (writing as Richard Bachman), this 1987 film starred two future governors: Arnold Schwarzenegger and Jesse Ventura. Schwarzenegger, at the height of his popularity as an actor, plays a contestant in a televised duel-to-the-death hosted by smarmy emcee Richard Dawson. Arnold simultaneously must defeat the corrupt regime ruling a post-apocalyptic United States. Directed by Paul Michael Glaser, the original Starsky in TV's "Starsky and Hutch." Both novel and film borrow from an influential 1958 short story by Robert Scheckley, "The Prize of Peril."
4. The Naked Prey. Directed by and starring Cornel Wilde, this 1966 adventure finds Wilde chased across the South African veldt (actually Zimbabwe) by tribesmen who have already murdered the other members of his safari. Considered shockingly brutal for its time, the film is more notable today for its exceptional location photography (by H.A.R. Thomson) and Roger Cherill's lean, incisive editing. The screenplay, by Clint Johnston and Don Peters, was nominated for an Academy Award. The Criterion Collection DVD release includes the original inspiration for the movie: a 1913 short story "John Colter's Escape," about a trapper fleeing Blackfoot Indian pursuers. According to this website, Joel and Ethan Coen remade the film on Super 8.
3. The 10th Victim. This 1965 sci-fi adventure by Elio Petri features screen icons Marcello Mastroianni and Ursula Andress in another televised death match, this one called "The Big Hunt." Anyone who survives five attacks and commits five assassinations wins a million dollars. With its "modernistic" decor, disaffected characters, and parody TV ads, the film predicted today's cynical take on violence and celebrity. The 10th Victim was based on a Richard Scheckley short story, "The Seventh Victim." Director Petri would later win an Oscar for his satirical 1970 police procedural, Investigation of a Citizen Above Suspicion.
2. Spartacus. It may seem a stretch to connect a 1960 gladiator epic, directed by Stanley Kubrick and starring Kirk Douglas, to The Hunger Games. But there are odd parallels. As their unlikely lead characters, both stories feature impoverished outcasts. In both, these innocents are forced to perform in a deadly ritual for a corrupt ruling class. Both undergo rigorous training in a decadent capitol. In order to survive, both turn into reluctant killers. And both are drawn into political intrigues. I'll end the comparison by noting that Spartacus doesn't have the happiest of endings.
1. The Most Dangerous Game. My favorite in the human prey genre, this 1932 film was based on a 1924 short story by Richard Connell in which survivors of a shipwreck come face to face with the infamous Count Zaroff. (Read the original story.) With no way off Zaroff's tropical island, the guests must play along with his deadly demands. More a horror film than an adventure, The Most Dangerous Game was filmed at the same time, and on the same sets, as the RKO classic King Kong. (Ernest B. Schoedsack was co-director of both films.) It also featured a mesmerizing score by Max Steiner, one of Hollywood's premier composers. Starring a young Joel McCrea (still a few years from his success as a leading man at Paramount) and Fay Wray (at the time the screen's reigning scream queen), The Most Dangerous Game has the inexorable logic of a nightmare, and the gloomy, swampy locations to match.
The Most Dangerous Game has been overshadowed by King Kong, but filmmakers (and other artists) really took to its premise. In A Game of Death (1945), Zaroff's villain became a Nazi; the film was directed by Robert Wise, who also helmed The Sound of Music. Run for the Sun (1956), directed by Roy Boulting and starring Richard Widmark, took place in Central America. Orson Welles appeared in a radio version in 1945. The Most Dangerous Game has an amusing cameo in Zodiac (2007), David Fincher's drama about the San Francisco-area serial killer.
The Criterion Collection released an excellent edition of The Most Dangerous Game that is available on Hulu Plus. You can also find an edition from Legend Films that includes a colorized version overseen by special effects wizard Ray Harryhausen. (In honor of Wrath of the Titans, I will be writing about Harryhausen and stop-motion animation next week.)
Or you can view The Most Dangerous Game online, at the Internet Archive or on YouTube: