What Do America's Top Chefs Cook for Thanksgiving?
A quick survey of some of the unique dishes that restaurant chefs prepare for their own family dinner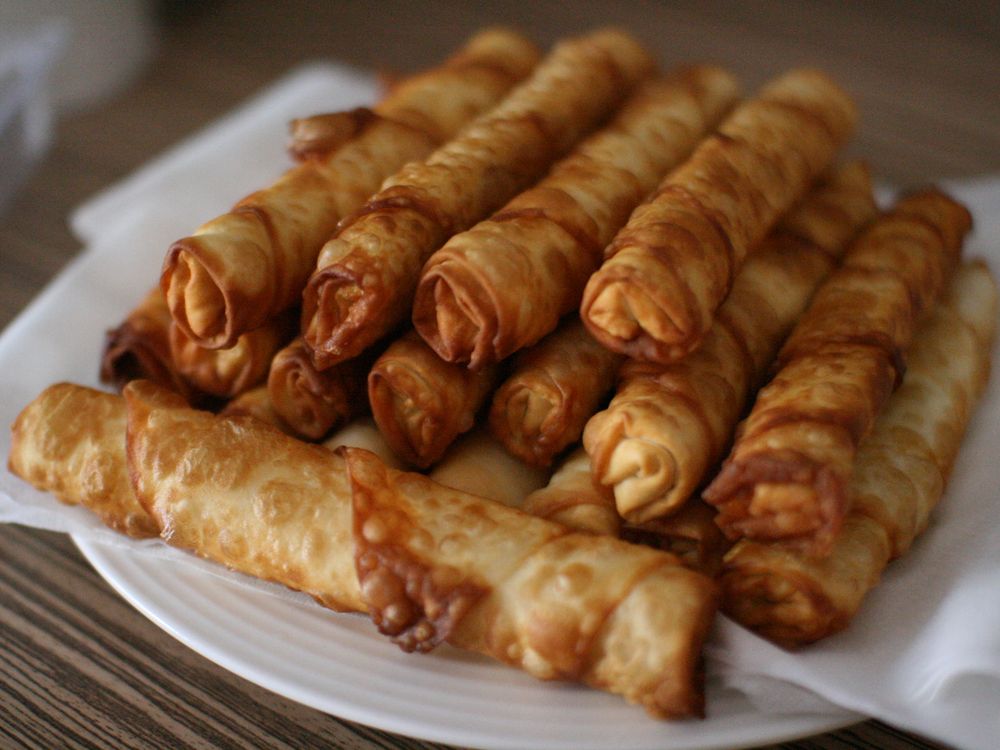 We're assuming turkey and stuffing will make its way onto your Thanksgiving dinner table, but what about basturma or stromboli? Here, several chefs share what dishes make their Turkey Day menus really sing:
David Bazirgan or 'Baz' is the chef at San Francisco's Dirty Habit restaurant. While he says he looks forward to his mom's walnut Jello mold and his aunt's bubble bread every year, it's Baz's Armenian roots that lend his Thanksgiving meals an international vibe. "Appetizers include boereg, as well as string cheese and basturma," he says. "We'd eat all of that and then move on to the traditional Thanksgiving feast."
Dirty Habit's pastry chef Francis Ang grew up in the Philippines and he says, "No Filipino Thanksgiving would be complete without pork." Ang makes a sisig bread stuffing that he says goes perfectly with his unique way of preparing the turkey. "I break down the turkey, grind up the legs, and then stuff the turkey breast with the ground turkey legs, liver, sage, almonds, and dried persimmons," says Ang. "Then I wrap the whole thing with bacon and sous vides it. When it's done, I sear the whole thing on the stove—which crisps up the bacon—and serve it with my dressed-up gravy, made by combining Maggi seasoning and juice from calamansi," a fruit that's widely cultivated in the Philippines.
Chef at LA's family-run Casa Vega restaurant, Christy Vega incorporates her Latin American heritage into annual holiday feasts. "My father's family grew up in Tijuana, so we have Mexican traditions as part of our Thanksgiving," she says. "One of my favorite items is jalapeno cranberries, which combines a bit of heat with a lot of sweetness. I also always make sweet corn tamales, though smaller in size to serve as appetizers. Covered in rich crema they are the perfect compliment of savory and sweet."
The son of actor Harrison Ford and chef at the soon-to-open Ford's Filling Station in downtown LA, chef Ben Ford serves a Thanksgiving menu at home that's reminiscent of winters spent in the United Kingdom while his dad was filming Star Wars. His typical dishes include prime rib roast with a horseradish cream; persimmon salad with goat cheese & candied pecans, and split pea soup with smoked ham hocks. For dessert: sticky toffee bread pudding, of course. Ford's menu also features a turkey, though this one's corn cob smoked.
Swiss native and chef at Manhattan's Triomphe restaurant, Florian Wehrli has a soft spot for fromage and inevitably one cheese-based dish finds it's way into every holiday gathering. He says the Gruyere Cheese Pie from his childhood is a time-tested recipe and year after year, it continues to be a favorite among the kids.
Chef Joe Farina of the Rosebud Restaurant Group says Thanksgiving wouldn't be complete without incorporating a few of the classic Italian dishes he grew up with as part of an Italian American household. "Of course, we serve turkey, stuffing, mashed potatoes & sweet potatoes," says Farina, "but my family also serves antipasto plates with cheese and meats, fruits, lasagna, arancini, and stromboli. For dessert, we make cannoli and pumpkin cheesecake, both of which are homemade."
See the next page for a recipe of Chef Ang's Sisig stuffing
Chef Francis Ang's Sisig Stuffing:
Yield: 10 portions
1 lb. pig ears
1½ lb pork belly or pork jowl
1 large onion, minced
3 tablespoons soy sauce
¼ teaspoon ground black pepper
2 teaspoon garlic
¼ cup Maggie seasoning
½ cup butter
1 cup cane vinegar or white vinegar
¼ lb chicken liver (rinsed and roughly chopped)
1 tablespoon sugar
6 cups water
1 tsp salt
1 thinly sliced Serrano chili pepper optional)
8 cups diced country bread
2 eggs
1 ½ cup pork broth
Pour the water and salt in a pan together with the pork belly and ears. Bring to a boil and simmer for 40 minutes to an hour or until almost tender.
Remove the pork from the liquid and grill (or broil in an oven) until slightly charred. Save the broth
Chop the pig ears and pork belly into small pieces. Put aside.
In a wide pan, melt the butter. Add the onions and garlic. Cook until soft.
Add the chicken liver.and cook for 2 minutes
Add the chili pepper, chopped pig ears and pork belly.
Put in the soy sauce, vinegar, sugar and maggie. Simmer for 10 minutes.
Add salt and pepper to taste (this is the sisig).
toss together sisig and bread. Transfer to a baking dish.
whisk the broth and eggs then pour in the bread mixture. Season with salt and pepper.
bake at 350 degrees F for 20 minutes covered and 10 minutes uncovered
garnish with chopped scallions and a squeeze of calamansi or lime
Chef Florian Wehrli's Gruyere Cheese Pie:
Ingredients
1 baking pan of 10 inches diameter plastic film butter to grease the pan
Dough:
2 cup flour 1 teaspoon salt 1 stick butter (cut in pieces)
About 1/3 cup cold water (Or a ready to bake savory pie shell)
Filling:
5 lbs Gruyère cheese grated 3⁄4 cup milk 3⁄4 cup heavy cream 3 whole eggs, beaten
1⁄4 teaspoon salt 2 oz flour Pepper, nutmeg and paprika to taste
Instructions
Preparation: about 40 min Chilling time (for the dough): about 45 min Cooking time: about 35 min
Dough: mix the flour and salt. Add the butter and mix by hand until well incorporated (mixture should have a sandy consistency). For a small well with the mix and add the water. Incorporate without kneading until a bowl can be formed. Wrap in plastic film and refrigerate for about 30 minutes. If the dough is too cold and difficult to roll, let stand at room temperature for 5 to 15 minutes.
On a lightly floured pastry mat or pastry board, and using a lightly floured rolling pin, roll the dough from the center out into a circle about 10 inches in diameter. Gently pick the dough up, lightly re-flour the work surface if necessary to prevent sticking, and replace the dough giving it a quarter turn. Continue lifting, turning, and rolling the dough until it is a 12 to 14 inch diameter circle and about 1⁄8 inches thick, doing your best to keep the dough shaped as circular as possible. Tip: Roll the dough to a diameter that is about 3 to 4 inches greater than the inside diameter of the pan, about 12 to 13 inches for a standard 9 inch pie pan or about 14 inches for a 9 inch deep dish pie pan. Transfer the pastry to a pie pan; gently press the pastry to the bottom and sides of the pie pan. Trim the pastry to 1-inch beyond the edge of the pie pan
Pre-heat the oven at 350F.
Combine all the filling ingredients in a bowl, mix well. Pour the mixture in the dough lined baking pan.
Bake for about 35 min. (until the top of the filling is golden brown. Remove from the oven and let rest for 5 minutes before serving.
This pie can be enjoyed hot or cold. Serve with a simple green salad or garden fresh tomatoes.