Using Movies to Debate Sign Language
A 1913 film mirrors contemporary conflicts over how best to teach the deaf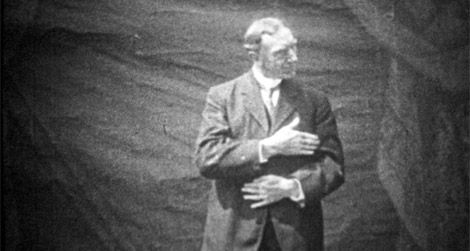 As school boards across the country struggle with budget cuts, parents and students can find themselves fighting over issues more political than economic. Case in point: American Sign Language, according to a recent New York Times article, is the fourth most-popular language taught in colleges. (Read the entire Modern Language Association report.)
But as Monica Davey reported in another Times article, several states—including Indiana, Kansas, North Carolina, Oregon, South Dakota and West Virginia—are threatening to reduce funding for state schools for the deaf, limiting the available options for deaf students who want to learn A.S.L. From the story:
Some advocates for the schools now worry that financial concerns could push the debate toward sending deaf children to "mainstream" schools, which would, in the eyes of some, ultimately encourage methods of communication other than American Sign Language.
The conflict between A.S.L. and what some refer to as "oralism," or a listening and spoken language approach, extends back many years. Schools promoting oralism formed as early as 1867, and a 1880 conference in Milan, the International Congress on Education of the Deaf, voted to ban sign language. Nebraska passed a law in 1913 outlawing sign language. Alexander Graham Bell was one of the most insistent proponents of oralism.
That was the atmosphere behind a remarkable series of films made between 1910 and 1921, under the auspices of the National Association of the Deaf. Formed in 1880, the NAD fought to "preserve, protect and promote the civil, human and linguistic rights of deaf and hard of hearing people," in particular in the "acquisition, usage, and preservation of American Sign Language."
"The only way in which this can be done is by means of moving picture films," wrote George William Veditz. Born in 1861, Veditz lost his hearing at the age of eight due to scarlet fever. Graduating from Gallaudet College as valedictorian in 1884, he became a teacher and later president of the NAD. The Association formed a Motion Picture Committee in 1910 with a mandate to film "excellent examples" of sign language and distribute these movies throughout the country.
The 14 films produced by the committee are now part of the George W. Veditz Collection at Gallaudet University. All of the titles have historical significance, according to Patti Durr, who blogs about deaf issues at People of the Eye. But Preservation of the Sign Language, which records a 14-minute speech by Veditz (above), may be the most moving. "Veditz is my hero," Durr wrote me in an e-mail. "I totally adore his foresight and fortitude. If he were alive today he would without a doubt be involved in the exact same issues."
Even if you do not understand A.S.L., Veditz is a forceful and persuasive presence in Preservation of the Sign Language. As Dr. Carol Padden (the first deaf recipient of a John D. and Catherine T. MacArthur fellowship) wrote, "His hair is parted neatly in the middle, so his face can be clearly seen, and he is careful to sign precisely and in large gestures."
Dr. Padden has translated Veditz's speech into written English; Veditz wrote out his own version in a letter some years after the film was made. It was only by comparing the two that I began to appreciate A.S.L. Previously I had thought of sign language as a sort of literal translation of spoken English, with a one-to-one correspondence between spoken words and signs. But I now view A.S.L. as an actual stand-alone language, with its own vocabulary, its own grammar, its own rhetoric.
Take the following signed sentence as an example. Padden translates it as: "But for thirty-three years their teachers have cast them aside and refused to listen to their pleas." "Cast aside" Veditz signs as "grab-hold-forcefully-push-down." His written English equivalent: "For thirty-three years their teachers have held them off with a hand of steel."
Watching Preservation of the Sign Language and the other films in the Veditz Collection connects us directly to battles that are still being waged today. It also gives us a glimpse at some remarkable people who found a way to utilize motion pictures for their own ends.