The Wines of Hungary — the Next Big Thing?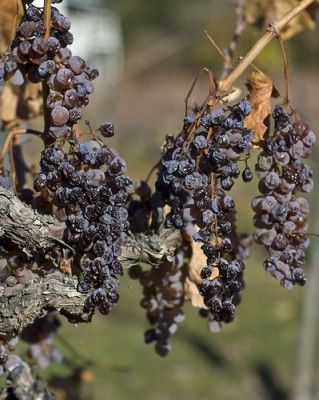 I already knew that some delicious wines come from Austria, since I lived there for a few months once upon a time. But Hungary? I was only dimly aware that they even had a wine industry.
Well, after attending a recent "Austrian-Hungarian Wine Seminar," I realized what I'd been missing out on.
According to my notes (which may have flaws, given that I was scribbling down details from distant Powerpoint slides while tasting 10 wines in rapid succession), Hungary has 22 geographically distinct "wine communities" and produces an average of 3.5 million hectoliters (about 92 million gallons) of wine each year. But here's why I hadn't encountered it before—only about 20 percent of that wine is exported, mostly to other European countries.
Hungary's wine culture dates back more than 2,000 years, and it was one of the first countries to implement standards for winemaking. Although it suffered some major setbacks in the past century (vine-hungry bugs; two world wars; communism's failed farming policies), the Hungarian wine industry was one of the most successful in Europe in the late 19th century. (Well, technically that was the Austro-Hungarian wine industry. Perhaps they should reunite?)
As a brochure from Hungary's national wine council modestly notes, "It is not an overstatement therefore to consider Hungary as one of the recognized traditional wine-making nations in Europe." (In other words, We wish people would stop writing things like "I was only dimly aware that they even had a wine industry.")
The event was hosted by the Austrian Embassy, but everyone I met there was Hungarian, mostly students and expat professionals eager for a rare taste of home. The tasting list for the night included several of Hungary's most popular varietals, including Furmint, Kékfrankos (or Blaufränkisch), and Bikavér (or Bull's Blood).
"You go into a wine store in the U.S., and if you see any Hungarian wine at all, it's usually just very bad quality Bull's Blood," one man explained to me. He pointed to the final wine on the list, a 1993 Tokaji Aszú from Hilltop Winery. "Mmm, this one is very special," he said. "You will like this."
The Tokaj wine region is a UNESCO World Heritage site whose claim to fame comes from, of all things, rotting grapes. It turns out that subjecting grapes on the vine to a particular type of dessicating fungus (botrytis cinerea), a process called "noble rot," is a very effective way of concentrating the sugars. The resulting "aszú" pulp, when blended into a dryer base wine and aged for several years, creates a deliciously sweet dessert wine. The type we tried was on the sweeter end of the spectrum at 5 out of 6 "puttonyos," a measurement equivalent to roughly 120 grams of residual sugar per liter.
My favorite Austrian tastes of the night were a 2007 Grüner Veltliner and a 2006 Riesling, both from the Jurtschitsch winery in the small but productive wine region of Kamptal (in the state of Lower Austria, which, confusingly, is northeast of Upper Austria).
Although the seminar wasn't intended as a matchup between the two countries, the Hungarians at my table were thrilled when I admitted to liking the Tokaji Aszú better than the Austrian Eiswein (ice wine)—the former offered a more complex sweetness, evoking molasses, raisins and cognac, while the latter was like pure honey.
After a quick search to see what wine professionals have to say (since I'm admittedly an amateur), I feel rather cutting-edge. Hungarian wine could be "the next big thing," eh?