The Best Foods for Backpacking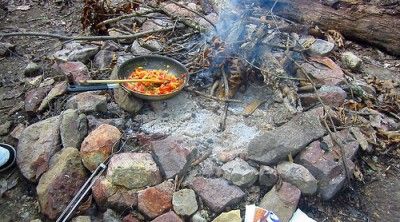 Today's guest post is by Smithsonian staff writer Abigail Tucker, who knows a thing or two about roughing it. She's camped in the Arctic to interview narwhal scientists, schlepped through a swamp in South Carolina in search of Venus flytraps, and ridden snowmobiles deep into the Western wilderness for an upcoming wildlife feature. 
Roughing it is always easier if there's good grub around, but cooking while camping can be tricky. Refrigeration isn't always available, canned goods are dead weight in a backpack, and sometimes it's a pain to build a fire. Granted, it is possible to concoct a scrumptious ratatouille in the middle of nowhere, given time and materials (fennel and parchment paper, for starters), and anyone who feels like hauling a pie iron into the wilderness is welcome to a campfire panini. I know I'll be eternally grateful to the fellow camper who smuggled a watermelon the size of a small sleeping bag in his backpack and unveiled it five days into a college wilderness trip, just when our supplies were dwindling.
But because we can't all be heroes, here are a few light-weight, ultra-simple and even tasty options suggested by outdoorsy types who got tired of granola. Have better ideas? We'd love to hear them.
1. German bread. Resembling a brick, but ever so much lighter and more flavorful, this pre-sliced bread comes wrapped in plastic, has a long shelf-life, and doesn't crumble as easily as ordinary bread. There are many flavors, though the sunflower seed variety is particularly good. Look for it at health food stores.
2. Pesto. Out of the refrigerator, it lasts longer than you'd think---a couple of days, as long as it's not too hot. Mix it into pasta or spread on bread; a little goes a long way.
3. Mini-cheeses. Babybel cheeses come individually wrapped in wax and plastic, making them more durable than larger hunks of cheese. Plus, you don't need a knife (or clean hands, really) to eat them.
4. Potatoes. Not exactly light, but a nice treat if you'll be making a campfire the first night. Pack clean potatoes wrapped in tinfoil with a pat of butter (may want to put the whole thing in a Ziploc so it doesn't ooze in your pack), and nestle them among the coals for roasting.
5. Instant Oatmeal 2.0. Stir in a tablespoon of peanut butter (and yogurt, if you've got it) and it will keep you going all morning.
6. Couscous. Less of a cliché than rice and just as light and versatile.
7. Tuna. It comes in foil pouches and you can add it to the couscous with some spices, or if you're hungry enough, eat it right out of the bag.
Any other tried-and-true suggestions, readers?