The Berger Cookie is Baltimore's Gift to the Chocolate World
For nearly 200 years, the true black-and-white cookie has been delighting residents of Charm City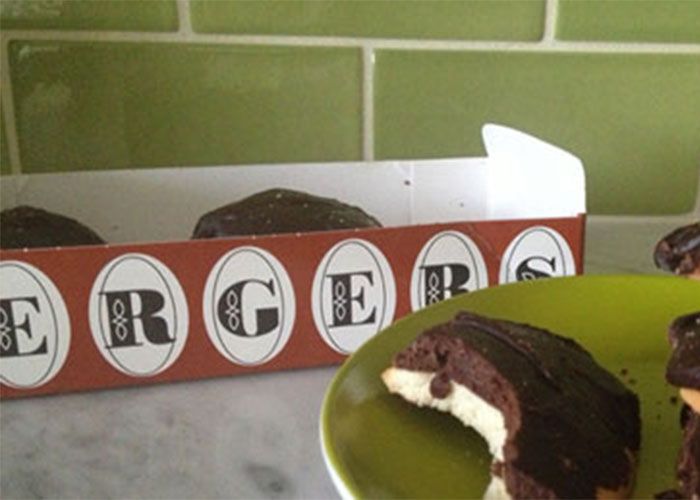 Excited for Sunday's Super Bowl? Learn more about this Baltimore delicacy from Bonny Wolf, writer for AmericanFoodRoots.com, where this story was originally published.
What the madeleine was to Proust, the Berger cookie is to Baltimoreans. When the French author's narrator dips his shell-shaped cookie into a cup of tea, he is flooded with 3,000 pages of childhood memories.
So it is with the Berger cookie. (The company is called Bergers but to most Baltimoreans, when discussing the cookie, the 's' is silent.")
For nearly 200 years, this cake-bottomed cookie topped with a generous hand-dipped mound of dark fudge icing has sparked home-town memories for Charm City natives. For a very long time, the cookies were unknown outside the city.
"It was a great little business," says Charlie DeBaufre, who has worked at the company for much of his life and became the owner in 1994. Customer demand and word of mouth led to incremental growth over the last 15 years. "We had two trucks," DeBaufre says, "and then some of the major supermarkets said, 'We wouldn't mind selling your cookies.' "
People aged and retired or moved outside Baltimore, but they still wanted their Berger cookies. Those who moved to Maryland's Eastern Shore didn't want to cross the Chesapeake Bay Bridge to get their cookies, says DeBaufre. So he sent his trucks across the bridge with the goods. Then they got requests from northern Virginia, southern Pennsylvania and Frederick, Maryland. Now DeBaufre has seven trucks. He tried using brokers but, "They don't care like you care," he says. "I like having my own trucks and drivers. I like having more control over what's going into the store."
What's going into the stores is an "unusual product," says DeBaufre. "New Yorkers talk about their black and whites and it's not a bad cookie, but it's nothing like mine."
The cookie is made using nearly the same recipe Henry Berger developed when he opened a bakery in East Baltimore in 1835. There have been a few modifications, according to DeBaufre. For example, vegetable oil has replaced lard in the recipe, reducing the saturated fat content considerably. "Some people say the cookie is just there to hold the chocolate," says DeBaufre. "They eat the chocolate and throw the cookie away." Bergers has even been asked to put together a Berger cookie wedding cake, which DeBaufre describes as a stack of cookies with a bride and groom on top.
Berger, a German immigrant, was a baker by trade and his three sons followed him into the business. The cookies were sold from stalls in the city's public markets. Today, there still are Bergers' cookie stands in Baltimore's Lexington and Cross Street markets.
As they have been since the beginning, Berger cookies are hand dipped. Four employees dip them all – 36,000 cookies a day. DeBaufre says he's considered new equipment but has resisted. "I have to keep the integrity of the cookie," he says. Yes, they have trouble keeping up with demand and often run out. But he doesn't do it just to make money, he says. "I take pride in what I do. When you tell me they're good cookies, I'm proud."
After World War I, George Russell, a young man who worked for the Bergers, bought the bakery. The DeBaufres – who had worked for the Russells – bought the business in 1969. In addition to expanding distribution outside Baltimore, Bergers cookies are shipped all over the country. DeBaufre says a woman from Baltimore who lives in California sent holiday tins of cookies this year to her clients – 20th Century Fox, Paramount Pictures and Steven Spielberg. "She wanted them to have something they wouldn't have had before," says DeBaufre.
Read more stories from the 50 States' best culinary traditions at American Food Roots.