The Art of Pizza
Cooking up the world's most authentic pie in Naples, Italy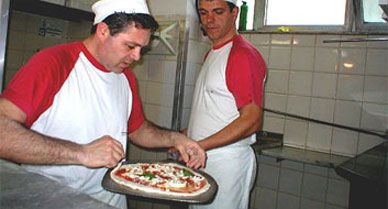 Sitting in Ristorante Umberto, owned by the Di Porzio family for three generations and one of the oldest and most popular pizzerias in Naples, Italy's southern megalopolis, Massimo Di Porzio talks about pizza as though it were human. "The dough should be moved carefully," he says, "as if it were a baby."
You have to understand: Naples is the traditional home of pizza and a place where people take their food seriously. So seriously that they masterminded an Italian law, passed three years ago, specifying what is real Neapolitan pizza—and it bears little resemblance to what we chow down in the United States in record numbers, an estimated 350 slices per second, amounting to a $37-billion blockbuster industry. Credit-card thin at the base with sparse toppings, the Neapolitan version is American pizza on a slimming diet.
But Di Porzio, not only a restaurateur but also an international economics graduate, will not be drawn into a food fight over which version is better, or condemn such U.S. creations as Pizza Hut's "Stuffed Crust Pizza" or Papa John's "Hawaiian BBQ Chicken pizza."
"We are not the pizza police," he says, reacting to some media description of the law passed in Italy in 2004 and currently being considered by the European Union, giving three pizzas—Marinara (tomato, garlic and oregano), Margherita and Extra Margherita (both with tomato, basil and mozzarella)—the same name protection as fine wine.
"I love all kinds of pizza," continues the open-minded Di Porzio, who is general manager of Associazione Verace Pizza Napoletana (VPN)—verace means real—the non-profit organization of pizza-makers, called pizzaioli, that helped write the law. "In New York," he says, "we found some good pizza, other not so good, but these other pizzas are a different product—not the Neapolitan pizza."
The Neapolitan pizza, as defined by law, is made from a specific kind of wheat flour and yeast, round, no more than 14 inches in diameter and cooked in a wood-fired oven at temperatures above 905 degrees Fahrenheit. Only top-quality ingredients can be used, including two local delights: plum tomatoes from San Marzano and, for Extra Margherita, mozzarella made from the milk of water buffalo, whose numbers have soared along with the cheese's popularity.
But since the law went into effect, no one has been hauled into court for not pouring the extra virgin olive oil in a circular pattern starting from the middle, or for mixing the ingredients in a different order than the one prescribed by the painfully detailed regulations. The backers of the law—not all Italian pizzaioli are advocates—insist this is not about punishment but rather information regarding a key aspect of their culture.
Although the flatbread-with-topping idea is generally attributed to the Greeks, for centuries pizza has for been associated with Naples and its long struggle with poverty. Cheap to make and requiring few ingredients, pizza was a staple by the 18th century, sold on city streets and served on ships sailing from the Port of Naples (that's how Marinara got its name). In the post-World War II era, residents were so poor that many bought pizza on credit, paying for it eight days later—when they got another one. This practice, called oggiaotto, was featured in the 1954 film L'Oro di Napoli (The Gold of Naples) and is still honored by some pizzerias.
Naples' history is replete with pizza legends. A local pizzaiolo is said to have made the first Margherita in 1889, adding mozzarella to the tomatoes and basil to give the pizza, which he reportedly named after a visiting Italian queen, the colors of the Italian flag—red, white and green.
Much more recently, Di Porzio tells of the "the Dean of Pizzaioli," VPN founder Vincenso Pace, who began making pizzas when he was ten and was so skilled that he altered the proportion of the ingredients according to the weather—for instance, adding more salt it if was hot, less if it was cold.
The VPN has taken the gospel of authentic pizza-making around the world, training locals and certifying restaurants, especially in Japan, where tourists returning from Naples have fueled interest for traditional pizza, and the United States, where the national branch has certified 16 restaurants.
At first, gaining fans for the Neapolitan pizza was "something of an uphill battle," admits Dino Cardone, marketing director for VPN Americas. But recently, he says, the challenge has been to meet the demand for information, training and certification.
And what does a real Neapolitan pizza taste like? To someone used to American-style pizzas, a little bland in the beginning. But then you start enjoying the freshness of the ingredients and the lightness of the crust—the more you eat it, the better it tastes.
That said, don't count on having it delivered. The law states that the real thing "should be consumed immediately, straight out of the oven, at the pizzeria. If the pizza is removed from the pizzeria to be eaten later, it can no longer carry the certification of a true Neapolitan pizza."
Dina Modianot-Fox, a regular Smithsonian.com contributor, recently wrote about "Ancient Rome's Forgotten Paradise."