Ten SXSW Food Trucks in Four Days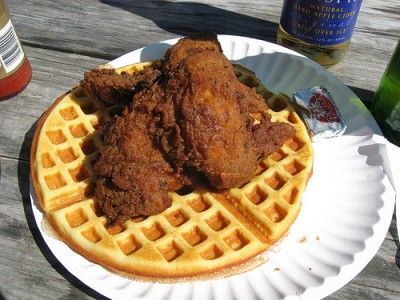 This week marks the mid-point of South-by-Southwest (SXSW) in Austin, an event that started as a wide-ranging independent music festival but has since spawned a film festival and an interactive conference for thousands of Internet visionaries, entrepreneurs, marketers and web journalists. I had the good fortune to experience the both the beginning of the conference and something else Austin is known for: food trucks.
Unlike in D.C., where food trucks are mobile and tweet their new locations daily, Austin food trailers are for the most part stationary. In four days, I tasted the wares of 10 food trucks, most of which were delicious, ranked here in order of excellence.
#1: Pueblo Viejo, E. 6th St. and San Marcos
I had never heard of breakfast tacos before, much less eaten them, and I got a good tip that this was a place to visit.
What I ordered: Three breakfast tacos: two with chorizo, eggs, cheese, potato and avocado; the other with spinach, mushrooms, eggs and cheese. Coffee. Cost: $10 total Pros: Made to order, friendly service, nice big chunks of chorizo, exceptionally flavorful. Coffee was full-bodied and smooth. Cons: I could have gone with just two tacos, but the whole cheap food thing took me a while to get used to. Caveat: As the first breakfast tacos I've ever had, there is a certain amount of first-time bias here.
#2: East Side King, E. 6th St.
As with most of these giant conferences, there are always companies plying you with free food to sell you their services. One company brought in an Austin food truck vendor for lunch. My quick research indicated that East Side King had some of the best, and most refined, food truck food.
What I ordered: Thai chicken karaage (deep-fried chicken thigh with sweet & spicy sauce, fresh basil, cilantro, mint, onion, and jalapeño) Cost: Free! (But usually $8) Pros: Sublime food. Never has fried chicken tasted so light. The mint gave it a Vietnamese flavor that I wasn't expecting. If I weren't chatting with new friends made while waiting, I'd have scarfed it down in seconds. Cons: Since it was free, I got only one bun. A filling meal would have to be two to three items. Caveat: I didn't get to try the pork belly bun, which looked amazing. If I had eaten both, this could have taken the #1 slot.
#3: Lucky J's, E. 6th St. and Waller
I love chicken and waffles. As ignorant as I was about breakfast tacos, I am a snob when it comes to this soul food dish. Having read about Lucky J's months ago, I planned my virginal Austin food truck experience around visiting them. I happened to go during a street band music festival (Honk TX). While eating, I danced with a Second Line band from New Orleans. The music and the food made for a memorable evening.
What I ordered: Chicken and waffles (two pieces, bone-in, two waffles (they are thin, not Belgian). Cost: $9 Pros: The chicken skin was crackled with each bite and the waffle held its own. Not too doughy, and baked to just the right consistency. Cons: Conversely, the chicken was slightly over-cooked and a little dry, but nothing a little maple syrup couldn't fix. Caveat: I love chicken and waffles, and combine with the street band music playing, I was knock (knock knocking) on heaven's door.
#4: Kebabalicious, Congress St. between 2nd and 3rd
As the final food truck I ate at while in Austin, Kababalicious had to wow me to get this high.
What I ordered: Beef/lamb shwarma. Bottle of Mexican Coke. Cost: $8.75 Pros: The combination of the two meats worked well and were sliced to the perfect thickness. The vegetables and sauces made for a moist sandwich. Toasting the pitas? Nice touch. Also, Mexican Coke! Cons: Maybe it was the nine other food truck meals in my stomach, but I could barely finish the regular shwarma. I ordered it with feta cheese, but there wasn't any on my wrap. They were out of the chicken. Caveat: Food truck and conference fatigue had set in. I was ready to go home.
#5: Old School Bus, E. 6th St. and Waller
These guys, operating out of an old yellow bus, are usually parked next to Lucky J's over in East Austin, but a software company brought a handful of food trucks to a parking lot near the convention center. The lines were long, but I was with an old friend so it all worked out.
What I ordered: The steak burger and a Coke Cost: $7 Pros: This savory burger was impressively seasoned. The service was friendly and the truck itself just looked cool. Cons: Even though I was told their BBQ was great, the burger was the only item in stock at the time. Somehow I made my first trip to Texas and didn't have any barbeque beef—what a failure! Caveat: The fast service was also probably due to the fact that this was a giant food fair with high-volume turnover.
After the jump, food carts #6-10
#6: Hero's Frozen Treats, E. 6th St. and San Marcos
Hero's offers a similar cup of shaved ice and frozen yogurt at the Washington Nationals baseball stadium (for twice the cost), and I'm a big fan of Rita's Italian Ice. Hero's is here on my list not because it's bad—far from it—but it didn't bring much new to my palate.
What I ordered: A small Frozen Zombie with orange syrup flavored ice over vanilla frozen yogurt. Cost: $3 Pros: One of the flavored syrups was called "Tiger Blood." Apparently they haven't seen an increase in orders since Charlie Sheen declared his predilection for it, but Hero's is still winning. Cons: Nothing new, nothing special. Caveat: Rita's is very tough competition.
#7: Torchy's Tacos, various locations Torchy's and the next entry belong in the same category: places that were lauded as among the best Austin has to offer that sadly did not live up to the expectations.
What I ordered: Three breakfast tacos—two with chorizo, egg and cheese and one with potato, egg and cheese; orange juice; coffee. Cost: $10. This is apparently considered expensive for Austin folk. Coffee and OJ alone in our office building will set me back $5. Pros: A great atmosphere of outdoor benches and a covered open-air cabin reminiscent of summer camp. The salsa that came with the tacos was excellent—spicy yet not overpowering. Cons: The eggs were slightly overcooked; portions were too large for the tacos themselves. And the chorizo looked more like bacon bits—way too small and most of the flavor got lost when cooked with the egg. Caveat: I fear I ordered wrong. In attempting to make a controlled taste test between here and Pueblo Viejo, I bypassed some of the more interesting tacos on the menu.
#8: Gordough's, S. Lamar Blvd. A few of my sources of research highlighted this truck as one of the best, and when it was lined up as a free food option on Saturday, I pounced. I mean ... doughnut sandwiches? That just sounds delicious.
What I ordered: The Boss Hog—Potato salad, chopped BBQ, with honey BBQ sauce all on top of a regular doughnut. Cost: Free. (Normally, about $5.25) Pros: The premise itself deserves mention here. The barbecue sauce was a nice complement to the sweetness of the doughnut, and the potatoes tasted almost creamy. Cons: The doughnut was a little too doughy. I don't know if it really matched up well with the beef. I was expecting something more like a Dunkin Donut but the inside consistency tasted more like Wonder bread. Caveat: A few here—this again may be an instance of ordering incorrectly. Had it not been lunchtime, I'd have tried their dessert option. And I'm willing to cut any truck dealing with a high-volume of hungry people some slack.
#9: Man Bites Dog, S. 1st St.
Man Bites Dog suffers a bit from the problem Hero's faced. In the end, a hot dog is a hot dog. Much of people's love for hot dogs comes either from the atmosphere (a 4th of July party, a ballpark) or a regional pride (Chicago dogs, Ben's Chili Bowl hot dogs, New York street dogs). When you have neither, you end up realizing that you're just eating a plain old wiener.
What I ordered: The Philly Dog—beef dog with grilled onions and Cheese Whiz Cost: Free (Normally about $4; it's not on their regular menu.) Pros: Gourmet it's not, but whiz is always tasty. Onions were carmelized. Cons: Incredibly messy as the bun disintegrated. I ended up having to eat just the hot dog on its own. My fear of getting cheese on my shirt in the midst of an important conference was unnerving. Caveat: The limitations of both cooking for a crowd of non-paying customers and the dog itself.
#10: Austin Daily Press, 9th and Red River
The Food Network once had a show called "The Great Food Truck Race." Austin Daily Press was one of the featured trucks. They finished second-to-last in the contest, and it isn't hard to see how that happened. I love me some grilled cheese, especially after being out on the town, but their sandwich left me disappointed.
What I ordered: Mozzarella, balsamic pesto, and Roma tomato sandwich Cost: $7 Pros: I did end up eating the whole sandwich... Cons: There just wasn't much flavor in any of the components. Caveat: There's a truck in D.C. that has similar menu options that I've always said would be good drunk food. I would have said the same thing about Austin Daily Press—but even that turned out not to be true.
Places I want to try on my next visit to Austin: Turf N' Surf Po'Boys, Local Yolk, #19 Bus, G'raj Mahal, Mighty Cone, odd duck.