Take A Trip Through 300 Years of Men's Fashion
At the Los Angeles County Museum of Art, a new exhibition highlights 200 styles, from military uniforms to punk jackets
It's easy to think that men's fashion is less exciting than women's. "Most people's idea of menswear is the standard business suit in a blue-black-brown palette," says Sharon Takeda. But a new exhibition at the Los Angeles County Museum of Art (LACMA) begs to differ. 
Takeda, head of the costume and textiles department, and curators Kaye Spilker and Clarissa Esguerra mostly plumbed the museum's permanent collection of more than 35,000 objects for notable trends in the past three centuries of men's fashion. They turned up court dresses for 18th century noblemen, an ultraconservative bathing suit from 1900, and a striped zoot suit, and selected 200 looks to feature in "Reigning Men: Fashion in Menswear, 1715–2015," opening April 10.
The exhibition offers a far-ranging and eye-opening perspective on how cultural zeitgeists and political climates affect men's fashion. LACMA's curators examine how political movements, cultural exchange, uniform styles and desires to manipulate the male figure (think stockings with padded calves and waist-cinching underpants) all influenced the ensembles. Though the exhibition showcases historical clothing styles that draw from Eastern influences and works by contemporary Japanese designers, it primarily focuses on menswear popularized in Europe and the Americas.
"The show features surprising colors, embellishment and silhouette changes in men's fashion," says Takeda. "It's filled with a lot of wonderful stories." The meticulously assembled exhibition also shows visitors that fashion has always been an outlet for expression and thus an art form in its own right. 
Macaroni Ensemble, 1770
The "Macaronis,"of Yankee Doodle fame were upper-class British youth that took a grand tour of Europe, many to France and Italy, in the 18th century. Supposedly these youths were given their moniker because they had developed a taste for the exotic dishes of Italy, including the pasta.
When they returned home, they often wanted to emulate the vivacious fashion they had seen abroad. Rather than don the typical matching suit of breeches, waistcoats down to the knees and long vests, these fellows created a trimmer look and used mismatched colors. This Macaroni outfit consists of a tea green jacket and breeches with a coral waistcoat, which would often be combined with ornamental swords and jewelry. "They were pushing the limits, as kids do," says Takeda.
At-home Robe, 1880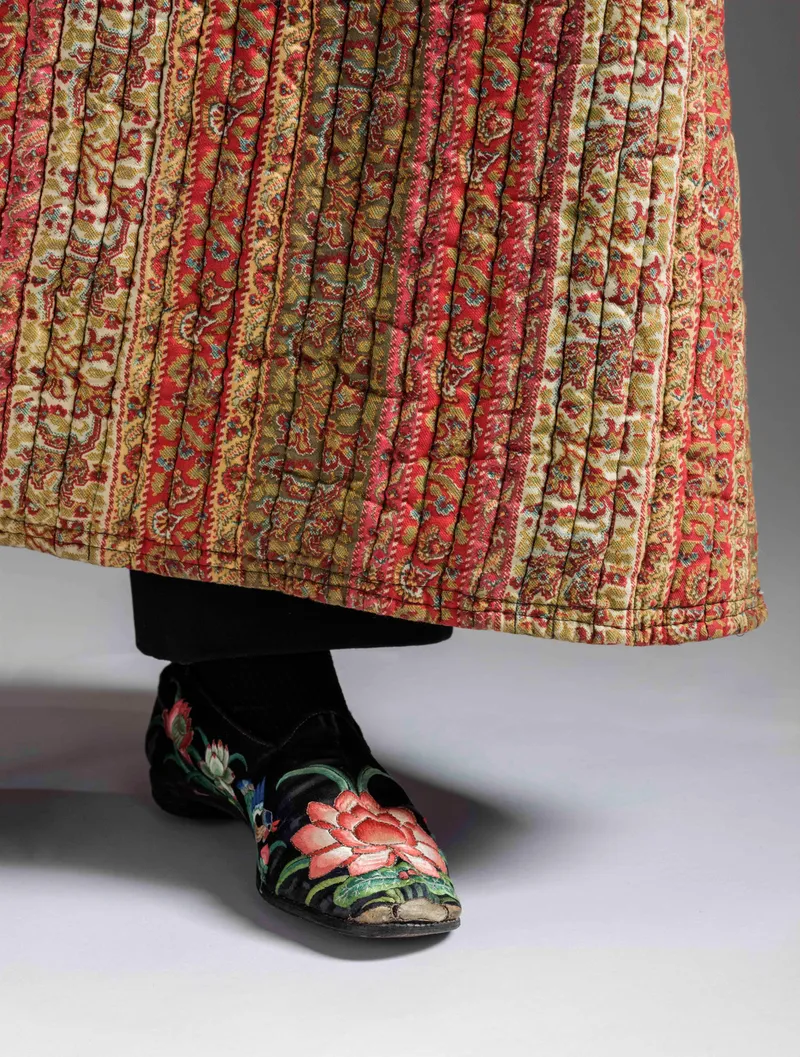 Based on Japanese kimonos and Turkish robes, at-home robes in late 19th century England were made of luxurious fabrics. They were meant to signal prestige while also keeping their wearers warm. "You see a lot of portraits of wealthy men at the time wearing at-home robes," says Takeda.
Asian motifs, such as the Indian butta pattern found in this robe, were popular because of the increased access to Asia triggered by the Dutch East India trade routes. It was only after Europe started to manufacture cloths with these motifs that the butta pattern became more popularly known as paisley, after Paisley, Scotland, one of the most prolific manufacturing sites for these fabrics in Europe.
British Army Uniform, 1799-1800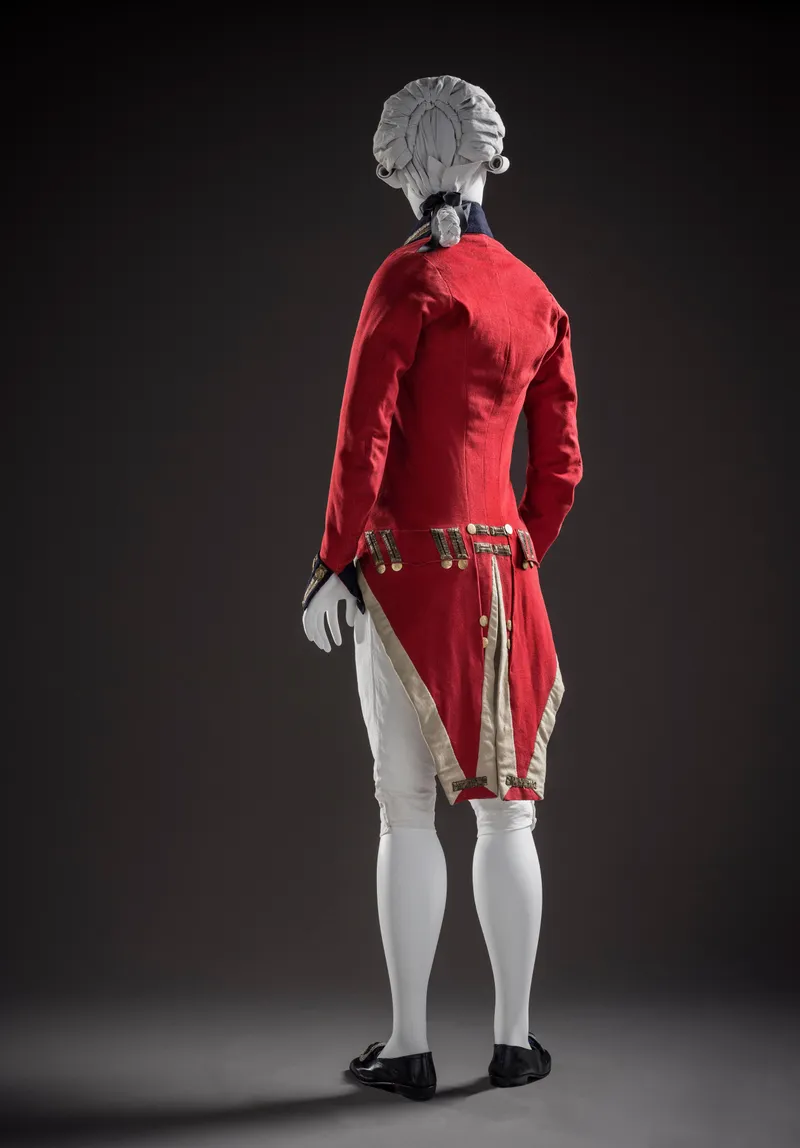 Tailors on London's Savile Row created this striking wool British army uniform in 1799. During the late 18th and early 19th centuries, the street in Central London became the de facto location of tailors specializing in uniforms for elite, high-ranking military officers, many of whom lived nearby. This uniform is constructed out of durable wool cloth, which was molded, stitched and steamed into a flattering male silhouette and accented with gold braid and buttons. The tailors of Savile Row painstakingly built each uniform by hand. Patterns were chalked out on paper and then cloth, only to be adjusted again and again through multiple fittings, until a perfect fit was achieved.
These officers would then regularly return to these tailors for their civilian attire, thus establishing London's tradition of bespoke tailoring. "It was those same tailors that had the know-how of making these fitted uniforms who could also tailor a bespoke suit beautifully," Takeda says. Today, the street continues to be known as the pinnacle of men's tailoring. Savile Row's tailors have made garments for the likes of John Lennon, Laurence Olivier and even John F. Kennedy.
Zoot Suit, 1940-42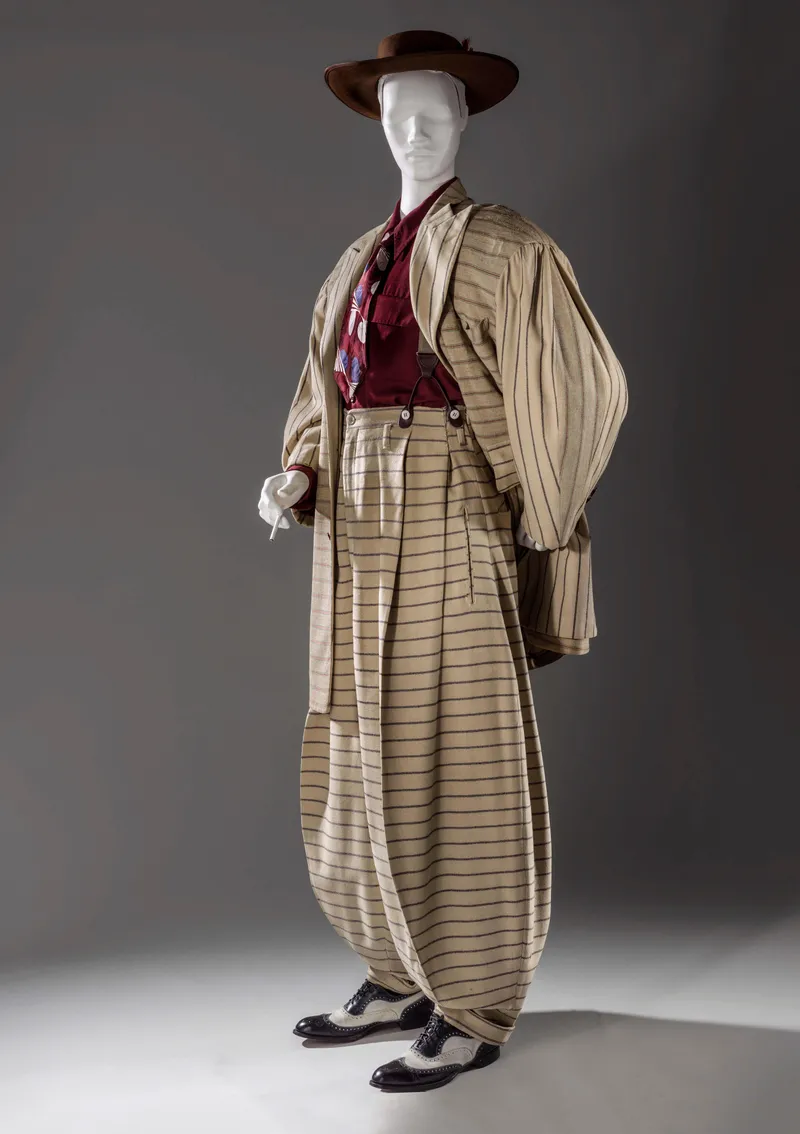 It took LACMA more than a decade to locate this authentic zoot suit from New Jersey in an auction catalog. The hazards of wearing the suit on the dance floor and about town, combined with its flamboyant style, could be why so few 1940s zoot suits survive today, Takeda theorizes. Young African American, Hispanic, Jewish and Filipino men typically wore the style. Extremely wide lapels and voluminous jackets and pants showed off the athletic Lindy Hop and Jitterbug dance moves well, but the suits, with their excessive fabric, flagrantly disregarded the austere atmosphere of the war years. "Police used to chase young men with sticks topped with razors to slash these pants," says Takeda.
Coat, 1800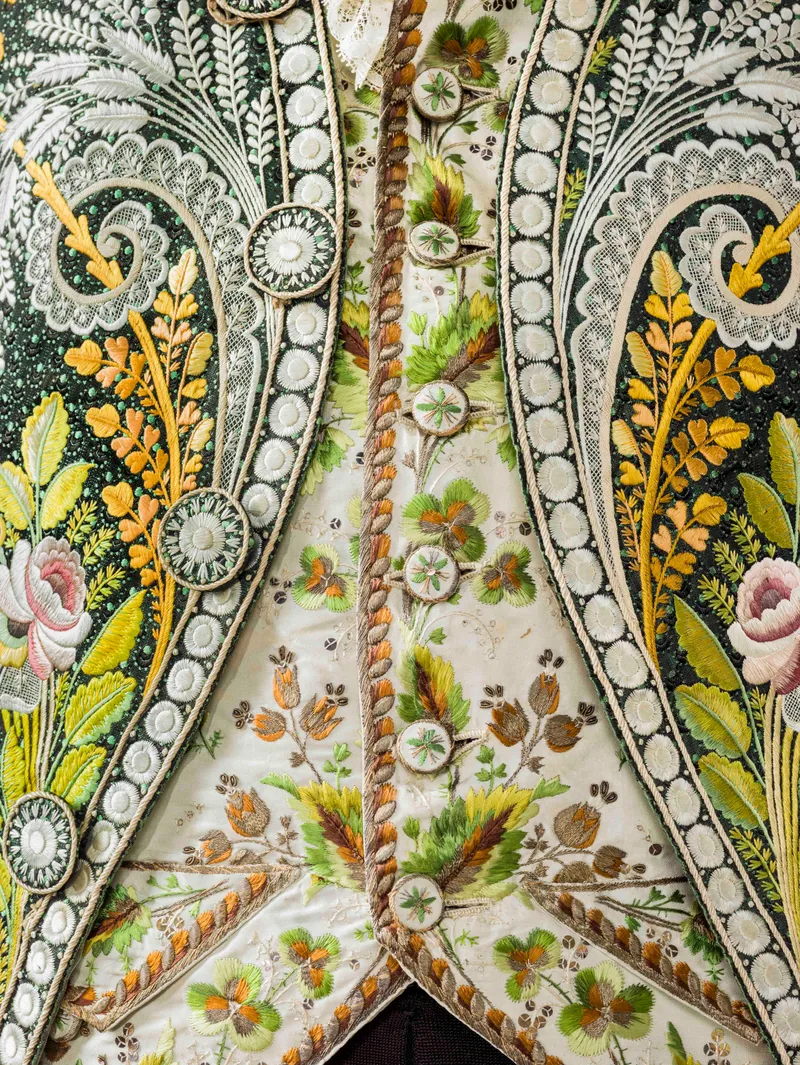 Flowers aren't just a feminine motif. This early 19th century French jacket with a tall Napoleonic collar is a tour de force of flowers. The embroidery was most likely done in Lyon, France, a city once known for its silk weaving.
Punk Jacket, 1978-83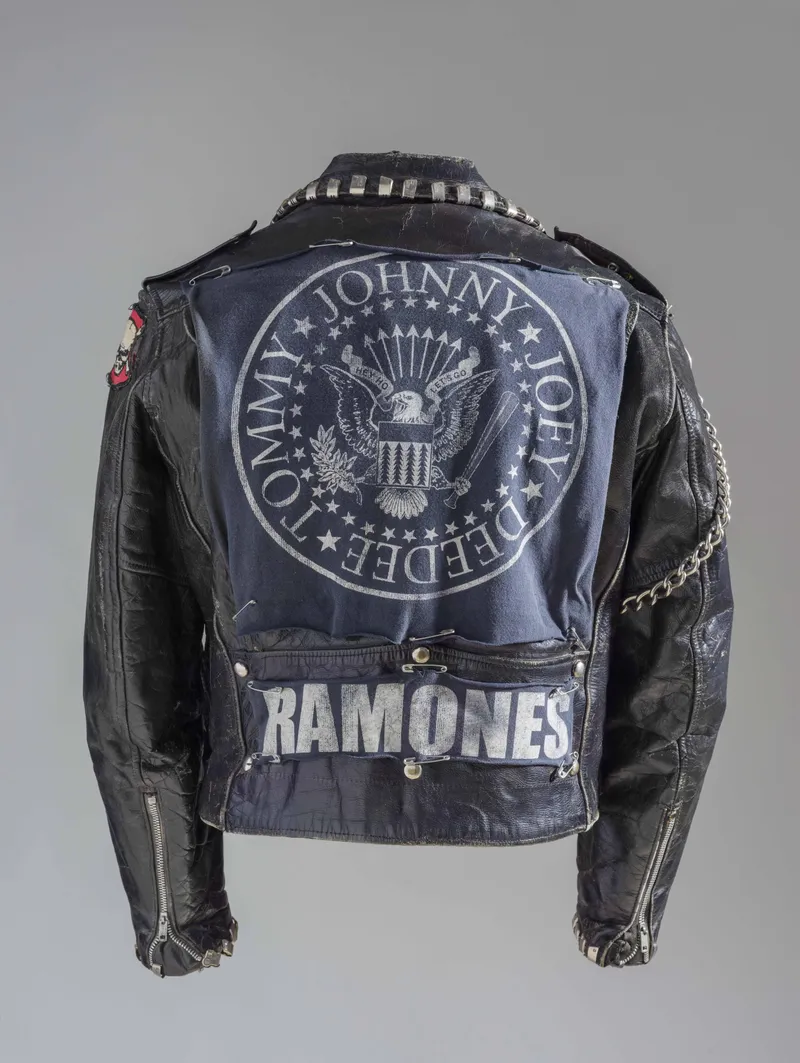 A rebellious counter-movement followed on the heels of the rosy hippie years in the United States. Punk fashion featured dark, hard-edged materials and a lot of improvisation. This re-worked motorcycle jacket is a testament to punk's DIY ethic. The jacket's collar and cuff are decorated with steel caps from BIC lighters. Its zippers incorporate miniature pistols, a skull and a crucifix with a folding blade.
Sara Cody of LACMA writes that though there is no information about the punk jacket's owner, he leaves many tantalizing clues just from the pins and things that hang on this highly personalized jacket. He was mostly likely a big Ramones fan. The band's logo, which parodies the presidential seal, and a cover of its 1979 Road to Ruin album are attached next to the collar. A Ramones logo cut out from a T-shirt is safety-pinned to the back of the jacket. The owner may have also engaged in recreational drug use judging from the "White Punks on Dope" and "Lemmon Aid" buttons on the jacket. The Lemmon Company produced the prescription sedative Quaaludes, popular at the time.
Walter Van Beirendonck Ensemble, 2000-1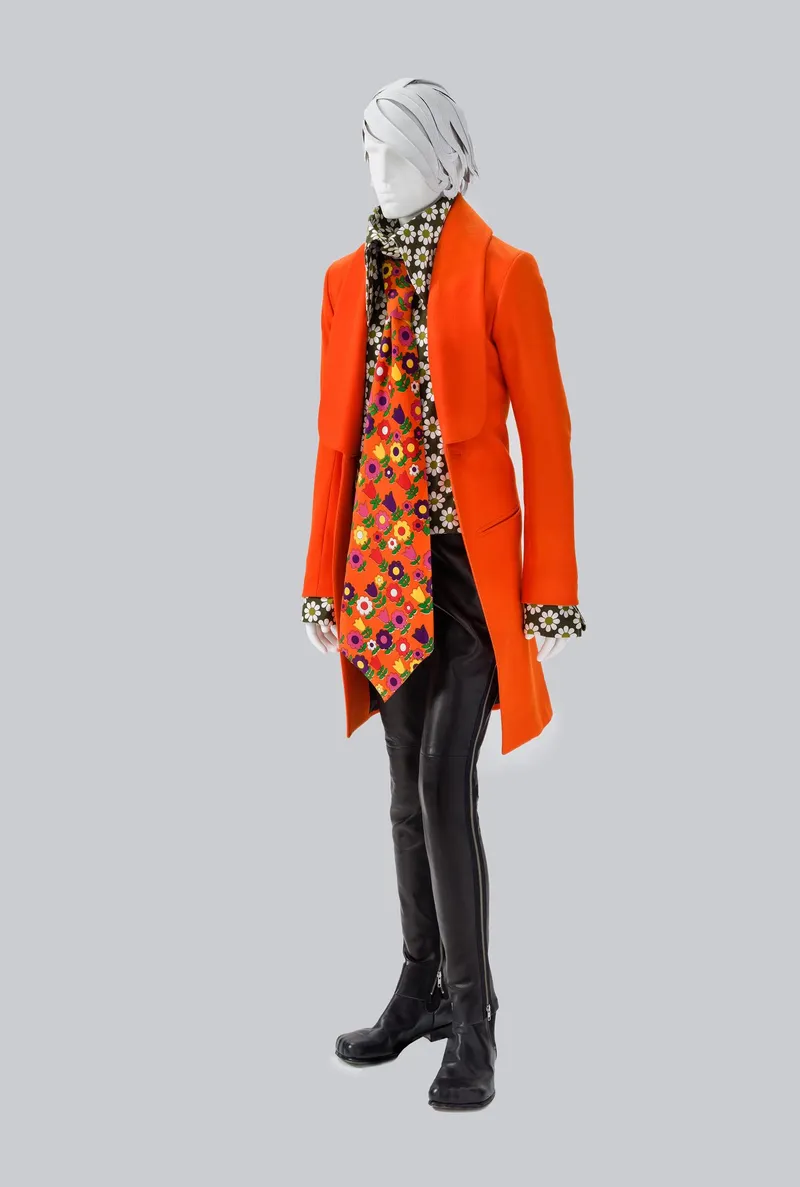 Belgian designer Walter Van Bierendonck shows how styles can resurface and be remixed for a new generation in this colorful, tailored ensemble from his 2000 collection. "The coat looks back to the 18th century aesthetic," says Takeda. "The high-collared shirt is an extreme version of the ones you might find in the 19th century." He paired the orange wool coat with a loud, oversized tie and daisy-printed shirt that echoes the hippy period of the late 1960s and 70s.
Rei Kawakubo Suit Jacket, 2013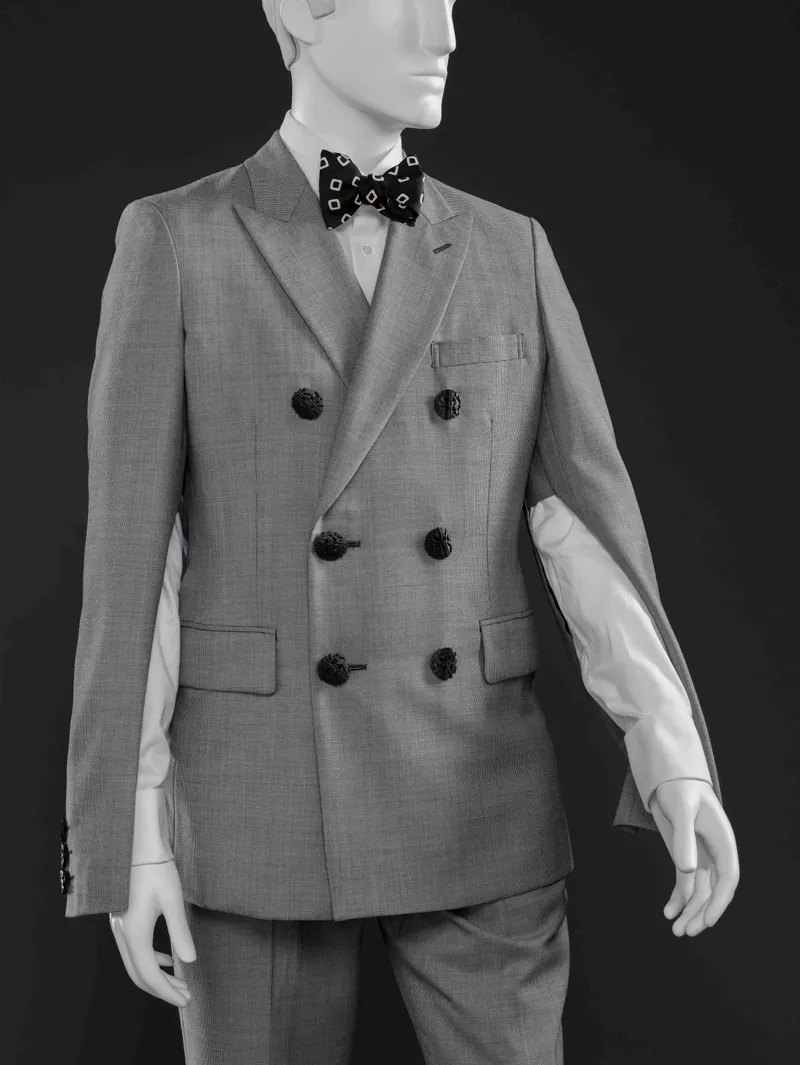 In the early 1990s, Rei Kawakubo helped introduce the world to a Japanese aesthetic in fashion design, full of sculptural construction and inspirations from traditional garments. Here, in a 2013 garment, Kawakubo contrasts the softness of the fluttery Japanese kimono sleeve with the stiff formality of a traditional double-breasted suit complete with molded buttons. The ensemble also blurs gender lines. The furisode sleeve is typically seen in kimonos worn by young, unmarried women, while the suit is a garment usually associated with the country's salarymen.