Summer Movie Forecast: More of the Same
Hollywood has always loved sequels, and judging from the box office viewers do too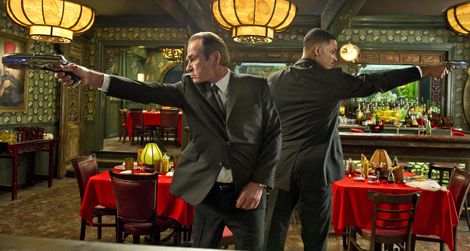 Memorial Day weekend used to mark the start of the summer movie season, although just like baseball the industry keeps stretching out its schedule. The record-breaking opening for Marvel's The Avengers brought Hollywood a palpable sense of relief that even a lackluster Battleship opening couldn't dim. The Avengers has done remarkably well, but so have movies in general this year. A Wall Street Journal report on Monday noted that box-office receipts are up 15.7% over last year, and if the trend continues, movies could earn close to $5 billion this summer.
With Friday's opening of Men in Black 3, the blockbuster season is officially here. Snow White and the Huntsman opens June 1; Prometheus and Madagascar 3: Europe's Most Wanted, June 8; Brave, June 22; G.I. Joe: Retaliation, June 29; The Amazing Spider-Man, July 6; Ice Age: Continental Drift, July 13; and the summer's 800-pound gorilla, The Dark Knight Rises, on July 20.
Notice anything unusual about the schedule? That's right, apart from Pixar's Brave, every single title is a sequel, reboot, or, in the case of Ridley Scott's Prometheus, an unofficial prequel. Even The Avengers can be seen as a sequel of sorts to Marvel features like Iron Man and Thor. Throw in some August remakes and updates like The Bourne Legacy, The Expendables 2, Sparkle, Diary of a Wimpy Kid: Dog Days, and Total Recall, and it seems as if Hollywood has turned its back on original projects.
A look at the all-time top-ten grossing films will show you why:
1.  Avatar
2.  Titanic
3.  Harry Potter and the Deathly Hallows Part 2
4.  Marvel's The Avengers
5.  Transformers: Dark of the Moon
6.  The Lord of the Rings: The Return of the King
7.  Pirates of the Caribbean: Dead Man's Chest
8.  Toy Story 3
9.  Pirates of the Caribbean: On Stranger Tides
10. Star Wars: Episode I – The Phantom Menace
According to Box Office Mojo's list of worldwide grosses, only two of these top ten movies—Avatar and Titanic—are stand-alone titles, and not part of a series. And six of the remaining eight titles were adapted from another medium: books, comic books, toys and amusement park rides.
Cause for alarm? Or simply business as usual? Take the five top-grossing films of the 1990s. Three of them—Terminator 2, Home Alone 2: Lost in New York and Batman Returns—were sequels, and a fourth was adapted from the best-selling novel Jurassic Park. (The fifth was the original Home Alone.) How about the 1970s? Jaws, The Exorcist and The Godfather were all best-selling books; Grease was a hit stage play; and all spawned at least one sequel. 1977′s Star Wars became its own media empire.
The truth is, Hollywood's biggest hits have almost always been based on well-known properties: Gone With the Wind, The Sound of Music, The Ten Commandments, Ben-Hur, etc. On one level filmmakers are following sound business principles by working from material that has already succeeded in the marketplace, with a pre-existing audience. Today, no studio executive wants to invest hundreds of millions of dollars on a project with no name recognition, no built-in audience and no way to cross-promote.
Filmmakers knew the value of adaptations and tie-ins right from the start. Take The Kiss from 1896, based on a scene from the play The Widow Jones. When it opened, an enterprising customer could see the movie, attend the play and read about both in the Sunday World all in the same day.
Artists have always faced the dilemma of telling something new, yet making it seem familiar. Painters like Dürer and Rembrandt revisited the same subjects throughout their careers. Shakespeare wrote sequels, and under royal pressure dragged characters like Falstaff back onto the stage in The Merry Wives of Windsor. Due to demands from the public, Sir Arthur Conan Doyle wrote over fifty Sherlock Holmes short stories and four novels—even after killing off the detective in 1893. Jimmie Rodgers' recording of "Blue Yodel" in 1927 was so popular that he made twelve additional versions, up to 1933′s "Jimmie Rodgers' Last Blue Yodel."
In movie serials and comic strips, which matured at roughly the same time, artists perfected the trick of telling a story in which things kept happening but nothing ever changed. Viewers came back to episodes of The Perils of Pauline and Flash Gordon because they could sense that no matter how bad things got, Pauline and Flash would somehow survive. The same holds true today in television series like "CSI" and "Law and Order" and even "The Big Bang Theory." Week after week, viewers return to see the characters they like doing roughly the same thing—only different. Gradual change is fine. Characters can fall in and out of love, and when agents insist and contracts fail can even be killed off, reassigned or move to their own series. In The Thin Man movies, the characters played by William Powell and Myrna Loy eventually went from newlyweds to parents. But change too much and the public will turn away, as Sylvester Stallone found out when he gave up Rocky and Rambo for Rhinestone and Stop! or My Mom Will Shoot.
But it's still not easy selling the public a story it already knows, which makes achievements like Aliens or The Godfather Part 2 that much more remarkable. In his first sequel to Men in Black, director Barry Sonnenfeld managed to give the plot enough tricks and variations to win back moviegoers who enjoyed the original. But there was a sense that the characters were biding their time, that the jokes seemed forced.
Men in Black 3 may be Sonnenfeld's canniest work yet: it doesn't just tell the same story as the earlier movies, it expands upon them, revealing just enough about the backgrounds of Agents J and K to add real emotional heft to their characters. All while delivering the monsters, jokes, action, subsidiary characters and narrative twists that viewers expect. And while adding a rueful, melancholy tone that once the ending is revealed makes perfect sense.
It's an accomplished balancing act, one I hope doesn't get lost among the more obvious, less nuanced blockbusters that surround it.
Read new Reel Culture postings every Wednesday and Friday.  And you can follow me on Twitter @Film_Legacy.