Such Great Heights: The Hidden Architecture of Elevator Shoes
How a shoe designed to address male inadequacy has become a symbol of female fashion sense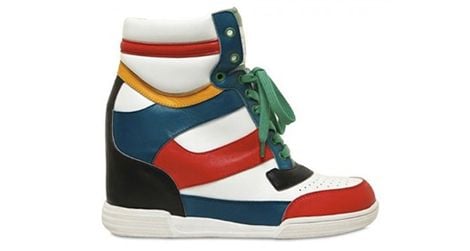 There's a new trend in footwear, perhaps you've noticed. Maybe you've even been part of its growth. It's called a wedge sneaker, and it's a marriage of two long-enduring shoe styles: the high heel and the high-top. We're not talking about the stiletto tennis shoe here, or the vertical expansion of the standard rubber sole. This is something else—a new development for high fashion with an unexpected design legacy.
Most fashion critics and connoisseurs trace the phenomenon back to the Spring 2012 runway shows last fall, when Parisian apparel designer Isabel Marant sent her models down the catwalk in suede and leather kicks with Velcro tabs that recalled the 1980s Nike Air Force 1. It must have seemed as though Marant had tracked down the world's tallest fleet of models—all tipping over the six-foot mark in casual athletic shoes. But it was a trompe l'oeil. Those sneakers were heels.
The Marant shoes hit the market with a high three-digit price tag, fashion icon Marc Jacobs made a pair too, and numerous other brands released similar, more affordable versions. The style hasn't exactly soared to ubiquity the way, say, Uggs did ten years ago (the Marant sneaker was discounted a steep 40% before selling out), but it's certainly a symbol of fashion-consciousness this season. Which is somewhat remarkable if you think about it, because this isn't the first time shoes have been constructed with a hidden heel that creates the illusion of height. It's just that this might be the first time such a design has been embraced by haute couture.
Through most of fashion history, shoe "lifts," as they're often called, have been a feature of men's footwear, crafted very intentionally to be indiscernible so that vertically-challenged men could appear taller and therefore, the cultural assumption goes, more authoritative, respectable, and attractive. Also known as "elevator shoes," these products were and still are marketed much like Rogaine or Viagra—as an antidote to some variation of male inadequacy. I even found several references to the style as "status shoes." One of the most search-engine optimized manufacturers of lifts, Don's Footwear, uses the tag line "Impose Yourself," and describes their collection as "the Rolls Royce of height-increasing footwear." Another old-guard lift company is called Secret Shoes.
Probably because these companies have worked so long to conceal their products' magic trick, many of them actually do it better than the aesthetically-oriented labels that have recently adopted the style. On both the $600 luxury wedge sneaker and the $110 mall variety, the profile of the shoe betrays a noticeable lump where the hard wedge ends and the soft heel structure begins. Meanwhile, the modern elevator shoe can make its wearer up to four inches taller without declaring its role as an accomplice.
Engineering and art are both involved in achieving this, of course. Footwear is one of the most architectural aspects of the fashion world. This Design Decoded series will focus on shoes, feet, and the technology and design that go into footwear innovation. Next up: Conversations with two designers of "hidden wedge" shoes.