Smithsonian's 2010 Notable Books for Children
In our annual tradition, we present some of the best that children's literature has to offer this year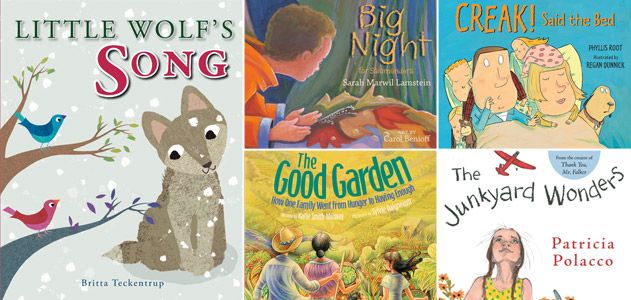 In the pages of this year's titles, one may travel backward—or forward—in time; find the rewards of courage, hope and creativity; observe what it means to beat the odds or make a difference. Conjuring up settings from a Maine cottage, shuttered snug against winter, to the forests of Kenya or the hidden mountain canyons of Tibet, each book evokes a world where we may discover our shared humanity.
The age categories listed below are, of necessity, arbitrary. Adjust any choices to the age and reading level of the individual child.
For the Youngest Readers
(Ages 1-6)
Madeline at the White House by John Bemelmans Marciano
The "twelve little girls in two straight lines" troop straight into the Oval Office.
Beaver Is Lost by Elisha Cooper
Adrift on a log, stranded in the maze of city streets: Will he ever make his way back to the den on a lake deep in the forest?
Who's in the Garden? By Phillis Gershator, illustrated by Jill McDonald
An inventive lift-the-flap book reveals the creatures hidden in the green world of furrows, blossoms and flourishing vegetables.
Boo Cow by Patricia Baehr, illustrated by Margot Apple
Down on Chicken Noodle Farm, everyone is at a loss when a benevolent bovine ghost suddenly melts into thin air.
How Rocket Learned to Read by Tad Hills
An affectionate paean to reading readiness.
Sleepover at Gramma's House by Barbara Joosse, illustrated by Jan Jutte
It's every toddler's dream destination—and in these pages, we understand why.
The Chicken Thief by Beatrice Rodriguez
A dreamily compelling—and wordless—picture book contemplates the essence of friendship.
Tuck Me In by Dean Hacohen and Sherry Scharschmidt
A turn-the-flap tome recreates a reassuring nighttime ritual.
Interrupting Chicken by David Ezra Stein
Fractured fairy tales pepper an uproarious take on the bedtime book.
Creak! Said the Bed by Phyllis Root, illustrated by Regan Dunnick
On a cold and windy night, you might think that there couldn't possibly be room for one more—but there you would be wrong!
Mr. Putter & Tabby Clear the Decks by Cynthia Rylant, illustrated by Arthur Howard
Four irrepressible friends head out to sea in the latest installment in a first-reader series that has no equal.
What's the Big Idea, Molly? By Valeri Gorbachev
Creativity and persistence go hand in hand, as a young poet and her artist friends discover.
Slow Down for Manatees by Jim Arnosky
A dramatic rescue saves a mother and calf from disaster.
A Balloon for Isabel by Deborah Underwood, illustrated by Laura Rankin
What's a spiky hedgehog girl to do when she sets her sights on an all-too-fragile toy? A case study in thinking outside the box.
Grandma Drove the Snowplow by Katie Clark, illustrated by Amy Huntington
When Christmas celebrations are jeopardized, not even the heaviest snowfall of the year stands in the way of Grandma once she resolves to bring yuletide cheer to the Maine town she calls home.
The Lonely Phone Booth by Peter Ackerman, illustrated by Max Dalton
That plexiglass enclosure on the corner might seem a forlorn anachronism—until an unexpected crisis strikes an urban neighborhood.
Side by Side/Lado a Lado by Monica Brown, illustrated by Joe Cepeda
How Dolores Huerta and Cesar Chavez joined forces to improve conditions for farmworkers.
Little Wolf's Song by Britta Teckentrup
It's up to a cub to find his own special howl.
For Middle Readers
(Ages 6-9)
The Inside Tree by Linda Smith, illustrated by David Parkins
Large-hearted Mr. Potter never wants any living thing to be left out in the cold.
A Boy Named FDR: How Franklin D. Roosevelt Grew Up to Change America by Kathleen Krull, illustrated by Steve Johnson and Lou Fancher
From his childhood on, compassion and determination were watchwords for the boy who would one day see the nation through the Great Depression.
The Humblebee Hunter by Deborah Hopkinson, illustrated by Jen Corace
At his lively country house, Charles Darwin enlisted his children as helpers in his hands-on natural history experiments: an ingenious introduction to the scientific method.
Wolf Pie by Brenda Seabrook, illustrated by Liz Callen
Can three little pigs and a sworn enemy ever be friends? Only time will tell in this clever chapter book.
Big Night for Salamanders by Sarah Marwil Lamstein, illustrated by Carol Benioff
On early spring nights across North America, a network of volunteers fans out to help the spotted amphibians cross roads during spring migration. The authors celebrate that annual community effort to save a species.
Yasmin's Hammer by Ann Malaspina, illustrated by Doug Ghayka
On the streets of Bangladesh, a girl devises a secret plan to seek her heart's desire: a chance to attend school.
Henry Aaron's Dream by Matt Tavares
One of baseball's all-time greats started out on sandlots where he had little more than his dreams—and a burning love for the sport.
The Good Garden: How One Family Went from Hunger to Having Enough by Katie Smith Milway, illustrated by Sylvie Daigneault
In the hills of Honduras, a visionary teacher forever alters the lives of villagers.
The Junkyard Wonders by Patricia Polacco
The author—a national treasure if ever there were one—turns to another chapter in her autobiography, recalling the talented misfit kids she met in an extraordinary teacher's classroom.
Henry Knox: Bookseller, Soldier, Patriot by Anita Silvey, paintings by Wendell Minor
Critical to the success of the Revolution, but lesser known today, the fearless and fiercely intelligent Knox was an unlikely hero beloved by General Washington.
Everything But the Horse by Holly Hobbie
The artist recalls her family's move to the country in an homage to her happy childhood.
Seeds of Change by Jen Cullerton Johnson, illustrated by Sonia Lynn Sadler
How Wangari Maathai overcame every obstacle to save the landscape of Kenya—one tree at a time.
The Can Man by Laura E. Williams, illustrated by Craig Orback
Simple acts of reciprocal kindness transform two lives.
Game Set Match: Champion Arthur Ashe by Crystal Hubbard, illustrated by Kevin Belford
The traits of perseverance and empathy defined an athlete who defied barriers to become the top-ranked tennis player in the world.
Lilly and the Pirates by Phyllis Root, illustrated by Rob Shepperson
A delightful read-aloud and imaginative recital of high adventure on the seven seas.
The Taxing Case of the Cows: A True Story About Suffrage by Iris Van Rynbach and Pegi Deitz Shea, illustrated by Emily Arnold McCully
In 1869, when a pair of sisters refused to pay a property tax levied by a town council they couldn't elect, the two of them set America's women on the path to winning the vote.
Ruth and the Green Book by Calvin Alexander Ramsey, illustrated by Floyd Cooper
In the early 1950s, an African-American family traversing the Jim Crow South makes its way to Alabama with the help of an indispensable travel guide, and the kindness of strangers.
The Chiru of High Tibet: A True Story by Jacqueline Briggs Martin, illustrated by Linda Wingerter
A thrilling recent interlude in the history of field science recounts the expedition of wildlife biologist George Schaller and his companions, who faced down hardship and danger to locate the remote calving grounds of the endangered goat-antelopes prized for their wool.
Goal! By Mina Javaherbin, illustrated by A. G. Ford
In a dusty South African township, an ordinary soccer match represents far more than a simple game.
Rain School by James Rumford
The author drew on his experience of teaching in Chad to portray a village's commitment to educating its children—against all odds.
Lucky Beans by Becky Birtha, illustrated by Nicole Tadgell
In the depths of the Depression, times are hard and getting harder for a struggling family—until young Marshall applies his talent in math to save the day.
Lincoln Tells a Joke by Kathleen Krull & Paul Brewer, illustrated by Stacy Innerst
A humanizing glimpse of the 16th president reveals his capacity to laugh—even at himself.
That Cat Can't Stay by Thad Krasnesky, illustrated by David Parkins
There's really no point in putting your foot down, when the entire household is bent on taking in just one more stray. This droll tribute to dads who are softies at heart is sure to become a family favorite.
Eight Days: A Story of Haiti by Edwidge Danticat, illustrated by Alix Delinois, and Hope for Haiti by Jesse Joshua Watson. Two picture books convey the indomitable spirit of islanders rebuilding a future in the wake of the devastating earthquake.
The Arabian Nights by Wafa' Tarnowska, illustrated by Carole Henaff
The Lebanese-born author offers a magnificent new translation of eight tales from the legendary story cycle, based on a 14th-century manuscript.
Lafayette and the American Revolution by Russell Freedman
Invincible and deeply admired by General Washington, the young marquis made a new nation's cause his own.
Come See the Earth Turn by Lori Mortensen, illustrated by Raul Allen
On February 3, 1851, Leon Foucault, a genius laboring in obscurity, unveiled an experiment that proved what no other scientist had succeeded in demonstrating: that the earth spins on its axis.
The Birthday Ball by Lois Lowry, illustrated by Jules Feiffer
Wit and whimsy abound in a tale of a princess who throws off the shackles of a stultifying existence.
Blue Jay Girl by Sylvia Ross
The vivid novel evokes the lost world of California's Yaudanchi tribe and honors its legacy of traditional healing.
Cloud Tea Monkeys by Mal Peet and Elspeth Graham, illustrated by Juan Wijngaard
In a Himalayan kingdom long ago, a young girl seeks her fortune with the help of kindly monkeys—and magic.
Our Earth: How Kids Are Saving the Planet by Janet Wilson
From a self-taught Malian boy who built a windmill to generate electricity for his village, to a Costa Rican girl who founded a rainforest-preservation NGO, it's kids to the rescue.
Dinosaur Mountain: Digging Into the Jurassic Age by Deborah Kogan Ray
In 1908, adventurer and field scientist Earl Douglass set off for a remote corner of northeastern Utah—and became a renowned paleontologist.
Movie Maker: Everything You Need to Know to Create Films on Your Cell Phone or Digital Camera! By Tim Grabham et al. For the aspiring director on your list, whether the goal is creating dramas, documentaries or animation, an amazing hands-on kit. For all ages, 8 or so and beyond.
Theodore Roosevelt for Kids by Kerrie Logan Hollihan
The life and times of the ebullient 26th president, with activities to bring history alive.
For Older Readers
(Ages 10 and up)
Scumble by Ingrid Law
The Wild West—and the lexicon of the tall tale—form the backdrop for the heroics of 13-year-old Ledger Kale, who hasn't quite grown into his magical powers.
A Gift From Childhood: Memories of an African Boyhood by Baba Wagué Diakité
The author recalls the Malian village that nurtured him and sustains him today.
As Easy as Falling Off the Earth by Lynne Rae Perkins
The novelist brings her prodigious talents to the tale of Ry, a teenager who meets up with a good Samaritan in the nick of time, after he is stranded in what seems the middle of nowhere.
Penny Dreadful by Laurel Snyder, illustrated by Abigail Halpin
For 10-year-old Penelope Grey, cosseted her entire life, the real saga commences only when everything has been lost.
The Dreamer by Pam Munoz Ryan and Peter Sis
A phantasmagorical rumination on the childhood of the great Chilean poet Pablo Neruda is rooted in a belief that words possess the power to mend the spirit and change the world.
Smells Like Dog by Suzanne Selfors
The whimsical tale turns on droopy-eared Dog—and two resourceful siblings who leave their farm in search of a secret society of explorers. A winner, first page to last.
A Long Walk to Water by Linda Sue Park
The author based this novel on the childhood experiences of Salva Dut, born in Sudan but now living in the United States. It is a testament to undaunted courage. (Contains mature content)
Around the World in 100 Days by Gary Blackwood
The springboard for this rip-roaring historical novel was an actual globe-spanning automobile race of 1908.
Northward to the Moon by Polly Horvath
Horvath's inimitable voice, sense of fun and quiet belief in the power of tolerance—here applied to the odyssey of a plucky young heroine and her family—showcase the writer at the height of her powers.
Crunch by Leslie Connor
The Marriss family's bike-repair business is not exactly a going concern—until the day that the gas pumps run dry across the nation. Connor's high-spirited romp pays tribute to the rewards of a can-do spirit.
Turtle in Paradise by Jennifer L. Holm
Rollicking good fun, Holm's touching novel transports readers to the Depression-era Florida Keys, where 11-year-old Turtle finds a whole new world after her aunt Minerva Curry takes her in.
Lockdown by Walter Dean Myers
There is nothing more difficult than turning your back on the past and the choices one made, as Reese discovers when he is sent to a juvenile facility. Myers has few peers in summoning the world of at-risk kids who are trying to make their way toward a better future. (Contains mature content)
Ashes by Kathryn Lasky
In a novel set in 1932 Berlin, 13-year-old Gabriella Schramm perceives the burgeoning threat shadowing their neighbor, a physicist named Albert Einstein, and her own scientist father.
Earth Heroes: Champions of the Wilderness by Bruce and Carol L. Malnor, illustrated by Anisa Claire Hovemann; Earth Heroes: Champions of the Ocean by Fran Hodgkins, illustrated by Cris Arbo; Earth Heroes: Champions of Wild Animals by Carol L. and Bruce Malnor, illustrated by Anisa Claire Hovemann.
The series on conservationist scientists continues with profiles of figures from pioneering environmentalist Aldo Leopold to ichthyologist Eugenie Clark and ethologist Jane Goodall.
The Things a Brother Knows by Dana Reinhardt
When his older brother returns from a tour of duty as a Marine in the Middle East, high-school age Levi leaves everyday life behind to help his brother begin to heal from post-traumatic stress disorder. (Contains mature content)
Adventures of a Cat-Whiskered Girl by Daniel Pinkwater
Wacky, big-hearted and wildly original, the novel unspools the escapades of big Audrey, whose feline lineage takes her far after a UFO touches down behind the big stone barn.
Efrain's Secret by Sofia Quintero
For a gifted high-school student in the South Bronx, the yearning to escape the streets and attain an Ivy League education can become a dangerous aspiration. Quintero's sensitive and fast-paced novel depicts the daunting challenges facing a boy who is attempting to transcend his circumstances. (Contains mature content)
And Both Were Young by Madeleine L'Engle
In the mountains of Switzerland in 1949, a boarding-school student meets a mysterious boy—and soon finds herself enmeshed in the aftermath of the war. L'Engle's novel, re-issued in a new edition, contains an introduction by her granddaughter.
Flash by Michael Cadnum
A meditation on unintended consequences and the cost of violence explores dual narrative threads, the first involving brothers who set themselves on a self-destructive trajectory, and the second introducing a pair of siblings who thwart the mayhem before it can be fully unleashed. (Contains mature content)
The Grimm Legacy by Polly Shulman
At the fantastical New York Circulating Material Repository—which lends out objects rather than books—magical artifacts from the Brothers Grimm fairy tales begin to disappear. That's when our heroine begins hurtling into an alternative reality, in a tour-de-force fantasy novel also grounded fully in the here and now.