Smithsonian Notable Books for Children 2008
Surprising, inspiring and outstanding titles for youngsters and the grownups that read to them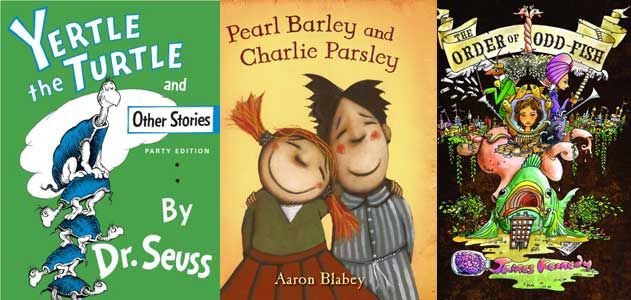 Here at Smithsonian Magazine, we're reviving a tradition: our annual selection of outstanding books for children, a compendium of surprising, inspiring titles—everything from picture books and novels to memoirs—for youngsters and the grownups who read to, and with, them. Please note that the age categories listed below are necessarily arbitrary; adjust to the predilections of the individual child.
For the Youngest Readers (Ages 1-6)
Elena Odriozola (Peachtree, $16.95) In a mythical, close-knit village, as winter closes in and days grow icy, mysterious gifts appear: mittens for the schoolmaster; a coat for a frost-nipped cat. A story to spread warmth and cheer on the coldest nights.
Aaron Blabey (Front Street, $16.95) Opposites attract, in a tale of friends, one an extrovert, one an introvert, who are "different in almost every way" —yet linked by loyalty and generosity.
Judy Sierra, illustrated by Marc Brown (Knopf, $16.99) Sam, the reading-est kid ever, proves that books can save the day and "readers can do anything!"
Christoph Niemann (HarperCollins/Greenwillow, $16.99) A clever introduction to the Chinese language and an excursion into a rich and ancient culture.
Jeanette Winter (Harcourt, $17) A tribute to the Nobel Prize-winning environmentalist, where "if you were to cling to the to the top of Mount Kenya today, you would see the millions of trees growing below you, and the green Wangari brought back to Africa."
Tim Warnes (Scholastic, $12.99) An irresistibly droll account of Boris, who blunders into Miss Cluck's classroom and turns into an accidental hero. Likely to become a perennial favorite.
Jack Prelutsky, illustrated by Brandon Dorman (HarperCollins/Greenwillow, $22.99) From the nation's first Children's Poet Laureate, a treasury of rollicking, wacky, laugh-out-loud verse. Contains a CD with poems read by the author.
Ned Gannon (Boyds Mills, $16.95) On a festival night in the Persian Gulf, as the full moon rises, Noor recalls the essence of the holiday: celebrating the bonds of family and sharing with those less fortunate.
Dr. Seuss (Random House, $24.99) A 50th anniversary edition, paying tribute to one plain turtle, Mack, who takes on the extravagantly egomaniacal Yertle.
Simon and Schuster, $16.99) An inventive, large-hearted variation on the theme of country mouse and city mouse. Chalk is a fearless sophisticate, a New York City dog. Cheese is an English country mouse. When Cheese makes his way to the Big Apple, adventure ensues.
Laurie Krebs, illustrated by Aurelia Fronty (Barefoot Books, $16.99) To Cusco, to Cusco, a child travels across Peru to the legendary Inti Raymi, the majestic Inca festival held each year to honor the Sun God.
Yoshiko Jaeggi (Peachtree, $16.95) The author evokes magical world of her childhood in India, when the rains come and the world is transformed.
Paula Deen with Martha Nesbit, illustrated by Susan Mitchell (Simon & Schuster, $21.99) The Food Network doyenne introduces kid-friendly fare, from campfire stew to cinnamon rolls, accompanied by admirably easy-to-follow instructions. For the aspiring chefs on your list.
For Middle Readers (Ages 6-10)
Mary Beth Owens (Down East, $15.95) In a small town in Maine, Mr. Pottle, who oversees the town dump, resolves that he will save any and all discarded books. Along the way, his village finds that friendship is its own reward.
Jonathan Bean (Henry Holt, $17.95) Ten-and-a-half year-old Emmy can talk to rodents and they talk back. That singular talent sets the stage for a series of unexpected occurrences and a chance to set things straight.
Bryan Collier (Henry Holt, &16.95) The distinguished poet turns her talents to prose in an eloquent testament to two towering figures in the abolitionist movement.
When I Grow Up: A Young Person's Guide to Interesting & Unusual Occupations by Jessica Loy (Henry Holt, $16.95) Calling all dreamers. From research scientist to guitar maker, archaeologist to alpaca farmer, the wide world beckons.
David Small (Atheneum, $16.99) Henson's quiet celebrations of the joys of reading is based on documentary accounts of Kentucky's Pack Horse Librarians, the women who carried books into the Appalachians during the 1930s, in a project founded by Roosevelt's Works Progress Administration.
Emmanuel Cerisier, translated by R. M. Brent (Enchanted Lion, $19.95) An absorbing account of a golden age of accomplishment, when Muslim intellectuals, making breakthroughs from the 8th to the 15th centuries, pioneered concepts from the decimal system to medical diagnosis.
Yann Arthus-Bertrand, text by Isabelle Delannoy, illustrations by David Giraudon (Abrams, $24.95) From the renowned photographer of Earth from Above for Young Readers, a vivid, inspiring volume dramatizing how humans have affected their planet—and offering a way forward for the next generation of environmentalists and naturalists around the world.
Best Friends by Jacqueline Wilson (Roaring Brook Press, $15.95) The celebrated British author creates the irresistibly quirky tale of Gemma and Alice, "best friends since they were born on the same day in the same hospital," who discover that not even distance can come between true kindred spirits.
Jerry Pinkney (Random House/Schwartz & Wade, $16.99) The Newbery Honor author and Caldecott Honor artist together create a portrait of a Depression-era family in the rural South.
Fern Verdant & the Silver Rose by Diana Leszczynski (Knopf/Delacorte, $15.99) Hilarity and page-turning escapades meld in the author's comic novel, centered on the fearless Fern's quest to save her mother, an internationally renowned botanist, when she disappears without a trace.
Elisa Kleven (Chronicle, $16.99) A search for everyday magic serves as a window on the culture of childhood across the globe.
Arthur L. Dawson (Lee & Low, 17.95) In the world of segregated Daytona, Florida in 1899, a boy who would one day become a pioneer of the civil rights movement, dreams of remaining in school beyond the eighth grade. The kindness of friends and a stranger would light his way to the future.
Up and Down the Scratchy Mountains by Laurel Snyder (Random House, $16.99) The author's whimsical take on fairy-tale conventions introduces Lucy the milkmaid and her friend Winston (a prince through no fault of his own) to create an enchanted, enchanting world.
Doug Wechsler (Boyds Mills, $17.95) The rhythms of day-to-day life in one of the world's most productive and enthralling habitats, for every young naturalist on your list.
Janet Wilson (Orca, $19.95) Around the world, children have worked to make a world without war a reality. From Bosnia to Afghanistan and beyond, the youngsters introduced here create profiles in courage.
Isabella Hatkoff, Craig Hatkoff, and Dr. Paula Kahumbu, photographed by Peter Greste (Scholastic, $16.99) From the forests and jungles of Virunga National Park in the Congo, an extraordinary true story. The leader of Virunga's largest family of mountain gorillas, a silverback named Kabirizi, achieved the rescue. The other heroes of this account are the Congolese rangers and veterinarian who protect the threatened primates.
For Older Readers (Ages 10 and Up)
Houghton Mifflin, $16) The author of two earlier autobiographical volumes, The Circuit and Breaking Through, continues his life story as he departs California's migrant labor camps for college. In this eloquent, transfixing account, Jimenez again achieves a masterful addition to the literature of the memoir.
Budapest of 1948.
The Order of Odd Fish by James Kennedy (Knopf, $15.99) Rollicking fantasy on the grand scale transports a plucky 13-year-old into a whimsical city of the imaginary Middle Ages, where absurdity rules and an idiosyncratic brotherhood of knights research useless information.
Steinbeck's Ghost by Lewis Buzbee (Feiwel and Friends/MacMillan, $17.95) Thirteen-year-old Travis Williams regards the Salinas Library as has second home. When his sanctuary is threatened and he sets out to save it, he also begins to glimpse intriguing specters: the California novelists' characters springing to life. Buzbee's paean to reading, woven into a page-turning mystery, result in a novel that will likely be read again and again.
Shifty by Lynn E. Hazen (Ten Speed/Tricycle, $15.99) It seems to be just one more foster home, until 15-year-old Sol begins to perceive that this time, despite the obstacles, he might have found a family at last.
Jerusalem, she sails into a rich and uncertain future.
Bringing the Boy Home by N.A. Nelson (HarperCollins, &16.99) Shared destinies entwine deep in the rainforest of the Amazon, where adventure, magic and hardship exist in equal measure.
The Serial Garden: The Complete Armitage Family Stories by Joan Aiken (Bit Mouth House, $20) In a singularly important publishing even, the first complete collection of Aiken's 24 beloved Armitage cycle of stories appears here for the first time. The family who dwells in and out of magical worlds transcends fantasy and enters the world of classic, entrancing literature. Belongs on every child's bookshelf. For all ages.
A Curse as Dark as Gold by Elizabeth C. Bunce (Scholastic, $17.99) The author transmogrifies the Rumpelstiltskin tale into a spellbinding novel of romance and buried secrets.