Seeing a New South in Joyful Noise and Undefeated
Two new films show how far we've come since The Birth of a Nation and In the Heat of the Night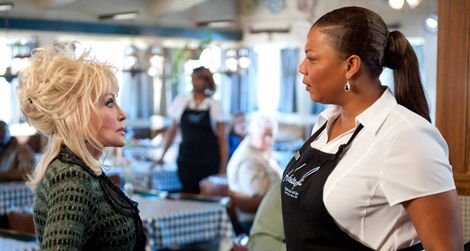 Purely by coincidence, two new features paint complementary portraits of the South. Although Joyful Noise and Undefeated couldn't be more opposite in their approaches (a glossy, mainstream feature vs. a gritty, handheld documentary), they share some telling themes. What's even more interesting is seeing how Hollywood handled similar issues in the past.
Opening January 13, Joyful Noise is a comedy–drama about the travails of a Baptist choir from Pacashau, Georgia. Perennial also-rans in a gospel competition called "Joyful Noise," the Pacashau choir struggles for survival in the midst of a harrowing economic downturn. Starring Queen Latifah and Dolly Parton, Joyful Noise presents its plot as a series of conflicts and problems that are, in the manner of TV sitcoms, resolved a bit too easily.
But the film also raises worthwhile topics: how to keep small businesses alive in an environment that's tilted towards national chains, what is the true value of workers in a service economy, how can churches best help the unemployed. Even its ostensible premise—the battle between "old school" gospel choirs and a new generation of pop-oriented singers and dancers—has merit and relevance. And while writer and director Todd Graff generally settles for tried-and-true, middle-of-the-road solutions, he deserves credit for bringing up subjects most films ignore.
After a short run to qualify for the Academy Awards, Undefeated—a documentary about the Manassas Tigers football team—will get a wider theatrical release from The Weinstein Company on February 10. The Tigers are from the Manassas High School in North Memphis, Tennessee, a town that has seen hard times since its Firestone plant closed in 1990. The film covers the 2009 season, as volunteer coach Bill Courtney tries to take his underdog team to the playoffs for the first time in 110 years. Like The Blind Side, Undefeated has wealthy whites helping underprivileged black students, and even has one player, O.C. Brown, move in with a coach's family for tutoring help. Brown and the other characters in Undefeated will haunt you long after the film is over.
While The Blind Side (which also took place in Memphis) was a factor in making Undefeated, filmmakers Dan Lindsay and T.J. Martin were clearly influenced by Hoop Dreams, the outstanding 1994 documentary about inner-city Chicago high schoolers and their efforts to play basketball. Hoop Dreams may have more depth and scope than Undefeated, but both films deal honestly with the limited options available to students living in poverty. Like gospel singing in Joyful Noise, football may be the only chance Undefeated's students get at a better life.
Joyful Noise and Undefeated present the South as a place in which simply surviving takes precedence over all other problems. Apart from economic inequality, it's an almost post-racial world, and in fact Joyful Noise boasts not one but three interracial romances handled in such a matter-of-fact manner that no one comments on them.
The movie industry doesn't have the best track record when it comes to race. Films from the turn of the 20th century can be appallingly insensitive, but at least filmmakers were equal opportunity offenders. Irish, Jews, Hispanics, and Asians were treated just as harshly as blacks, and in the case of Asians that insensitivity extended for an unconscionably long time (just watch Mickey Rooney with taped-up eyes as I.Y. Yunioshi in 1961′s Breakfast at Tiffany's). But blacks may have received the brunt of poor treatment, from the racial demagoguery of The Birth of a Nation to the countless butlers, cooks and maids who filled out Hollywood features.
The history of racism in the media is too long and messy to do justice to here. That said, I'm old enough to remember the civil rights movement. I watched demonstrations, marches, and race riots on television. We walked past "whites only" restrooms and water fountains when we visited an uncle in Washington, and argued at dinners with family and friends over the best way to achieve integration.
Our local theater outside of Philadelphia wouldn't even show movies like A Time for Burning or Nothing But a Man, citing the potential for riots. (The same argument would later be used for films like Do the Right Thing.) I heard neighbors complain about Sidney Poitier in the relatively innocuous Lilies of the Field, let alone the more charged In the Heat of the Night. For all its simplistic arguments, Guess Who's Coming to Dinner became a sort of acid test: did disagreeing with the film's premise make you a racist? (When the film was released, the Supreme Court had only recently ruled that anti-miscegenation laws were unconstitutional.)
So when I watched Keke Palmer as Olivia and Jeremy Jordan as Randy fall in love in Joyful Noise, I couldn't help but be reminded of what life was like in Georgia not so long ago. Seeing Undefeated's Coach Courtney embrace O.C. Brown at the end of the season, I thought about how Poitier and his costar Rod Steiger were threatened by shotgun-wielding racists when they tried to shoot scenes for In the Heat of the Night in Tennessee. Racial problems are by no means solved, but we have to be encouraged about the real progress that has been made.