Remembering Robert Breer and Donald Krim
Looking at the careers of an avant-garde animator and a crucial film distributor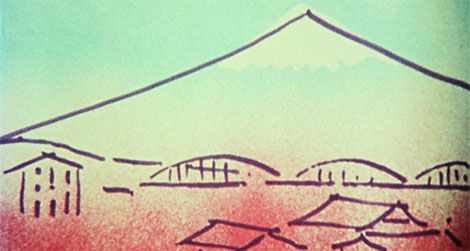 Animator Robert Breer died this past August in Tucson; film distributor Donald Krim, in New York this last May. (And on September 6 came news of animator Jordan Belson's death.) Their loss narrows a cinematic world that in some respects is in danger of disappearing.
Born in Detroit in 1926, Robert Breer served in the Army during World War II, then lived in Paris for a decade, where he intended to become a painter. It was while documenting his art with his father's 16mm Bolex camera that Breer first started working with film. "I'm interested in the domain between motion and still pictures," he once wrote, and his films are distinguished by their playful, endlessly inventive use of movement.
Breer drew inspiration from animators before him, the wonderful Len Lye, for example, or the New York filmmaker Mary Ellen Bute. But he amplified on their work, hand-painting his film stock, re-editing home movies and found footage, assembling collages, and exploring every corner of animation. In Breer's films, time repeats, reverses, expands and contracts in on itself with jazzy insouciance. His pieces move with blazing speed, at times at the limits of comprehension. Viewing them becomes more an emotional experience than a rational one.
Breer was admired by his colleagues, but he worked in a narrowly circumscribed world of experimental and avant-garde movies. As a result, it's difficult to view his movies. Breer's closest brush with mainstream fame may have been his contribution to New Order's "Blue Monday '88″ music video. He also made films for the Children's Television Workshop. In 2002, his Fuji (1974) was selected for the National Film Registry. But apart from Eyewash (1959), which can be seen in two versions on Treasures IV: American Avant-Garde Film, 1947–1986, Breer's movies have not been released to the home market. You can purchase or rent them from The Film-Makers' Coop or Canyon Cinema, assuming of course you have access to a film projector. And the Anthology Film Archives have restored several of Breer's pieces on 35mm stock. Essentially, you must watch them on a screen.
Donald Krim worked in the "industry" part of cinema, and his career coincided with the shift from projected film to digital media. Born in 1945 in Newton, Massachusetts, Krim started out at United Artists after earning a law degree from Columbia University. He helped form United Artists Classics, a specialty division devoted to niche movies. In 1978 he purchased Kino International, then as now a theatrical distribution company that focused on "classics and foreign language art films." Kino got on its feet by licensing and distributing titles from Janus Films. Soon the company was handling titles from the Alexander Korda library, Grove Press, post-WWII RKO, David O. Selznick, and Charlie Chaplin. But Krim had something more in mind.
While attending film festivals, notably the Berlinale, Krim began purchasing distribution rights to "one or two films a year," as he told DVDTalk in 2002. Krim helped introduce works by some of the most respected filmmakers of the past thirty years to American viewers: Shôhei Imamura's Vengeance Is Mine and The Ballad of Narayama; Percy Adlon's Sugarbaby; André Techiné's Scene of the Crime; Wong Kar-Wai's Days of Being Wild; and Kelly Reichardt's Old Joy. Just as important, he had an abiding respect for the classics of the past. He released a restored version of Fritz Lang's 1927 Metropolis; when additional footage was discovered in Argentina, Krim helped sponsor a new restoration in 2010 and released it theatrically.
Krim formed Kino Home Video in 1987; today, it is one of the most respected of all home video distributors. It features works by D.W. Griffith, Buster Keaton, Sergei Eisenstein, Ernst Lubitsch, and other cinema pioneers, as well as a panoply of foreign directors. Invaluable as an educational resource, Kino Home Video also brings distinctive, if not especially commercial, works of art to the public. Krim's taste as well as his conviction have improved cinema for all of us.
In 2009, a holding company for Lorber Ht Digital acquired Kino International Corporation; the resulting merger became Kino Lorber, Inc., with a library of over 600 titles. When Krim succumbed to cancer this past spring, he left behind an enviable legacy.
As Gary Palmucci, Vice-President of Theatrical Distribution for Kino Lorber Films, wrote me in an e-mail: "I was privileged to work with Don at Kino for twenty-three years, during which I saw my own cinematic horizons grow and the company find success helping to introduce filmmakers like Wong Kar-wai, Amos Gitai and Michael Haneke to mainstream arthouse audiences, as well as hundreds of classic reissues both in cinemas and on home video. Don was that rare combination in our business: he had an appreciation and knowledge of the whole spectrum of cinema history, unshakeable personal integrity and solid business sense."