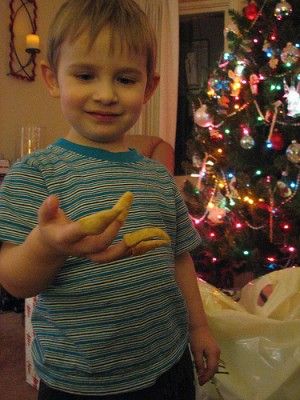 There were some bags of Bugles lying on the table in the break room the other day, and I was sorely tempted to take one. Not because I actually wanted to eat them—too salty—but because I had a flashback to childhood, when I used to stick one of those strange funnel-shaped snacks on each finger, creating what looked like corny claws. I always figured I was the only person weird enough to do that, but two coworkers passing by had the same reaction: Bugles! Finger snacks! I remember when...
That got me thinking about other foods I liked to play with as a kid. Duck lips made out of Pringles; what about Twizzler straws (just bite off both ends and stick it in your soda)? Skittles or M&M flowers? Or that gross-but-giggly camp game called "Chubby Bunny" which involves seeing which kid can stuff the most marshmallows in their mouth while still articulating those two words?
Not that it has to be junk food to inspire play, of course. You can turn broccoli into a poodle, celery and raisins into "ants on a log," or strawberries into mice.
Today I discovered something that seems to have been invented just for me, combining my love of word play, cheesy snacks, and general goofiness: Scrabble Cheez-Its. (As the Endless Simmer blogger so aptly puts it, "Have I died and gone to heaven?")
What foods did you play with, or perhaps still do?