Photojournalist Eli Reed Shares Some of His Favorite Images From His 40-Year Career
The pioneering African American looks back at the power of the photograph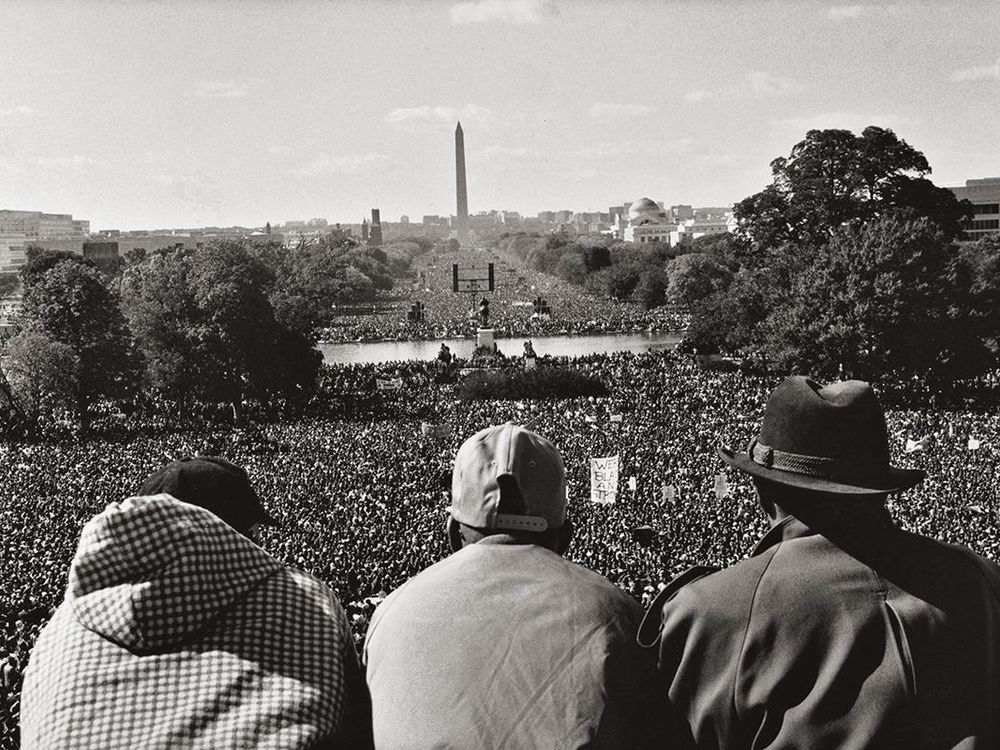 Eli Reed's new retrospective book, A Long Walk Home, spans 40 years of a storied career as a working photojournalist. Reed, the first African American to join the prestigious photo collective Magnum, has witnessed and experienced the world through its many turns; tender, tumultuous, violent, vigorous, hopeful and helpless. Although he photographs from a six-foot-five-inch height, his work is never aloof, it is full of compassionate, intimate and grounded moments.
In the foreword by travel writer Paul Theroux, which includes a discussion with Reed, Theroux explores the idea of how one becomes an artist, concluding that it is almost always "sideways." Reed found his profession not necessarily intentionally, but by following his intuition and finding mentors who help lead the way to a creative life. "I was wandering into photography without realizing it," Reed told Theroux.
Reed describes the book as "an exploration of what it means to be a human being." He was first a painter; in high school he painted a view from his family kitchen that showed an expanded view of the world outside the window. Dreaming of the larger world beyond where he grew up, in Perth Amboy, New Jersey, was something Reed did often as a boy. Books like Lawrence of Arabia and "The Secret Life of Walter Mitty" added fuel to his natural curiosity. But reading about the world wasn't enough, "I wanted to see the world with my own eyes," says Reed. "I wanted to experience what people were capable of and why."
Reed's parents were supportive of his artistic pursuits. Although Reed grew up with the "tough guys" in his neighborhood, his childhood memories are ones of warmth and camaraderie. As a kid he was aware and curious about the larger world.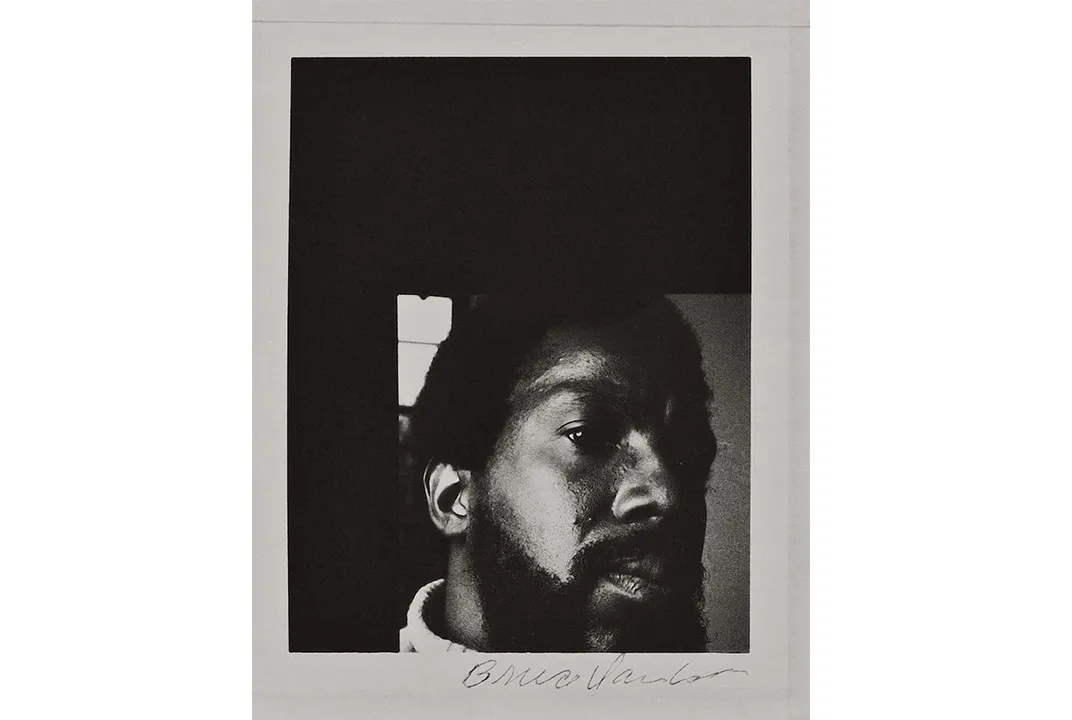 He attended Newark School of Fine and Industrial Arts, and in the ages before computerized layouts, worked as a paste up artist using hot wax for print designs. This was where he discovered photography's powerful potential as a form of communication. Looking through the pages of Look and Life magazine, and the work of Roy DeCarava, (the first African-American photographer to win a Guggenheim Fellowship) led him to the Kamonge photo workshop, a collective of African-American photographers.
Reed grew up during the Civil Rights Movement and was acutely aware of the racism, subtle and otherwise, that affected the lives and opportunities of his parents, his friends and his own. Images in the pages of Life and Look magazine taken by Magnum photographers and other photojournalists inspired Reed by documenting those brave people who were challenging the status quo.
"I was always observing," Reed says. "There were moments of incredible horror, or incredible beauty, and they stick with you. I had a lust to see and understand the world, how people endure what they have to endure. I wanted to see beyond the obvious."
While working for the San Francisco Examiner newspaper Reed turned his camera to the crisis in Central America. There, he created the body of work that lead to joining Magnum in 1981. That year he was also recognized as a Pulitzer Prize finalist for a series of images shot in the housing project "The Pink Palace," published by the Examiner.
In 1982, he was invited to be a Nieman Fellow at Harvard University, where he studied political science and urban affairs. He also spent four months of that time in Lebanon, covering the daily life of citizens under the relentless pressure of conflict. Over the course of five years, Reed returned periodically to Beirut, during which he was kidnapped when mistaken for a militant known as the black "Rambo." His body of work from that experience became his first book, Beirut: City of Regrets.
Eli Reed's Favorite Images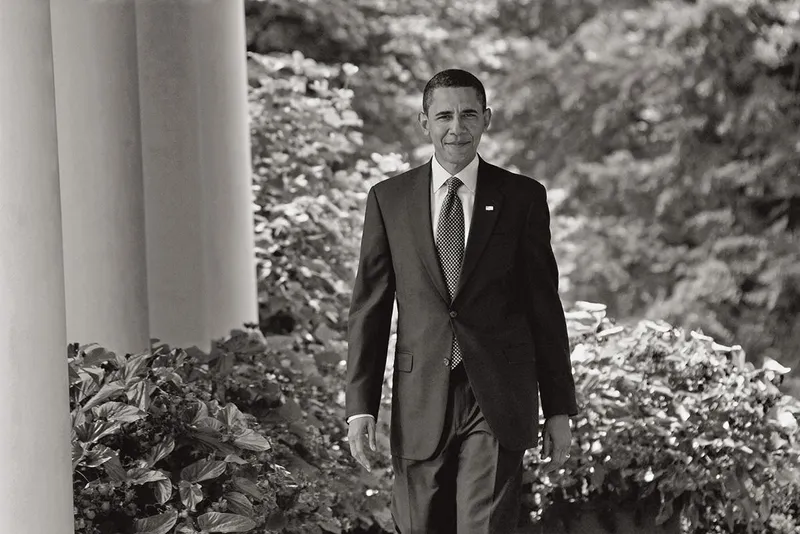 Eli Reed: This was in 2009 when President Obama was really getting things started about the health care initiative. He was heading to a meeting in the Rose Garden and he just had this swagger, like John Wayne or Gary Cooper, and to me it said " I'm not going away, I am ready to do business."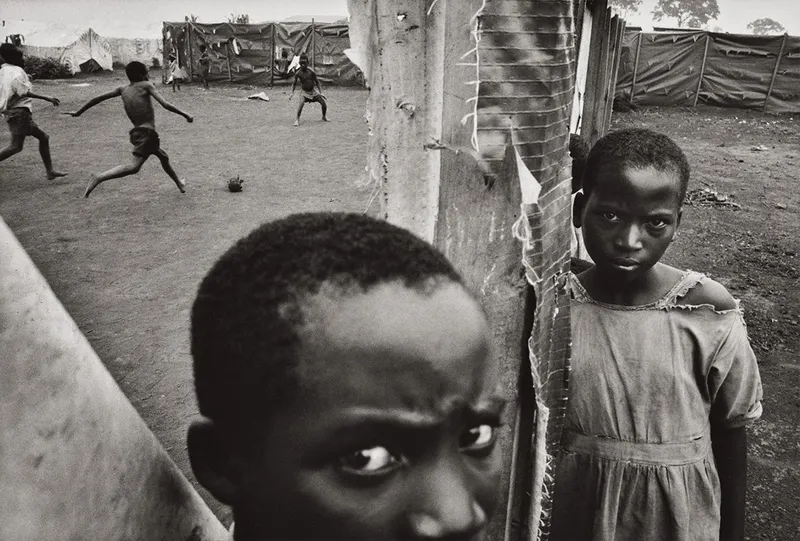 Eli Reed: This was in the Benaro refugee camp in Rwanda. People want you to know that their lives mean something and they want the world to know what is happening to them. This was a very intense place, a Doctors Without Borders camp. The kids were very wary, very afraid. All of my communication had to be non verbal, in this situation, but their eyes were saying, "Look at me, be our witness."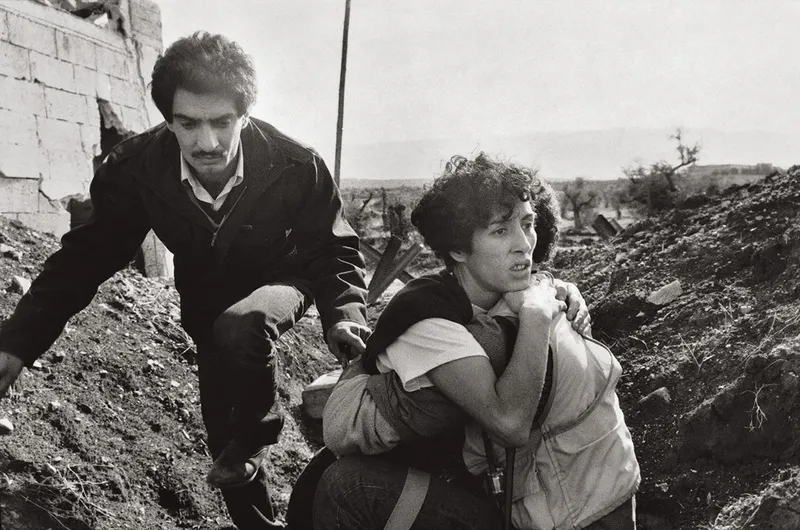 Eli Reed: We were in a refugee camp in north Lebanon, I was very concerned about our driver, he was so afraid, he wouldn't listen. We ended up getting stuck in the road sideways and had to jump out of the car to avoid shelling that was coming in like raindrops. As we were running down the road, I thought, "I could be in San Francisco looking at the ocean, instead, I'm here, running for my life."
But what puts it in perspective for me is that as a journalist, if things get crazy I can always go home, but the people I am photographing, this is their home and they can't escape this reality. As we ran I saw an older gentleman in the field about 50 yards to the left and as I watched he was just obliterated. I half-expected that to happen to us too.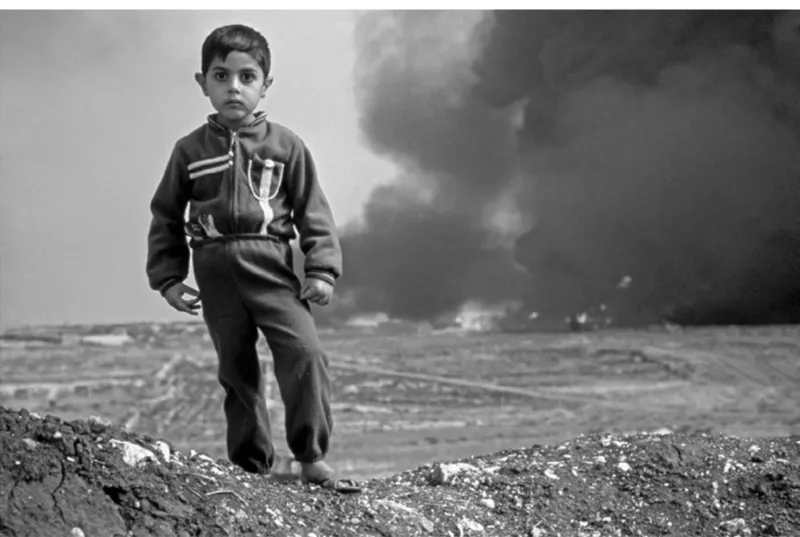 Eli Reed: This child was living at the war front of a situation where Palestinians were fighting among themselves. His mother had been killed, and he was with his father living in a temporary quarters. After we interviewed his father, he followed us out of the tent, and very shortly after I took this photo a rocket landed nearby and the two of us went down together. For me the big eyes say it all. What kind of world is this for a little kid?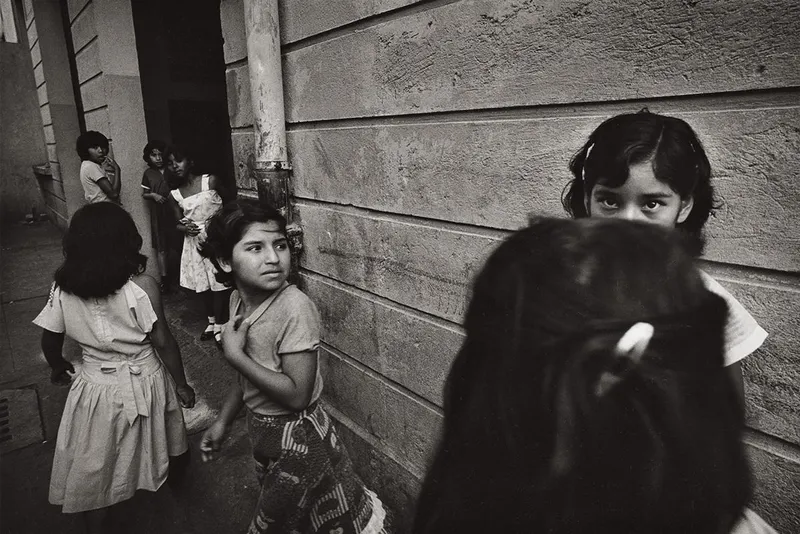 Eli Reed: At an orphanage in El Salvador, where so many terrible atrocities were occurring, this is an instance where you get close to the picture and rather than taking a picture, the picture takes you. You are peeping through your camera and you make eye contact, you see the pain. You know that when you are looking into the abyss, and the abyss is looking into you as well.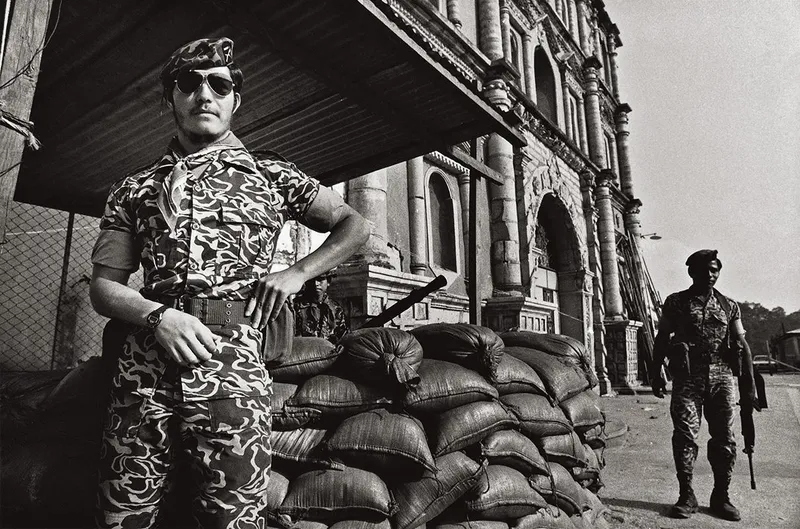 Eli Reed: In Guatemala, we came around the corner entering a village. I was with two Guatemalan journalists. We slowly came to a stop and asked to speak to the captain. It was obvious we had arrived in a very dangerous place. When the captain showed up, I quickly made a photograph and one of the journalists said, "We can see you have things well in hand." We left immediately and later were filled in about all the atrocities, murders, rapes and destruction caused by this man. But at the time, it was important to be calm and gracious, get through the situation and make a document.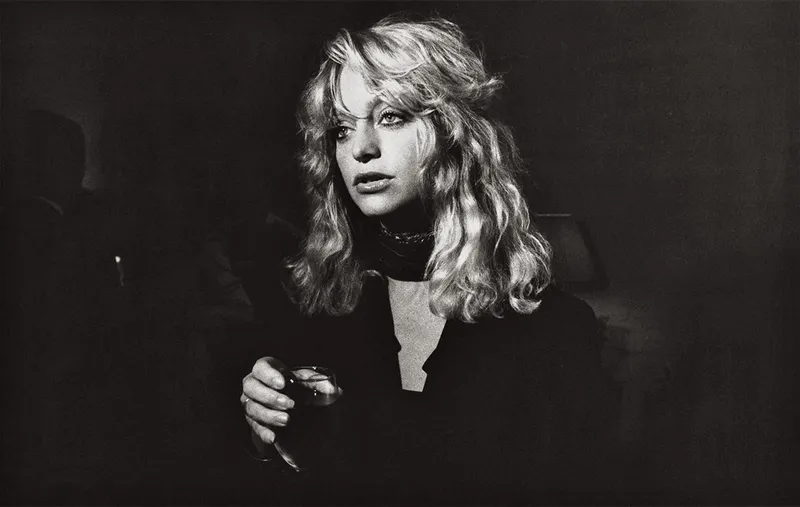 Eli Reed: I've worked in Hollywood over the years. This was taken at the San Francisco Film Festival in 1980-81. Goldie Hawn had produced her first film, Private Benjamin, and this was a time when not many movies were being produced by women. I could tell she was really nervous, but she kept smiling. I wanted to wait and get the expression that showed her worry, her human qualities, not the smiling façade.
Eli Reed: The Million Man March in Washington, D.C. I wanted to show the scope of the march. It was powerful to see the scale. Later the numbers were downplayed, but this photo is a record. It was a historical occasion and though security was tight, I did my best to get to a place where I could make this image.
Smithsonian.com recently talked to Reed about his new book and the arc of his career. 
How did you make the giant step from newspapers to the prestigious photo agency Magnum?
I showed the images from Central America to [Magnum's] Rosemary Wheeler and Phillip Jones Griffith, and they were intrigued. Griffith asked if he could seduce me to join Magnum. It was a dream come true.
The people who believe in you hold you up. I was an experiment at Magnum, a newspaper photographer. The photographers at Magnum, they were my heroes, Susan Meiselas, Gil Peres, the work they did, the commitment to understand a situation, the intelligence they exhibited. I knew I would either rise to the occasion or go down in flames, trying to. These mentors showed me a good reason to keep on living.
What special power does photography have?
Photography allowed me to try to find out the why of things. [As an artist], I don't just accept things, I never say: It's good enough. I celebrate them. Art raises up everything, it raises the human condition. Everyone is elevated, everyone wants to rise to the next level of understanding.
You are a professor now at the University of Texas, what advice do you have for young photographers? Especially in covering war, which has become even more dangerous than it was when you were kidnapped in Beirut.
There is always a way to cover what you want to cover, but you need to do the research and understand, as well as you can, what the situation will be when you get there. Try not to judge; try to understand the people in the country you are covering.
Accept people for who they are as human beings. Of course you have to be cautious, listen to people who have been there. Figure out where you will land. Bullets don't distinguish between good and bad. When I was in Beirut, I kept my eyes wide open and my mouth shut. Remember the people who are living in the conflict zone have it much worse then you do, you can leave, they cannot. You must make a serious commitment to the truth.
Looking back at the dangers and difficulties you encountered doing this work, was it worth it?
It's worth it if you leave something behind that is worthwhile. It's a privilege to be able to witness people's lives. Brutality has been here since the beginning of time. There is racism; there are problems in America. There are always going to be problems, but you have to work through them. Things don't change overnight and we are still a very young country. I believe when you address a problem, that's the first step to doing something about the problem. My photographs are the way I do that.