Musicians on the Road: Film vs. Reality
How Hollywood portrays musicians—rock, jazz and country—as they tour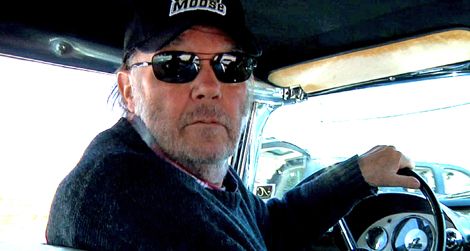 Through the weird synchronicity that haunts film scheduling, several movies about musicians will be released shortly. There's Rock of Ages, the latest Broadway musical adapted to the screen, with Tom Cruise, Alec Baldwin, Catherine Zeta Jones and other stars slumming their way through 1970s rock warhorses. Two documentaries—Neil Young Journeys and Searching for Sugar Man—present careers in music as a sort of cautionary tale, with life on the road serving as either doom or salvation.
I asked Jason Beek, drummer in the Eilen Jewell band, how accurate movies about musicians on the road were. In film, the road changes you, for better or worse depending on the plot you're in. One way or another, narratives have to end, while in real life musicians keep plugging away without the reversals, betrayals and epiphanies that Hollywood demands.
Eilen Jewell draws from rock, country, jazz and blues, paying tribute to the past while building a uniquely modern sound. She put her band together in 2005, with her husband Jason on drums, Jerry Glenn Miller on guitar and Johnny Sciascia on bass. The band plays 150 to 175 shows a year, usually traveling in a 15-person van. "We are 'on the road,' away from home, in a van or on a plane for seven months out of the year," Beek told me.
"We try to limit our travel to the daytime," Beek explained. Driving between gigs can be relatively easy in the Northeast, where venues can be a couple of hours apart. "But we have been on tours where we have to drive as many as eight hours. We really try to limit our travel to no more than six hours on a gig day."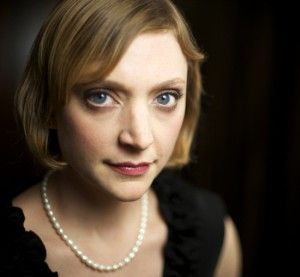 What goes wrong on the road? "Mistakes happen with promoters, people get lost, wrong info, loose ends," Beek said. "We travel with an upright bass internationally and that is always squirrelly." The drummer told about how the group was delayed while leaving the United Kingdom. "7 a.m. and I'm arguing with the head of the airport about how they had no problem letting the bass into the country, but now it is too heavy to fly out? We had to have our driver ferry it over to Ireland for the next shows."
Since so many articles cite Almost Famous among the best rock films, I asked Beek his opinion. "Eilen and I didn't see Almost Famous," he answered. "Johnny our bass player says he didn't like it, and Jerry our guitar player said it was ok.
"I think you'll find at least as many opinions about rock movies as there are musicians," he went on. "For example, I thought recent films like Ray, Walk the Line and Cadillac Records were entertaining if only because my musical heroes were being portrayed on the big screen."
Beek pointed out how Hollywood tends to reduce and simplify facts and ideas. "Both Walk the Line and Ray followed a formula about a dramatic childhood event, addiction, recovery and then a happy ending," he said. "Some musicians I know think those films are totally worthless as far as telling it like it is—whether how hard it can be on the road or whether they got the facts straight about a particular artist."
Separate genres of music have their own cycle of road movies. For pop, you can go back to the first musical to win a Best Picture Oscar, The Broadway Melody, in which two naive sisters on tour fight over an oily leading man, or The Good Companions, a British film adapted from J.B. Priestley's comic novel of clueless musicians touring the hinterlands of England. Later films like Blues in the Night presented the road as a place of peril, especially regarding romance.
Jazz films tend to take a dim view of the road. It helped lead Charlie Parker to heroin in Clint Eastwood's biopic Bird, and left Dexter Gordon's character a wreck in 'Round Midnight, although traveling was a more benign plot device in The Glenn Miller Story.
Country music loves cautionary tales, so the road brought nothing but trouble to Gene Autry in The Old Barn Dance, Rip Torn in Payday, Sissy Spacek in Coal Miner's Daughter, Willie Nelson in Honeysuckle Rose, Clint Eastwood in Honkytonk Man and Burt Reynolds in W.W. and the Dixie Dancekings. One of screenwriter Paul Schrader's pet projects has been a biopic about Hank Williams, who famously died in the back seat of a limousine on his way to a concert in Canton, Ohio. Schrader told me a scene in which a delirious Hank is handcuffed to a dressing room cot backstage in an attempt to prevent another drinking spree.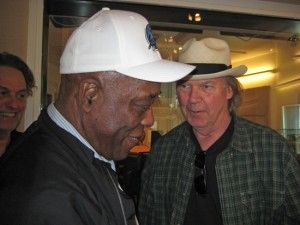 More recently, Walk the Line showed the temptations of the road in vivid terms, as Johnny Cash engages in drunken hijinks with the likes of Jerry Lee Lewis and Carl Perkins while June Carter looks on disapprovingly. And Crazy Heart won Jeff Bridges an Oscar for playing a country musician who uses the road to avoid responsibility.
Dozens of films were set in the world of rock'n'roll, but films specific to touring took a while to emerge. One of the first, A Hard Day's Night, is also one of the best. According to film historian Alexander Walker, when The Beatles signed their film contract, the studio prohibited them from being seen drinking alcohol and chasing girls. Director Richard Lester made that a theme of the movie, with the boys disappointed again and again in their efforts to drink or chat up girls.
Studios rarely treated rock music seriously until Light of Day (1987), written and directed by Paul Schrader, with Michael Fox and Joan Jett as a brother/sister rock act. It helped that they actually sang and played their instruments, something that didn't happen in movies like Eddie and the Cruisers and Cameron Crowe's Almost Famous.
Concert documentaries can provide a better insight into touring. In Dont Look Back, directed by D. A. Pennebaker, Bob Dylan tours England, meeting an adoring public, fawning fellow musicians and a hostile press. The chilling Gimme Shelter, directed by Albert and David Maysles and Charlotte Zwerin, follows The Rolling Stones on an American tour that culminates with a murder at Altamount. And could touring be any more hellish than in the mockumentary This Is Spinal Tap?
Neil Young Journeys is the third feature director Jonathan Demme has made about the musician. Most of the film is devoted to concerts Young gave at Toronto's Massey Hall in May 2011. Demme also shot Young at his childhood home and touring northern Ontario in a 1956 Ford Victoria. Approaching his fiftieth year as a professional musician, Young is as passionate as ever, despite the obvious rigors of the road. Sony Pictures Classics will be releasing it on June 29.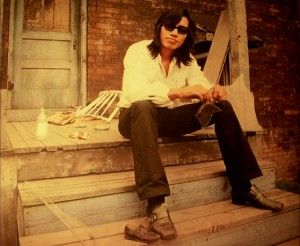 Searching for Sugar Man, another Sony Pictures Classics release, comes out in July. It opens in South Africa, where musicians and journalists explain how Rodriguez, a singer-songwriter from 1970s Detroit, was so influential in battling apartheid. Without giving too much away, the film shows just how harsh and unforgiving the music industry can be—although it has a twist that is both uplifting and heart-rending. Searching for Sugar Man answers a dilemma every artist faces: How long can you struggle against rejection before giving up?
So do any movies get the road right? Steve Rash's The Buddy Holly Story, starring Gary Busey, made touring seem delightful as Holly made his way from Clovis, New Mexico, to New York City. Of course, Holly's story had what screenwriters consider a golden ending: death by plane crash. (Lou Diamond Philips played Richie Valens, who died in the same crash, in La Bamba.)
Tom Hanks, an avowed Eilen Jewell fan, chose That Thing You Do! as his directorial debut. A knowing tribute to the one-hit wonders who supplied a steady stream of hits to Top Forty radio, That Thing You Do! recreated the package tours that dominated the mid-sixties, with giddy newcomers and jaundiced veterans thrown together on bus rides to perform at county fairs.
In the meantime, do not miss the opportunity to see Eilen Jewell, a first-rate songwriter and a wonderful singer, and her crack band. They are appearing tonight at Manhattan's City Winery and with luck will reach your town soon. Here's the title song from her third full-length album, Sea of Tears.