Movie Mash-ups That Beat Abraham Lincoln Vampire Hunter
Mixing movie genres, from Abbott and Costello to SCTV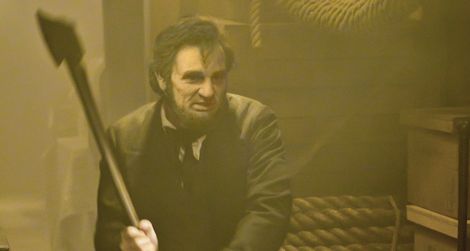 With the release this Friday of Abraham Lincoln: Vampire Hunter, this week's most overhyped buzz word will be "mash-up." In music, a mash-up combines two separate songs into a new work. On an episode of TV's "Glee," for example, Pat Benatar's "Hit Me With Your Best Shot" merges with Blondie's "One Way or Another." I cherish the 1961 single "Like Long Hair" by Paul Revere and the Raiders, which turns a theme from Rachmaninoff's C Sharp Minor Prelude into a raunchy rock instrumental. Frank Zappa was expert at finding unexpected connections. At a Mothers of Invention concert he once promised, "We're going to butcher two of your favorite songs," then had his musicians play Cream's "Sunshine of Your Love" and Them's "Gloria" at the same time.
The most famous video mash-up may be Robocop vs Terminator by AMDS Films, which has been seen millions of times around the world. YouTube is the repository of choice for fan mash-ups, like the many Buffy vs. Twilight entries. (Buffy vs Edward: Twilight Remixed has been seen over 3 million times.) There you can also find examples of re-cut trailers like a version of Stanley Kubrick's The Shining by Robert Ryang that makes the horror film look like an upbeat family comedy.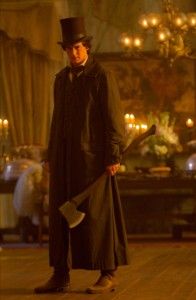 Seth Grahame-Smith, a screenwriter and producer who grew up on Long Island and Connecticut, gets credit for initiating a cycle of mash-up novels with his 2009 work Pride and Prejudice and Zombies. Abraham Lincoln: Vampire Hunter is the first of his novels to reach the screen, and it follows what has become the formula with the genre.
First, the all-important title. Like a "Wheel of Fortune" answer, it must combine two elements that are thought of as unrelated. Jane Austen and zombies, for example, or Lincoln and vampires. Tim Burton, director of Frankenweenie and Dark Shadows as well as a producer on this project, wanted to option the novel before Grahame-Smith had even finished it. "It sounded like the kind of movie I wanted to see," Burton said in the film's press notes.
Second, capitalize on popular trends, notably vampires. In fact almost all of the current crop of mash-up novels rely on horror elements, because who wants to read Abraham Lincoln: Geneticist or Abraham Lincoln: Financial Advisor?
Third, go downscale rather than highbrow. Reviewing Sense and Sensibility and Sea Monsters, New York critic Sam Anderson noted that "the sea-monster subplots, considered independently, rarely rise above pulp clichés," and that reading the original in tandem "sadly diminished" the mash-up.
This formula isn't limited to mash-up adaptations. Snakes on a Plane relied on the same principles, and was even sent back for reshoots when executives determined the first cut wasn't vulgar enough.
"Lincoln's life story is an archetypal superhero origin story," Grahame-Smith said in the film's press notes. "He's as close to an actual superhero as this country's ever seen." It's hard to argue with the author's approach, at least from a financial standpoint. Grahame-Smith is currently adapting Pride and Prejudice and Zombies and his 2012 novel about the Three Wise Men, Unholy Night, for the screen, and contributed to the screenplay for Tim Burton's Dark Shadows.
Abraham Lincoln: Vampire Hunter is directed by Timur Bekmambetov, who was born in the former Kazakh Soviet Socialist Republic. Bekmambetov made educational films and commercials before turning to features and television miniseries. His Night Watch (2004) and Day Watch (2006), based on a fantasy novel by Sergey Lukyanenko and released here by Fox Searchlight, depicted a battle between supernatural forces that took place in a contemporary version of Russia. In them Bekmambetov perfected a style of hyperkinetic action as illogical and pointless as it was exciting. (Production has not yet started on Twilight Watch, the third part of the trilogy.)
Mash-up films like Abraham Lincoln: Vampire Hunter—with a hero already known to virtually every United States citizen merged with consumer-approved horror elements—are a marketing department's dream. So much so that you'd think someone would have tried it before. Which is why Fox publicists desperately hope no one mentions Cowboys and Aliens.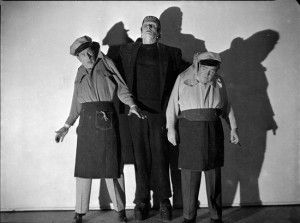 Oddly enough, Abraham Lincoln: Vampire Hunter isn't even the first film to use bloodsuckers in the Civil War. In 1993′s Ghost Brigade, aka The Killing Box, aka Grey Knight, the North and South have to join forces to defeat zombies who are massacring the troops.
Here are some earlier films we might call mash-ups today:
Sherlock Holmes in Washington. Victorian-era sleuth Sherlock Holmes finds himself in the corridors of power searching for missing microfilm in this 1943 mystery. Universal released three Holmes films set in World War II, all starring Basil Rathbone and featuring anti-Nazi story lines. Would Abraham Lincoln have as much success fighting the Axis as he did with the undead?
Abbott and Costello Meet Frankenstein. A mash-up for the ages, this film came about because Universal had both the vaudeville comedians and a stable of monsters under contract. Costello reportedly said, "My five-year-old daughter can write something better than that" when he first saw the script, but he has some priceless jokes in a story about two baggage clerks who accidentally help Dracula revive the Frankenstein monster. When the lycanthrope Lawrence Talbot warns Costello that he will turn into a wolf when the moon rises, the comedian replies, "You and twenty million other guys." The film was successful enough to lead to four more monster teamings.
Forbidden Planet. Filmmakers have always turned to Shakespeare, who knew a thing or two about repurposing older material, for inspiration. Anthony Mann's Western The Man From Laramie used plot elements from King Lear, for example. The Oscar-winning West Side Story placed Romeo and Juliet on New York streets. The Boys From Syracuse reworked The Comedy of Errors, while Kiss Me Kate is a musical updating of The Taming of the Shrew. The MGM science-fiction classic Forbidden Planet was a pretty clever adaptation of The Tempest, a play that author Tony Howard argues is also the basis for the excellent 1948 Western Yellow Sky.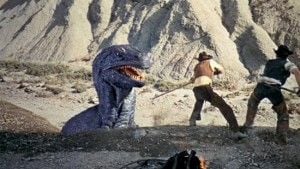 The Valley of the Gwangi. This 1969 Western with special effects by stop-motion expert Ray Harryhausen pits cowboys against dinosaurs some 40 years before Cowboys and Aliens. The film may not have the most credible plot line, but for a while it was an underground favorite on college campuses. Not to be confused with lower-budget efforts like Billy the Kid Vs. Dracula (1966) or Jesse James Meets Frankenstein's Daughter (1966).
"Second City TV" I know, not a film per se, but the writers and performers on SCTV masterminded a series of brilliant mash-ups during their sketch comedy series. Among my favorites: "Play It Again, Bob," in which Woody Allen (Rick Moranis) tries to persuade Bob Hope (Dave Thomas) to appear in his next film; "Bowery Boys in the Band," in which Robin Williams tries to hide his alternative lifestyle from his fellow gang members; and a scene in which Floyd (Eugene Levy) from "The Andy Griffith Show" asks a favor from The Godfather (Joe Flaherty).
Read new Reel Culture postings every Wednesday and Friday. And you can follow me on Twitter @Film_Legacy.