How Marian Anderson Took the World by Storm
Her mighty contralto propelled her across color lines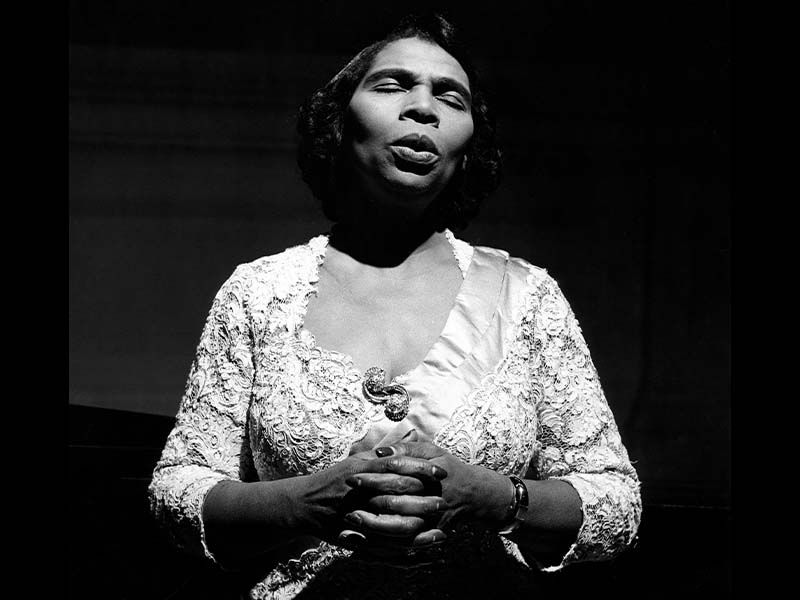 On Easter Sunday 1939, Marian Anderson, wrapped in a fur coat against the April chill, stepped to the microphone atop the steps of the Lincoln Memorial and launched into "America (My Country, 'Tis of Thee)." First lady Eleanor Roosevelt had assembled an integrated crowd of 75,000 people—an unprecedented honor for a Black artist—who listened in solemn awe. Todd Duncan, a singer and voice teacher in the audience that day, described Anderson's performance as indelible: "I know my soul has it and it will never, never leave," he told the Washington Post.
One of the greatest contraltos in the history of American music, Anderson is best known for breaking color barriers. Indeed, no female American performer achieved more historic firsts. Perhaps the most widely celebrated came in 1943, when she successfully lobbied for the Daughters of the American Revolution's Constitution Hall in Washington, D.C. to welcome its first-ever integrated audience ahead of her debut at the venue. After the show, Anderson said, with characteristic modesty: "I felt no different than I had in other halls. There was no sense of triumph." However self-effacing, she proved a mighty force for civil rights for four decades. As Secretary of the Interior Harold Ickes said while introducing Anderson at the Lincoln Memorial, "Genius, like justice, is blind. Genius draws no color lines."
Anderson was born in Philadelphia in 1897 to a family of modest means. Her father sold ice and coal, and her mother made a living as a nanny. Marian Anderson first found her voice in the choir of the Union Baptist Church, built in the 1800s by the congregation who would eventually fill it on Sundays. By the age of 6, Anderson was earning a quarter every time she sang at a benefit concert. As her talents grew in her teen years, her rate rose to $5 a performance—a considerable sum for anyone, never mind a teenager.
Despite a precocious beginning, Anderson struggled in early adulthood to find enough bookings in the States to make a living. In 1930 she left for Europe and studied with the Finnish pianist Kosti Vehanen, who would become her frequent accompanist. While in Finland, she found another collaborator—the composer Jean Sibelius. After she performed several of his own works for him in his home, Sibelius was rapt and went on to write several songs specifically for Anderson, including a version of his composition "Solitude," while helping her book larger venues on the Continent. In 1933, she blew London away with a mix of classical music and spirituals at the storied Wigmore Hall, setting off a rapturous response among the European crowds who watched her perform—"Marian Fever," a Swedish newspaper called it. She toured widely through Russia and Eastern Europe until 1934, when the tenacious American impresario Sol Hurok took over as Anderson's manager, luring her back to the States with a better contract than any she'd been offered before, plus promises to appear on major stages.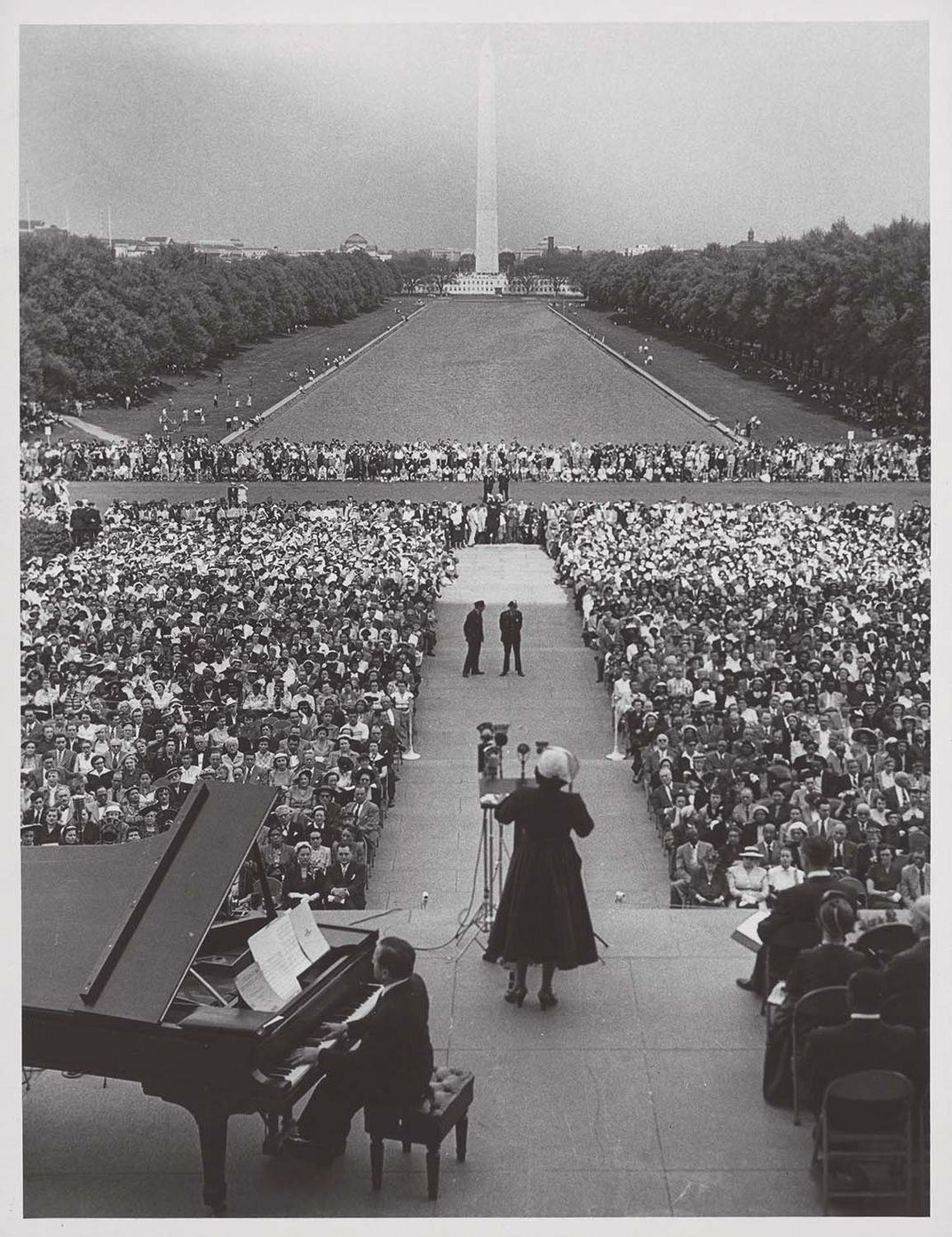 Yet segregation sharply limited her options. Constitution Hall, to name one venue, refused her a platform in 1939 on the basis of her race prior to her 1943 breakthrough. In 1937, after a performance at Princeton University's McCarter Theater, Anderson was denied a room at the whites-only Nassau Inn. The physicist Albert Einstein invited her to stay at his home in Princeton, and the two formed a friendship that lasted until his death in 1955, with Einstein hosting Anderson at parties at his home. Nationally, she kept breaking barriers: In 1955, she became the first Black singer to perform in a principal role at the Metropolitan Opera in New York.
Anderson's global stature reached new heights in 1957, when she became a goodwill ambassador for the State Department, giving concerts around the world. She had also entertained troops during World War II and the Korean War. In 1965, Anderson sang as part of the March on Washington, returning to the Lincoln Memorial to offer a powerful rendition of "He's Got the Whole World in His Hands."
After her 1965 farewell concert at Carnegie Hall, the critic Harold Schonberg of the New York Times wrote: "While she herself never militantly participated in the civil rights movement, she was revered as one who, by the force of her personality, talent and probity, was able to become a world figure despite her humble birth and minority status."
Anderson's contralto was a remarkably versatile instrument, with a delicate mastery of opera and gospel alike: At the 1939 Lincoln Memorial concert, she performed "Ave Maria" alongside "Nobody Knows the Trouble I've Seen" and "Gospel Train." She sang with a wisdom that lived beyond genre and was rooted, instead, in a deep understanding of human suffering.
She performed widely on three continents and left behind an inspired body of recordings. One of the earliest that still exists is a 1923 rendition of "Deep River," one of the many spirituals popularized by the Jubilee Singers in the late 1800s. The song's lyrics are sparse—they consist mostly of the single, repeated line, "Lord, I want to cross over into campground"—and the singer is almost required to exhaust the sound tucked within each vowel. There is special beauty in the way Anderson pulls words apart, elongating them so they stretch toward the infinite kingdom that is the subject of every spiritual. In Anderson's rendition, the two and a half minutes of "Deep River" feels like a holy experience, outside of time. In that 1923 performance, Anderson captured the deepest purpose of gospel music: seeking until new meaning is found.
After Anderson's retirement, in 1965 at 68, she spent the next three decades out of the public eye on a farm in Danbury, Connecticut. Sometimes she would sing when the town lit up its Christmas tree. She died in 1993, at the age of 96, having lived much of her life to a melody all her own.
On the Record
A university archive focuses on the daily life of an elusive superstar
By Ted Scheinman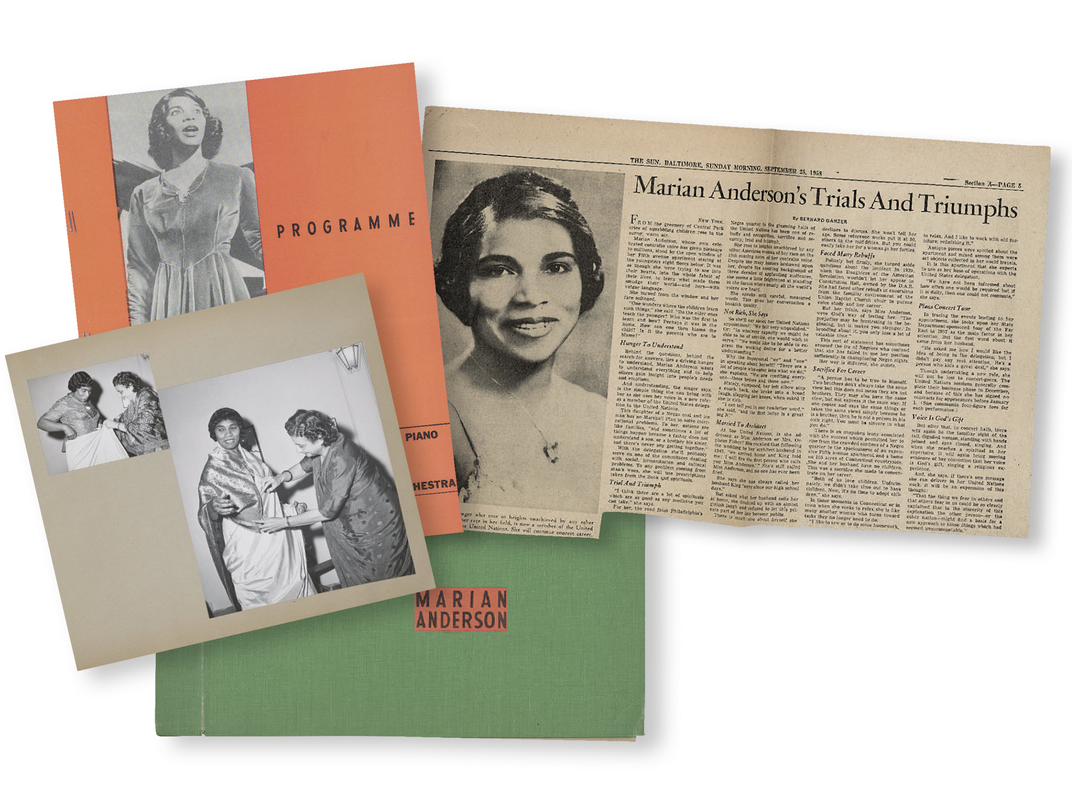 In 1960 Maria Cole, the wife of Nat King Cole, asked Marian Anderson about adding her signature to a statement by prominent Black Democrats endorsing John F. Kennedy for president. Anderson replied that she considered it "not possible" to have her name "identified in any particular party."
That revealing exchange is just one glimpse into the artist's private life offered by the Marian Anderson Collection at the University of Pennsylvania, which holds the most comprehensive cache of Anderson materials in the world: photographs, diaries, contracts, interviews, sheet music and more, much of which has been digitized since 2017 and is available online.
The archive is packed with clues to Anderson's life and artistry. What was she reading in 1941 as a 44-year-old? Her books list that year included W.E.B. Du Bois' Black Reconstruction and Anna L. Curtis' then-new Stories of the Underground Railroad.
She enjoyed meeting fans. While traveling by train in April 1951, the singer wrote, "A woman passenger who went by my door came back + said 'You are M.A. aren't you? I just want to say that I love you dearly. You've given me so many wonderful hours of pleasure.'"
Anderson invited Eleanor Roosevelt to her debut at the Metropolitan Opera in 1955: "I owe you so very much & the occasion would be incomplete without your presence."
In her diaries, we see her close attention to her attire: "Pressed black and white taffeta dress and left at 8:10. … Full hall."
Anderson recalls being shocked the first time she heard her own voice coming out of a gramophone in a shop: "I couldn't get out of the store fast enough, and my heart pounded for a considerable time after I left. Why it didn't sound like me … I haven't been able to express what it was."
In a 1955 interview, Anderson said that never having children had been a "very great sacrifice," particularly since she adored kids and had, in her words, "enough ego" to think she would've made an excellent mother. Still, that sacrifice, she insisted, was "right as far as I could see it."