Making Objects: A Dispatch From the Future of Small-Batch Manufacturing
A pair of young design entrepreneurs are building a small-batch manufacturing company in Chicago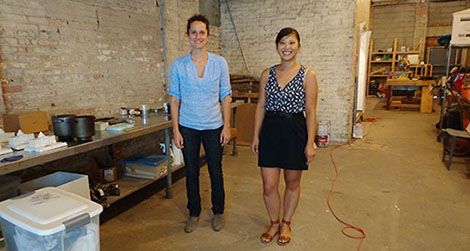 If you live in the Bay Area, you probably know that there are two things that everyone is talking about: artisanal food products and "desktop manufacturing." Now, a Chicago design startup, ODLCO, is attempting to combine these two ideas through what they call "small-batch manufacturing." They fly in the face of the idea that making physical products requires mass-production. Lisa Smith and her cofounder, Caroline Linder, don't use 3D printers; they use traditional manufacturing practices. But their story — triumphs and struggles alike — is a signal from a future in which many more people can make physical things in small batches. They already are where many Foo Camp-attendees think the world is going.
* * *
If you follow Randolph Avenue due west for a mile or so from downtown Chicago, you end up in an industrial stretch of brick buildings that has long served as a series of meatpacking and storage outposts for the nearby Fulton Market. When Linder and Smith took over one of these two-story units recently, the first floor was still dominated by a massive meat locker and a fork lift. But neither of those is visible now. Linder and Smith are maximizing the mixed-use potential of this place, turning it into a small-scale manufacturing facility in back, showroom up front, and an apartment above, where Smith is already living.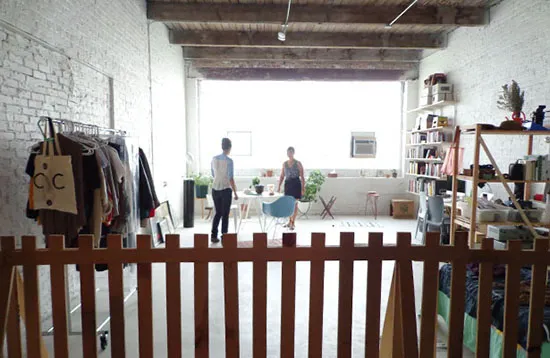 Linder and Smith's company, ODLCO, is the second iteration of a collaboration they originally called Object Design League (ODL), through which they produced exhibitions and operated pop-up shops. But, Smith says, they tired of exhibitions. "It's so unsatisfying when you have your thing on a pedestal, and then no one can really buy it, it's a one-off, and no one's really using it," she explains, "So we thought that instead of doing exhibitions it would be nice to actually produce works…in the design world, helping these things come to life." So Object Design League became ODLCO, and to date the duo has produced three products: a cast-iron pot, a butter dish, and a forthcoming silicone trivet. In each case, they have done extensive leg work to track down makers who specialize in exactly the kind of production process they need. The pot, for example, was manufactured by a small company they found up in Wisconsin that makes cast-iron boat anchors. "They've been doing that since the 40s, it's their bread and butter," says Linder. After looking at the ODLCO prototype, the manufacturer determined that they could produce the pot, but it would require the designers' collaboration to figure out how to get the product they wanted out of the infrastructure that was there. "That is the part of small-batch manufacturing that we're really interested in, which is where some of our skill sets come in to design for the preexisting methods of making," says Linder, "They're not souped-up, they're not high-tech there, it's just, 'This is what we have, if you want to work with it that's cool.'" What emerged is a heavy, elegant, and still totally utilitarian pot that's meant to be used under a grill, on a campfire, or in an oven, while still having aesthetic value worthy of being displayed on a table. At $150, it's about the same price as the popular multi-use Le Creuset cookware.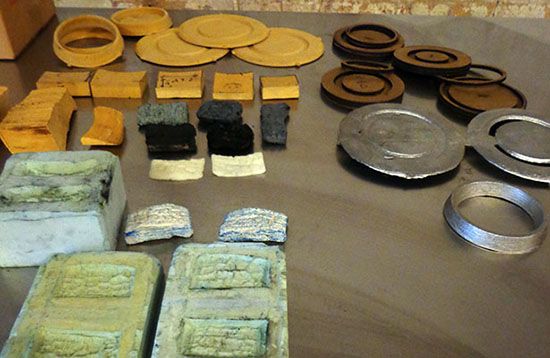 "In terms of pricing, 'appropriate' is not an exciting word," says Smith, "But I think it's important for us in that we're working with people who are doing this in Wisconsin, and are doing this by hand, and they get paid more than someone overseas does." ODLCO also pays a fair royalty to the designer of each product, and all of that is factored into what the consumer pays. Still, while they strive to be 'appropriate,' they manage not to be astronomical–at least not by the standards of their market category. Now their challenge is to figure out how to grow without scaling beyond their optimal size, which means emphasizing their role as a manufacturing partner. "If you try to get an object designed for you, you're likely a big company like Target, so you go to another big company, like Frog Design," Smith explains, "But if you're a small business and you want something designed for you, then where do you go? We hope we can fill that in a little bit, too."
* * *
Perhaps the best way to think about ODLCO is this: they sell products, but they also sell processes. They show you how the design world works while you buy their product. You can see that in an art exhibition that Linder and Smith put together with three collaborators for the Museum of Contemporary Art in Chicago. As described by the Italian art magazine, Domus, the group "operated a balloon factory at the MCA to produce a small run of latex balloons from scratch." Think about that phrasing. They didn't make balloons for display. The factory was also part of the art piece.
"Balloons are objects that no one really knows how they are made industrially, unlike furniture," Smith says. As with their other products, Linder and Smith had to learn exactly how they were made, too, in order to replicate the process.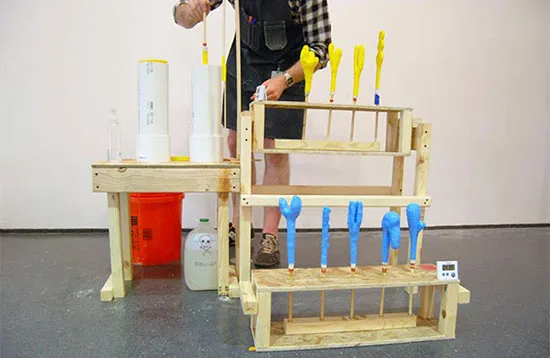 "There are a bunch of different kinds of latex," Linder explains. "Early on, we figured out that a lot of them were too thick." Ultimately the found the best type of latex was the kind Hollywood special effects designers use to make the bladders that hold blood for fight scenes.
With the material selected, the next step was optimizing production. " was, in a way, the first manufacturing project we did," Smith says. "We figured out how to make the balloon, but there were other things to figure out. Like, we wanted to pump out the maximum amount per day. There were five of us. How do we figure out the operational logistics, so there were this many racks with this many drying. And that's where we got into the actual factory part. We were pumping out 80 a day. That's when we got into small-batch manufacturing."
The underlying assumption in all this work is that if you can figure out how things really get made, you can find either A) new ways of making things or B) ways of making new things. They explicitly do not want to scale up because, as co-founder Lisa Smith put it, "There are certain things you can do in low-volume that you can't do at high-volume." If there's a non-delicious lesson to learn from the rise of the microbrewery and nanodistillery or the handcrafted chicharron guy, it's precisely this. Small isn't necessarily better in all things, but small can be different and disruptive.
This story was co-authored with Alexis Madrigal, senior editor at The Atlantic. This piece also appeared at The Atlantic as part of the Startup Nation 2012 special report.