Looking Back at 'Philadelphia,' 25 Years Later
What would the breakthrough movie about the AIDS crisis look like if it were made today?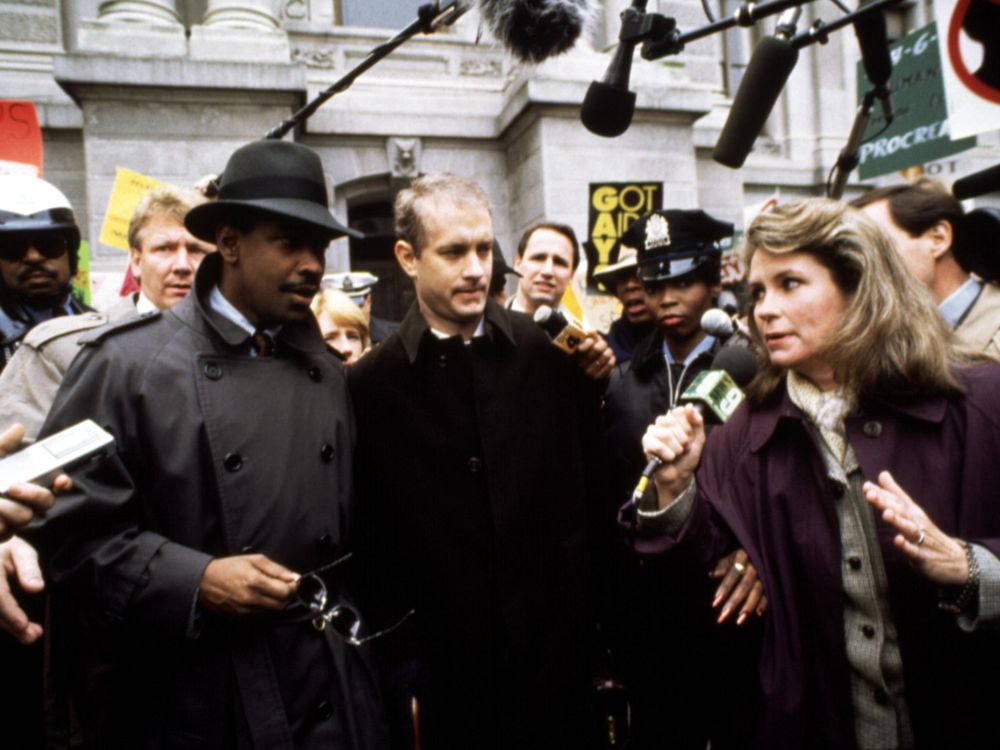 These were the early fighters, mostly men, a few women, their faces and thin frames captured in the watercolor portraits hanging in a hallway at Action Wellness in Philadelphia. They're all gone now, lives cut short by a plague. "These were done by a local artist who would come in and ask our hospice clients if she could paint them," says Kevin J. Burns, the executive director of the pioneering health center, which until June 2016 was called ActionAIDS. Other ActionAIDS clients, the healthier ones, were also immortalized, as extras in Jonathan Demme's revelatory film Philadelphia. Of them, Burns says, "only one of them is still alive."
In all, some 50 people with AIDS appeared in the influential courtroom drama, which opened across the country 25 years ago this month. "Our conference room was made to look like part of a clinic," says Burns, who was among the mingling "patients" waiting to see a doctor in an early scene. "I'm in the corner looking like I'm talking to someone." Nearby, Tom Hanks' character sits alone, anxious for the results of his latest blood work.
Philadelphia was the first major studio film to face the AIDS crisis head-on. Though the industry had lost countless people to AIDS—most famously, Rock Hudson in 1985—there was tremendous reluctance to make a movie about the epidemic, especially one focused on those hardest hit: the gay community. Demme and his producing partner Ed Saxon had both just won Oscars for The Silence of the Lambs and were in a position to take a creative risk. Both were personally inspired to center their next big project on the subject—Demme by the Spanish illustrator Juan Suárez Botas, a close friend who had been diagnosed with AIDS, and Saxon in tribute to his friend Robert Breslo, a writer who was suffering from the disease. "Everybody knew somebody," Saxon recalls. Filming for Philadelphia began in October 1992; by the end of that year more than 194,000 people had died from AIDS in the United States. Just a year later, as the movie opened, the death toll had surged to 234,225.
Demme and his protégé, screenwriter Ron Nyswaner, conceived of the basic story of a gay lawyer with AIDS who sues his high-powered law firm for wrongful termination. Nyswaner recalls pitching the concept to then-Orion Studio head Marc Platt: "His reaction was: 'Guys, there are ten movies in development right now about AIDS and all of them have a heterosexual main character—that's immoral. We're going to make the movie about AIDS that should be made.'" The script and Oscar-winning team had no problem attracting stars. After wrapping Sleepless in Seattle, Hanks lost almost 40 pounds to embody the AIDS-stricken Andrew Beckett, who, unable to find an attorney willing to take his case, ends up with a homophobic ambulance chaser named Joe Miller, played by Denzel Washington. What better pairing of client and lawyer to illustrate the prejudices exacerbating the plague? "We said from early on we're not looking for an audience that knows somebody with AIDS—the audience has a lot more in common with Denzel's character than Tom's character," Saxon says. "So much of the crisis was about people being homophobic."
Perfect in retrospect, the city of Philadelphia wasn't the filmmakers' only choice for this tale of prejudice and how it can be overcome. New York, Boston, Chicago and Baltimore were all considered. "I got a call from the producer telling me they were looking for a real courtroom where they could shoot for a long time," recalls Sharon Pinkenson, executive director of the Greater Philadelphia Film Office. "I said, 'I got a courtroom for you!' They came to see what we had, and I remember walking with them on JFK Boulevard and pointing to City Hall and saying, 'There it is.' Jonathan said, 'That's City Hall.' And I said, 'Yeah, but that's our courthouse.'"
Mary Steenburgen, who plays the law firm's steely defense lawyer, recalls her first day of shooting in Room 243 of the ornate castle-like landmark. "Two days before filming I went to visit my friend Peter who was dying of AIDS," Steenburgen says. "I was so sad about him, I couldn't separate myself emotionally. My first day of work isn't even in the movie—that's never been true of any day of my career. I sat down with Jonathan at the end of the day and I said, 'I'm a wreck, I don't know if I can play this part.' And he said, 'Mary, it's not about AIDS. It's about everybody in this country is entitled to justice—they're entitled to their representation.' And from then on, I was fine."
The title seems obvious, too, but it wasn't the first choice, either. At various points, the script had been called At Risk, People Like Us and Probable Cause. But naming the movie after the city underscored the huge role Philadelphia itself played in the film, with its sui generis energy of sights and sounds and real-life characters. "The City of Brotherly Love, the Declaration of Independence...I mean, perfect, right?" Nyswaner says now.
Earning $200 million at the box office and several Oscar nods, the film was a catalyst for conversations, acceptance and other film projects that might never have made it out of the closet. Thanks in part to that kind of AIDS education and awareness, the stigma of the disease is no longer as strong in the United States, though homophobia is still an issue. "There's still a tremendous amount of discrimination," Saxon says. But he is hopeful that too is changing. "My daughter came to work as an intern on a TV show, and she was filling out paperwork that asked: Male or female?" He chuckles. "She looked at me and said, 'Really, Dad, those are the only two choices?'"
* * *
A small red Christmas ornament, its hook taped to a shelf, dangles over Kevin J. Burns' desk. It was around the holidays that Philadelphia finished filming. Members of the production got to know people in the community, and, before leaving, Tom Hanks surprised a family with a decorated tree and gifts. "The cast and crew and directors were very generous," Burns remembers, sitting at a table drinking tea with his executive deputy director, Beth Hagan. He smiles: "See that Christmas ball? I swiped that off of the tree, so I could say, 'I have one of Tom Hanks' balls.'" Everyone laughs. Jeanmarie Zippo, a behavioral health specialist with Action Wellness, joins us and the three share stories with extraordinary warmth and ease that come from having worked together at the clinic for almost three decades, soldiers in a protracted war who have gained ground but are facing new battles.
They remember the darkest days of the AIDS crisis. Says Burns, "I'm the only one surviving of my gay men friends who were there then." "In the early years people were dying so quickly," he remembers, and there were only a handful of doctors in Philadelphia who would treat AIDS patients. "And one funeral home!"
"When I think of Philadelphia," says Hagan, "I think of a client I had who was actually an extra in the movie....Her mother said, 'You can't eat with us. You can't share anything.' She was so ostracized and alone." She pauses. "I always have her in my heart."
"It was not unusual to have a client die every week," Burns says, getting up and bringing a box of tissues to the table. "That was the nature of the work we did."
* * *
As a country, we talk a lot less today about AIDS as medical advances have made HIV, the virus that causes AIDS, a manageable disease. But it's still very much with us. In 2016 in the United States, nearly 40,000 people were diagnosed with HIV, almost 500 in Philadelphia. And now the nation and the city are facing another tragic, misunderstood epidemic: opioid abuse.
In 2017 there were an estimated 1,200 fatal opioid overdoses in Philadelphia. In contrast, there were 935 deaths during the worst year of the AIDS epidemic in the city.
"Opioids are the new plague," says Burns. Codeine, oxycodone, fentanyl, heroin, today any one of them can be bought on the streets of Philadelphia's Kensington neighborhood. A blue-collar factory community in the 1950s, the area has been known as the Badlands since the 1980s because of gangs and drugs and addicts. Zippo personally sees the marketing of pharmaceuticals to the public as a contributing factor. "People became more and more accustomed to the idea that every boo-boo has a fix and that fix is in a pill....Take that pill and the pill reinforces an immediacy." She continues, "There's more and more trauma that is being identified—substance abuse is definitely based in trauma." She sighs. "I have a real fondness for that population....I have a place in my heart for opioid-dependent people."
They see the parallels to the AIDS crisis more clearly than they would like to. Even those who seek help for opioid addiction are stigmatized, they say. "There's a tremendous amount of misinformation, stereotypes and hostility," says Zippo of methadone treatment. "People keep it very hidden because there's a lot of discrimination."
Burns leads everyone to the conference room, nearly identical to the one where the clinic scene in Philadelphia was shot 25 years ago. A painting from the movie hangs in the same spot, a Jackson Pollock-like abstract in pastel colors that takes up most of one wall. There's a big basket of yarn balls atop a conference table where several healthy Action Wellness clients are all sitting and knitting and chatting away. "Don't mind us, ladies," Burns says, smiling. We all pose in front of the art piece while a staffer snaps pictures. Burns admits he almost threw the painting out when he was on a cleaning kick. He'd forgotten it was in the film. Zippo stopped him: "It is from an Oscar-winning movie!"
What would Philadelphia look like today?
It "would be about people with HIV who are transgender, who are forced into sex work to survive. Who are arrested and abused by the police and criminal justice system," Burns says.
Zippo says, "It would be a gay man of color, coming from a poorer background."
"With an addiction," adds Hagan.
He could be played by Denzel Washington.
A Note to our Readers
Smithsonian magazine participates in affiliate link advertising programs. If you purchase an item through these links, we receive a commission.