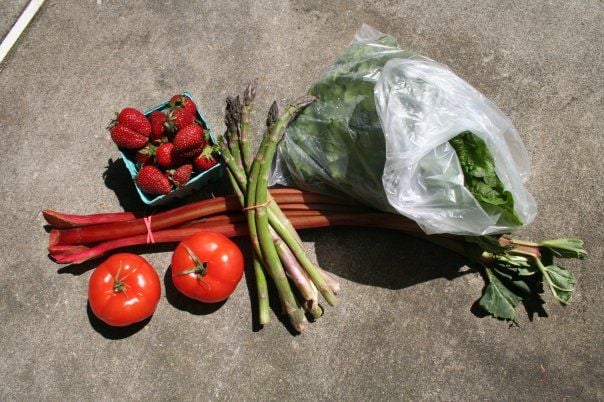 It's finally here! The first batch of seasonal produce we'll be getting every week from now through October, through a Community Supported Agriculture (CSA) program. This is the first year that my fiance (who shall henceforth be referred to as Mr. FAT, because it makes me chuckle) and I have participated in a CSA, and we're ridiculously excited about it. We've been counting down the days to our first pick-up with nearly as much gusto as we're counting down to our wedding day (one month)!
For those of you not familiar with CSA programs, the idea is that you pay a set amount (usually in advance) to receive a weekly "share" of whatever's in season from that particular farm. It's like a grab bag of fruits and vegetables—you never know exactly what you'll get, but you know it'll be fresh and local (and in many cases, organic). Some programs deliver to people's homes, while others ask members to pick up their shares at the farm. The benefit for the farmers, of course, is having a guaranteed market for some of their crops. It's a "shared risk and reward" concept.
We chose Norman's Farm Market, because it offered a nearby pick-up location and we liked its "half-share" option, intended for 2 people and priced at about $15 a week (full shares, for 4-5 people, are $25 a week). Norman's gathers its shares from several small family farms in Pennsylvania, Virginia, West Virginia and Maryland, and distributes them at three farm stands in the DC area.
The farm's newsletter warned us that a recent spate of rain and cool temperatures has slowed down the growing season, so our first batch may have been a bit light. But it still seemed like a good haul to me—a bag of spinach, a box of strawberries, a fistful of asparagus, a bundle of rhubarb stalks and two lovely tomatoes. (Perhaps I could have gotten all that for the same price at the supermarket, but it wouldn't have been nearly as fresh and tasty!) We've already devoured most of it, but we're a bit bewildered by the rhubarb. The only thing I can think of is cobbler, and that's certainly good, I'm just wondering if there are any more creative options...can you throw it in a stir fry, perhaps, with a sweet sauce like hoisin to offset its tang? Any suggestions?
By the way, it's not too late to sign up for a CSA program in many areas. Those of you in the DC area should check out this helpful directory from the Washington Post, while others could search the national directory on the Local Harvest site. Or, just go to your local farmers' market and ask around.