John Wayne's Hondo Comes Out on Blu-ray
The Duke's daughter-in-law Gretchen Wayne talks about the restored version of one of his moodier Westerns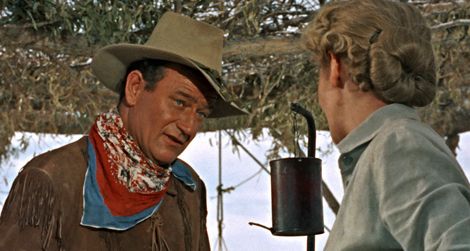 Upgraded to Blu-ray, the John Wayne Western Hondo has just been released by Paramount Home Media. Hondo sold over a million units when it was released on DVD in 2005, but the Blu-ray boasts a new 1080p high definition transfer as well as many extra features.
If you're familiar with Wayne's classic Westerns, like Stagecoach, Red River, and Fort Apache, Hondo may come across as a change of pace. Based on a Louis L'Amour short story (which the author later turned into a best-selling novelization), Hondo stars Wayne as a mysterious, at times menacing Civil War veteran and widower who becomes the sole protector of single mother Angie Lowe (Geraldine Page in her feature film debut) and her young son Johnny (Lee Aaker).
Set in the deserts of New Mexico, the film is surprisingly forward thinking in its attitude towards women, Native Americans, and the frontier in general. Filmed in color and 3D in Mexico, Hondo made excellent use of cutting-edge technology—even if cinematographers Robert Burks and Archie Stout were often ill-at-ease with 3D effects. (An excellent article by Bob Furmanek and Jack Theaston on the new 3-D Film Archive site shows how involved Wayne and studio head Jack Warner were in the technical side of the filming.)
Hondo features a number of actors and filmmakers familiar from Wayne's Westerns, like the garrulous Ward Bond and screenwriter James Edward Grant, both of whom are profiled in Blu-ray extras. James Arness, later the star of TV's "Gunsmoke," has a small role.
Like many of his contemporaries, Wayne started taking more control over his career in the 1950s as the studio system faded. With his partner Robert Fellows, Wayne formed a production company that would evolve into Batjac. Director John Farrow, an Australian native, had worked for Wayne's company earlier that year on the thriller Plunder of the Sun. (Farrow married actress Maureen O'Sullivan; their daughter Mia has enjoyed an extensive acting career, appearing as Christopher Walken's wife in the upcoming Dark Horse. And as a bit of trivia, biographer Tad Gallagher wrote that John Ford directed two of the shots in Hondo.)
Choosing projects entailed a lot more risk than simply accepting studio assignments, but it also gave Wayne the chance to take on more nuanced characters than those he portrayed in some of his earlier films. Hondo is a suspicious, close-mouthed character, someone who doesn't want to get involved in the problems surrounding him. His relationship with Angie is a difficult one—which Geraldine Page emphasizes in her performance.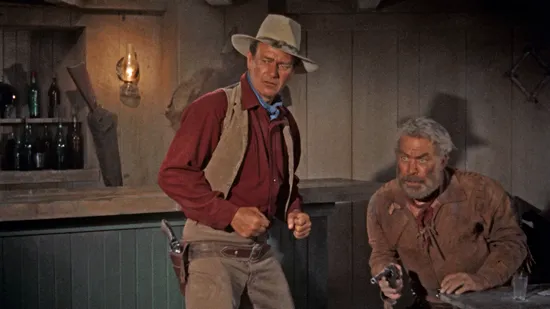 Wayne's son Michael took over Batjac in 1961. As well as producing movies, Michael oversaw the company's complicated holdings, which included copyright and distribution rights to Hondo, The High and the Mighty, Islands in the Sky, and McLintock! I spoke with his widow Gretchen Wayne this week, and she went over the specifics of how zealously her husband protected the Batjac films. She also took over the responsibility of running Batjac after Michael died in 2004.
Gretchen Wayne oversaw the Blu-ray upgrade, as well as a complete restoration of the 3D version of Hondo, which she has screened at the Cannes Film Festival, the Academy of Motion Picture Arts and Sciences, and other venues. She praised the new Blu-ray restoration. "Has it been on television? Yes," she said. "Has it looked as good as it does now? Absolutely not. What you're going to see here is a newer film, and you'll see it in enhanced widescreen."
She agrees that Hondo was an unusual role for Wayne. "It's a little more intellectual than his other films. There are a lot more subtleties, more tension. And more respect for the Indian nation," she said. "And then there's some dialogue that the average woman today would shudder at, like when Geraldine Page says, 'I know I'm a homely woman.' But she's so strong in that part—she got an Academy Award nomination for what was her first starring role."
I wondered if John Wayne's screen persona can still connect with an audience today. "Well, it's interesting," Mrs. Wayne replied. "I've got a 26-year-old granddaughter in the advertising business, and all her friends know who John Wayne is. They watch his films on their iPhones, which drives me crazy. You go to all the trouble to make a film that will look good in a theater and these kids are watching them on telephones!
"But they are connecting to him. His films are on all the time. Their fathers watched them, or their grandfathers. Or their mothers will talk about them. He's a hero—just ask anyone in the military who John Wayne is. If writers or directors today want to give you a character with civility, honesty, and patriotism, they will give you someone like John Wayne."
Mrs. Wayne met her future husband when she was fourteen, so she was intimately familiar with the Duke for several decades. She described him as a gentleman, someone respectful to women, and polite to the point of shyness. "He didn't bound into a room all boisterous," she said. "In front of me and my sisters-in-law, I never heard him say a vulgar word in all those years."
What would get Wayne mad was a lack of professionalism on his movie sets. "My husband told me that when they went on location, the Duke was the first one there in the morning, and the last one away at night. He expected the same from everyone, particularly his own family. He meant it when he said, 'Sun's up, where are you?' He couldn't stand to waste time, it was like burning money."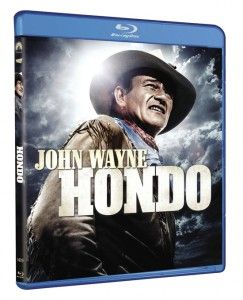 Wayne is an iconic figure, perhaps the most recognizable Western star and a potent cultural symbol. Growing up, it was easy for me and my friends to dismiss him as old-fashioned compared to anti-heroes like Jack Nicholson and Al Pacino. With hindsight, I recognize how difficult many of Wayne's choices were, and how honorably he treated his audience.
Today many viewers tend to lump Wayne in with more straightforward action stars instead of giving him credit as an actor. In his best films Wayne shows many different personalities: the conflicted boxer in The Quiet Man; the bitter, aging rancher in Red River; the homesteader who sacrifices his happiness in The Man Who Shot Liberty Valance; and the grim, driven vigilante in The Searchers. It's notable that in many of his films, like The Quiet Man and Angel and the Badman, Wayne plays men wary and suspicious of violence.
Mrs. Wayne singled out these films as favorites, as well as The Shootist, where "I thought he gave one of his best performances ever. It was touching to us, the family, more perhaps than to other people because we knew how sick he was." Appropriately, The Shootist incorporates footage from Hondo to explain Wayne's character's background.
Mrs. Wayne pointed out that Angel and the Badman provided the template for the Harrison Ford vehicle Witness, and many of today's action stars evoke Wayne, consciously or not. Hondo gives you the chance to see the real thing, one of the screen's most memorable heroes at the height of his fame.